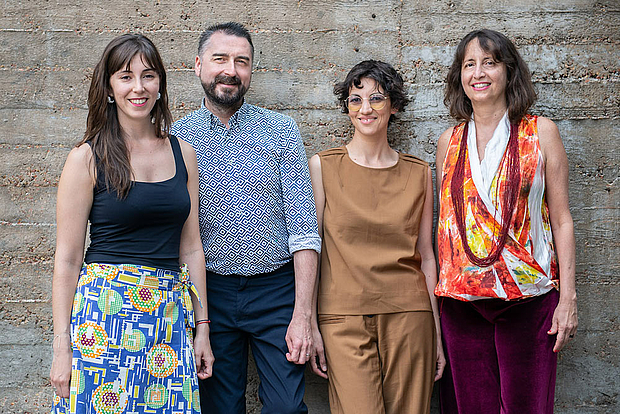 Biografías de lxs curadorxs
11ª Bienal de Arte Contemporáneo de Berlín, 2020
María Berríos
(* 1978 Santiago de Chile) A sociologist, writer, independent curator, and cofounder of the Chilean editorial collective vaticanochico. Her work traverses art, culture, and politics with a special interest in the collective experiments of the Third World movement and their exhibition formats in the 1960s and 70s. She teaches and lectures regularly in Europe and Latin America and has published extensively on art and politics in Latin America and beyond.
Among other projects, Berríos curated with Lisette Lagnado Drifts and Derivations. Experiences, journeys and morphologies on experimental architectural collectives from Chile (Museo Nacional Centro de Arte Reina Sofía, Madrid, 2010), and curated Nuestro desconocido, nuestro caos, nuestro mar (Museo Experimental el Eco, Mexico City, 2014), and Alberto Cruz: El cuerpo del arquitecto no es el de un solo hombre (together with Amalia Cross, MAVI – Museo de Artes Visuales, Santiago de Chile, 2017).
Berríos has been engaged in several collaborative art projects, including The Revolution Must Be a School of Unfettered Thought (together with artist Jakob Jakobsen for the 31st Bienal de São Paulo, 2014). She is an ongoing collaborator of the Hospital Prison University Archive (Copenhagen, 2016–to date), a project space and radio station run by artist Jakob Jakobsen in the building where he and Berríos live together with their three-year-old son Teo, who believes he is a ninja.