Art Miami Announces Exhibitor List for 31st Edition
America's Foremost Contemporary Art Show Presents More Than 140
International Galleries
Art Miami, returning for its 31st edition November 30 –
December 5, 2021, has announced its 2021 exhibitor list. Recognized as one of the preeminent international modern and contemporary art fairs globally, Art Miami will showcase an array of iconic and signature investment quality art works, dynamic projects and special installations across more than 140 international galleries from 17 countries representing 60 cities. Additionally, Art Miami's sister fair, CONTEXT Art Miami will return for its 9th edition with 61 international galleries.
The 2021 fair will kick off with a Platinum VIP Preview for top collectors, curators,and members of the press on Tuesday, November 30, 2021, from 4:30 p.m – 6:30 p.m. to benefit the Pérez Art Museum Miami (PAMM). The VIP Preview will open for all VIP Cardholders at 6:30 p.m. and run until 10 p.m. For the 11th consecutive year, PAMM has been the fair's exclusive VIP Preview benefactor and Art Miami has cumulatively donated more than $275,000 to further the museum's collection and mission. The partnership remains an integral part of Art Miami's larger commitment to the city of Miami.
Yvel, Official Luxury Jeweler, is an international luxury jewelry brand recognized worldwide for its refreshing designs of nature's finest resources. Using a unique, organic design technique, with select natural diamonds, emeralds, sapphires, and other prominent gems, each piece of Yvel jewelry is created to be cherished now and treasured for generations to come. Founded by Orna and Isaac Levy in 1986, Yvel has a rich history of cultivating fine jewelry through years of exploring pearl farms, mines, and minds.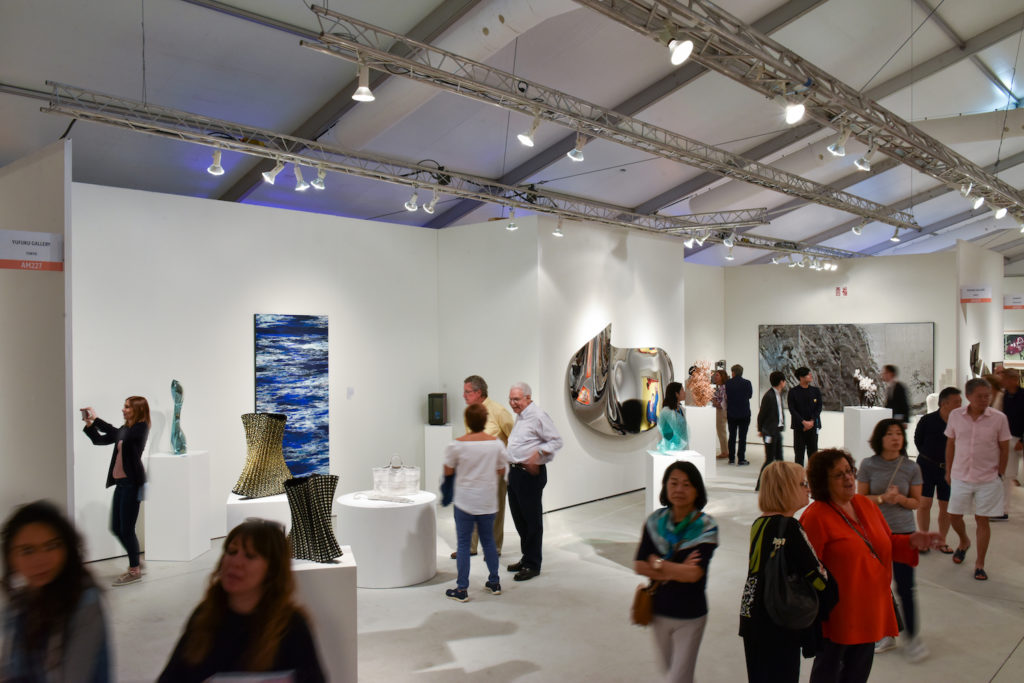 The line-up will present the finest quality paintings, photography, prints, drawings, design, sculpture and video art, with works from the 20th and 21st centuries. The fair will feature leading international galleries showcasing renowned modern masters and blue- chip contemporary works, as well as the most sought-after living artists from around the world.
Thousands of works from more than 600 artists will be on display at this year's Art Miami, including Carlos Cruz-Diez, Fernando Botero, Pablo Picasso, Jean Dubuffet, Wilfredo Lam, Hans Hofmann, Joseph Albers, Alexander Calder, Yayoi Kusama, Helen Frankenthaler, Robert Rauschenberg, Jeff Koons, Willem de Kooning, Roy Lichtenstein, John Chamberlain, Damien Hirst, Peter Halley, Donald Judd, Ed Ruscha, Lynn Chadwick, Donald Sultan, Gerhard Richter, Andy Warhol, Keith Haring, Frank Stella, Richard Serra, Roberto Matta, and many more.
International galleries that will exhibit at Art Miami for the first time include:
Boccara New York | Burgess Modern & Contemporary Fort Lauderdale | Catalyst Contemporary Baltimore | Crossing Art New York | DTR Modern Gallery New York | EF ArteMilan | G. Gallery Seoul | Gallery Edel Osaka | Gallery Joeun Seoul | Keyes Art Sag Harbor| Maune Contemporary Atlanta | Nicole McGraw Fine Art Palm Beach | Simon Breitbard FineArts San Francisco | Tew Galleries Atlanta | West Chelsea Contemporary Austin | YOD Gallery Osaka | Zeit Contemporary Art New York 2021 ART MIAMI EXHIBITOR LIST (* = Online Only) Adelson Gallery Palm Beach | Aldo Castillo Naples | Allouche Gallery New York | AMSSantiago | Andrea Schwartz Gallery San Francisco | Arcature Fine Art PalmBeach | Archeus/Post Modern London | Art Nouveau Gallery Miami | Art of the World Gallery Houston | Arthur Roger Gallery New Orleans | Ascaso Gallery Miami | Atelier AkiSeoul | Aurora Vigil-Escalera Art gallery Gijon | Avant Gallery Miami | Barbara Paci Galleria d'Arte Pietrasanta | Bernice Steinbaum Gallery Miami | Berry Campbell New York | BoccaraNew York | BOCCARA ART Miami | Bogena Galerie St Paul de Vence | Burgess Modern +Contemporary Ft Lauderdale | C. Grimaldis Gallery Baltimore | Catalyst Contemporary Baltimore | Catherine Edelman Gallery Chicago | Cavalier Galleries New York | CernudaArte Coral Gables | Chase Contemporary New York | Clark Gallery Lincoln | *CONNERSMITH. Washington, DC | Contessa Gallery Cleveland | Crossing Art New York | Cynthia Corbett Gallery London | David Benrimon Fine Art New York | David Klein Gallery Detroit | Dean Project Miami Beach | Diana Lowenstein Miami | Donghwa Ode Gallery New York | DTR Modern Gallery New York | Duran Mashaal Montreal | Durban Segnini Gallery Miami | EFArte Milan | Espace Meyer Zafra Paris | Eternity Gallery Miami | *Evelyn Aimis Fine Art Miami | Factoria Santa Rosa Santiago | Forum Gallery New York |  Frederic Got Gallery Paris | Fremin Gallery New York | g.gallery Gangnam-gu | Galeria Alfredo Ginocchio Mexico City | Galería Casa Cuadrada Bogotá | Galeria Duque Arango Medellin | Galeria Freites Caracas | Galeria La Cometa Bogota | Galerie Barbara von Stechow Frankfurt | Galerie Bhak Seoul | Galerie Rother Wiesbaden | Galeries Bartoux – Cruz Diez Experience Miami | Galleria arte Martinelli Miami | Galleria Ca' D'Oro New York | Galleria Luigi Proietti Miami Beach | Galleria Stefano Forni Bologna | Gallery Edel Osaka | Gallery Henoch New York | Gallery Joeun Seoul | Gallery Tableau Seoul | Gilden's Art Gallery London | HackelBury Fine Art London | Hang Art San Francisco | Hashimoto Contemporary New York | *Heitsch Gallery Munich | HEXTON I modern and contemporary Aspen | HOFA Gallery London | Hohmann Palm Desert | Holden Luntz Gallery Palm Beach | Hollis Taggart New York | In The Gallery Copenhagen | Jackson Fine Art Atlanta | Jean Albano Gallery Chicago | Jerald Melberg Gallery Charlotte | JONATHAN FERRARA GALLERY New Orleans | *Jonathon Novak Contemporary Los Angeles | Keumsan Gallery Jung-gu | Keyes Art Sag Harbor | Kubix Contemporary Art North Miami Beach | Latin Art Core Miami | Laura Rathe Fine Art Houston | Laurent Marthaler Contemporary Zurich | Lee & Bae Busan | Lelia Mordoch Gallery Miami-Paris | Lena Roselli Gallery Budapest | Licht Feld Gallery Basel | Liquid art system Capri | Liss Gallery Toronto | Long-Sharp Gallery Indianapolis | Louis K. Meisel Gallery New York | Maddox Gallery London | Mark Borghi Bridgehampton | Mark Hachem Paris | Markowicz Fine Art Miami | Masterworks Fine Art Gallery Oakland | Matthew Swift Gallery Gloucester | Maune Contemporary Atlanta | *Miriam Shiell Fine Art Toronto | Nicole McGraw Fine Art Palm Beach | Nil Gallery Paris | Oliver Cole Gallery Miami | OPERA GALLERY Miami | Pablo Goebel Fine Arts Ciudad de Mexico | Pan American Art Projects Miami | Placido / Scognamiglio Milan | Pontone Gallery London | PYO Gallery Seoul | Ranivilu Art Gallery Miami | Raphael Frankfurt | Robert Fontaine Gallery Palm Beach | *Rosenbaum Contemporary New York | Rosenfeld Gallery Miami | Ross+Kramer Gallery Palm Beach | Rudolf Budja Gallery Miami Beach | *Rukaj Toronto | Schacky Dusseldorf | Scott Richards Contemporary San Francisco | Shapero Modern London | Simon Breitbard Fine Arts San Francisco | SmithDavidson Gallery Miami | Sous Les Etoiles Gallery New York | Sponder Gallery Boca Raton | Sundaram Tagore Gallery New York | Surovek Gallery Palm Beach | TEW Galleries Atlanta | Timothy Yarger Fine Art Beverly Hills | *Tresart Miami | Unix Gallery New York | Vertu Fine Art Boca Raton | Waltman Ortega Fine Art Miami| Waterhouse & Dodd New York | West Chelsea Contemporary (WCC) Austin | William Weston London | YOD Gallery Osaka | Yusto / Giner Marbella | Yvel Tel Aviv | Zeit Contemporary Art New York | Zemack Contemporary Art Tel Aviv | Zolla/Lieberman Gallery Chicago (list in formation as of October 7, 2021) The Fair continues to be held at the prestigious waterfront location of One Miami Herald Plaza on Biscayne Bay nestled between the Venetian and MacArthur Causeways in the heart of Downtown Miami. Art Miami offers an unparalleled level of accessibility to the activities and collectors on Miami Beach. This year, to further sustainability initiatives as well as touchless entry, all tickets will be available exclusively online with no box office onsite.
As we look to the future and ways to further support the international art community, Art Miami Show Group will present ART MIAMI +ONLINE, powered by Hook, curated online acquisition rooms for viewing, buying, selling, and learning about art. ART MIAMI +ONLINE will take place concurrent with the in-person event from Tuesday, November 30 through Sunday, December 5 and offers international galleries and attendees who are unable to travel to this year's in-person fair a comprehensive digital fair experience. The platform also provides additional opportunities for galleries participating in the in-person fair to connect with collectors. Galleries only participating in ART MIAMI +ONLINE (as of October 7th) are annotated with an * in the exhibitor list above. Informa AllSecure is Art Miami's approach to enhanced health and safety standards Safety is the top priority, and Art Miami will adhere to strict measures to protect visitors, exhibitors, and staff. The Fair will be run according to U.S. Centers for Disease Control and Prevention guidelines and local authority guidance as well as any venue or location-specific regulations. Informa AllSecure is how these standards are being adopted in the business. It means that when exhibitors, sponsors, and attendees come to Art Miami events, they can connect, learn, know more, and conduct more business, effectively, safely and with confidence. As a part of the AllSecure program, all attendees of Art Miami are required to show proof of a rapid antigen test (or equivalent) with a negative result within 24 hours prior to attending the Fair. Attendees may choose, in their discretion, to opt out of this testing requirement by showing proof of having received full vaccination more than 2 weeks prior to attendance. All Fair attendees will be required to wear a mask. Please be advised that these protocols are subject to change. More details are available at www.artmiami.com and www.informa.com/about-us/allsecure/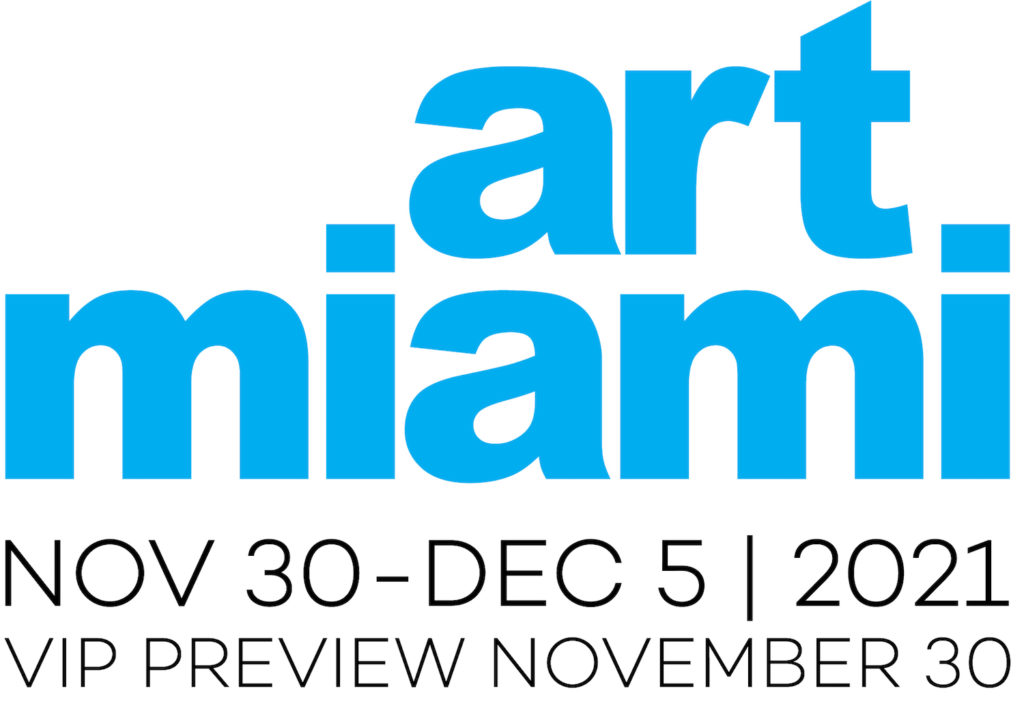 HOURS AND LOCATION:
Fair Hours:
Opening Night Platinum VIP Preview: Tuesday, November 30: 4:30p.m.-6:30p.m.
Opening Night VIP Preview: Tuesday, November 30: 6:30p.m. – 10:00p.m.
General Admission: Wednesday, December 1 – Saturday, December 4: 11a.m. – 7p.m.; Sunday,
Dec 5: 11a.m. – 6p.m.
Location:
The Art Miami Pavilion, One Herald Plaza @ NE 14th Street, Downtown Miami.
On Biscayne Bay between the Venetian & MacArthur Causeways Tickets will go on sale 45 days prior to the opening of Art Miami.
Please note that tickets are exclusively available online and cannot be purchased onsite.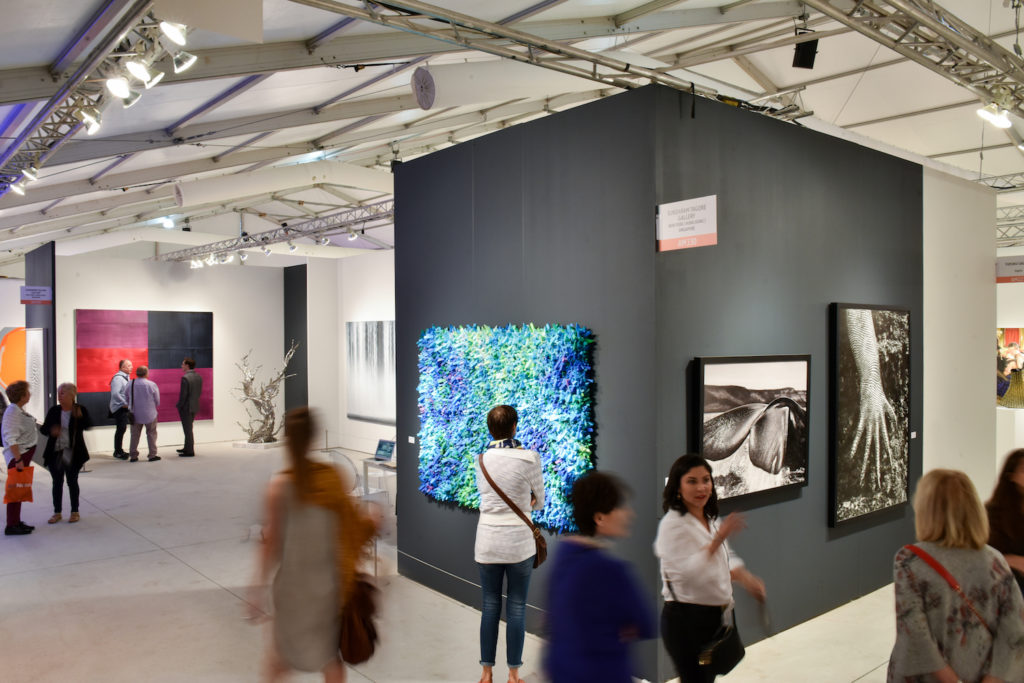 #
MEDIA RELATIONS:
Carma Connected
404 Washington Ave., Suite 620
Miami Beach, FL 33139
artmiami@carmaconnected.com
+1 305.438.9200
www.carmaconnected.com
MARKETING, SPONSORSHIPS + VIP RELATIONS:
Pamela Cohen, VP, Director of Marketing, VIP Relations & Sponsorships
Pamela@artmiami.com
About Art Miami:
Art Miami, owned by Informa Markets is the leading international contemporary and modern art fair that takes place each December during Art Week. It is one of the most important annual contemporary art events in the United States, attracting motivated collectors, curators, museum professionals and art enthusiasts from around the globe. Now in its 31st year, Art Miami remains committed to showcasing the most important artworks of the 20th and 21st centuries in collaboration with a selection of the world's most respected galleries. Art Miami maintains a preeminent position in America's contemporary art fair market. With a rich history, it is the original and longest-running contemporary art fair in Miami and continues to receive praise for the variety of unparalleled art that it offers. It is the "can't miss" event for all serious collectors, curators, museum directors and interior designers providing an intimate look at some of the most important work at the forefront of the international contemporary art movement.
https://www.artmiami.com/
About Informa Markets:
Informa Markets creates platforms for international markets to trade, innovate and grow. Through over 500 leading brands, their exhibitions, specialist digital content and data solutions allow customers operating in specialist markets to meet and trade, and for their businesses and markets to thrive. Informa Markets has over 4,000 colleagues worldwide, with a large presence in markets including the US, \ Brazil, Dubai, India and China. https://informa.com/divisions/informamarkets
ARTISTS BY NAME
A
Agostino Arrivabene
Ángeles Agrela
Aspencrow
Atanda Adebayo
Athena Anastasiou
Bernard Aubertin
Carl Andre
Carmelo Arden Quin
Charles Arnoldi
Chul Hyun Ahn
Clive Arrowsmith
Damon Arhos
Dan Alva
Deborah Azzopardi
Doug Argue
Elisa Anfuso
Emil Alzamora
Emilie Arnoux
Florence Arquin
Hans (Jean) Arp
Hyun Ae Kang
Ilaria Arpino
Ingo Arndt
Isaac 'Cey' Adams
John Ahearn
John Alexander
Jose A. Toirac
Josef Albers
Julio Anaya Cabanding
Laura Anderson Barbata
Magdalena Atria
Marcos Acosta
Marina Apollonio
Metis Atash
Miya Ando
Ole Aakjaer
Pablo Atchugarry
Pavel Acosta
Peter Anton
Ricardo Alcaide
Richard Anuszkiewicz
Ron Agam
Tor Archer
Victoria Adams
Young Il Ahn
B
Agostino Bonalumi
Alberto Burri
Amoako Boafo
Andy Burgess
Angelo Brescianini
Anthony Brunelli
Arturo Berned
Banksy
Banksy Banksy
BOLDI
Cara Barer
Claudio Bravo
Connor Brothers
Cundo Bermúdez
Daniel Beltrá
David Bates
Deborah Butterfield
Dietmar Brixy
Donald Baechler
Douglas Bourgeois
Dusti Bonge
Eduardo Balanza
Ewa Bathelier
Fernando Botero
Francis Bacon
Francisco Bellorin
Francois BARD
François Bel
Gabrielle Barzaghi
Georg Baselitz
George Braque
Georges BRAQUE
Ghazi BAKER
Gil Bruvel
Giorgio Bevignani
Guy Boudro
Harry Benson
James Brooks
JEFF BERTONCINO
John Baeder
John Belingheri
Johnathan Ball
Jonas Baumann
Justin Bower
Katherine Boxall
Kaws Brian Donnelly
Laura Berger
Lavett Ballard
Leon Berkowitz
Lia Bermudez
Lluís Barba
Lucienne Bloch
Martin Brouillette
Max Bill
Mel Bochner
Michelangelo BASTIANI
Milton Becerra
Miss Bugs
Mr. Brainwash
Norbert Brunner
Norman Bluhm
Patrizia Benvenuto
Paul Beliveau
Phyllis Bramson
Rafael Barrios
Richard BUTLER
Roberto Bernardi
Romare Bearden
Ronald Bladen
Ross Bleckner
Rubena Bonini
Sangsun Bae
Seonghi Bahk
Stanley Boxer
Starsky Brines
Suhas Bhujbal
Tim Bengel
Tom Bolles
Trevor Bell
Vanessa Barragao
William Barbosa william
William Beckman
C
& JEANNE-CLAUDE CHRISTO
Agustin Cardenas
Agustín Cárdenas
Alexander Calder
Andrea Collesano
Anne Chu
Ariamna Contino
Carlos Cruz-Diez
Christo
Christopher Clamp
Dan Christensen
David Cerny
Davis Cone
Ennio Ludovico Chiggio
Enrico Castellani
Eunsuh Choi
George Condo
Gianfranco Chiavacci
Giorgio CAVALLON
Gomor Catawiki
Gonzalo Cienfuegos Browne
Humberto Calzada
JAMES COIGNARD
Javier Calleja
Jimin Chae
Joan Cox
John Chamberlain
John Clement
Jongrye Cha
Josefina Cruzat
Joseph Cornell
Kelly Carmody
Kwang Young CHUN
Kwang-Young Chun
Leonora Carrington
Lilia Carrillo
Lita Cabellut
Lola Cueto
Loris Cecchini
Lynn Chadwick
Marc Chagall
Massimo Catalani
Michael Craig Martin
Michael Craig-Martin
Moon Ki Cho
Nicole Charbonnet
Ralston Crawford
Robert Cottingham
Saint Clair Cemin
Salvador Corratge
Sandro Chia
Santiago Carbonell
Soowhan Choi
Spiller + Cameron
STEPHANE CIPRE
Tarik Currimbhoy
Ted Collier
D
Albert Dicruttalo
Andrea Damp
Annette Davidek
Audino Díaz
Brian Duffy
Chris Dorosz
Daniel Domig
David Datuna
David Drebin
Dawn DeDeaux
DEMI
Edward Dugmore
Elaine de Kooning
Ellen de Meijer
Fernando De Szyszlo
Francesco De Molfetta
Friedel Dzubas
Gabriel Delgado
GIORGIO DE CHIRICO
Howard Daum
James Denoyer
James Drake
Jean Dubuffet
Jess Dugan
Jim Dine
Jiménez Deredia
Juan Roberto Diago
Karla De Lara
Lesley Dill
Lisa Corinne Davis
Marcolina Dipierro
Matt Devine
Michael Dweck
NATHALIE DESHAIRS
Olga de Amaral
Pablo Dona
Patrick Demarchelier
Patrick Dintino
Peter Demetz
Peter Dimick
Raul Diaz
Richard Diebenkorn
Roy DeForest
Sandro De La Rosa
Sophie Delaporte
Stephen Paul Day
Stevens DOSSOU-YOVO
Susan Dory
Tamara de Lempicka
Thornton Dial
Willem de Kooning
William Dutterer
E
Arthur Elgort
Carlos Enríquez
Elliott Erwitt
Giosvany Echevarría
Hayoung Eum
John Evans
Jorge ENRIQUE
Liat Elbling
Lin Emery
Margaret Evangeline
Nabil El Makhloufi
Ron English
Susan Erony
F
Alexandre ' Vhils' Farto
Ben Fink Shapiro
Betrand Fournier
Danielle Frankenthal
Eric Fischl
Flix Flix
Flora Fong
Franta
Garry Fabian Miller
Gisele Freund
Golnaz Fathi
Günther Förg
Helen Frankenthaler
Holly Farrell
Jose Manuel Fors
Joseph Fiore
Julia Fullerton-Batten
Linden Frederick
Lucio Fontana
Manuel Felguerez
Maria Friberg
Miguel Florido
MONIQUE FRYDMAN
Nadir Figueroa
Perle Fine
Robert Freeman
Roberto Fabelo
Roberto Ferri
Sam Francis
Sandra 'Lady Pink' Fabara
Skylar Fein
t.w. five
G
Ana González
Angela Glajcar
Beatrice Gallori
Daniel González
DARIO GOLDANIGA
Dayron GONZALEZ
Edite Grinberga
Elisa Grezzani
Enrique Gomez de Molina
Felice Grodin
Flor Garduño
Gabrielle Graessle
Irina Elén González
Jacob Gils
Jaime Gili
Jim Gaylord
John Gibson
Josh Garber
JUAN GARAIZABAL
Kai Guetta
Karl Gerstner
Kelly Graval
Kelly 'RISK' Graval
Lilian García-Roig
Lucy Glendinning
Marco Grassi
Max Steven Grossman
Max- Steven Grossman
Michael Goldberg
Nick Georgiou
Oriano Galloni
Ormond Gigli
Patricia Golombek
Peter Gronquist
Prince Gyasi
Ralph Goings
Rhonda Gates
Richard Garet
Robert Gniewek
Robert GOODNOUGH
Sam Gilliam
Skyler Grey
Susan Goldsmith
Víctor Manuel García
Vincent Giarrano
Wayne Gonzales
H
Alexander Höller
Amy Jayne Hughes
Anna Halldin Maule
Dal Jae Huh
Damien Hirst
David Hockney
Frank Horvat
Gerardo Hacer
Grace Hartigan
Hans Hofmann
Hebime
HIME
Horst P. Horst
jd hansen
Jean-Marie Haessle
John Hultberg
Jungwoo Ha
Kati Horna
Katsumi Hayakawa
Keith Haring
Ken Heyman
Kyung Ae Hur
Lee Hall
Loie Hollowell
Meaghan Hyckie
Noriyuki Haraguchi
Patrick Hughes
Patrick Hurst
Peter Halley
Philippe HIQUILY
Richard Hambleton
Richard Höglund
Seontae Hwang
Shawn Huckins
Stephanus Heidacker
Suntae Hwang
Suyon Huh
Thomas Hartmann
Timothy Harney
Vicente Hernández
William Harrington
Xenia Hausner
Young Wook Han
Yutaka Hashimoto
Zhuang Hong Yi
I
Graciela Iturbide
Invader
Kei Ito
María Izquierdo
Mózes Incze
Robert Indiana
Steen Ipsen
J
Don Jacot
Donald Judd
Inhee Jang
Jae Jo
Jorge Jiménez Deredia
Kathleen Jacobs
Kwang Bum Jang
Lester Johnson
Nak Jeon
Nathan Joseph
Nemo Jantzen
Patrick Jacobs
Paul Jenkins
Robert C. Jackson
Seong Joon Jeong
K
25 Kim
Alex Katz
Artist Kun
Banele Khoza
Byung Joo Kim
Deborah Kass
Ellsworth Kelly
Franz Kline
Frida Kahlo
Ida Kohlmeyer
Ilhwa Kim
Iris Kufert-Rivo
Jae Ko
Jaena Kwon
Jan Kaláb
Jay Kelly
Jean Philippe Kadzinski
Jong-Sook Kim
Joseph Klibansky
Jun Kaneko
Juraj Kollár
Karen Knorr
KAWS KAWS
Kim Keever
Kisoo Kwon
Maiko Kobayashi
Markus Klinko
Michael Kalish
Michael Koerner
Minkyu Kang
Neung Kwon
Seungwoo Kim
Sungnam Kim
Susumu Koshimizu
Tae Ho Kim
Todd Kenyon
Walter Kuhlman
Wang KEPING
Will Kurtz
Wolf Kahn
Yayoi Kusama
Yehsine Kang
Yong R. Kwon
Yongrae Kwon
Zachary Knudson
L
ALBERTO LENZI
Chloë Lamb
Clemencia Labin
Crystal Latimer
Daniele Locci
Edoardo Landi
Erika Larsen
Fay Lansner
Felipe Andrés Lavín Valdivía
Fernand Léger
Guido Llinas
Isaac Levy
Ismael Lagares
Ismael LAGARES DIAZ
Ivan Loboguerrero
Jacques LE BESCOND
Jaewook Lee
Jean Lambert- Rucki
Jeenee Lee
Joerg Lozek
Joy Laville
Julio Larraz
Julio Le Parc
Katja Loher
Lea Lund & Erik K Lund & K
Lilly Lullay
Los Bravú
Lucong
Maelee Lee
Malcolm Liepke
Marquis 'RETNA' Lewis
Massimo Listri
Miriam Londoño
Peter Lyons
Robert Longo
Roy Lichtenstein
Sangmin Lee
Sol Lewitt
Tom Leighton
Ufan Lee
Whitfield Lovell
Wifredo Lam
Woolim Lee
You Mee Lee
Yu LanYing
Zheng Lu
M
Allan McCollum
Alyssa Monks
America Martin
Antonio Marra
August MUTH
Aurora Molina
Aya Murata
Bertrand Meniel
Beverly McIver
Brendan Murphy
Carlos MATA
Carlos Medina
Catherine McCarthy
Christian Marclay
Clara Morera
Claudia Meyer
Conrad Marca-Relli
Danuel Méndez
Demond Melancon
Dennis Lee Mitchell
Donald Martiny
Eddy MANIEZ
Edoarda Maino
Erika Marquardt
George Morton Clark
Giampiero Malgioglio
Gino Miles
Guillermo Muñoz Vera
Harland Miller
Heiner Meyer
Henri Matisse
Hidehito Matsubara
Hussein Madi
Irene Monat Stern
J Margulis
James Austin Murray
Jane Manus
Jason Martin
Jason Myers
Javier Marin
Javier Marín
Joan Miro
Joan Miró
José Mijares
Josh Mayhem
Julie Miller-Torres
Kelly Mark
Kristin Moore
Lauren Mabry
Livia Marin
Lorenzo Malfatti
MADARA MANJI
Madsaki
Magdalena Murua
Manuel Mendive
Manuel Merida
Maquiamelo
MARCK MARCK
Margherita Marzotto
Marilyn Minter
Mario Moore
Mateo Manaure
Matteo Massagrande
Mr. Mr.
Pablo Manga
Pard Morrison
Piero Manzoni
Rafa Macarrón
Rania Matar
Raul Martinez
Ricardo Maffei
Ricardo Mazal
Robert Mapplethorpe
Robert Motherwell
Roberto Matta
Roberto Sebastian Matta
Sebastian Martorana
Steve Mills
Susan Meisel
Takashi Murakami
Tatyana Murray
Tina Modotti
Viviana Martínez
Yucef Merhi
N
Bianca Nemelc
Cathleen Naundorf
Clio Newton
Helmut Newton
Hermann Nachbaur
Jedd Novatt
Kate Norris
Ken Nicol
Kenneth Noland
Landon Nordeman
Louise Nevelson
Michael Nakoneczny
Nuge
Otto Neumann
Reka Nyari
Robert Natkin
Robert Neffson
Sean Newport
Udo Noeger
Udo Noger
William Nelson
O
Abe Odedina
Alejandro Ospina
Ardan Ozmenoglu
Claes Oldenburg
David Olivera
Jules Olitski
Julian Opie
Mariana Olague
Maureen O'Connor
McKay Otto
Mifuu Oda
Nahui Olin
Ruth Owens
Se Yeol Oh
Terry O'Neill
Yigal Ozeri
P
Alessandro Puccinelli
Amelia Pelaez
Amelia Peláez
Anastasia Pelias
Arnaldo Pomodoro
Carol Prusa
Cesar Paternosto
Charles Petillon
Daniele Papuli
Dario Perez Flores
Dario Perez-Flores
Edgar Plans
Edward Povey
Emmy Lou Packard
Fabiano Parisi
Fahamu Pecou
Fairfield Porter
Fernando Pinto
Francesco Pergolesi
Gé PELLINI
Gina Pellón
Gugger Petter
Guy Stanley Philoche
Javier Léon Perez
Joel Daniel Phillips
Larry Poons
Laurina Paperina
Lorraine Peltz
Marria Pratts
Massimiliano Pelletti
Max Patté
Mercedes Pardo
Nicolas Party
NORBERTO PROIETTI
Pablo Picasso
Penelope Penelope
Raymond PARKER
René Portocarrero
Richard Pettibone
Richard Pousette-Dart
Richard Prince
Robert & Shana ParkeHarrison
Rod E. Penner
Rod Penner
Rogelio POLESELLO
Seung-Hoon PARK
Silvio Porzionato
Sungtae Park
William PEREHUDOFF
Xavier 'Blek le Rat' Prou
Xavier Prou
Q
Feng Qin
Moses Quiquine
Paolo Quaresima
Sohan Qadri
R
Alice Rahon
Annina Roescheisen
Anselm Reyle
Antoine Rose
Becky Rosa
Brian Rutenberg
Cha Jong Rye
Chris Rivers
Cordy Ryman
Dagoberto Rodríguez
Dan Ramirez
Diego Rodarte Planter
Eberhard ROSS
Ed Ruscha
Erika Ranee
Faith Ringgold
Florian Reinhardt
Gavin Rain
Georges Rousse
Gerhard Richter
Herb Ritts
Holton Rower
James Rosenquist
Janet Rickus
Jean Paul Riopelle
Jean-François Rauzier
JEAN-PAUL RIOPELLE
Jim Rennert
Jim Richard
Jim Ritchie
Jorge Rios
Jose Rosabal
Kelly Reemtsen
Klari Reis
Larry Rivers
Liliana Rossini
Malik Roberts
Mariano Rodríguez
Mel Ramos
Merete Rasmussen
MIMMO ROTELLA
Nicolás Radic
Omar Rayo
Pablo Ruiz Picasso
Patricia Rieger
Paul Rousso
-RABARAMA Rabarama
Rammellzee
Randall Rosenthal
RETNA
REWA
Robert Rauschenberg
Roger Reutimann
Rosa Rolanda
Sandra Ramos
Sophie Ryder
Ugo Rondinone
Valeria Rocchiccioli
Xochitl Rivera
S
Alberto Jose Sanchez Sanchez
Alejandro Sanchez
Andrew Stevovich
Antonio Segui
Ben Schonzeit
Benjamin Shine
Bill Scott
Bjorn Skaarup
Buzz Spector
Carly Silverman
Carolina Sardi
Carrie Sieh
Daniele Sigalot
David Spiller
Dirk Salz
Donald Sultan
Emily Mae Smith
Emma Stone-Johnson
Fanny Sanin
Florent Stosskopf
Frank Stella
Gregory Scott
Ham Sup
Hassel Smith
Hermanas Scull
Hiroshi Senju
Hunt Slonem
Igor Kozlovsky & Marina Sharapova
James Siena
Jay Strommen
Jeamin Seung
Jeong Min Suh
Jesus Rafael SOTO
Jesús Rafael Soto
Jesús Soto
Ji Yeon Song
Jingdong Shen
Jinsong Shi
John Salt
Jorge Luis Santos
Josh Sperling
Kanako Sasaki
Kenny Scharf
KwangHo Shin
Leslee Stradford
Lucas Samaras
Luis Selem
Maria Svarbova
Mario Schifano
Mario Soria
Matt Smith
Matthew Shlian
Melvin Sokolsky
Moe Shimada
Niki de Saint Phalle
Nobuo Sekine
Patrick St. Clair
Piero Spadaro
Raphaele Shirley
Raphaella Spence
René Romero Schuler
Richard Serra
Salustiano
Saul Steinberg
Scott Avett
Sharon Sprung
Søren Solkær
STALLMAN Studio
Stephan Schnedler
Steven Spazuk
Stickymonger
Theodoros Stamos
Tomas Sanchez
Tomás Sánchez
Toshiyuki Shibakawa
Turi Simeti
Wolfgang Stiller
T
Alex Trimino
Alexi Torres
Ben Thomas
Bernardo Torrens
Bob Thompson
Cristóbal Toral
Cy Twombly
George 'Hairbrush' Tjungurrayi
Giorgio Tentolini
Houben Tcherkelov
Joaquín Torres-García
Paddy Lewis Tjapanangka
Patricia Traub
Renata Tumarova
Rosalind Tallmadge
Tafadzwa Adolf Tega
Tigran Tsitoghdzyan
Tim Tadder
Waichi Tsutaka
Warlimpirrnga Tjapaltjarri
Wayne Thiebaud
Wulf Treu
Xavier Toubes
U
Federico Uribe
V
Alexandra Valenti
Alireza Varzandeh
Antonio Vidal
Boaz Vaadia
Daniel Verbis
Esteban VICENTE
Fabio Viale
Grazia Varisco
Gustavo Vélez
Isabelle van Zeijl
Jeanne Vadeboncoeur
Joana Vasconcelos
Julian Voss-Andreae
Luciano Ventrone
Manolo Valdes
Manolo Valdés
Oswaldo Vigas
Paul Villinski
Rachel Valdes
Remedios Varo
Victor Vasarely
Willy Verginer
W
Ai Weiwei
Albert Watson
Andrew Wyeth
Andy Warhol
Byung Chul Woo
Christopher Wool
Cullen Washington
Frank Worth
Glenn Wexler
Idelle Weber
Jamie Wyeth
John Wesley
Julian Wild
Kukwon Woo
Michael (Corinne) West
Michael Joseph Winkelmann
Nathan Walsh
Patrick Wilson
Paul Wonner
Rob Wynne
Ronald A. Westerhuis
Sou-Yeol Won
Stephen Wilkes
Susan Weil
Tom Wesselman
TOM WESSELMANN
Yigang Wang
X
Song Xue
Y
David Yarrow
Han Yajuan
Jack YOUNGERMAN
Katherine Young
Kyung Youl Yoon
Miyuki Yokomizo
Purvis Young
Sang Yoon Yoon
Seo Young Deok
Tim Yankosky
Yissho
Z
Eric Zener
Irene Zundel