Stephen Cawston
A Sculptures life.
So You Want To Know About Me.
I've often been asked in my career who are you? And I've often thought, what do I say to that? Do I tell them the real story or sugar coat it for them? Who really wants to know about another person's struggle to succeed, especially when it's not pretty? So let's sugar coat it here. Part of my childhood comes from the book of Children's Homes and Foster Parents, this I would not recommend to anyone. Back with a parent who was in service on a country estate in Oxford, I ended up at a great school, Lord Williams Grammar School Thame, in Oxfordshire. My favourite classes being English and History. I will say, I loved the country estate way of life, being in service, seems to be looked down on nowadays.

My Sculptural Imagination?
Why Skeletons? Have you ever really studied one? They are stunningly amazing structures, everything needs one, buildings, cars, ships, aircraft, bicycles, plants and animals. I remembered seeing them in The Natural History Museum and was awed, all the same but so very different. A little Humming Birds Skeleton is the same as the mighty Blue Whale but with small differences, that blows my mind. I had the idea of creating sculptures from skeletons many years ago but it took me many years to gain the financing to be able to start my first collection. Re-animating these beautiful structures into fine art.
Yes, I know, You Wish To Ask Some Questions.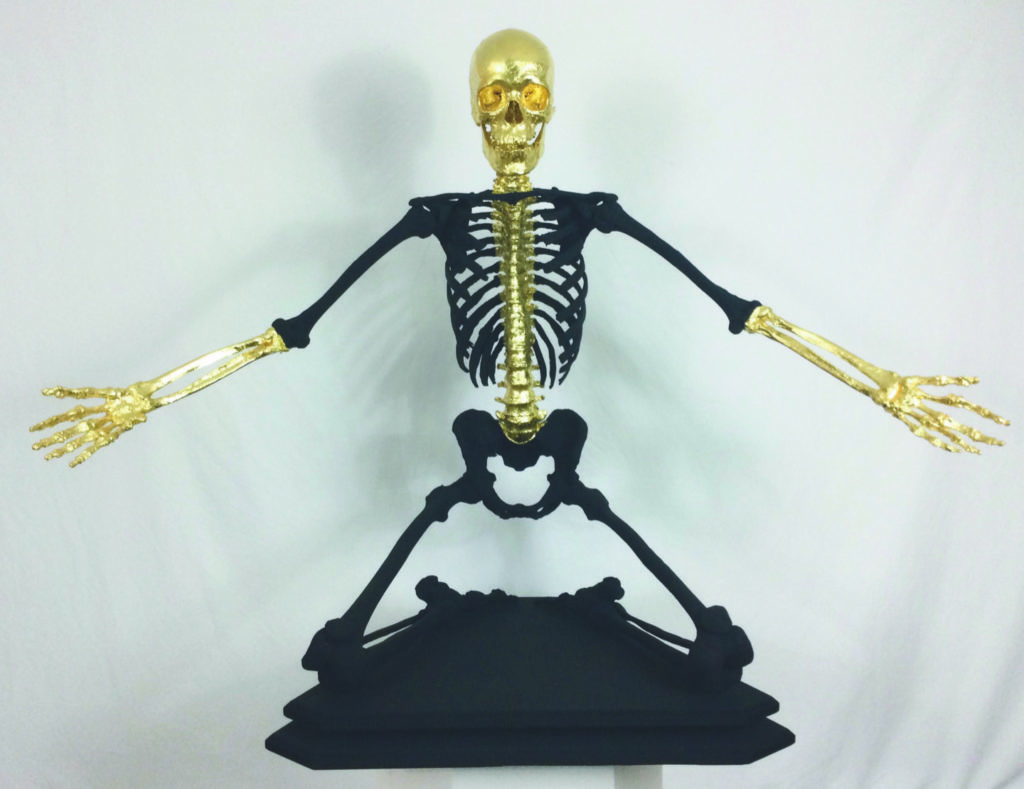 Question: Isn't it morbid to be using animal and human parts?
Answer: You're happy with elephant dung in a painting? Human blood in a sculpture? A fur or leather coat? It's just a material, I'm recycling the skeletons. You would be surprised how many serious people have asked me, "could you do me when I die, I would much rather be a work of art, than just disappear".
Question: Where do you get the skeletons?
Answer: I always want to say I'm a Resurrectionist. But joking aside, my skeletons all come from reliable sources, with full Cites Licences for the endangered species. I would never have anything killed for my art, everything has died of natural causes.

Question: What are you saying with your sculptures?
Answer: This is difficult to answer. Art is an experiment with an idea. I suppose I'm giving the viewer a study not only into the workings of life itself but also how that individual may have been in life.
Question: Why the gold?
Answer: Gold has been revered by humans since time began. Gold is unaffected by the passing of time, it's eternal, unlike life. So by adding gold to my skeletons, I'm giving them immortality in a way.
Question: Has there been any controversy around your sculptures?
Answer: Yes, a few times. Once at an exhibition and I won't mention the gallery, activists damaged one of my sculptures, calling it "unethical". Art has always pushed boundaries, it should, it should question attitudes, ideas, religion. Art has to bite but sadly there are few artists really pushing boundaries today. In most galleries, not all, all you see is and this is my term, what I call 'Cereal Box Art', fluffy paintings, butterflies, cartoons, celebrity images, plastic things etc.
The great artist in the past, depicted everything, torture, death, violence, horror, pushing boundaries all the time, risking the inquisition no less. I would rather someone argue/question over the meaning of my sculptures, than just say 'that's nice'.
At my London Bond Street exhibition, the gallery had just placed one of my large sculptures in the window, it immediately started creating a small crowd outside. So I slipped outside to joined the crowd, it was exhilarating, the peoples', reaction was brilliant, enthralled and amazement. There was a New Zealand Doctor amongst them, I heard her talking to someone, she said 'it's "perfect", now did she mean the skeleton position or the work of art? Exhibitions also at Context Miami, Genève, St Tropez, Gstaad etc.
Question: Have you had any reactions from children?
Answer: Yes yes yes, I love this question. At a gallery exhibition in Gstaad a local school wished to bring a classroom of children in to see my collection. The gallery obliged and the children had a great time, they absolutely loved the skeletons, not one frightened child among them. Their imaginations rolled with it. I have a great photo of a bunch of them sat around one of my sculptures.
Question: Do they take a long time to create?
Answer: Yes they do. I have a great team, not all full time, plus I also have art students come in and help. Depending on the skeleton they can take up to 22 months to complete. If you take into account the acquisition and preparation of the skeletons, up to four years.
Question: Are they expensive?
Answer: Yes they are. Let's take the skeletons. The skeletons of endangered species are horrendously expensive, they are normally one offs and I truly mean that, something you will never be able to purchase again. In some cases you could purchase a good house instead of the skeleton. As I stated everything has died of natural causes and comes with full Cites Licences, plus you have the pure 24 Carat Gold, I use huge amounts on each sculpture. Then you obviously have the time and labour put into each piece.
Question: Are they investments?
Answer: Only purchase art if you want it and like it. Spend your money on what you want, you earned it. People spend tens of thousands on a car, thousands on a bottle of wine, tens of thousands on flying first class, each of these things would buy you one of my sculptures. Are my sculptures investments? May be. Have my sculptures sold on the secondary market? Yes, and they have and done well. Will you get a high return on the re-sale of one of my sculptures in the future, I cannot promise that. But I will guarantee you this, you won't see anything else like it, you will have a fantastic talking point, it will awe you always, it will never bore you and no one will walk past it.
Question: What have you got planned for your skeleton?
Answer: Lol, if it is at all legally possible in the future for the use of new human skeletons, I will become one of my sculptures, I do have an idea for this sculpture, but I will keep this to myself. Can you imaging owning the sculpture of the artists' body himself, the person who started it all? It's going to be horrendously expensive though folks…
No, it cannot be a commission, I plan to live a long time.
Question: Do I do commissions?
Answer: Yes, I do commissions, some of my skeletons in my collection are so very expensive, I cannot create the sculpture I want to unless I get it commissioned. So I offer clientele the opportunity to purchase and commission these pieces. Hyper rare skeletons in my collection: Adult Indian Elephant, Male and Female Bengal Tiger, Polar Bear, Male and Female Puma and more.
Innovation, Metamorphosis.
My new works… The Ra Collection, is loosely based on Ancient Egyptian Mythology, Religion, with a bit of the Roman Empire thrown in. My sculptures have morphed into the black and gold now, rather than all gold, I'm experimenting with the blackest of black paints, so densely black that they reflect no light. It makes the sculpture very striking to look at.
2023 is going to be very exciting for me, I have two exhibitions in the planning, one in San Francisco and the other in New York. And hopefully soon with the help of a fantastic gallery, I will have the commission for my epic sculpture 'The Clash of the Titans'. This sculpture is a full size Black and Gold Bronze of two Bengal Tigers attacking an Adult Indian Elephant. This bronze will be created from moulds of my tigers and elephant skeletons, over a 1000 bones, then bronzes made via the lost wax process. Then I will weld every bronze bone together to create the sculpture. A huge epic of 30 months. More information from the gallery or myself. My current exhibition is with Galeria Fauchery an exciting gallery in St Tropez, Vincent Case being the owner.
Contact: Stephen Cawston….WhatsApp 07890 757549
Email: stephen.cawston@conceptualrealgoldenskeletons.com