Museum Angerlehner, Wels
EXPERIENCE ART UP CLOSE!
At Museum Angelehner our dedicated staff are passionate about sharing the many facets of different art movements and techniques with young and old alike. We offer a variety of programmes, from art talks and guided tours for individuals and groups to workshops for schools, children, teenagers and adults.
Our Offer
Art education plays a central role at the Museum Angerlehner. It endeavours to make suitable offers available to all interested visitors. Highly qualified visitor support is available to all visitors who view the museum individually and would like to receive extra information on the exhibitions, the collection or the architecture of the building.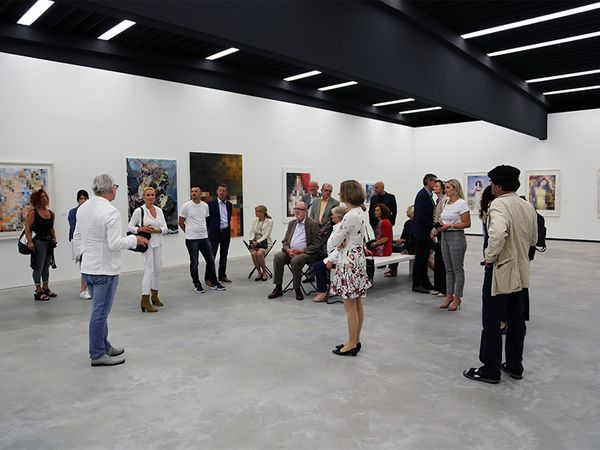 Public guided tours are offered once a month. These range from general guided tours, special tours around one of the current exhibitions, curator tours and architectural tours. Individual tours are possible at any time by appointment.
On many Saturdays a Saturday workshop for children aged between six and fourteen years takes place. These two-hour workshops always deal with a special theme in our current exhibitions and combine viewing pictures in the museum with opportunities for creative work. Modern art is thus made accessible by means of play and fun and the experience is then put into practice.
Adults have the opportunity to attend an adult workshop which also combines viewing art with practical work. Since the end of 2016 the artists' workshops have become very popular. The individual participants are able to look over the shoulders of artists representing different styles of painting and receive assistance from them.
Once a year the Museum Angerlehner opens its doors to families free of charge. There is much to discover in and around the museum on this family day. An afternoon full of exciting impressions and activities await the whole family.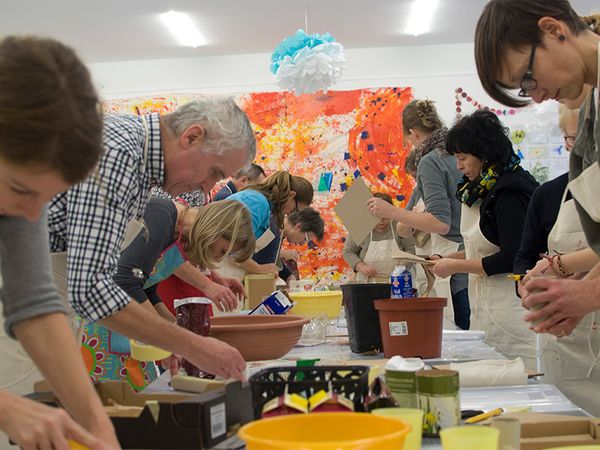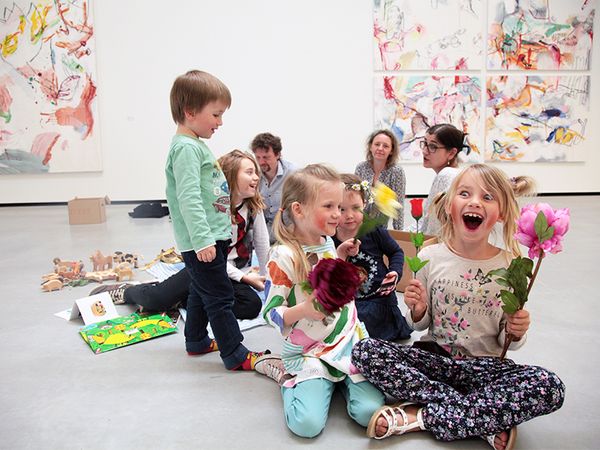 Workshops for school classes constitute a special emphasis in the programme of art education. A special workshop is on offer for each new exhibition. There are also workshops which can be booked at all times. These are individually adapted to the relevant target group. Work in small groups facilitates a deep immersion in contemporary art. The joy of discovery and creativity is at the forefront.
Besides the workshops, school classes also have the option of booking a onehour art interview. This dialogue format prioritises a joint discussion of the works and genres currently on display as well as theories of art.
Senior citizens also enjoy the stimulating workshops in the studio at the Museum Angerlehner in a pleasant atmosphere.
The museum constantly seeks cooperation with different institutions. Sustainable, long-term projects have already been honoured with awards.
In recent years much has been done in the studio. Shapes have been cast in concrete, objects dipped in plaster or laid in a marbling bath and watercolours have been created. Whether acrylics, wax, inks, UV colours or earth colour, any type of technique can be learned by visitors to the workshops. Moreover, time capsules have been buried, calendar pictures photographed, sounds recorded, attractive Christmas decorations made and wild dances performed. Chinese calligraphy has been intently perfected and the roadway painted with giant pieces of chalk. A pleasant picnic could only be recommended by the participants. In the laboratory dreams have been dreamt, traces analysed and abstractions developed. Participants are offered a programme that is more than varied. The number of registrations to the present day bear testimony to high quality and lasting success.
Please contact us for more information: kunstvermittlung@museum-angerlehner.at
 office@museum-angerlehner.at
 kunstvermittlung@museum-angerlehner.at
 events@museum-angerlehner.at
OPENING TIMES
Monday – Wednesdayon request
Thursday – Friday14:00 – 19:00
Saturday – Sunday10:00 – 18:00
ENTRANCE FEES
Adults € 12,-
Concessions (seniors, students up to 26 years old, military/civil service) € 10,-
Children (up to 12 years old) € 6,-
School attendees (with identification) € 6,-
Tours, workshops:Entrance + € 5,-