By Lorien Suárez-Kanerva
Melisa Morgan Fine Art Gallery
Palm Desert, California
February-March 2022

There is a dichotomy in the properties of light as it transforms from an emanating source to reflect upon an illuminated surface – a tilting edge – likewise in space amid order and chaos. Elemental qualities of Light and Space appear alongside conceptual strands in the "Sightlines" exhibition and the gallery's collection. The curated exhibition by Andi Campognone, the director and senior curator of the Lancaster Museum of Art and History (MOAH), was showcased at the Melissa Morgan Fine Art Gallery in Palm Desert from February 12th through March 3rd. The show is an excellent contribution to the ongoing
influential Southern Californian "Light and Space" movement.
The "Sightlines'" artworks appeared as a multi-directional network of formal elements. These drew together compositional features such as line, color, material qualities, dimensionality, and form. By drawing compelling visual interconnections among the artworks (both through placement and selection), Campognone creates an open-ended exhibition space that induces a state of attentive perception. A cohesiveness emerges although each collected arrangement of artists in the salons harnesses a distinct visual identity.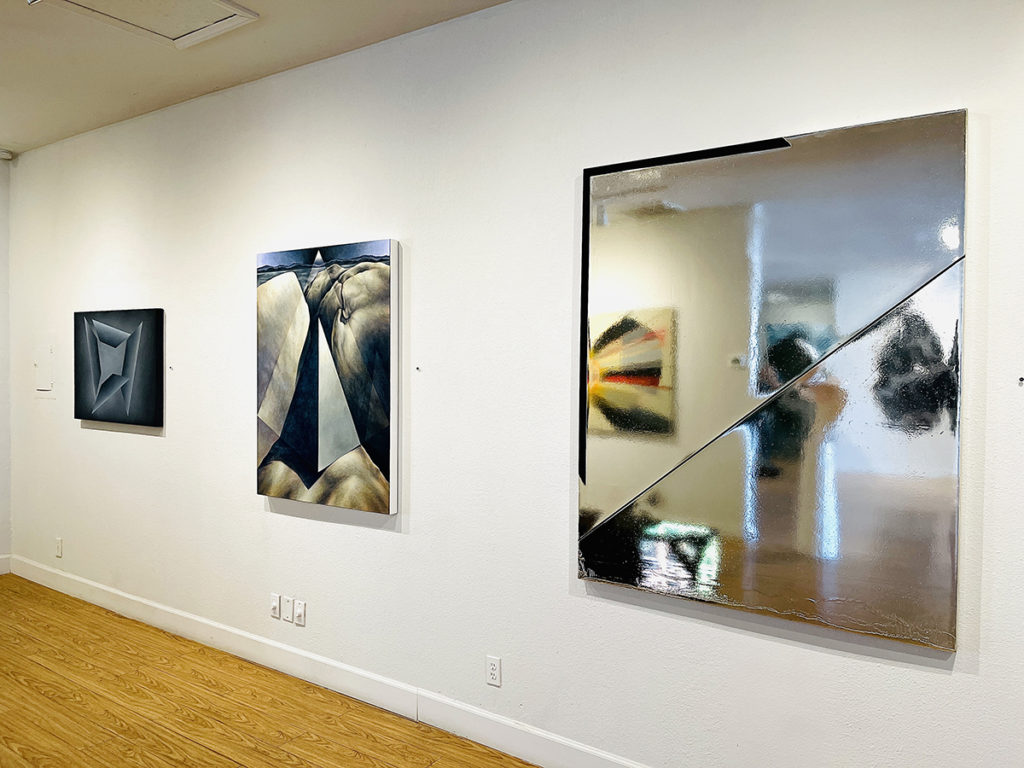 Geometry appears through the commanding placement of an archway, pyramid, parallelograms and linear features in the artworks of Kelly Berg, Kimberly Brooks, Jimi Gleason, and Marcia Roberts. Cool shades and tints of greys, greens, browns and blues harmonize in the shared show space between these paintings. The dichotomy between architectural and natural settings frames Berg's "Desert Synchronicity" and Brook's "Knightsbridge" and "A Sudden Realization" paintings. In their works, human-made structures are hard-edged and geometric. Berg's pyramid has an archaeological symbolic
character. The monument returns to its place in antiquity. It is a conscious appreciation of how civilizations and human habitation have transformed geological regions.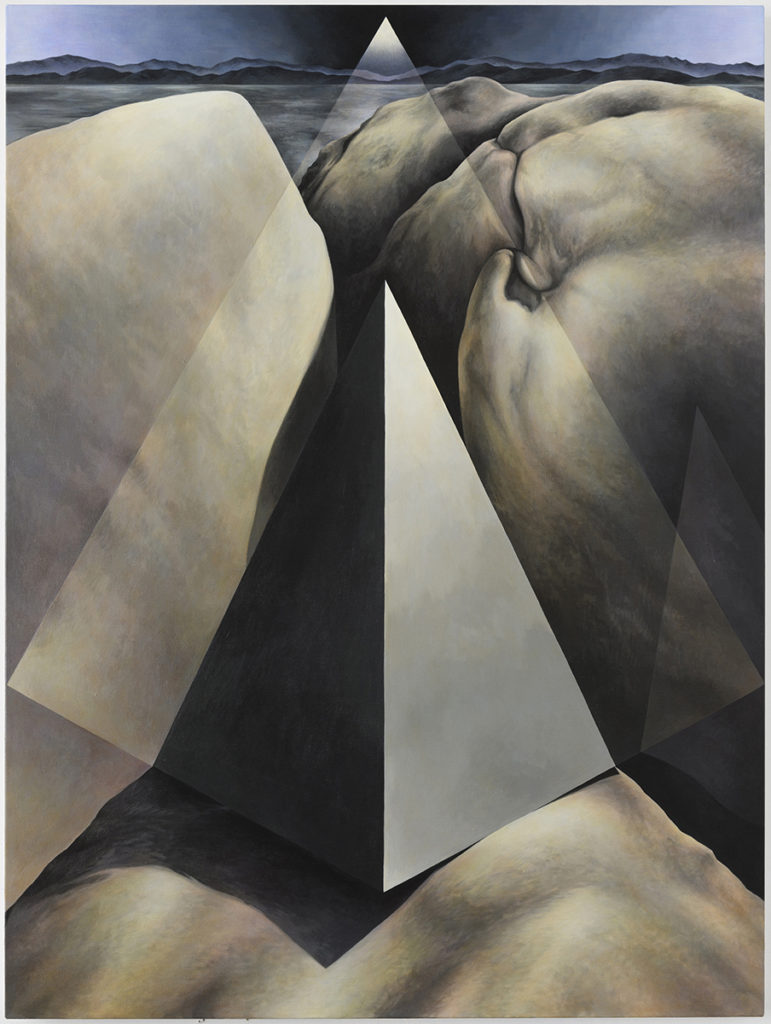 Human kind's dependence and remarkable achievements connect with the landscape's raw materials. Each edifice speaks of humanity's ongoing connection to the land. The building process, tools and components reflect the mental effort, capacity, and manner of physical work that fashion such structures.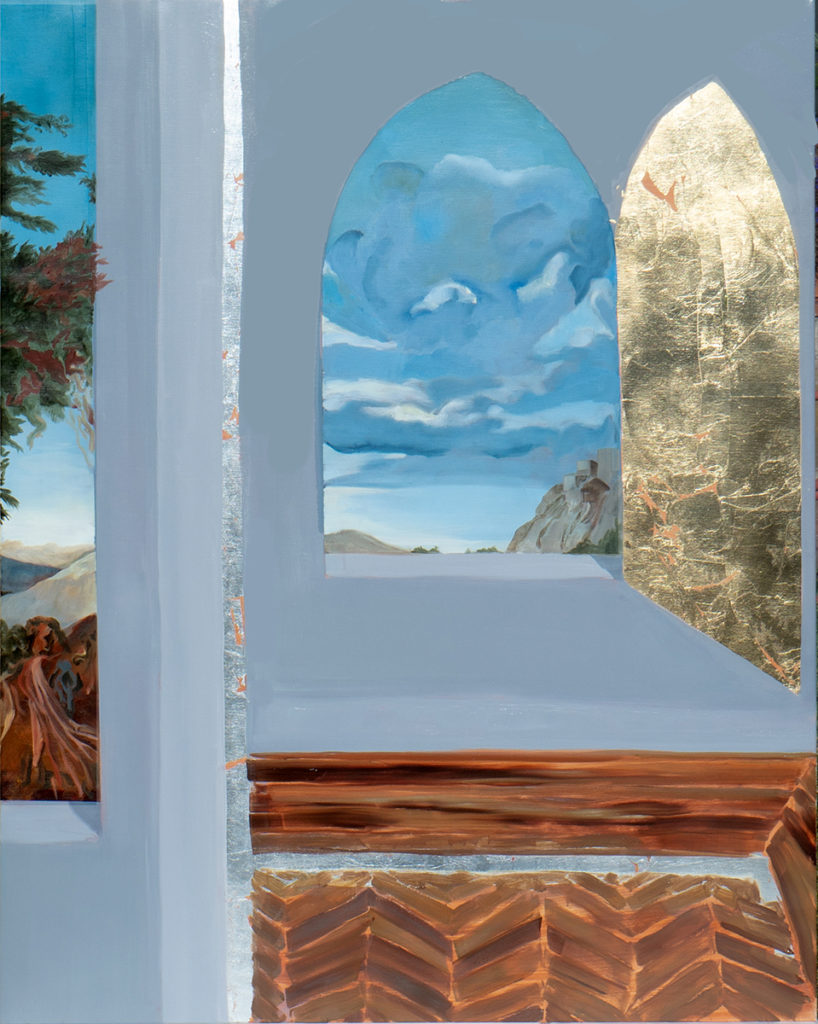 The silver luster of Gleason's monochromatic painted surface bridges space with its mirror- like qualities. The spectator is an ephemeral subject with a self-reflective appearance. Diffused and partially veiled by the surface opalescence, a transcendent aura contrasts with
the stark set of linear wedges that split the canvas and cut deep into the upper left borders.
Those incisions expose his artmaking-practice: a layered visual chronicle of his creative
process.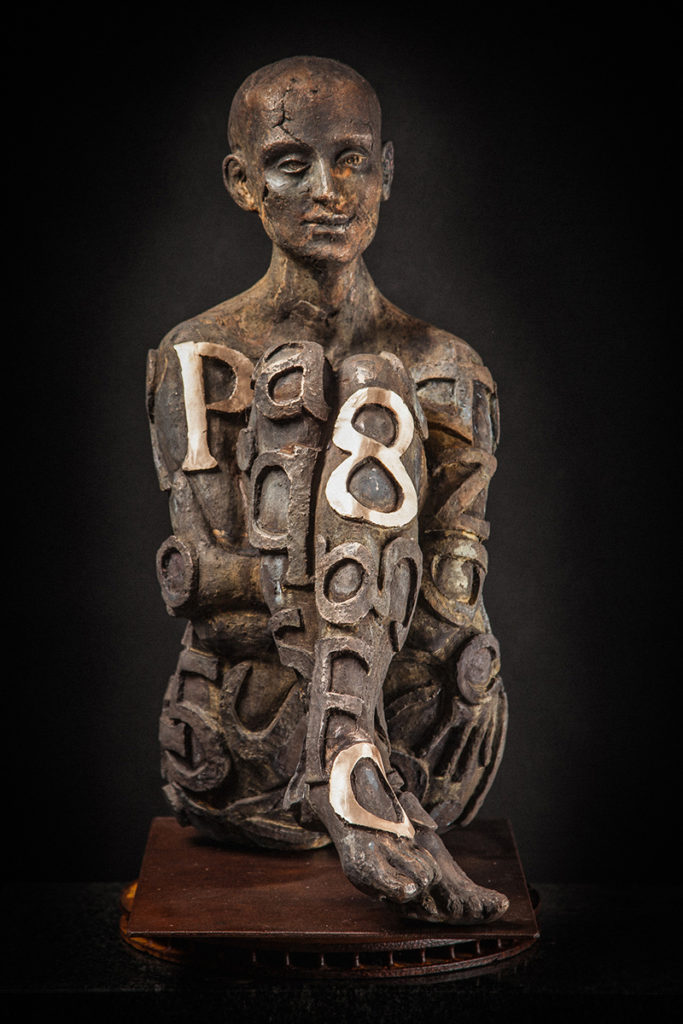 The human element appears both in a landscape and architectural setting and in sculptural
form in Norton Wisdom's paintings and Marek Zyga's sculptures. His sculptures draw from
the nature of relationships between people's similarities and differences as these appear
through their gestures, behaviors and reactions. "I look for sentences, in sentences words,"
and from the words, he seeks out "letters which I incorporate in my works. Eyes, hands-
everything speaks in its way."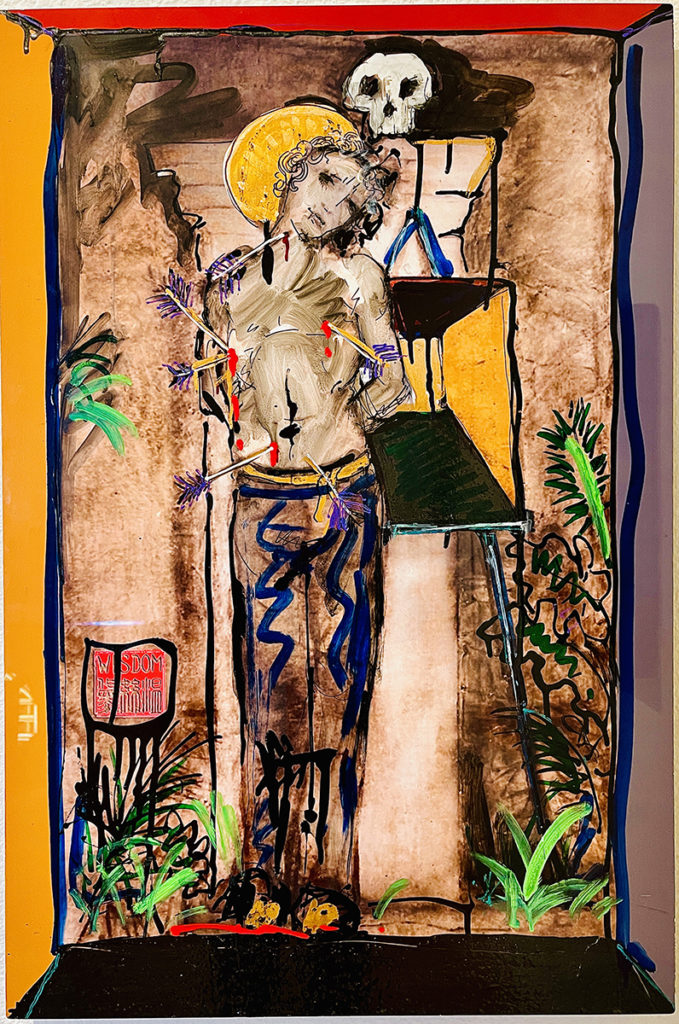 Zyga draws from stories he observes. The desire for understanding through interpersonal
communication includes mysteries. "Letters are a moving part of the world," both
"fascinating and mysterious." His sculptures combine classic form with contemporary design.
Wisdom's Saint Sebastian appears as the central figure crisscrossed with arrows while bound
to a colonnade in a courtyard-garden-like setting. Wisdom's image takes on a mystical and
tragic quality near Berg's and Brook's landscape allusions to archaeological and architectural
human design.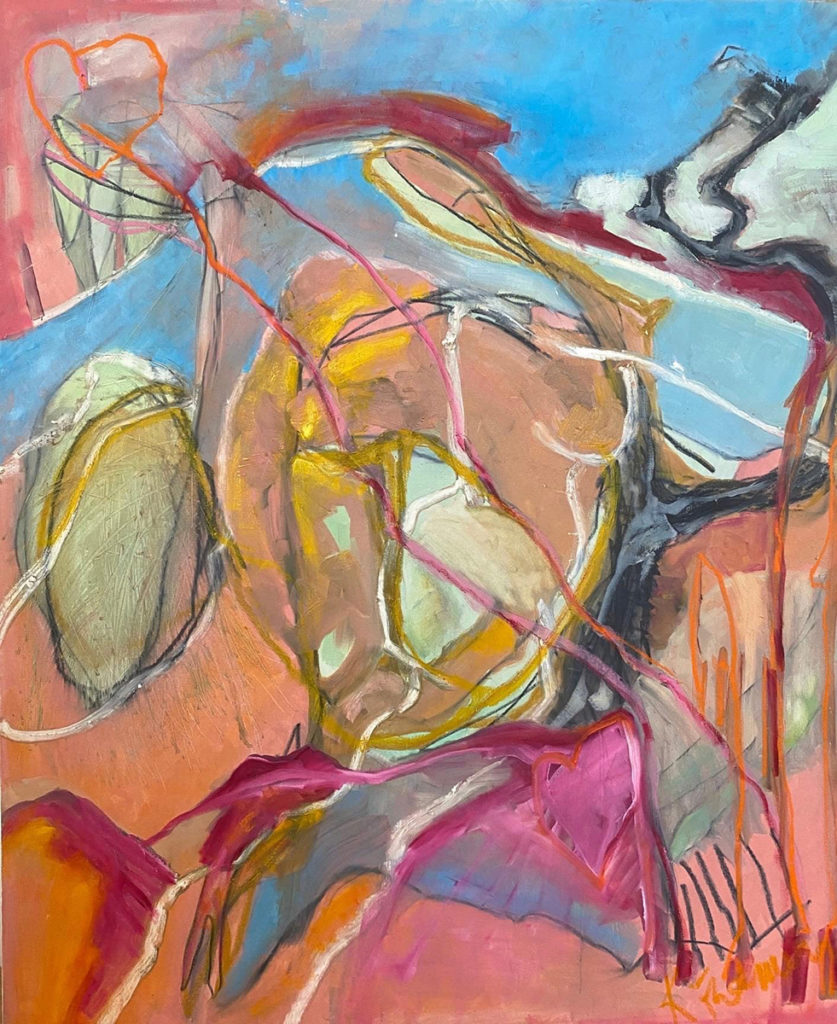 Wisdom's painting appears at the "Icon," or "Red" corner of Eastern, Greek and Roman
Catholic Christian devotional spaces. Traditionally such icons depict martyrs and other sacred
images. The gallery room's corner placement of Wisdom's painting draws several conceptual
and perception lines from this arrangement. Similarly, the Berlin Wall stood as such an edge
historically within global geopolitical and social landscapes. Wisdom experienced a volte-
face experience in his artmaking process towards concert-based performance endeavors from
his arrest in the 1970s. He was detained and subsequently deported for covertly painting 500
feet of the Berlin wall (East German side).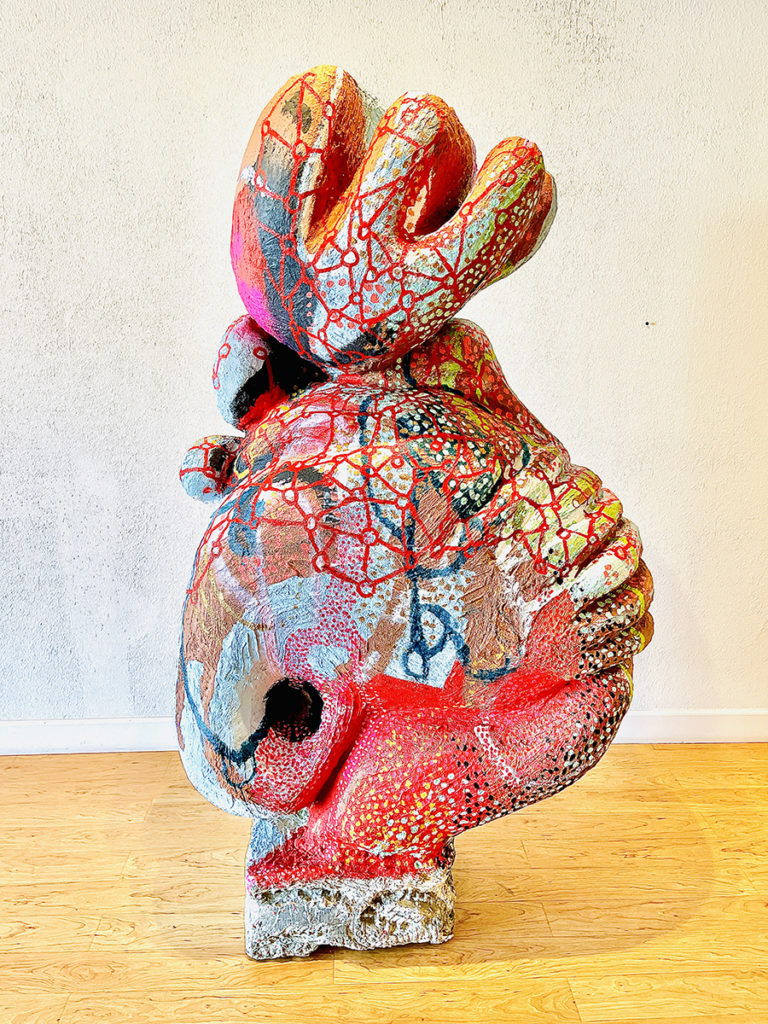 Cybele Rowe's "Amuletum Menhir" sculpture appears next to Kaye Freeman's painting. There's an
organic abstract affinity in their visual language and creative inspiration. They teamed up in "The
Love Armada" to create collaborative artworks at one time. Each artist, through divergent media and
aesthetic impulses, conceptually celebrates life. They sustain unique, innovative, creative processes
employing vibrant color, compelling abstract form arrangements, and an optimist ethos.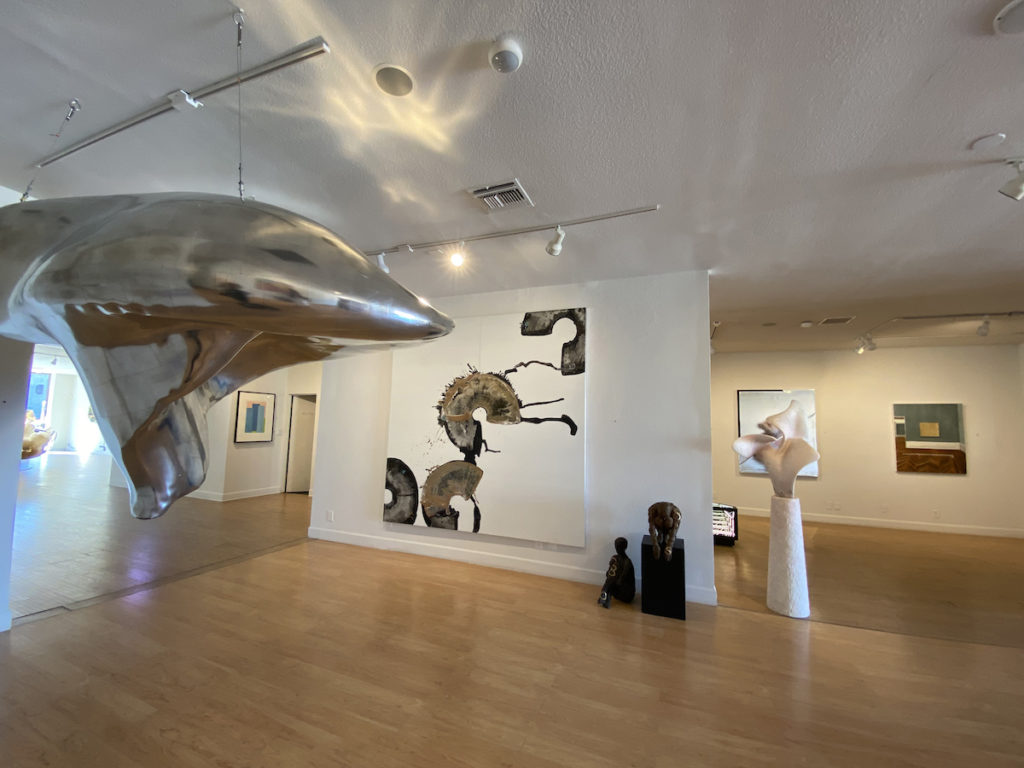 Rowe's sculpture, along with that of Richard Erdman "La Luz," Iñigo Manglano-Ovalle's "Storm Prototypes", and Anthony James's "Portal Icosahedron" with their imposing magnitudes, move beyond traditional human-sized measurements. In The Poetics of Space, phenomenologist Gaston Bachelard observes that augmented scales "by transcending the world seen as it is…the real product is a consciousness of enlargement…It is this inner immensity that gives their real meaning to certain expressions concerning the visible world."
These sculptures command notice with their presence.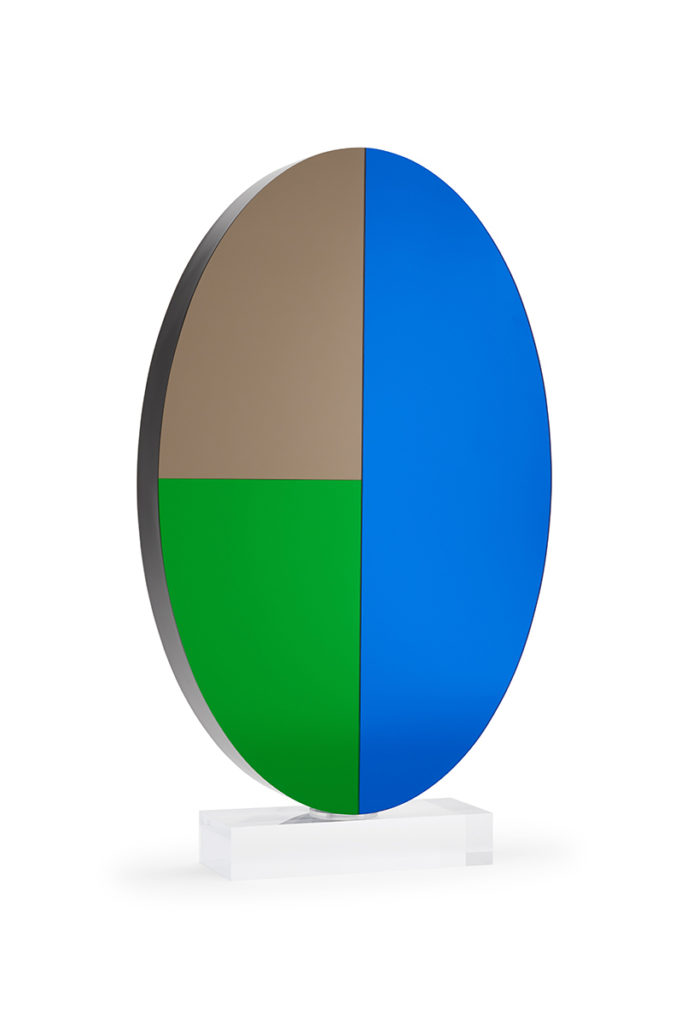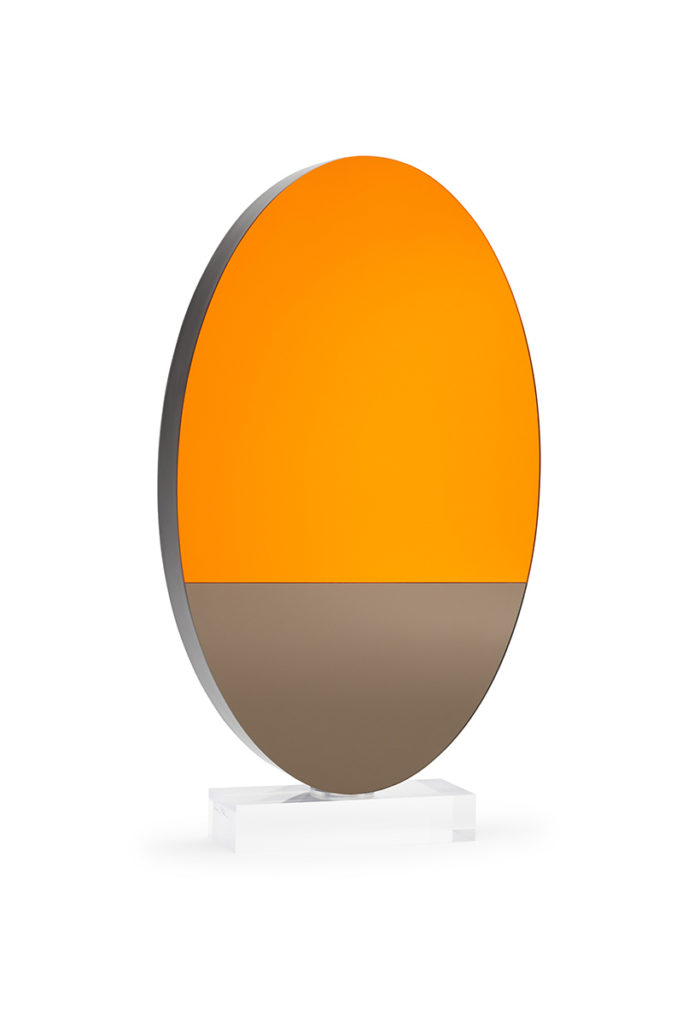 Shana Mabari's "Leukos Petals" are vibrant oblong sculptures. Each monochrome or dyadic color effect appears enhanced by its reflective and translucent material combinations. Her distinct approach touches conceptually with the 60s "Light and Space" artworks, including De Wain Valentine's colored circles and Helen Pashgian's cast lenses and spheres.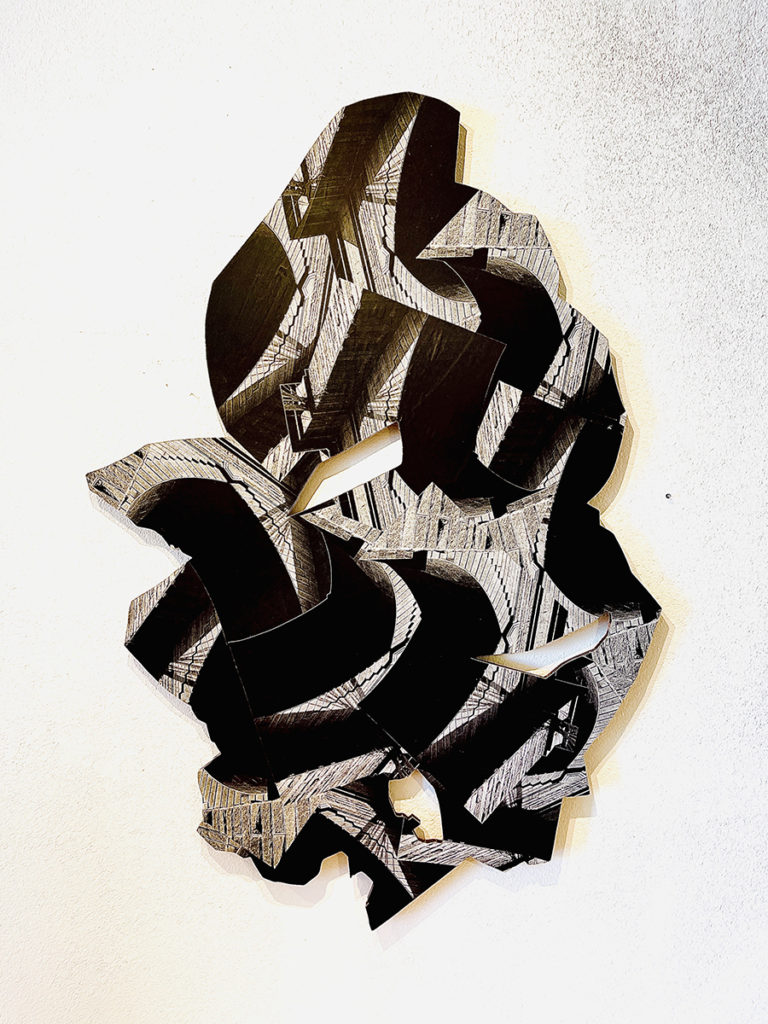 Ray Beldner's "Final Reckoning Fall," an Escher-like composition, stimulates a form of perspective through a space-bending ensemble of stairways. Beldner stated that he deconstructed historical images into collages that are "bright, active, lyrical and visually confounding." This artwork transposes alternate permutations of north-south, east-west or zenith-nadir bound staircases. His purposeful disorder of structural flow unfolds into a harmonious alignment.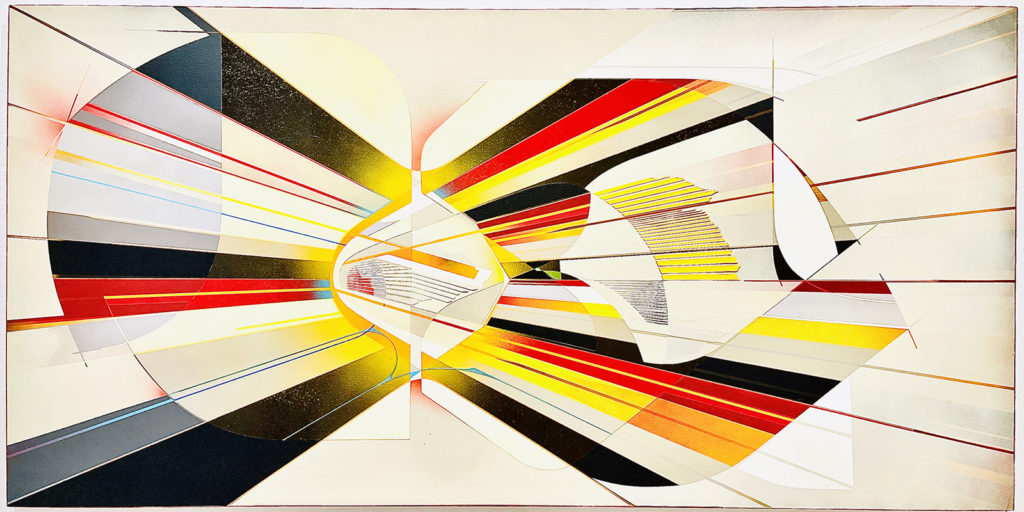 Mary Anna Pomonis' geometric painting smoothly aligns in character beside Anthony James' "New Wall Portal" in "Sightliness." Both artists' mathematical affinities and material differences magnify beside one another. Color and form pool into a complex matrix of linear and diamond junctures in "Elektrajet." Lines extend outward from axial vortices outside a precise mathematical sequence in Alex Cowenberg's painting. His composition balances an order of geometric elements that's ungoverned by mathematical constraints.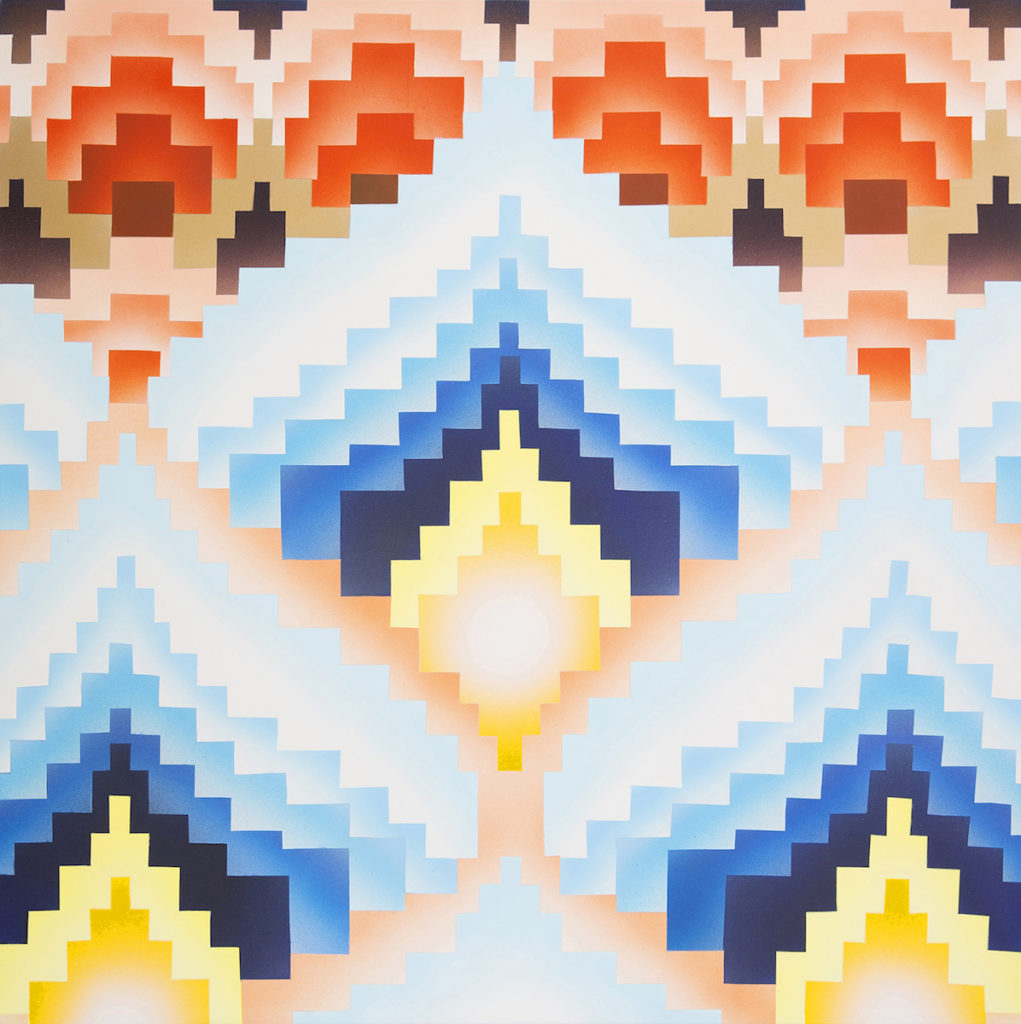 All three artworks, James' lighted 3-D wall sculpture alongside Pomonis' and Cowenberg's paintings, recalibrate and refreshes the ongoing conceptual exploration of the nature of space. Likewise, Beldner's paradoxical stepping array distinguishes and enhances the dichotomies of the visual and spatial experiences evoked by Mabari's geometric translucent and reflective sculptures. The nature of space is thus richly nuanced through the conceptual explorations of the artists.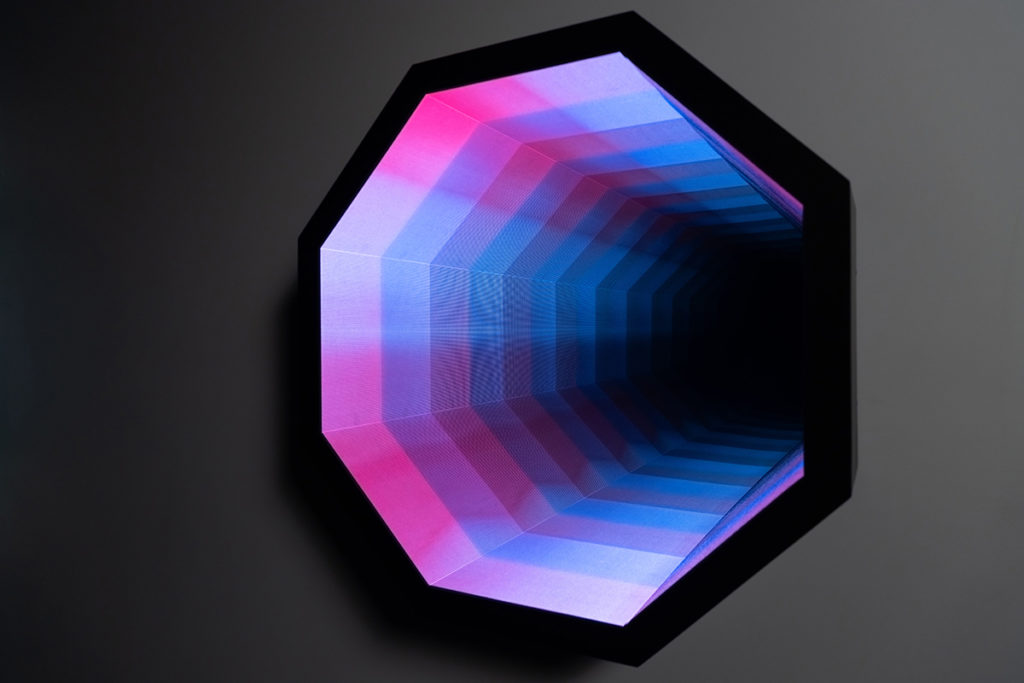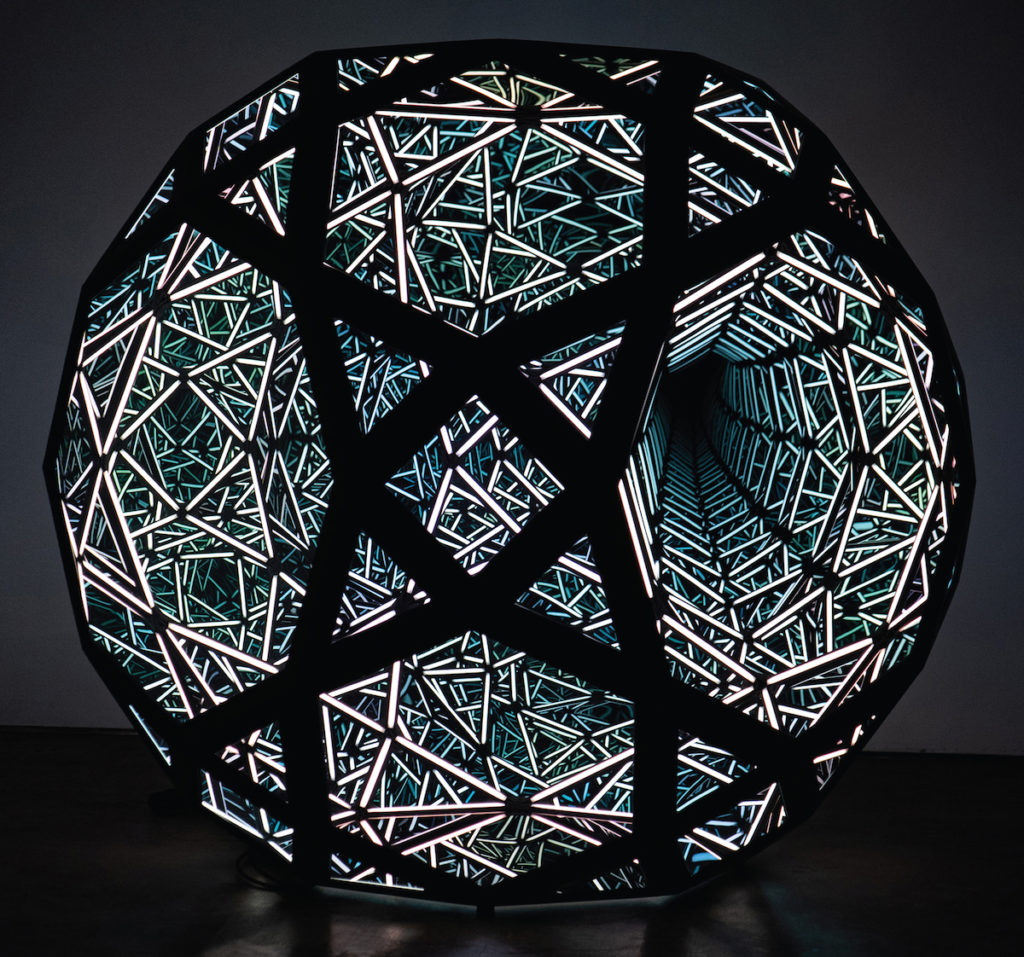 As a philosopher of perception, Bence Nanay observed that it is less likely perception would thus be constrained solely towards preselected elements deemed relevant by the viewer. Aesthetic engagement rests in the artworks' formal elements, such as line, color, form and materials. Some bring balance amidst disarray, and curiosity arises from the unexpected and paradoxical. A viewer experiences a distributed form of attention over several visual compositional features shared and reflected between the artworks.
Anthony James' allegorical quest "visually demonstrate[s] the colossally vast and infinitesimally small – the cosmos and the divinity inside oneself." A dramatic rubric of mirrors reflect lines of emanating incandescent light. An infinity of ordered coordinates appears multiplied through a precise concentration of geometric patterns. "Portal Icosohedron" draws vibrancy from a harmonic beauty elicited by the artist's expressive intent.
Light and Space reflect and direct perception through the broader connections framework as an articulated evocation of a cohesive whole. Nellie King Solomon's alchemical artmaking process is a visual and phenomenological break towards disorder. Her material admixtures yield novel substances with particular flow mechanics deftly attuned to her "stuff of guts" tensions appearing as surface "corrosion" and "glitz" that mirror gestural-conceptual outlooks.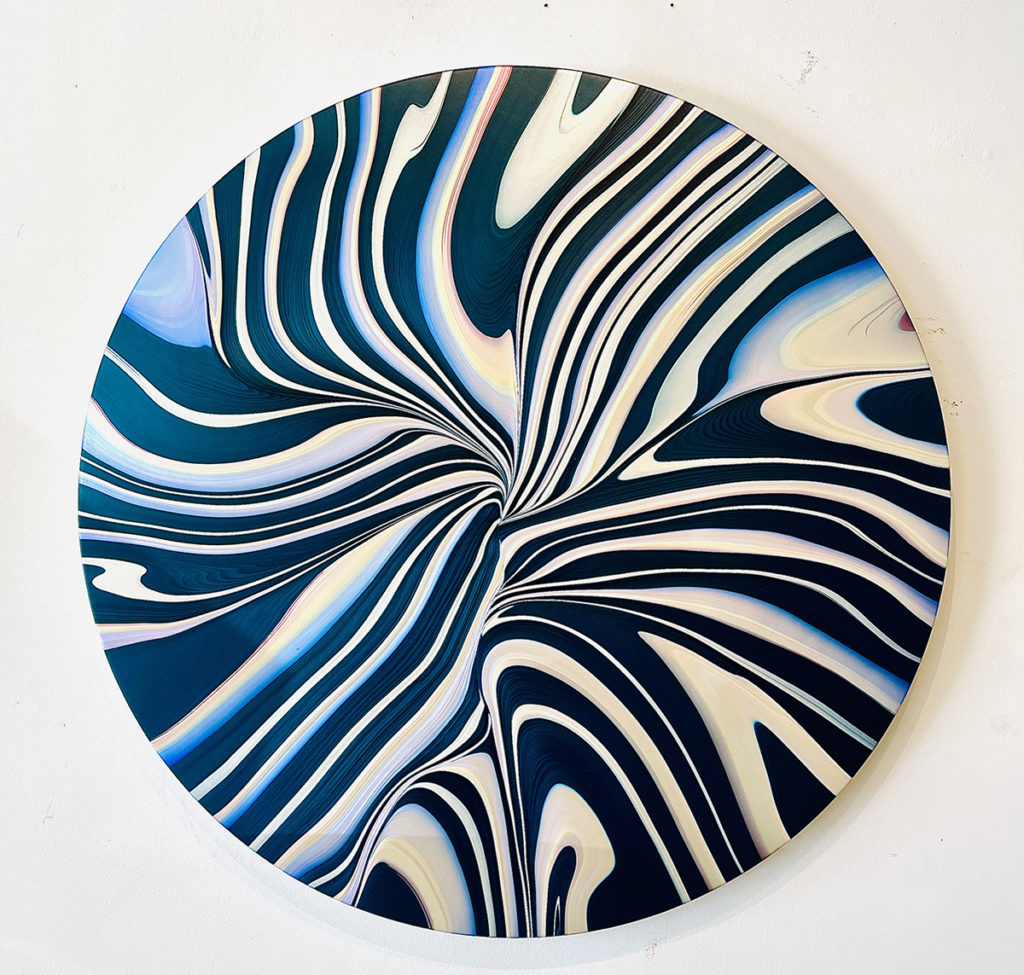 Andy Moses' work builds meticulously layer upon layer. Through a tilting process of paint, he directs his medium's fluidity as it settles within its course. Cohesively composed, the artworks culminate in a harmonious finale orchestrated on the canvas. Both paintings evoke natural patterns and rhythms. His sensibility stems from experiences of being near the ocean and the natural environment. An appreciation of natural patterns is evident in his artwork. It is attuned to millennial sedimentary deposits and ephemeral aquatic and air currents.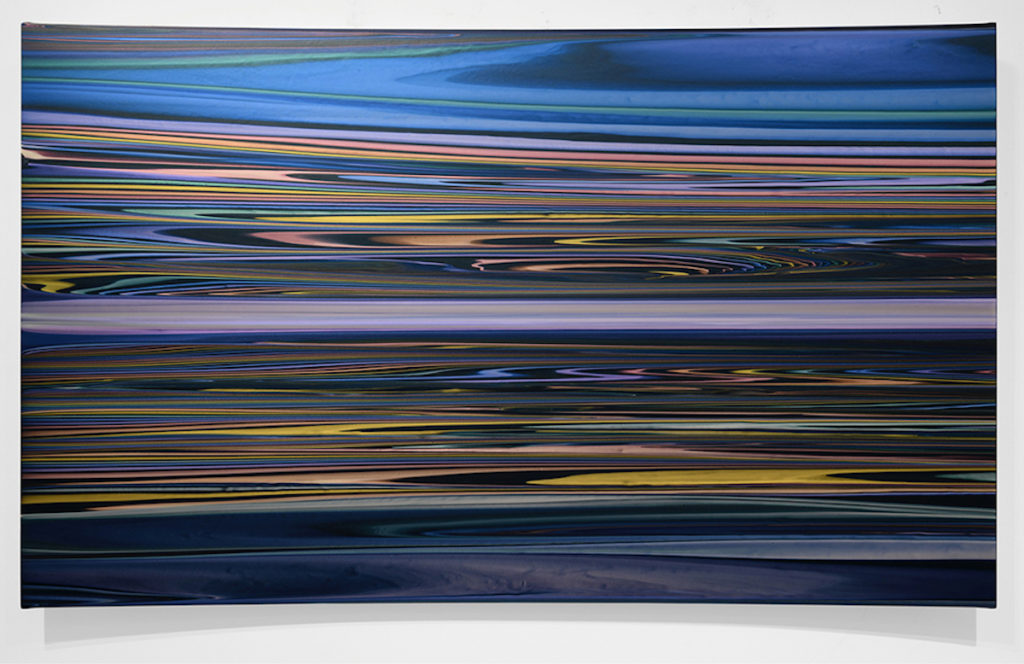 Marcia Roberts is unique in the exhibition as one of the original members of the iconic "Light and Space" movement. Her formal composition and material techniques achieve a time sensitivity that is responsively adaptive to the painted surface.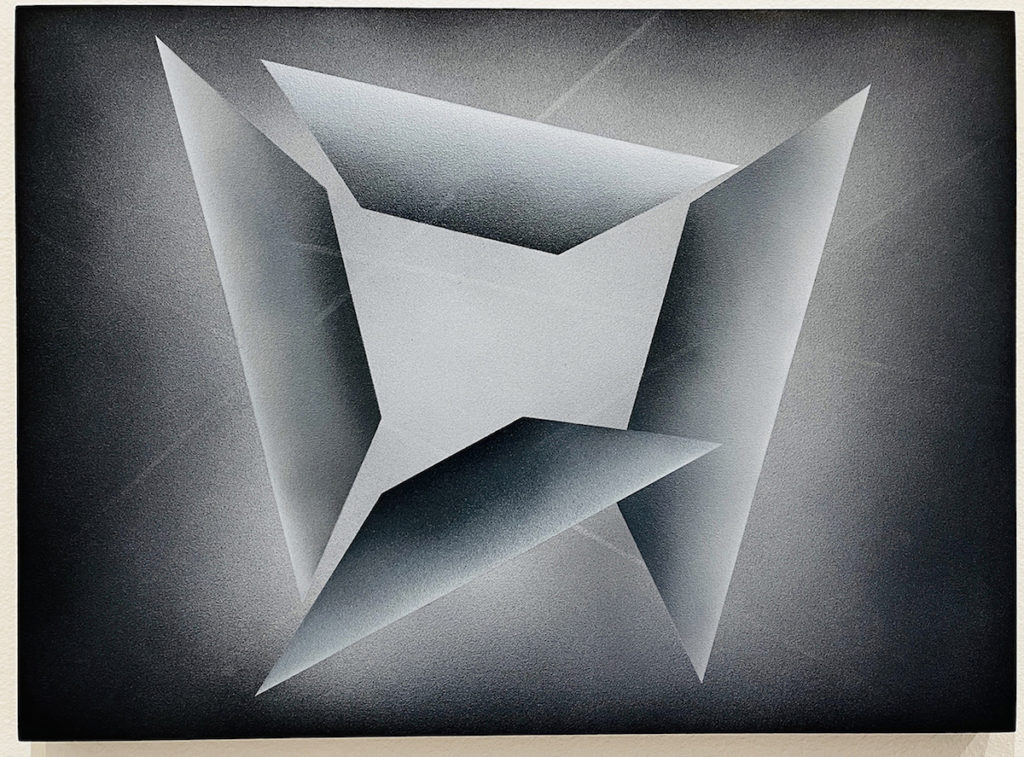 Parallelograms distinctly twist and turn as if suspended in space on Roberts' canvas. Placement and angularity share a similar quadrilateral form. A subtly illuminated rectangular grouping of lines elegantly augments the layered geometric correlation. The outline appears at a rotation. It hovers over the central composition like a ghostlike visage. Roberts's material process and conceptual awareness align with an essential quality where time defines physical form.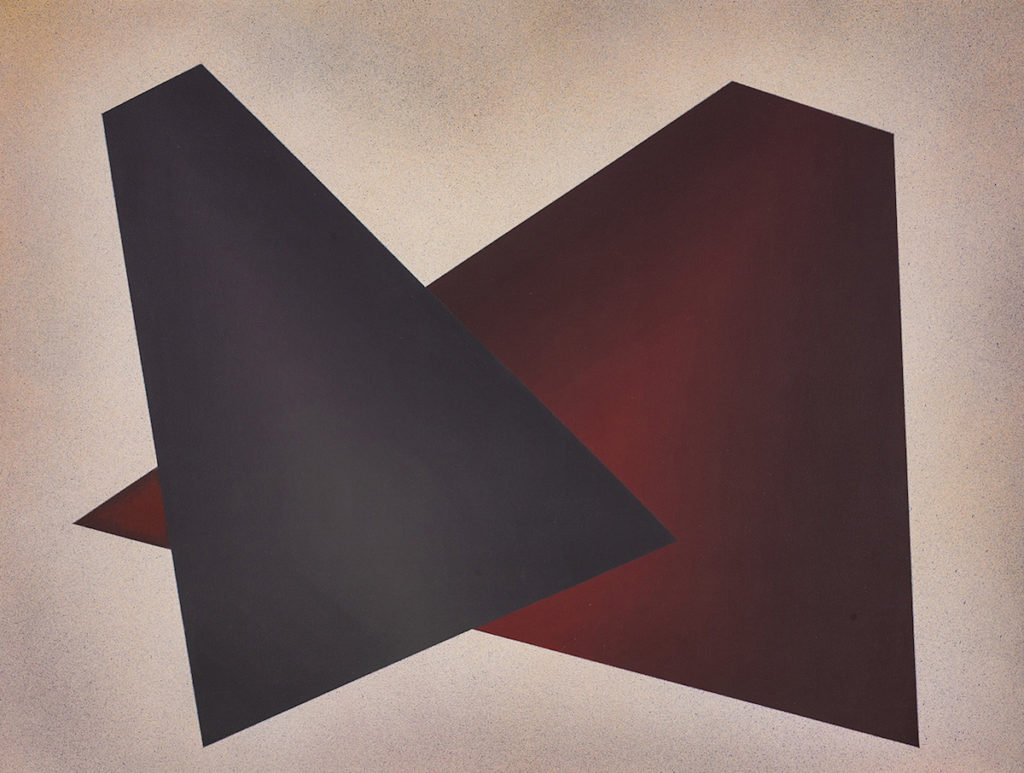 Robert's sophisticated phenomenological exploration and understanding of the temporal- elemental effects of light are noteworthy for their singular contribution to the historical "Light and Space" movement.
Efforts towards the recognition and re-integration of community movements through curatorial concepts such as those by Campognone in collaboration with Melissa Morgan Fine Art gallery and its management of the Roberts' living trust are noteworthy for their
knowledgeable efforts towards furthering the recognition of the artists' legacies.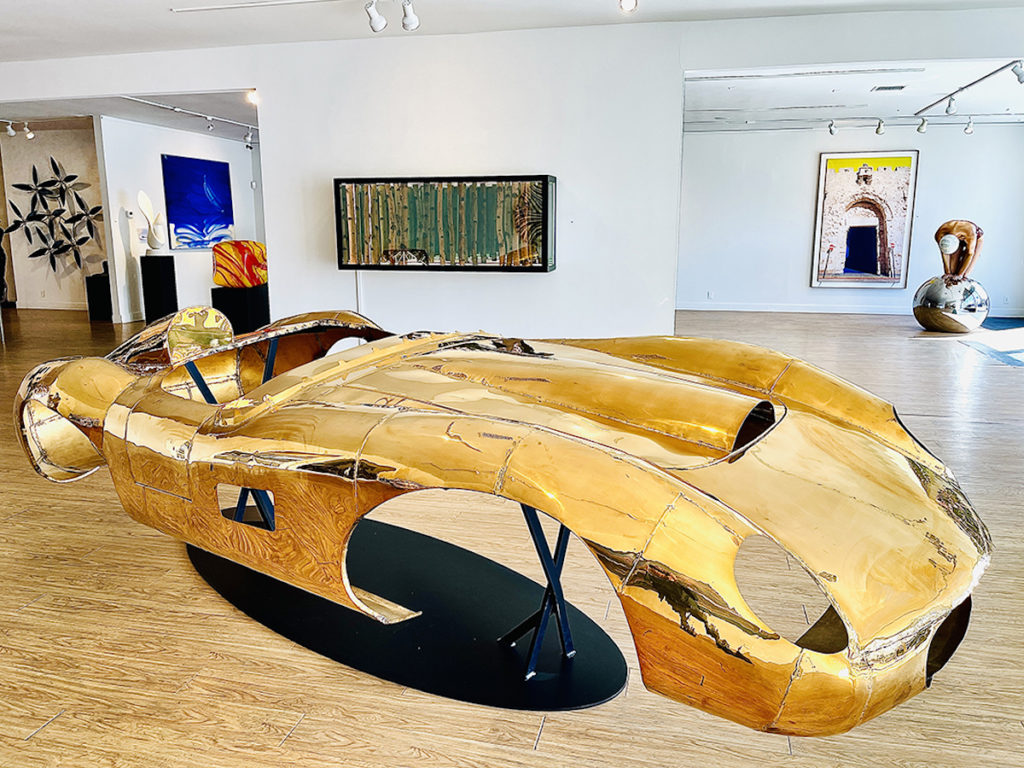 A permeable connection between formal elements and a conceptual transcendence appears amongst the artworks. The simultaneous distinctiveness introduces a framework akin to Jane Bennett's reflection in "Influx and Efflux." "Sightlines" artists highlight an analogous creative undertaking. Bennett observes that all matter "give[s] out from themselves particles of their coded substances…that may then reproduce in others something of the nature of the persons in whom they have originated."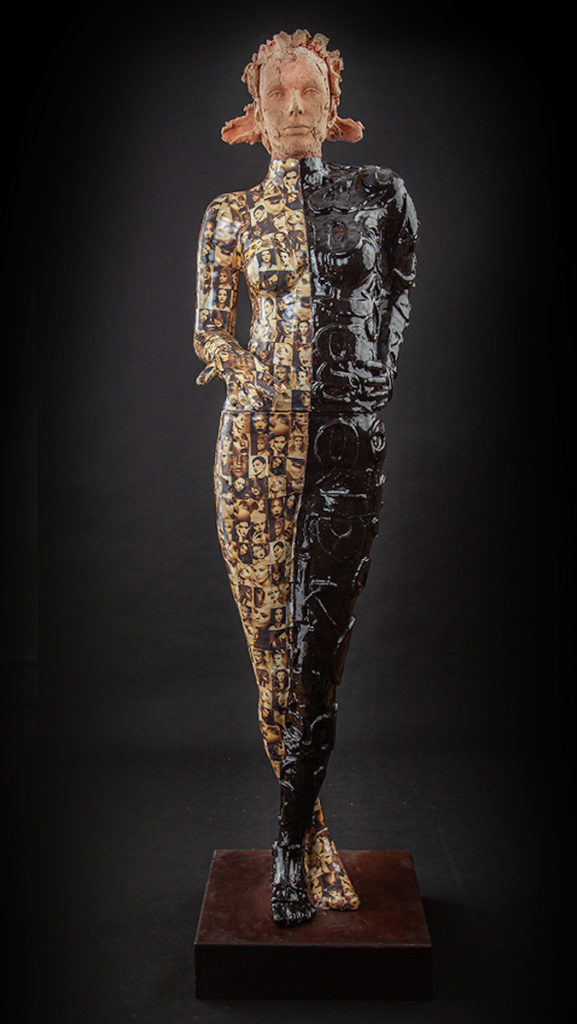 Each substance and subject appears as a microcosm of a larger macrocosm. Ordered and disordered, organic and non-objective forms, translucent, corroded, glitzy and fluid substances with emanating and reflective light all come together in a mix. It is an inherently meaningful subject that arises. "How to bespeak of an I alive in a world of vibrant matter?" Such queries are considered in this exhibition while exploring meaning and continuing the effort at framing knowledge through definitions of subjects like Light and Space.