Flourish 2022
Arts & Business Council of Miami
Now more than ever arts organizations need tactics, tips and new strategies to reach new audiences, engage your patrons and connect with new sponsors.
Miami Arts Marketing Project is a high-impact series curated for the arts and creative ecosystem that provides the discovery of the latest trends in marketing, innovation and exploration of impactful partnerships and new audiences. As the arts comeback intensifies your organization needs tactics, tips and inspiration to reach new audiences, engage your patrons and connect with new sponsors.
Join us to amplify your marketing, outreach and fundraising. Kick-start 2022 with a collaborative experience unlike any other.
GET TICKETS: https://www.eventbrite.com/e/mamp-flourish-2022-series-tickets-226029208447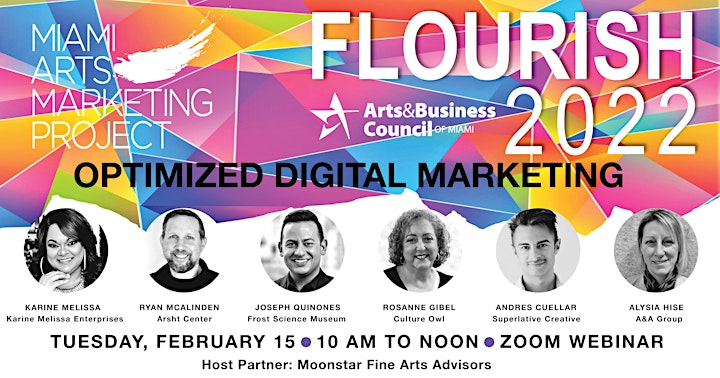 February 15 10AM to Noon
OPTIMIZED DIGITAL MARKETING
Session Leader: Joseph Quiñones, Frost Science Museum
Gain insights and perspectives into how your organization can become more responsive, resilient and forward-thinking as we take a deep dive into digital marketing. In this session we explore how to amplify your cyber marketing arsenal to improve and optimize your website, fuel your email campaigns and intensify your SEO to reach more diverse audiences and patrons. Harness the power to captivate and convert.
THOUGHT-LEADERS:
Andres Cuellar, Superlative Creative
Rosanne Gibel, Culture Owl
Alycia Hise, A&A Group
Ryan McAlinden, Adrienne Arsht Center
Karine Melissa, Karine Melissa Enterprises
HOST SPONSOR: Moonstar Fine Arts Advisors
March 15 10AM to Noon
MASTERING MEDIA COVERAGE
Session Leader: Melinda Sherwood, Kreps PR & Marketing
So many media opportunities, so little time. Media coverage is important to build awareness, increase credibility and boost ticket sales. To get your arts group covered, you need to get their attention. Join us to explore how to think creatively and expansively about your messaging, and tell your story. You will get tips from the experts on how to build relationships with journalists, create strategies for press placement, fine-tune your message and pitch curated stories to non-traditional media.
ACCELERATOR KEYNOTE:
Mandalit del Barco, NPR
Jawan Strader, Channel 6
THOUGHT-LEADERS:
Dexter Bridgeman, MIA Media
Melina De Rose, Artburst
Michael Radlick, Norwegian Cruise Line
Manny Ruiz, Brilla Media
HOST SPONSOR:
April 12 10AM to Noon
COMPELLING COLLABORATIONS
Session Leader: Kim Hills, Miami DDA
Now more than ever, savvy groups are designing impactful, strategic collaborations to increase their outreach, reach new audiences and impact the community. Smart partnerships are a proven tool to enhance participation and engagement in varied and sometimes surprising ways. How can your group build authentic collaborations within the creative ecosystem and with community-based organizations to create positive change? Get inspired from our featured experts.
THOUGHT-LEADERS:
Adrienne Chadwick, OLCDC
Natalie Lewis Schere, PATH to Hip Hop
Deborah Magdalena, Spoken Soul Festival
Lilyvania Mikulski, Codina Partners
Melody Santiago Cummings, O, Miami
Jairo Ontiveros, Adrienne Arsht Center
Deborah Plutzik-Briggs, The Betsy Hotel
HOST SPONSOR:
May 10 10AM to Noon
MAGICAL MOMENTS: EXPERIENTIAL ART
Session Leader: Deborah Magdalena, Spoken Soul Festival
Personalized arts activations are an innovative way to engage your patrons and audiences. Linked to trends in marketing, entertainment and social media, immersive art empowers the participant to customize and share their experience. From custom exhibitions, to participatory performances, to interactive lobby displays, this session will explore opportunities to increase involvement and empower your enthusiasts.
THOUGHT-LEADERS:
Tanya Bravo, Juggerknot Theatre
Annie Hoffman, South Miami-Dade Cultural Arts Center
Jairo Ontiveros, Adrienne Arsht Center
Chire Regans, VantaBlack
Shantelle Rodriguez, Superblue
Hattie Mae Williams, The Tattooed Ballerinas
HOST SPONSOR:
August 16, 2022 9AM to noon
ARTS FOR EVERYBODY: MARKETING TO AUDIENCES WITH DIVERSE ABILITIES
There are millions of people with diverse abilities in South Florida, many that love the arts. Learn how to target your outreach to tap into this growing market. Attracting and accommodating audiences with disabilities is not just about physical access, it's also about providing inclusive programming and a welcoming environment. Featured thought-leaders will provide expertise and tools for your organization to reach people with diverse abilities and provide meaningful cultural experiences.
THOUGHT-LEADERS:
Keynote and speakers coming soon.
HOST SPONSOR:

SAVE THE DATE: MAY 24 8AM – 3:30PM
At the Adrienne Arsht Center for the Performing Arts
Our popular conference, curated for the creative ecosystem, is back in person for 2022! Engage and learn from local and national experts to amplify your organization. Dynamic accelerators will focus on how to artfully pitch your assets to stimulate fundraising and how to build a bold brand for new times. Experience imagination stations and get answers at coaching pop ups. Industry changemakers will deliver real-life strategies and engage in dynamic discussions that will educate, inspire and ignite. Watch your inbox for updates and details.

2022 ALL ACCESS LABS PASS $200
Includes 6 labs, access to MAMP digital library all year.
2022 ALL ACCESS LABS PASS + CONFERENCE $350
Includes conference + 6 labs, access to MAMP digital library all year, and insider perks.
If you're interested in purchasing any of the all access labs pass packages listed above, please complete this registration form.
LABS – Individual LABS $35 each
Invited speakers subject to change.
SCHOLARSHIPS
ALL ACCESS PASS SCHOLARSHIPS AVAILABLE FOR CURRENT RECIPIENTS OF THE FOLLOWING MIAMI-DADE DEPARTMENT OF CULTURAL AFFAIRS GRANTS:
Cultural Development Grants, Developing Arts in Neighborhoods Grants, Hannibal Cox, Jr. Grants, Youth Arts Miami Grants and Community Grants.
Eligible for Scholarship? Email Maria@ArtsBizmiami.org for the form.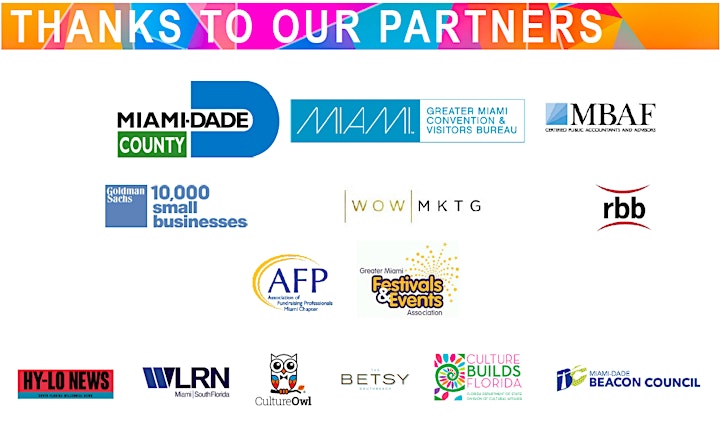 Steering Committee
David Berry, Ali Bibeau, Karina Diehl, Taylor Cavazos, John Copeland, Natalia Crujeiras, Andres Cuellar, Lilia Garcia, Rosanne Gibel, Brendan Glynn, DeAnne Connolly Graham, Yvette Harris, Kim Hills, Rebekah Lengel, Annette Malkin, Deborah Magdalena, Erika Mayor, Jeanne Monks, George Neary, Ann Nuñez, Ana Palmer, Lisa Palley, Surale Phillips, Wolfgang Pinther, Neuza Farache Porto, Joseph Quiñones, Michele Reese, Aubrey Swanson, Melinda Sherwood, Ernesto Varela
Arts Biz MAMP Team:
Laura Bruney, Carmen Rodriguez, Maria Llorca

To request materials in accessible format, sign language interpreters, CART, or any disability accommodation, contact carmen@artsbizmiami.org 5 days in advance.
With support of Miami-Dade County Department of Cultural Affairs & Cultural Affairs Council, Miami-Dade County Mayor & Board of County Commissioners.
Flourish 2022
Arts & Business Council of Miami
Organizer of MAMP FLOURISH 2022 SERIES
The Arts & Business Council of Miami is leading the movement to build a sustainable cultural ecosystem through advancing high-impact partnerships between business, entrepreneurs and the arts. As Miami's only organization that leverages the arts for economic vitality, ABC provides meaningful engagement opportunities with the arts to inspire employees, stimulate innovation and foster creativity. When a business partners with the arts, they strengthen the entire community. For over 30 years, ABC has played a leading role developing programs that bring together business and arts for effective and mutually beneficial outcomes. We assist over 500 arts groups through executive consultancies, leadership training, audience development, workshops, forums, curated outreach and networking events.