FAMA, Fiber Artists Miami Association
WE ARE AN ARTIST-INITIATED GROUP THAT EDUCATES, ADVANCES AND ELEVATES TEXTILE TRADITIONS, AND CONTEMPORARY FIBER TECHNIQUES.
WE PROMOTE AND ENCOURAGE EXCELLENCE IN THE CREATION, EXPERIENCE, AND
SUPPORT OF THE ARTS FOR THE ENRICHMENT OF OUR TOTAL COMMUNITY.
OUR GOAL IS THE EDUCATION AND ADVANCEMENT OF THE FIBER ARTS MEDIUM.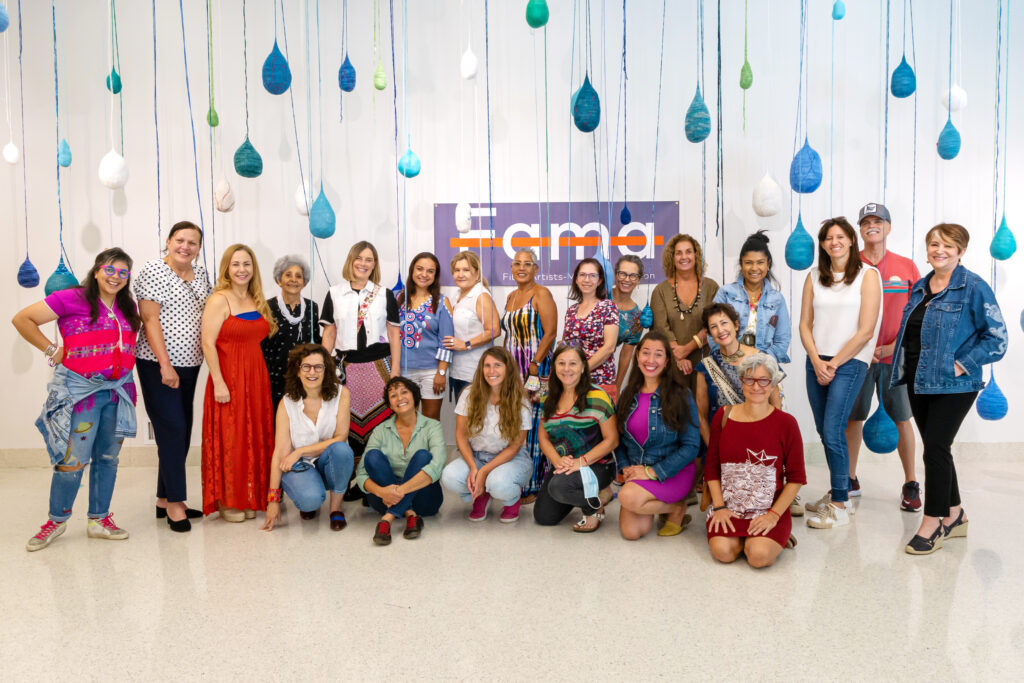 The Red String of Japan is a myth that explains human relations and how people are all predestined to meet by a red string that the gods tie to the pinky fingers of those who find each other in life. The myth states that a string will lead them to other persons with whom they will make history. Fiber artists Aurora Molina, Evelyn Politzer, and Alina Rodriguez-Rojo are kin spirits in textiles whose paths have become entangled in this conductive red string.
The COVID-19 paradoxes at play brought the three artists together in organizing socially engaged virtual workshops that united people using the healing power of thread-based work. During the months of confinement, quarantine, and the time our city was closed, several artists gathered online to console each other and reconnect. The group formed a link through daily embroidery, weaving, and recyclable materials workshops. This daily communion was the impetus or the ultimate trigger for Molina, Politzer, and Rojo to mobilize and create FAMA. 
The idea for FAMA was an intuit conception when Rojo and Politzer simultaneously reached out to Molina with the same concept for an artist initiative. In three months, FAMA held its first exhibition at The CAMP in Miami with 40 artists, most of whom are women and ranging from eleven different nationalities. "40 Women Pulling at the Threads of Social Discourse" was curated by The CAMP Gallery owner Melanie Prapopoulos and staff. Fama surpassed the 100 member mark by its first anniversary in July 2021.
FAMA is a recipient of the Art in Public Places Committee and Cultural Arts Council, to participate in Miami Beach Open House in 2021. FAMA members participated in the Warp and Weft exhibition in Pembroke Pines in the summer of 2021. FAMA is collaborating with the CAMP Gallery to host a retrospective of an outsider textile artist in September 2021. FAMA will host Women Pulling at the Threads of Social Discourse- The Quilt during the month of October 2021 and Talking Threads: Dialogues with Weavers and Knotters of South Florida Exhibition, curated by Rebecca Dunham at the Esther B. O'Keeffe Gallery Building at The Society of the Four Arts, Palm Beach, FLorida. 
FAMA is currently presenting Threading the City, a citywide fiber arts event.
UNITED FOR THE FIBER ARTS
AURORA MOLINA
Aurora Molina Co-founder of FAMA received her Associate of Arts in Visual Arts from Miami-Dade College, a Bachelors in Fine Arts specializing in Fiber Arts from Florida International University, and a MFA in Contemporary Art at the Universidad Europea de Madrid. She currently resides in Miami, Florida, where she works as a full-time artist and is represented by Bernice Steinbaum Gallery.
ALINA RODRIGUEZ-ROJO
Alina Rodriguez is a Miami-based artist/ museum educator/Curriculum Support Specialist and visual arts educator for the Miami-Dade County Public Schools. She has intersected her 30 years teaching profession to embrace all her passions: textiles, visual arts, curatorial work, arts education, and now a co-founder of FAMA.
EVELYN POLITZER
Evelyn Politzer lives and works in Miami, Florida. Following her passion for fibers, she graduated from Parsons School of Design in NYC and has an MFA from MIU. Through her work, Politzer expands our appreciation of fiber arts and the techniques of knitting and crochet as artistic form and now is committed to advanced fiber as a co-founder of FAMA.
SUSAN FELICIANO
Susan Feliciano is an artist, educator, and poet. … A native of New York, Feliciano attended Florida International University where she received a BA (1992), BFA (2001) and MS (2005). Feliciano is an Adjunct Professor at Florida International University's Art and Art History program and the Director of Inkimaru Studio.
SILVANA SORIANO
Born and raised in Rio de Janeiro, Brazil, Silvana Soriano is a visual artist currently based in Miami, Florida. Soriano has participated in numerous solo and group exhibitions in Brazil, Spain, France, USA and Cuba since 1984, including having her work featured at Pinta Miami Art Fair
NANCY BILLINGS
Nancy Billings, a New York native is a Coconut Grove, Florida based artist andteacher. She received her BFA in Fashion Design from Pratt Institute. Her movement from fashion design to fiber art was a natural transition using the same medium in new and innovative ways.
WINDY CHIEN
Artist Windy Chien is best known for her 2016 work, The Year of Knots, in which she learned a new knot every day for a year. Her work ranges in size from a knot that can fit in the palm of a child's hand to room-sized installations that are sought after by private collectors. Windy's book about her work was published by Abrams in 2019.
KHADIJAH CYPRESS
lives on the Miccosukee reservation and has been doing patchwork for the last six years after learning the craft techniques from her grandmother. In July 2018 she founded the Miccosukee Creativity Center—a community center on the reservation to foster the traditions of patchwork in her tribe while helping community members learn patchwork, beadwork, baskets and other crafts.
LAURA VILLAREAL
Born in Monterrey, Mexico (1971). Works and lives in Miami, USA.Laura initiated her art studies at the University of North Carolina, the New York School of Visual Arts and the Art Students' League in NYC. She holds a MFA in Analysis and Management of Contemporary Art from the University of Barcelona.
LAETITIA 'LAETI' ADAM-RABEL
Laeti is a Haitian-American artist living in Miami, Florida. She uses various art media to address social and personal issues such as global warming and rising sea levels, blackness, feminism, and acceptance. She uses painting, textile arts, photography, illustration, videography, sound art and other media to portray beauty, while conveying her sometimes painful emotions.
ALISSA ALFONSO
Alissa Alfonso creates work that honors the natural world by repurposing found materials to reflect both the abundance and waste characteristics of modern life. Her pieces celebrate the freedom inherent in nature, recognize lost and disappearing landscapes, and warn of a future in which nature can no longer heal itself.
ANNA BIONDO
Anna Biondo was born in São Paulo in 1975, where she lived and finished a Bachelor
degree in Art and Design from Fine Arts University, a degree in Visual Art from Santa
Marcelina University mentored by Leda Catunda. She also has collage classes at Parque Lage and is currently attending a Master Degree in Analytical Psychology at Freedom Institute.
Since 1998, Anna Biondo has applied layered swathes of colors to her malleable artworks.
The college; reliefs mixed with the cutouts, folds, lines, the ambiguous shape, and always in motion. Geometrically abstractions and figurative with a sense of mobility while also allowing interplay between ideas of subtraction and perception.

MARU ULIVI
Maru Ulivi is a mixed media artist with studies in textile art, photography, and collage, focusing on women issues and stories, thoughts, and soul.
Her vision for art is to open possibility and connect sensibilities through human experiences. Ulivi has published two books: "Cages" and "Silence hurts more," where I have interviewed more than 300 women who have opened their hearts and told me their stories.
JACKELINE ROCH
Born in Los Angeles, California and raised on Miami Beach, FL, Jacqueline Roch is an artist whose work is best described as "tropical realism." Her work is highly distinctive with bold color choices and contrasts. Layering pastels to create complex colors, she's able to achieve a quality that's reminiscent of an oil painting. Influenced by her love of nature and the tropics, Jacqueline's work is meant to inspire those who see it to "stop for a minute, slow down and see the good and beautiful in every day."
SYLVIA YAPUR
Yapur is a Mixed Media artist who intuitively incorporates different materials needed for her textile work. She connects with the special environment created by threads, fabrics, scissors, chalk, measuring tapes and sewing machines that she had been exposed to throughout her childhood. She comes from a family of tailors and has been quite easy for her to fuse textile with new technologies. Yapur's aesthetic language is primarily centered on the creation of collages, using diverse techniques.
ANGELA BOLAÑOS
Angela Bolaños is a Honduran born artist living in Miami, FL. Her process-driven creative practice makes use of textiles, reflective surfaces, found objects, traditional media and experimental techniques. Inspired by organic shapes often juxtaposed with geometric shapes, patterns and paper collage, the physicality of her work seduces the viewer with its rich texture, ebullient colors and expressive movement. The creative journey of her work represents physical expressions of her continuous search into concepts of identity, perception, and the passing of time.
REGINA JESTROW
Regina Jestrow is a New York-born, Miami-based visual artist. Her mother taught her how to sew when she was a child, and she's has utilized these skills throughout her practice. Jestrow's artwork explores her ongoing interests in women's history and American quilt pattern traditions. Jestrow's research has led her to develop a body of work that includes painting, drawings, textiles, fibers, and sculptural installations.
AMY GELB
Amy Gelb was born in New York City and grew up in South Miami. She studied at NYU where she earned a BFA at Tisch School of the Arts in Drama and a Masters in Clinical Social Work. Amy is a multimedia artist and photographer whose work examines the fabric of the female story and the layers that weave us to our past, to each other, and to our potential futures.
VALERIE LUSTGARTEN
Valerie Lustgarten began exploring gestural painting 13 years ago, actively researching different mediums through which to communicate important ideas. For the past few years, she has pursued the goal of delving into what she calls a variety of medium, mini-intensive "internships". The pandemic has inspired Lustgarten to explore new mediums such as photography and fiber-art through which to express her ideas.
CASSANDRA BOZMAN
Cassandra is a fiber artist studying on full scholarship to pursue a career in the visual arts. Recipient of the Scholastic KCAI' 23. Visual artist YoungArts, 2019. Scholastics, 2019. NWSA 19. YoungArts has hosted several exhibitions by YoungArts master teachers, winners and alumni, including Derrick Adams, Olafur Eliasson, Daniel Arsham and Hernan Bas. Cassandra was a grant recipient of an artist residency to Xela, Guatemala in 2019 to study backstrap weaving.
JEANNE JAFFE
A multidisciplinary artist who moved to Florida in 2017 from Philadelphia where she was Professor of Sculpture at the University of the Arts. Jeanne primarily creates interactive installations which reexamine cultural stories, myths, and histories as well as sculptural work often made from cast paper fibers.
DEBORA ROSENTAL
Debora is a weaver and lover of colors, textures, and the challenges each new project brings. Lives and works in Miami, Florida. Has been weaving for more than 30 years, but it was not until recent years that she took her hobby to a different level introducing different techniques and natural dyeing to her weaving.
ABBEY CHASE
A native Miamian, Abbey Chase is the principal of Chase Marketing Group, a multi-faceted event planning, and association management company. She prides herself on being the daughter of an artist and the mother of an artist! Abbey began her journey in fiber arts with a major commission for a Bargello needlepoint installation in her 20s, designing a line of felt puppets, embroidering children's sweaters for decades, and now immersing herself in modern and abstract quilt design.
KARLA KANTOROVICH
Karla Kantorovich is a mixed media artist from Mexico based in Miami, FL. She works with paintings, fibers, and assemblages, leaning into the importance of texture and dimensionality as a way of exploring renewal. She recently completed her MFA from FIU while actively showcasing her work on multiple international platforms.
MARLENE KOHN
My fascination with texture has led me to explore an endless range of surfaces from canvas and thread to wood and metal. I like to experiment with found materials such as twigs, nails, and roofing paper. I enjoy the challenge of using materials originally meant for something else. My artwork involves shapes, lines, patterns, flowers, and motifs that derive from influences such as textiles and nature. My goal is to take the viewer on a special journey every time they look at my art. If each person walks away with a distinct impression and experience from viewing my work, then my mission has been accomplished.
YOLANDA SANCHEZ
Yolanda is a visual artist, curator, and writer with an MFA in painting from Yale University and a Ph.D. in clinical psychology from Florida State University. Most recently, she served as the Director of Miami International Airport's Fine Arts & Cultural Affairs, a post she held for 21 years. Yolanda's textile work is inspired by a Korean art form, known as Bojagi. In its traditional practice, the stitching and seams create linear elements that are employed as components of the design and are what distinguishes Bojagi from patchwork textiles found in other traditions. In her
LIENE BOSQUE
Liene Bosquê holds an MFA in Fiber and Materials Studies from the School of the Art Institute of Chicago, a BFA from the São Paulo State University, and a BA in Architecture and Urbanism from Mackenzie University both in Brazil. Bosquê's installations, sculptures, site-specific projects, as well as socially engaged practice works have been exhibited in museums and galleries In the United States at MoMA PS1 in New York, Museum of Contemporary Photography in Chicago, MOCA North Miami, among other places.
PIP BRANDT
Brant has degrees in painting from the University of Montana (BFA) and the University of Wyoming. (MFA). She has lived and worked in Montana, Wyoming, London, England, and Missouri and in 1999 moved to Florida to take a studio teaching position at Florida International University.
Her subversive works executed in a variety of media, including fibers, painting and performance have been exhibited nationally and internationally. This introduction to the subversive use of found cloth and the needle arts has affected her art-making as well as her teaching. Brant offers a fibers course as well as teaching painting at FIU.
SHELLY MCCOY
Shelly McCoy always having a passion for art, she received her Bachelor of Fine Art Degree from the Nova Scotia College of Art and Design in 1986, majoring in Painting. Later she received her MFA in Education from FIU. Her work in general is experimental in nature ranging from relief mixed media pieces to three dimensional objects comprised of a wide range of materials from the traditional color pencils to the non-traditional asphalt as in her most recent work.
VERO MURPHY
Born in Argentina, lives and works in Miami, USA. She has done Visual Arts undergraduate work at Miami-Dade College (MDC), and continuing education studies at the graduate level at the University of Miami (UM). She also holds a bachelor degree in Business Administration at UCA (Universidad Catolica Argentina). She is a mix media artist, who uses different materials and mediums in her paintings, selected precisely to emphasize their inherent symbolic value. Through her art she hopes the viewers reflect on the fascinating world we live in and understand our place in it as human beings beyond geographical borders, race or gender
LAURA MARSH
Laura Marsh is a textile artist with a social practice. Her spheres, banners, and installations contain social mottos and humanitarian texts. From two generations of women who sew, Marsh practices a do-it-yourself approach that is accessible and hands-on. Marsh received her MFA from Yale University School of Art and a BFA from the Cleveland Institute of Art.
CAROLA BRAVO
Carola Bravo is a Venezuelan artist who lives and works in Miami. Bravo's work ranges from immersive site-specific video and art installation to public art. With a solid architecture background, her work addresses space and memory, changing territories, and their geometry. Bravo holds a Ph.D. in Architecture (2016), an MA. in Art History (2003) from the Universidad Central de Venezuela, and a BSc in Architecture from the University of the Arts, Philadelphia, USA (1987).
SONIA BÁEZ-HERNÁNDEZ
Sonia Báez-Hernández holds an M.F.A. in Painting and Drawing from the School of the Art Institute of Chicago, an M.A. in Sociology from the University of California Los Angeles, and a B.A. in Political Science from the University of Puerto Rico. She employs an interdisciplinary artistic practice to create community-based art interventions and experimentations. Báez-Hernández's body of work includes abstract painting, drawing, printmaking, fiber. installation, performance.
COLETTE MELLOS
Colette Mello is a creative professional that works in curation, arts administration, and fiber arts. Her activist practice intersects feminism, racial equality, environmental justice, gun control, and criminal justice reform. The goal of her practice is to stimulate meaningful conversations on these important issues. Colette has an MFA from Florida International
University in Visual Arts – Curatorial Practice, is a docent at Perez Art Museum Miami and facilitates art programming at FIU – Miami Beach Urban Studios.
VALERIA MONTAG
Born in Brazil, I graduated in Visual Arts/Industrial Design from FAAP and in Fine Arts from Escola Panamericana, in São Paulo.
Passionate about design, fashion, architecture and art, I had my own company, Rouparia Montag, for over 35 years.
Now based in Miami, I am doing my Masters in Visual Arts at Miami International University of Arts and Design.
MARIA LINO
Maria Lino holds a Bachelor of Science in Studio Art from New York University,and a Master of Fine Arts from Florida International University. She is a Fulbright U.S. Scholar and a two-time recipient of the Oscar B. Cintas Fellowship. As a multidisciplinary visual artist, she employs drawing, printmaking, text, video, dance, and textiles, to create individual and group portraits of those who are often overlooked, such as women, children, people with disabilities, migrants, and immigrants.
MIRIAM MACHADO
Experienced Curator of Education with a demonstrated history of working in the museums and institutions industry. Skilled in Nonprofit Organizations, ADA training, Accessibility and Inclusion, Museum Education, Innovative Arts Integration Programming with Miami Dade County Public Schools Curriculum, Event Management, and Art. Strong arts and design professional with a Master's of Art focused in Museum Studies / Education/ Management from The Johns Hopkins University.
ROSIE GORDON-WALLACE
Rosie Gordon-Wallace's professional background belies her current passion. Founder and senior curator of Diaspora Vibe Gallery and Diaspora Vibe Cultural Arts Incubator, one of the most talked about art incubator spaces in Miami. Gordon-Wallace, always a passionate lover of art, made up her mind in 1996 to devote herself full time to the gallery she created and developed. Diaspora Vibe Gallery, which specializes in Caribbean and Latin American Art with an emphasis on exhibiting emerging artists.
KARLA MOGNA
I consider my work to be mixed media, in which I make collages of images, combining techniques. Some images are woven in fibers, others drawn by hand as well as with a needle, photo transfers with altered and double-exposed photos, and block prints with very graphic and textile designs. Fabric, textiles, threads contribute to these drawings, these emotions, giving them a tactile feeling and an additional dimension. I use fibers and textiles as materials, a medium.
MARINE FONTEYNE
Marine Fonteyne has been a successful international professional photographer for more than 20 years and recently felt the need to move beyond her bidimensional work. She started to build new tactile stories using embroidering over photography, and experimenting with fiber sculptures, textile installation, and printing her meaningful images on intricate fabrics to express in a more compelling way her visual narratives.
​
ROSARIO SALAZAR
Rosario Salazar is a native of Bogota, Colombia. She moved to the US 30 years ago and after working for several years for various prestigious architectural firms, she open her own interior design (ID)studio. Following a desire to explore her artistic side working with natural fibers and other materials, she now enjoys spending more time with others who continue to inspire her tireless creativity.
ERICA POY
Erika Poy holds a B.A. degree in Architecture from UNAM, Mexico. Erika enjoys working with oils, acrylic, and watercolors but is currently obsessed with punch needles, embroidery, and sewing techniques as painting and sculpting material.
MABELLIN CASTELLANOS (MABELA)
​
I am a self-taught artist living in Miami. I was a scientist for more than 30 years. My career ended after
a neurological disorder and several hospitalizations. Art has played an enormous part in my healing
process, particularly working in textiles. I use fabrics that speak to me and inspire me to tell a story
using thread and cloths.
QUINZA NAJM
Qinza Najm is a Miami/NYC-based Pakistani-American inter-disciplinary artist. Najm pursued her fine arts studies at Bath University and The Art Students League of New York, where she studied under the mentorship of Larry Poons. She completed her Psychology PhD at Tennessee State University. Her upbringing in Lahore, Pakistan, adulthood in the United States, and intense training in Psychology inform her paintings, performance and installation work related to gender, politics, and (em)-powerment.
AMANDA MADRIGAL
Madrigal received a Bachelor of Fine Arts degree from the Maryland Institute College of Art in 2013. She is a fiber artist who creates large-scale, mixed media installations and soft sculptures using repurposed materials. Her works exist between the
intersection of comfort and peculiarity, the familiar and the unknown.
MELANIE PRAPOPOULOS
Melanie is the founder of The Contemporary Art Modern Project (The CAMP Gallery) focuses on bringing attention to who they consider the freshest and most interesting emerging and mid-career contemporary artists.
ADRIANA HERRERA
Adriana Herrera is an independent writer and curator. I received my Ph.D. with an interdisciplinary dissertation in art and literature formulating the concept of "extreme fictions." Since 2011, I have been part of Aluna Curatorial Collective and cofounded Aluna Art Foundation. Herrera has curated multiple museum exhibitions and most recently is interested in Textiles and its historical traditions.
ALICIA RODRIGUEZ
Studied architecture at the Universidad Central de Venezuela and Fine Arts at the Escuela de Artes Visuales Cristóbal Rojas. Learned gilding and Glass mosaic restauration in Florence Italy as part of a restauration program with UNESCO. I have included mediums like fused glass, clay and resin into my Quilts.
DAMIAN ROJO
Rojo is a fabricator and designer of monumental installations and environments, independent artist, filmmaker and clothing designer, Most recently he re-imagined Star Hill Ranch – a ghost town in Houston, Texas as an arcade game where the guests became game components. For the 2020 elections he was commissioned by famed choreographer Andros Zins Browne to create traveling performance stages for "Vote Float" traveling through Miami Dade County.
ADRIANE PEREIRA
Adriane Pereira is a photographer, sewist, and faculty member in the Master of Art in Teaching program at the Maryland Institute College of Art. She was born in sunny Miami, Florida. She earned her Ph.D. in Art Education from the Florida State University and taught high school art for nine years with Miami-Dade County Public Schools. Art criticism as a tool for analysing and evaluating art, instructional practice and social justice issues.
ISABEL INFANTE
Isabel Infante is a Miami-based textile artist and illustrator whose work
explores the connections between art, craft, nature, and design. She
researches traditional material diversity and craftmanship and incorporates
this heritage into contemporary pieces.
Isabel earned her MA in Textiles at University of the Arts London and her BA
at Universidad Católica de Chile School of Design. Her work has been
exhibited in Santiago de Chile, London, Madrid and Mexico City.
MILA HAJJAR
​
Mila Hajjar is an architect, writer, and multimedia artist.
She loves everything that involves a creative process: designing a building, writing a novel,
performing, or creating an artwork using different media and materials.
She lives in Miami where she has her studio.
MIRELE VOLKART
The media mix artist, born and raised in southern Brazil. She learned, when a child, with her mother and grandmother, many techniques of manual work with fibers. Graduated in Fashion Design, she currently lives in Miami where she attends the MFA program at Miami International Unervisity. The main characteristic of her work is the mixture of resources. She usually adds to her paintings a mix of techniques such as embroidery, macramé, knitting, crochet and fabric collage.
STAR TRAUTH
My current body of work explores limits. Digging into my past and working through experiences through art and likewise pushing my art medium to the limit. My art practice focuses on several passions; love of earth, repurposing waste, innovation, inspiring as a woman and a survivor. My art practice draws on the ideas of abstraction, minimalism, Dadaism, the concept of ikigai, anti-consumerism, and a dedication to legacy. While I enjoy being immersed in art I am often inspired by other things.
MARIA PATINO
My work is an ongoing exploration that involves human relationships and human interaction with nature. I'm driven by my inner curiosity, experimentation, and the desire to know the material intimately, a journey into the unknown. Wet and dry media over paper and canvas, mark making, cutting, and ripping become a poetic process in my art practice. I raise concerns regarding the natural environment discarded ephemera and the use of multimedia become elements of my current work.
BELLA CARDIM
Born in Rio de Janeiro, Bella Cardim received her degree in Graphic Design while developing her passion and career in photography. Over the course of her 20-year career, Bella photographed an increasingly expansive set of subjects and then concentrated on food photography. Her work developed from commercial food photography to conceptual art, but the subject matter remained the same.
Currently living in Miami and pursuing her MFA, Cardim uses her practice to investigate the psychological impact of food in terms of nourishment and indulgence. Her conceptual framework allows her to draw awareness to eating disorders and body image issues.
The artist has recently participated in collective shows in New York, Miami, and São Paulo and was selected for the 2022 Florida Biennial.
TRICIA COOKE
Patricia L. Cooke was born and raised in Greensboro, NC. In 2011, she earned her BFA in Studio Art from Appalachian State University in Boone, NC. After graduation, Cooke returned to her hometown to build upon her studio practice. Cooke relocated to the Miami area and fulfilled her graduate studies at UM, earning her MFA in Sculpture in 2018. Cooke teaches Sculpture and 3D Design at the University of Miami and New World School of the Arts.
JEANNETTE STARGALA
Jeannette Stargala is a visual artist, living and working in Miami. Originally from Germany, she grew up behind the Iron Curtain and studied architecture after the Fall of the Berlin Wall. Jeannette got a Master in Fine Arts from the University of Miami. While focusing on printmaking during the program, she found her love for book arts and teaches today at the University of Miami and New World School of the Arts. Fabrics have always been a part of her work, sewing her first artistic expressions as a child.
ENDAM NIHAN
Endam Nihan is a performance and video artist. She creates single-channel works as well as multi-channel installations, image essays, objects, and VR works. Her work critically and humorously discloses collaborations between contemporary images of daily life, female representation, emerging technologies and pop cultural forms of consumption and circulation. Born and raised in Turkey and currently based in the US, she holds an MFA in Art Video from Syracuse University
CLAUDIA MORRISON
Claudia Morrison was born in Medellín, Colombia, currently resides in Parkland, FL. Claudia graduated from FAU concentration on sculpture, and just recently completed her MA in Languages, linguistics, and comparative literature, teaching of Spanish, from the same university. Her current interest lies in the exploration of fiber art geared towards the research and interpretation of current social problems.
ROCHI LLANEZA
Born in Cuba, Llaneza immigrates to the USA at an early age. In 1984 she moves permanently to Miami and graduates Suma Cum Laude from Florida International University with a Visual Art and Art History degree. For the past 30 years Llaneza has been involved in the Contemporary Art world. After ending her tenure of 8 years in mid 2013 as Executive Director of Hardcore Art Contemporary Space (in the Wynwood Arts District); curator of MAC Galleries in FTL for 3 years and recently manager of Spanierman Modern Miami, Rochi is independently acting as an art consultant, curator and art appraiser.
CAROLINA ROMEO
Born in San Salvador, El Salvador. Living and working in Miami, Florida. By joining a group of art seekers during the pandemic, I found myself captivated with textiles, thread, fibers, felt and the possibility to explore using these materials by applying different techniques. My hope is to continue to learn and discover creativity in the fiber world.
AIDA TEJEDA
A native of the Dominican Republic, Aida Tejada is an experimental mixed-media artist who works to stretch the frame of photography beyond the camera. She explores the absurdity of controlling time and space, an impulse that makes us both the victim and executioner of our actions. While she is well versed in traditional photography, Tejada also uses various alternative photographic processes and hands-on photo-transfer techniques to create her work.
VERÓNICA BUITRÓN
Verónica Buitrón is an Ecuadorian textile designer and author that works with natural fibers, natural dyes and traditional Andean craftsmanship techniques. She moved to Miami in 2016 and is currently dedicated to the research and promotion of the use of natural dyes in Ecuador and South Florida. She holds a B.F.A from the School of the Art Institute of Chicago.
MARTHA SARKOZY
Born and living in São Paulo, Brazil, Marta works as a graphic designer since 1988 and as an artist since 1995. She received a BA in design in1983 and MA in communication and semiotics in 2007. As an artist, she has been working with photography, painting, drawing, installation, and performance.
MELANI BREWER
Melani lives and has her studio in Cooper City, Florida. She has been a full time studio artist for twenty-eight years.
Melani's art includes three series: Nature (many of endangered species), A black and white series with birds, and most recently a Political series where crows are her messengers.
She has a unique style using various techniques including 3-D work.
She includes commercial and hand dyed fabric, paint, yarn, threads and hand and machine quilting in her work.
YELITZA BARRIOS
Yelitza Barrios, born in Caracas, Venezuela. I unconsciously turned to weaving as a refuge. It helped me think and organize my ideas; it was only me, the silence and the movement of knitting. Finding peace in the process and connecting to my deepest self in the knots.
SHARON BEREBICHEZ
Sharon Berebichez, born in México City, lives and works in Miami. She is noted for her highly-inventive techniques and use of materials. Using materials such as acrylic and oil paint, fabric, paper, and resin, she creates works that are realistic, colorful, and alive. She incorporates in her work old pieces of wood or frames to always remind the viewer to be mindful of
their roots.
DENISE BLANCHARD
Visual textile and docent chilean artist . Born in Viña del Mar and living in Santiago. She
got a degree in Fine Arts at the Pontificia Catholic University in Santiago.
Denise´s work has been exhibited in several art museums, fairs and galleries since she started her career, like SOFA Chicago, U.S. Iberoamerican Textile Network in Costa Rica and at WTA (World Textile Art) in Mexico, Argentina, Uruguay and Spain.
NATALIA SCHONOWSKI
Natalia Schonowski is a fiber/textile artist currently based in the Boston area. Natalia has lived in numerous places around the world. She received her Bachelors of Fine Arts in Mixed Media from FIU and her Masters of Fine Arts in Media Art and Design from
Bauhaus University Weimar and a Masters of Arts in Art Theory from Tongji University Shanghai.
BENEDICTE BLANC-FONTENILLE
Bénédicte Blanc-Fontenille is a multi-disciplinary french artist living and working in Miami, a 1985 graduate of l'Ecole des Beaux-Arts with a background in theater. She works in a variety of formats including paintings as well as sculptures, installations, and photography. Her appreciation for mixed media and experimentation has gotten her to use pigments, fibers, encaustic wax technique, ink, paper, plaster.
DENISE SHAPIRO
Denise Shapiro was born in October 1974 in Monterrey, México. While in Mexico she got her bachelor's in education. In 2010 she moved to Miami, FL, where she currently resides, and got her master's in Teaching Spanish as a Second Language. Although her fervor for knitting began as a mere hobby, it slowly turned into a passion. Now she crochets, sews, embroiders, and weaves, transcending her ideas into a textile work of art.
LISA ROCKFORD
Lisa Rockford was raised in South Florida, and earned her BFA in Painting and BS in Art Therapy from Bowling Green State University, OH in 1999, and in 2001, earned aMFA from the School of the Art Institute of Chicago. Since returning to South Florida in 2007, Lisa has established herself as an artist, curator, and educator. Her work has been shown in over 70 national and international exhibitions.
PATRICIA SAPORITI
Artista visual,dedicada al arte textil, en forma individual y como miembro de grupos de artistas. Realice diversos
talleres regulares e intensivos en Argentina, US, Brasil y Chile, US. En los últimos años participe en diversas muestras colectivas y actividades relacionadas con el arte Textil: I y II Bienal Latinoamericana de Joyería, Salones
SANDRA ONETTI
Sandra Onetti en su trabajo como artista textil he descubierto la otra cara de la moneda, la vida de quien está privado de su libertad, el achicamiento de su universo visual, el aislamiento de sus afectos. Sus trabajos textiles se han enfocado en manifestar ese aspecto de la vida del hombre en la que nadie quiere verse reflejado ni comprometido, sin saber que por cualquier traspié
podrían estar allí.
JENNY LLEWELLYN-JONES
TBA
ELLEN PESTILI
Ellen Pestili is a Brazilian mixed media artist, Italian descendant, based in Orlando, Florida. She has a Bachelor in Art, with a Major in Art at Edgewood College. She also has been the author and illustrator of children's books, and has written 15 and illustrated around 50 books, some of them illustrated with sewing and embroidery.
MARITZA CANECA
Maritza Caneca is a Miami-based visual artist whose work spans photography, film, and multimedia installations. After spending three decades as a cinematographer, her work continues to capture detailed narratives found in the angles of simple symmetries and geometries. She graduated from the Faculdade da Cidade, Rio de Janeiro in 1982, and soon began working
in cinematography with films such as Cinema Falado by Caetano Veloso (1986). In 2006, Caneca received the Best Photography Award from the Brazilian Association of Cinematographic
Photography, and went on to participate in award winning films in 2007, 2014, and 2016. Since 2012, Caneca has worked with photography and installations and has developed a body of work
focused primarily on an exploration of swimming pools.
ELYSA D. BATISTA
Batista received her BFA in Graphic Design from the University of Miami (2009) and her MFA from Parsons the New School of Design. Batista is a mixed media artist who works with language, specifically the multiplicity of meaning according to different contexts. Her three-dimensional work explores personal experiences with dynamics in power structures and nationality and is interpreted through the use of semiotics.
TAYLOR JONES
TBA
FERNANDA FRANGETTO
Fernanda Frangetto is a Brazilian-born mixed-media artist living in Florida. She studied at the University Center of Fine Arts and specialized in sculpture at the Brazilian Museum of Sculpture (MuBE). Her works have been featured in art institutions across the US and Brazil.
BETTY USDAN-ZWICKLER
I'm an award-winning, abstract artist who has worked in many disciplines during the course of a 35-year career. My focus has been mainly on mixed media painting, printmaking, collage and fiber arts. Creating with fiber is the most satisfying due to the tactility of the medium. "Painting with Fiber" affords endless creative possibilities as does using a myriad of textiles- fabric, yarn, roving, cord and paper.
JENNIFER PRINTZ
TBA
MARCO CARIDAD
Art allows me to connect with my true inner self and let it come out in the form of love. My studio is an experimental space where I mix techniques and multiple disciplines to investigate Art as a means of expression. I have spoken about the social issues, sex, and identity through paintings, sculptures, videos, and performances relying on the representation of my culture and upbringing, using a multi-layered/deconfigured aesthetic of organic movements full of textures: candle wax, coffee, gold, silver, glass, wood, fabrics, and recycled materials is how I communicate my hopes, feelings, and values.
JAN NELSON
The advancement and education of our youth is very important to me. I believe that art, imagined through the lens of play, can move the creative experience from the personal to the community, instilling a sense of well being.
BOBBI MEIER
Bobbi Meier is a Chicago-based visual artist working in sculpture, drawing, photography, and installation.
Producing work that is sensuous, slightly frightening, and grotesquely humorous has become a means to engage discomfort and anger with situations that cannot be changed. Life's frustrations and the human condition are embedded into her abstract sculptures, drawings, and installations through juxtaposition of delicate and aggressive material manipulation.
ALEXANDRA DE YAVORSKY
Alexandra De Yavorsky was born in Venezuela. She is head of branding and graphic design at the award-winning Atelier De Yavorsky studio in Miami. In this bodywork, she serves a single color in each vessel to elicit an emotional response from the viewer, reviving in us a sense of natural simplicity. Her work has recently appeared in exhibitions in Miami and abroad.
ALYSON VEGA
New York City-born Alyson Vega is a fiber artist who taught herself to sew and quilt at a young age. She received a B.A. in Japanese Folklore and Mythology from Harvard University. She sews fabric pieces incorporating themes of decay, transience, childhood, and dreams. Alyson employs various techniques in her pieces, including printing, painting, surface embellishment, and sewing.
MELISSA RUBIO
Melissa is Colombian-born and migrated to Miami 20 years ago. In 2010 she founded her brand K'MELL DESIGNS, a handbag, and clothing company. She's a self didactic designer with ample knowledge of the industry including production. In 2020 during COVID 19, Melissa took the leap into visual arts and found a new way to express herself by sharing many of hers and some of her friends' love stories collected over the years, through her paintings. Her art consists of mix media using different types of fabrics, guipure, and oil paint.
MAITE URRECHAGA
Visual artist Maite Urrechaga is a South Florida artist who works with comic books, music, and film. She is perhaps best known as the "better half" of Miami's Pocket Of Lollipops husband and wife outfit where she plays bass and shares vocal duties with her husband drummer. In 2008 she received the Best Art Basel Headline for her Interactive Art Installation in the Miami New Times. Maite has been a part of the music and art scene since her teens. She is a punk kid at heart with a love for the avant-garde. She is drawn to the rule breakers and textbook makers.
BOBBI BAUGH
Bobbi Baugh creates textile collage, art quilts and paper works from her studio in DeLand, Florida. She received her BA (Studio Art/Speech majors) and MAT (Education/Humanities) from Stetson University in DeLand. A career of 35+ years in commercial printing and stationery product design followed. Bobbi is now a full-time self-employed studio artist. Her artistic focus is storytelling and exploration of layered meanings through collaging and stitching hand-printed fabric and paper. Bobbi is active in the art quilt community and is a SAQA juried artist.
KARELLE LEVY
Levi uses light weight breathable plant-based bamboo, cotton, lyocell, viscose yarns and blend them with sparkle from time to time. The timeless collection is produced entirely in our shop based in Miami, FL, USA.
ADNA GARROTE
Adana Garrote is a Miami native who moved to the Midwest for her BFA at the Kansas City Art Institute in Kansas City, Missouri. She is currently going to study at Missouri State University for her MFA.
Her explorations in fibers has developed into a study on traditional patterns found mainly in American quilting, using handmade paper, fabric, bookbinding, and felts to convey these recurring and almost compulsive patterns found in her pieces. Through these patterns, a conversation occurs between historical/ cultural context and human connection through visual language.
MARILYN VALIENTE
Marilyn Valiente is a contemporary abstract multimedia artist. After her post graduate degrees, working as a psychotherapist and raising her two sons she focused her attention on her love for art and the creative process. Her artworks are visual representation of her emotions and her studies in psychology and her many years of working as a psychotherapist. Bold colors, texture and lines dominates the visual field with what appears to be a very spontaneous and intuitive process as she deals with the human condition and its many struggles.
DENISE TREIZMAN
Denise Treizman is an artist born and raised in Chile, currently based in Miami. In 2011, she moved to New York City to pursue her MFA in Fine Arts at the School of Visual Arts. Since then, her work has been exhibited in several cities of the world. In New York City, her work has been featured at venues that include the Bronx Museum, Cuchifritos Gallery, Proto Gomez Gallery and Wave Hill, among others. She has also been a resident at renowned places including Vermont Studio Center, NARS Foundation, Triangle Workshop, Ox-Bow, ACRE and Mass MoCa Assets for the Artists.
BRIAN LARSON
Brian currently lives in Miami, Florida where he works for an anti-poverty nonprofit. Prior to that he spent 20 years in Africa and Latin America working in international development and humanitarian assistance. Brian holds a juris doctorate degree and a degree in business from Drake University. He obtained a master of fine arts degree from Miami International University of Art & Design.
STELLA RESNICK
On the brink of becoming a centenarian, Stella Resnick has been honing her craft for nearly nine decades. The Brooklyn-born artist started sewing as a young child, inspired by the techniques of her housekeeper who hailed from Poland and her grandmother, who had a treadle sewing machine. In her late teens, she worked in the fashion world and later became a primary school teacher.
ANA TETTNER
TBA
SHARON SPAKER
Sharon Spaker, retired, now pursues her life long passions in the arts and fiber world traveling extensively to study the history and culture of fiber techniques. She combines knitting, joom-chi, silk painting, shibori, stitching and weaving with nuno and wet felting to push the creative boundaries of the ancient felting process. Sharon's work is influenced by these travels and her roots in the Thousand Islands and St. Lawrence River Valley of northern New York.
JULIANA TORRES
Juliana Torres is a contemporary artist working with photography, collage, assemblage, and kinetic structures. The artist has always photographed since childhood and started writing poetry telling children's stories in 2007. She completed the MFA and is currently developing a series of photographic works that aim to reinvent the role of pictures and how the viewers read them.
ALETTE SIMMONS
Alette is an interdisciplinary producing work that focuses on the connections between nature, society, and self. Her art weaves together the emotional and historical impact of society and politics, using a variety of techniques and media. She received a BFA from Newcomb College of Tulane University then relocated to the Dominican Republic to live and work for seventeen years.
MARCIA MANCONI
Born in Pennsylvania, living and working in Miami. I developed a passion for fiber and textiles at a young age thanks to my grandmother, Sew-O-Matic sewing machine and my potholder loom. I received a Bachelor in Art with a main focus in textiles. This passion has grown in many directions over the years. I continue to explore different ways to incorporate fibers and textiles in my art and always try working out of my comfort zone.
KIM MOORE
My practice focuses on my domestic life, a life lived in, during, and around art. I work in series, usually on several pieces at a time, in different stages of completion. In many ways, my practice resembles the chaos and entropy of life in a house with children, roommates, animals – the sameness is different on a daily basis.
I work in multiple mediums, including silk painting, embroidery, oil painting, drawing, knitting, and ceramics. Working with fibers allows for portability and convenience – these works can easily be picked up during free moments, don't require weeks of dry time, and have the added benefit of being useful as well as beautiful.
GRACE COX
Grace Cox is a visual artist born and raised in Miami, Florida. She received her BFA in Fashion Design and Knitwear from Fashion Institute of Technology, and her Masters in Art Education from Florida International University. She has explored fiber as a means for wearable expression, as well as oil to create a classical record of something that would not have the opportunity to be recorded otherwise. Her work has been featured at venues such as the Museum at FIT, Patricia & Phillip Frost Art Museum, and Frank C. Otis Art Gallery and Exhibit Hall, among others. She creates to express the signs of life in the background noise and the beauty in what is often missed.
TOA CASTELLANOS
Toa Castellanos is a Cuban-Colombian-American artist who has lived in Florida since 2000. She received an BA from Marygrove College in Detroit, and an MA in Art Education from Notre Dame University. She paints, draws and prints but her most recent love is paper and fabric Collage. Toa Castellanos shows how the standards of beauty imposed by society have generated forms of behavior that induce women to continually pursue a false ideal of youth and perfection.
PAOLA MONDOLFI
Paola Mondolfi was born in Caracas on March 5, 1971, graduated as Graphic Designer at the Caracas Design Institute in 1993 also studied sculpture at the Federico Brand School. Her professional career includes packaging design, advertising and marketing, corporate image and web development.
In 2020, as a result of the pandemic, she began to investigate other areas, like furniture and textile design, she created Paola Mondolfi Furniture Lab, where she works with pieces of recycled furniture, objects abandoned in time, which may have been damaged or mistreated due to their circumstances during the years of their live, and through the intervention they can be recovered, creating new stories.
ELSA ESTÉ
Elsa Esté is a Venezuelan clay artist whose extensive career began in 1979. Her training began at the Cristóbal Rojas School of Arts in Caracas, Venezuela. She has shown her work in collective exhibitions organized in Venezuela, Puerto Rico, and Zagreb ), as well as in individual exhibitions in Caracas and Miami, Florida. Elsa Esté has been awarded numerous prizes, including the Prize of the National Hall of Fire Arts in Venezuela; and the Honorable Mention at the Small Format Exhibition in Zagreb. For 10 years, she was the President of the Venezuelan Association of Fire Arts (AVAF), an organization that brings together artists dedicated to clay, goldsmiths, enamelists, and iron.
PATRICIA ASTUDIO
I live and work in Wellington, FL.
My interest and passion for handcrafts began from my childhood, using different materials to make my own dolls and toys.
I received my Civil Engineer degree in my natal country, Colombia.
In 2000 I moved to USA with my family and I've started taking painting classes at Armory Art Center, where I learned about shapes, color and balance.
Twelve years ago, I began making fabric handbags, using all my skills, like sewing, sculpting and painting.
I've participated in several craft shows and my pieces have been exhibited successfully in the gift shop at The Society of the Four Arts.
ANA MARIA PEREZ ARNOLD
I am Venezuelan born and live in Switzerland since 1989. I studied in the Cristobal Rojas school of art in Caracas. Because of family situations and change of country made my start in art slow and low profile. Sometime in the late 90s I picked up ink on Japanese paper and my life made a jump. Worked many years in the minimalistic black and white until I discovered digital art and my style made a second jump into digital pop art, explosions of colors were my daily reality.
SUZANNE CONNORS
FORMERLY AN INTERIOR DESIGNER, A CONSTRUCTION PROJECT MANAGER AND THEN FINE ART GALLERY OWNER AND DIRECTOR, SUZANNE CONNORS HAS ALWAYS LOVED ART AND TEXTILES. SUZANNE HAS MAINTAINED AN ACTIVE FIBER ART STUDIO SINCE 2008.
DONNA RUFF
Donna Ruff lives and works in Miami, Florida. She earned an MFA (2000) from Rutgers University, where she focused on printmaking and installation. She has been chosen to create site-specific installations at the Eldridge Street Project on the Lower East Side of New York (2004), PS 122, New York, NY (2003), and for ArtSPACE in New Haven, Connecticut (2005.). In 2021 she was awarded a Pollock Krasner Foundation grant and and an Ellie grant from Oolite Arts.
LUCIA NESI
A weaver since 1985, born in Rome, I have been producing furnishing and clothing fabrics from the textile tradition of Lucca and its province (Apuane Region in Toscana), where I live and work, for a long time. I am also a spinner, hand-making and dyeing with natural colors, herbs, bark, leaves, etc., the yarns that I use in my work.
I hold courses and workshops in all these subjects at Tessiture Lucchesi APS, my textile Association, and I am preparing two handbooks to be published.
MARGARET ROLEKE
Margaret Roleke is a mixed media artist. She is known for her sculptures and installations, but
also creates works on paper and fabric. During the pandemic she explored cyanotypes which
are now a large part of her practice. Roleke's work comments on social issues mainly gun
violence, women's rights and racism.
ORLY ELKAYAM KADOSH
Orly Elkayam Kadosh has been inspired by her environment for as long as she can remember and she has communicated to the world through art all of her life. Her relationship with languages, colors, textures, materials, and sensory experiences shaped her journey as an artist. Her quest for knowledge through art led her to explore these themes academically through degrees in Fine Art, Judaic Art, and Jewish Studies.
KARINA HOVAGHIMIAN
I was born in Argentina of Armenian descent. I have always swum in multicultural waters. My mother grew up in Guadeloupe (French Antilles), and my father in Milan and Venice (Italy). I have family in Brazil, went to a French school, belonged to the Armenian Girls Scouts, and vacationed in the U.S. Even though I have a bachelor's in International Relations, life drove me down the translation alley. From an early age, yarn and knots, weave and textures have been my allies for resilience.
MARK RUNGE
Mark Runge is an artist, teacher, and collector of experiences. He has worked with yarn since his grandmother introduced him to it. Mark is not media-specific and uses a blend of materials, whether drawing on wood, fabric, paper, or whatever. He currently teaches a variety of media in Miami and lives with his two cats, Andre Flyrod and Allowicious.
LESLEI SHERYLL
Leslie Sheryll's work focuses on female identity through photography, digital collage, and textile art. She became interested in photography while attending the High School of Art and Design in New York City and received her BFA from the Kansas City Art Institute where she studied photography, video, and fiber arts. Leslie grew up in New York City and currently lives in Jersey City, New Jersey.
MONICA AVAYOU
Born and raised in México city with degrees in Communication and Art History.
Monica founded Alacrán Producciones Brand more than 10 years ago. Since then, she has gone on to work in various other creative endeavors including event planning and scene design in shopping centers. Today she is mixing two of her greatest passions; a combination of art and fashion, resulting in her emblematic yarn and recycled plastic bags pieces.
SHIRLEY CHONG
Shirley Chong was born in Peru and emigrated to Miami, Florida where her curiosity and wonder lives. Through various mediums, she is able to connect not only with material but with audience as well. Creating functional pieces allows the line between art and life to blur. The act of usage forms life around the object, and allows the participant to find themselves through an experience. Blending the lines of the artist, audience and art creates an opportunity for a communal space that brings people together. Beyond the space where it all took place, the experience lives on with each participant's memory and will continue to exist and expand like a ripple effect.
ANNA GORACSKO
Anna Goraczko was born in Miami, Florida where she lives and works. Goraczko received a Master of Fine Arts in Visual Arts from Florida International University in 2020 and a Bachelor of Fine Arts in Art from Florida International University in 2008. She is a mixed media artist who employs cyanotypes on fabric, printmaking, and installations to document a visual association between physical objects and the visual memory that might distort or abstract them. She uses found objects and material from her family's archive to expand upon themes of place, memory, and spirituality.
MARIA ANTONIETA BLOOM
She was born in Caracas; From the age of 3 she decided that she would be a painter, after leaving high school she studied graphic design, later arrived at the Federico Brandt Arts Institute in Caracas, simultaneously she did courses in comics, architectural drawing, painting and art criticism with Pedro León Zapata at the Museum of Contemporary Art of Caracas Sofía Imber and at the Ateneo de Caracas. Throughout her career she has explored different techniques of contemporary sculpture and painting incorporating embroidery as part of her work. SHe is currently a member of the Artists for Peace movement; which brings together several creators who contribute their artistic work in order to support charities.
TIARA SAINT
I was born and raised in Upstate New York and relocated to South Florida in the 1990's.
At an early age I entered in to the arts through dance, music and theatre. I received a Bachelor's of Fine Arts in 1992 and was fortunate to a have a wonderful professional dance career and the ability to work next to some of the finest teachers, choreographers, and performers. I went on to own and manage a marketing company in Miami Beach which focused on services such as: music, film, and animation.
I now sit in a position as Vice President to a Commercial Real Estate company in Miami. I enjoy weaving and knotting large scale art. It is relaxing, gives me a way to create, think, grow and stay connected. Knots rock!
DEBORAH JAFIF
Déborah Jafif was born in Buenos Aires in 1961. She studied Architecture at the University of Belgrano and attended to workshops with Raúl Marengo, Nora Correas, Enio Iommi and Enrique Aguirrezabala. Her first contact with the world of textiles was trough tapestries and looms and defined by her interest for textures.
In 2002, she made a brief incursion in the execution of works with nylon thread, but it wasn't until 2009 when she assumed the practice of working textile techniques with non-traditional materials with total assiduity. As of 2018, she ventured into textile research in relation to space and started developing site specific textile projects. The topics that interest her the most are deeply linked to existence, such as the passage of time, madness or the impossibility of an absolutely perfect communication.
MICHELLE BARDINO
Michelle Bardino Vela (b. 1995) is a Peruvian-American interdisciplinary artist and photographer currently based in Fort Lauderdale, FL. Her work explores themes about the cycles within the natural world and the changes that occur in memories over time. She explores these concepts through materials such as fibers, clay, photographic processes, and papermaking. She received her Bachelor of Fine Arts with a focus in photography and sculpture from Florida International University. She will be an artist in residence at the Sitka Center for Art and Ecology in Otis, OR during the spring of 2022.
KAREN SCHNELL-CHISHOLM
In my practice as a Fiber Artist my medium is primarily Off-Loom Weaving with Beading and Knotting.
FRANCINE BIRBRAGHER
Francine Birbragher-Rozencwaig is an art historian, independent curator, and art critic. She received a
Master's in art history and a Ph.D. in Latin American history from the University of Miami. She is a
founding and contributing editor of ArtNexus magazine. Since 1989, she has written about
contemporary art for specialized magazines and newspapers, as well as essays for artists' monographs
and exhibition catalogs. From 2008 to 2015, she worked as an adjunct curator at The Patricia and Phillip
Frost Art Museum, Florida International University. As an independent curator, she has organized more
than one hundred exhibitions in the United States and Latin America.
VANESSA LUSTIG
I am a multidisciplinary artist working at the intersection of photography, textile art, and interactive textiles. My work explores changing psychological, cultural, and natural contexts and situations, investigating themes of human identity & culture not as separate from nature, but as part of nature. I focus on highlighting the smaller, subtle movements of natural, cultural, and human worlds, creating works that capture these delicate yet enduring fragilities by using both delicate & sturdy materials, technologically advanced techniques & craft techniques that result in minimal, delicate, quiet, yet immersive works.
RITA VALLEY
Rita Valley is an artist living and maintaining a studio in Connecticut; close enough to New York to dive frequently off the deep end into the vagaries of the art world, but distant enough to enable a life of bucolic scenery, complete with a Dog and Pony Show. She grew up as a self-professed (despite politically indifferent parents who eked out working class livings) and early on explored issues of inequality, the waging of war and financial disparity. These motifs continue in her work to this day, with the near collapse of our economy providing further fodder for her studio investigations. She trusts- perhaps in vain- that her art practice will help to correct the wrongs so manifestly present in the world today, but she is not holding her breath.
MARIE NORMAND
TBA
NICOLETTA SACCHETTI
TBA
ORIANA LASCAU
I️ am an interdisciplinary Venezuelan-American artist based in New York. I am interested in the relationship between the self, our subconscious, and nature. I specifically draw inspiration from decomposition, insects and mold as symbols of decay and rebirth. Through the use of loose line work, vibrant colors and overlapping compositions, I️ try to emulate the controlled chaos that I️ observe in nature and see mirrored in the human mind. I enjoy mixing my focus, textile arts, with various other mediums to create art that is the boundaries between the mundane and mystical, the otherworldly and the Earthly.
JOAN WHELLER
Joan Wheeler is a fiber artist who uses sewn textiles and needle-felting to create her art. Her work has been exhibited in galleries and museums in New York and New England.She has sewn since childhood, creating clothes for herself and others and teaching two brothers to sew and has a collection of vintage linens that she also uses in her work.
SOFIA PARADA JACOBS
My artistic work involves, contemporary jewelry, sculpture, mix media, installation, and performance art.
The self-portrait has been the way to express the visceral need to tell my own story.
Sometimes hard, rough, and even raw, but under that, it can be seen the fragility and sensibility of the pieces that I've created.
MARIA FERNANDA FROES
Fernanda Froes is a visual artist born in Rio de Janeiro, Brazil. Her work investigates scientific and historical events and brings attention to environmental and cultural preservation issues in the Americas.
Froes' working process usually begins with drawing, which diversely evolves into a combination of media, including painting, fiber, printmaking, and digital illustration.
Fernanda Froes is currently pursuing an MFA – Visual Arts at MIUAD.
TATIANA ZAYTSEVA
Tatiana Zaytseva is a Miami-based contemporary artist engaged in artistic search, self-improvement, and creation. Two points distinguish my work: texture and color. Zaytseva multi-layered, textured, multi-colored works 'play' diverse media to balance between them, coming to unite all parts in a single holistic image.
​
FERNANDA FRANGETTO
Fernanda Frangetto is a Brazilian-born mixed-media artist living in Florida. She studied at the University Center of Fine Arts and specialized in sculpture at the Brazilian Museum of Sculpture (MuBE). Her works have been featured in art institutions across the US and Brazil, such as NARS Foundation (New York); American Cancer Society, Miami-Dade Commissioners Office, Doral Government Center, Doral Contemporary Art Museum, Art Factory Project, Aluna Art Foundation (Florida); United Nations House (Brasília). Frangetto works are included in collections such as the Consulate General of Brazil's in Miami, Marcos Amaro Foundation (FMA) and the Brazilian Society of Japanese Culture (São Paulo).
ANDREA GOLDSCHMIDT
Andrea Goldschmidt (São Paulo, 1970) is a photographer and multimedia artist whose work is predominantly related to Brazilian Popular Festivals. Her interest in the subject arose from her enthusiasm for diversity, the power of the collective and the pride she feels in being Brazilian.
Granddaughter of Germans and raised within a community made up of many foreigners, Andrea understood, from an early age, the potential for construction and aggregation that result from the natural and cultural diversity of the country where she was born.
PANGEA KALI VIRGA
Pangea Kali Virga is a fiber artist, arts educator, designer, stylist, and producer with high standards and a conceptual spirit. Her aim is to build collaborative networks and moving experiences through all of her projects. Social responsibility is pivotal to her art, as she attempts to communicate urgent, difficult messages in beautiful and fun ways through fine art, events, workshops, performances, and other collaborative projects. A New York native, Pangea now calls Miami, Florida home.
DEBBIE MORRIS
Deborah L. Morris is a mult-disciplinary artist with a focus on fiber and textile. She holds a BFA from the Rhode Island School of Design and has participated in residencies at the Children's Museum of Manhattan, Mana Contemporary Miami and Guttenberg Arts, New Jersey. Her work has been exhibited nationally and internationally and is part of the collection of the Chojun Textile and Quilt Museum in Seoul, South Korea. She is currently president of the Textile Study Group of New York.
MAYA SCHONENBERGER
Born and raised in Basel Switzerland, Maya Schonenberger holds a degree in textile work and teaching from Basel. She lives and works in Miami.
She has used her artwork as a language to express concerns and thoughts about our
environment and social issues. Rarely can the two be separated.
"My artwork is not about doom and gloom but about creating awareness. I see the pieces as messengers as well as peacemakers. I want my viewers to get excited and inspired. I want them
to think critically about important issues that confront them on a daily basis. I also hope to
nourish the viewer's eyes and soul. "
JANET MULLER
Originally from Champaign, Illinois, Janet Mueller lives and works in Miami Beach, Florida. Mueller received a Bachelor of Science in Marketing, College of Commerce, from the University of Illinois (1975). She studied watercolor painting at Parkland College in Champaign, Illinois (1978), learned to paint with gouache and an airbrush from technical artists (1980s) and oil painting techniques in private sessions with Joachim Loeber in Key West, Florida (1998). Mueller learned to sew as a child and has incorporated fabric sculpture and textile painting into her work.
Janet Mueller has had 13 solo exhibitions, including shows in New York City and Rome, Italy.
LISSETTE ROMERO
TBA
NATALIA KOCHACK
Natalya Kochak graduated from The School of the Art Institute of Chicago with her BFA and MFA from The School of the Art Institute of Chicago. Natalya is currently an adjunct professor at Miami International University in the visual arts department and also owns a decorative painting studio, Natalya Kochak Design Studio. She was an artist-in-residence in 2018-2019 with ProjectArt, teaching displaced teenagers and students from underserved school districts twice a week at the Model City branch of the Miami-Dade Public Library System.
FELISA PRIETO
Felisa Prieto was born in Bogota, Colombia in 1983; she moved to South Florida in 2001 with her family where she studied Fine Arts with emphasis on Photography at Broward College. In 2007 she transferred to The School of the Art Institute of Chicago where she received her BFA with emphasis on Environmental Art, Urban Sustainability and Textiles. She later moved to Houston and Brooklyn, where she worked as an art educator. Felisa currently resides in Fort Lauderdale where she continues her practice
MACARENA ZILVETI
Macarena Zilveti (b. Chile, 1961) was born in Santiago and moved to Long Island, NY
with her family in the 1970s. Always fond of drawing and painting, Zilveti found herself
immersed in a multilingual culture that would further enrichen her artistic sensibilities. A
graduate of Syracuse University's School of Visual and Performing Arts, Zilveti
pursued a career in Advertising. Zilveti now lives in Hollywood, FL where she works
with a variety of mediums. She has participated in shows nationally and regularly
exhibits in the South Florida gallery circuit.
MICHELLE DRUMMOND
Michelle Drummond was born in Kingston, Jamaica and lives and works in Delray Beach, Florida. Drummond received a Masters in Project Management from Keller Graduate School of Management, DeVry University in 2001 and Bachelor's of Science in Mathematics with concentration in Computer Science and French from St. Lawrence University in 1999. Drummond is a self-taught contemporary mixed media fiber artist who creates 3-dimensional forms by manipulating multicolored, multi-weighted yarn, glue, and acrylic paint on and off canvas and wood panel.
REMIJIN CAMPING
RemiJin Camping is a Filipina-American photographic artist based in South Florida. She received her MFA in Photography and Bachelor of Arts in Photography degrees from Barry University in Miami Shores, FL. She is currently an Assistant Professor of Photography at Barry University where she teaches analog, alternative processes, and digital photography.
ANDREA HUFFMAN
Andrea Huffman
After attending the High School of Art and Design in New York City, Andrea Huffman moved to Florida, and received a Master's Degree in Art Education from Florida International University.
She taught art for thirty-one years in Broward County Public Schools and retired from full time teaching in 2011 to pursue her own art practice. Ms. Huffman has since exhibited locally and nationally in solo, juried and group shows, receiving numerous awards for her work, including
several Broward County Creative Investment Grants.
YVONNE FERRER
Ivonne Ferrer (b. Cuba) Graduated from San Alejandro Academy, and René Portocarrero National Silk Screen Print Shop, Havana, Cuba.
Atribuciones in Fidelio Ponce Gallery (1990) was her first solo exhibition, which led her to leave the Cuban art scene for the Spanish circuit where she participated in: Expo Universal Sevilla 92, Arts Pavillion, La temperatura de Dios (1993), Fisiología decorativa (1994) and La isla
mágica in Copenhagen, together with two masters. Ivonne migrated to the United States in 1995. In 1997 produced Trinomio cubano at Botello Gallery, Puerto Rico and in 2001 the solo exhibition Durban Serguini Gallery.
MONICA CZUKERBERG
I was born on August 31, 1983 in Mexico City.
I studied Architecture at the Anahuac University in Mexico City (2002-2006).
Took several courses and diplomas in Fashion, Art History, Drawing, Painting, among others,
in different Institutions such as The Instituto Di Moda Burgo in Milan, Italy, The
Iberoamericana University in Mexico City, the University Centro for Design, Cinema and TV
in Mexico City, among others.
BRANDI LONG
Based out of Miami, fiber artist Brandi Long looks to nature to inform her work. Best known for her fairytale like sculptures that incorporate all that she takes in from the natural world. Her use of fibers, found objects, and organic material lends itself as the perfect vessel to create these metaphoric sculptures. Long's body of work is a capsulized moment in time that looks to re-establish a relationship with nature and the self
MALE LEÓN 
MALE LEÓN is a painter and mixed media artist based in Miami since 2012. She studied Business Administration at Universidad Metropolitana in Caracas, Venezuela. She holds an MA in Design and Fashion Marketing from Heriot Watt University in Edinburgh, Scotland. She took drawing classes at The Museum of Fine Arts in Houston, Texas, photography at Focus Photo in Miami, and studies Jungian Psychology on her own.
I approach my artwork as a way of visually representing my psyche and soul through the use of painting, photography and assemblages intertwined with emotions and thoughts around a specific theme as my media. I make specific, hand-made interventions of my paintings and photographs with the use of sewing thread, fabric and various other materials. The conceptual production of my current work is nurtured by my passion for Jungian psychology and the study of the feminine archetypes.
STERLING ROOK
Sterling Rook is a Miami native with a Masters in Fine Art from Florida International University. His practice is enriched by working within a family legacy of fiber-crafts, being a descendent of stringers, lace-makers, reweavers and tailors. Rook uses these markers as a compass, bridging gaps within disparate cultural heritages, connecting past to present. These pasts unfold paths to explore art-making as a regenerative process. Forged and welded steel, painted and woven palm fronds, and handmade rope from used clothing, all factor in for Rook in as avenues expanding his visual vocabulary.
LAURA LUNA
TBA
KIANGA JINAKI
Kianga Jinaki Short Bio
Kianga Jinaki is a fiberartist who creates quilts, dolls and mixed-media works that honor Black life and culture. Her works have been been exhibited both nationally and internationally since 1991. Ms Jinaki is a 2022 recipient of the Artist Innovation Fellowship presented by the Cultural Council of Palm Beach County Florida. A teaching artist, Kianga has has worked with local museums, cultural centers and both Palm Beach & Broward county library systems, providing artistic/cultural programs for the communities they serve.
JOCELYN FLORES
Jocelyn Flores is currently studying at Barry University for her bachelors in photography with specialization in forensics.She has been photographing and experimenting with sewing and mixed medias for years. Jocelyn's work aims to get a reaction from her audience with attraction vs repulsion. Her work is also perceived to be tactile. Jocelyn was born and raised in South Florida and has roots from Montemorelos Mexico.
MEMBERSHIPS
WE WELCOME LIKE-MINDED CREATIVES IN UNIFYING ALL FIBER ARTS LEADERS AND ENTHUSIASTS EVERYWHERE.
MAILING ADDRESS
2925 Salzedo Street
Coral Gables, FL 33134
EMAIL
fiberartmiamiassociation@gmail.com