Homework Gallery, Disrupting the rhythm of the art world
Starting from the need to reinvent art and make creativity a meeting point to generate dialogues and active debates, Homework Gallery gets ready to see the light during Miami Art Week. The platform consisting of an innovative and nomadic art gallery is led by Aurelio Aguiló and Mayra Mejia, who are determined to break down the walls and broaden the horizons of the international art scene through the democratization of talent. Their first action? v00001, an exhibition opening December 1 at The Knoxon, a mid-century roadside motel on a strip of Biscayne Boulevard. Do not miss it!
After almost 2 years defined by cancellations and postponements of events and presentations, art progressively returns to its natural state. Lots of events now overlap on the calendar, in which we come across fairs as important as Miami Art Week or Art Basel Miami Beach 2021. But if there is something that has been highlighted during this unprecedented phenomenon we have all experienced, it is that creativity (and the world as a whole) needs solutions never seen before. Formulas that surprise us, making us regain hope in the ability of human beings to continually renew ourselves and not remain anchored in the past.
Being fully aware of this premise, the nomadic art gallery Homework Gallery is now launched to challenge the guidelines that governed the creative scene until now. Their first exhibition, v00001, brings together various creatives inviting us to experience redolence in this collection of artists who address their relationship to memory and time through their use of various mediums. From the Colombian-born London-based visual artist Julian Chams to the interdisciplinary artist Laura Sofía Pérez, whose work materialised in the form of videos, films, sounds and installations, addresses important topics ranging from philosophy to ancestral knowledge or feminism.
Ten artists and three artisans are the protagonists of this first exhibition, in which we find different creative disciplines including sculpture, painting or installations. Endless ways to capture their own creative universes that coexist with each other, creating a dialogue between the different works. It is precisely that conversation between creators in a friendly and welcoming environment that Homework Gallery intends. Besides the two aforementioned artists, Elisa Bergel Melo, Patricia Encarnación, Laura Isabel Fernández, Carlos "Varkito" García, Carlos Llamas, Mayte Nicole, Gustavo Peña and Charlie Quezada will also present their work. You can visit the exhibition until January 15, 2022, at The Knoxon, located in the historic MiMo district.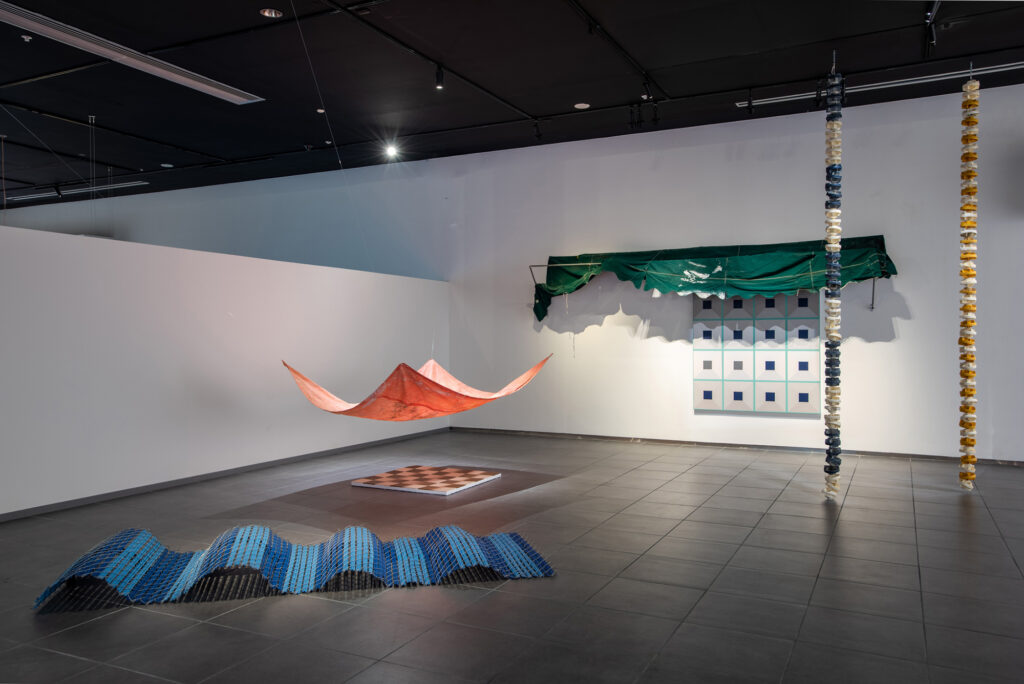 Homework is a nomadic gallery known for its innovative approach to curation, utilizing experimental art space[s] to temporarily host thought-provoking exhibitions that challenge traditional views on art and the art world as a whole.
Imagined by Aurelio Aguiló and Mayra Mejia, homework provides a platform for a variety of artists to showcase their work and engage with a global audience. The exhibitions, carefully curated by the in-house team, stimulate intellectual discourse and critical analysis. At times they are interactive and multidisciplinary in nature, often featuring a combination of works from established and emerging artists.
homework's mission is to open up the art world and create an inclusive, accessible platform for communities to be able to engage with contemporary art and culture from around the world. It's cutting-edge approach to the traditional art world has given critical exposure to an array of talented artists during key dates of the art world calendar and enabled them to thrive in the current art climate. homework aims to engage viewers on multiple levels, inspiring creative thought, and encouraging dialogue and discourse wherever they go.