COURAGEOUS CREATIVES PROJECT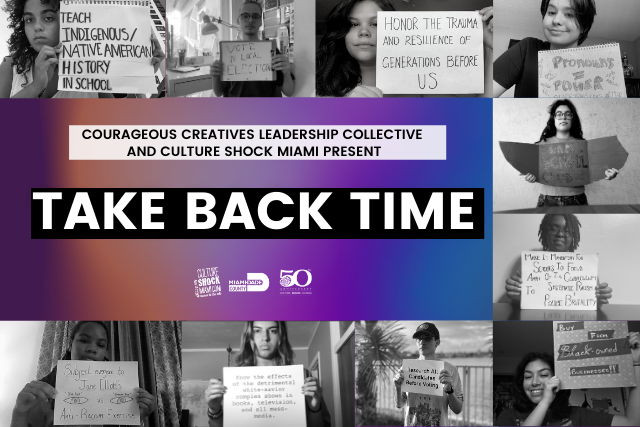 ABOUT TAKE BACK TIME
Titled "Take Back Time" and coordinated to be part of National Arts in Education week, the film premiered virtually on Wednesday, September 16, 2020 and was followed by a panel discussion moderated by Natalie Schere, Executive Director, of PATH: Preserving, Archiving & Teaching Hiphop, Inc., featuring members of the Courageous Creatives cohort and leaders of Miami-Dade cultural organizations including:
AnaMaria Correa, PhD – Chief Community Engagement Officer, Miami City Ballet
Anthony Durden – Executive Member, Circle of Brotherhood
Beth Boone – Executive Director, Miami Light Project
Johann Zietsman – CEO & President, Adrienne Arsht Center
John Daversa – Chair of Studio Music & Jazz, Frost School of Music, University of Miami
Michael Spring – Senior Advisor, Miami-Dade County Office of the Mayor; Director, Miami-Dade County Department of Cultural Affairs
Rosie Gordon Wallace – Founder, President and Curator, Diaspora Vibe Cultural Arts Incubator
Terrance Cribbs-Lorrant – Director, Black Police Precinct and Courthouse Museum
Xavier Cortada – Professor, University of Miami; Artist-in-Residence, Pinecrest Gardens
"Take Back Time" was selected for the 2020 National Young Artists Summit! With the theme An Artistic Youth Revolution, the 2-day Summit, entirely designed and led by young people, showcased young artists 13 -24 years old from a range of artistic disciplines, to connect, create, and celebrate, in order to kick start a revolution. The National Young Artists Summit took place November 7-8.
ABOUT COURAGEOUS CREATIVES
Sponsored by Culture Shock Miami and led by Miami-based creative and educator, Miriam L. King, Courageous Creatives launched during the summer of 2020 as a safe space for young artists between the ages of 16-22 to participate in complex discussions about social justice and to reimagine change through the arts and activism. This cohort of 24 socially-minded artists and future leaders, collaborated over the course of 5 weeks resulting in the creation of a short-film, charting a path of 526 ways to move towards an equitable and just society. The number 526 represents the final seconds of George Floyd's life.
To stay informed about Courageous Creatives and to be notified about future sessions, please sign up for our newsletter, and follow us on Instagram @cultureshockmia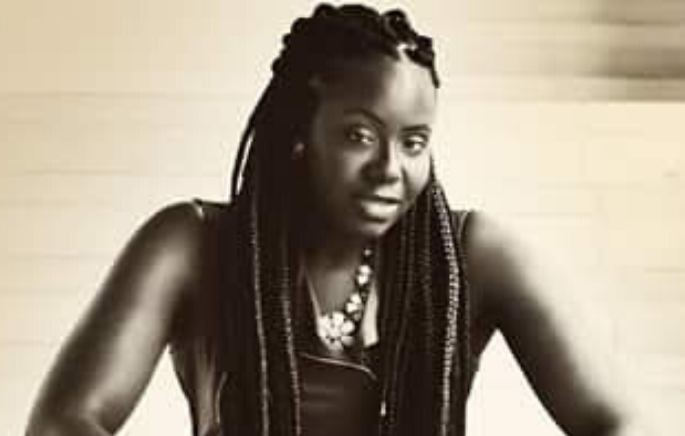 About Miriam King, Courageous Creatives Facilitator

Miriam 'Mimi' King is an education consultant and artist. She advocates for the arts, and holds space for others to create their own pathways to self-advocacy activism. Her entire professional career has been dedicated to literacy and arts education, self-advocacy and academic resource development for youth, educators, arts programs and institutions.
King facilitates healing through restorative justice programming that supports active listening, social experimentation, critical dialogue and thinking. Miriam is a native of Miami, Florida and has deep ties to several of its communities, youth and their families. She is well loved and respected by her students, colleagues and peers, and known for her sharp wit, wisdom and sense of humor.
Learning is fun everyday with Ms. Mimi because she teaches us about life! Z.J., former student