Exclusive: Catching Up with David Byrne's American Utopia's band member Tendayi Kuumba
Dec 17 Written By Wilson Morales
Currently playing at the St. James Theatre is the return of David Byrne's American Utopia, which received a Special Tony Honor and won Primetime Creative Arts Emmy Awards for Rob Sinclair and Brian Spett's Lighting Design/Lighting Direction for a Variety Special as well as Paul Hsu, Michael Lonsdale and Pete Keppler's Sound Mixing for a Variety Series or Special. Both were based on Spike Lee's pre-recorded version of the show..
Spike Lee's acclaimed filmed version of David Byrne's American Utopia made its world premiere opening the 2020 Toronto International Film Festival and is currently streaming on HBO Max. It also played in movie theaters nationwide for a special, one-night-only theatrical event on September 15, 2021.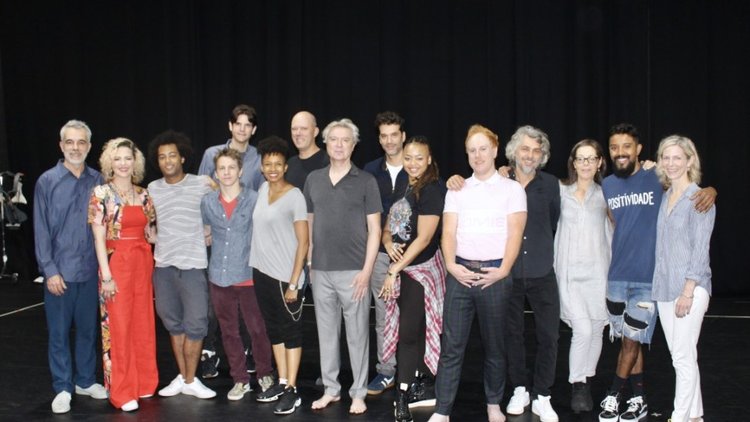 The show features David Byrne with returning band members Jacquelene Acevedo, Gustavo Di Dalva, Daniel Freedman, Chris Giarmo, Tim Keiper, Tendayi Kuumba, Karl Mansfield, Mauro Refosco, Stéphane San Juan, Angie Swan and Bobby Wooten III.
Blackfilmandtv.com caught up with Tendayi Kuumba as she shared some insights to her background and experience being a band member.
How long have you been with the company?
Tendayi Kuumba: I've been performing with David in the band since the World Tour in 2018. I'm a dancer and backup vocalist.
How did you come to join the band?
Tendayi Kuumba: Well, I joined the tour about two months in, and they were in the midst of doing the world tour, the album, and the former person who held my role, I think was just having difficulty holding on to all of the work. And through word of mouth, colleagues, with the assistant grandma for Lizzie, who's under NTB Pearson, and she and I had worked together formally. And so she passed on information along to David. And next thing I knew I was getting an email asking me to join the tour.
Was there no one else in the band that could step up?
Tendayi Kuumba: Well, everyone else in the cast are just musicians. So there are only myself and my counterpart Chris Giarmo, we're the only two dancer vocalists of the entire show. So it's just David and the two of us backing him up. And then everyone else are musicians. So they were looking for someone that could really hold off to the all of the choreography, as well as holding down the vocals to bring more to the show. I was glad I was able to step up to the part.
How challenging is it?
Tendayi Kuumba: What's challenging now is getting back into shape post pandemic, in the midst of pandemic. But before the most challenging part was that I only had two weeks to learn the entire show, before joining the tour, and I didn't meet anyone in the band before my first show. I met everyone that morning. And then did that show that day. So that was the most challenging part, just making sure I had everything down so I could just jump right in and not skip a beat.
Prior to this, had you watched any of his work before?
Tendayi Kuumba: I've seen some Talking Heads and some Talking Heads music. But I wasn't as much as familiar with some of the other songs, and some of the other work that he's done. Of course, now that I have worked with him for so long. I've just continued to discover more and more what he's created in his legacy of history of music.
When you're on stage, you can't see the excitement before, during and after the show, but when you tell friends that you're in the band, do you see the level of respect people have for him and the show?
Tendayi Kuumba: Yeah, all kinds of excitement. I think both excitement from people that are already familiar with his work. And then excitement from people that are just discovering it, that see videos or pictures pop up, and then they discover it for themselves, watch the film for themselves and or come to this show, and they've never heard of David Byrne and then just be blown away and opened up to a whole new world of music. So I've gotten a lot of positive response all around people that are familiar already with his work and are just super supportive in my life, as me as an artist, to have this situation and opportunity. And then also just being able to open up a new crowd of my world to his work and music too and find ways to keep it fresh. It's been a really positive overall. The pandemic happened and we all have gained a pound or two.
How much time did you give yourself to get back in shape before you hit the stage again?
Tendayi Kuumba: Throughout the midst of pandemic, it was been this question of if and when. When the conversation started coming up, about a good four months before I was really like, Ok, gotta lock and load," but prior to doing getting back into rehearsal, I had already started teaching some dance classes at NYU Tisch and some other workshops and doing some of my own choreography. And so I was lucky enough to already have some virtual and small social distance performances before jumping right into the show. I had a little combination of pre-peloton workouts for about three, four months before the show and doing some other stuff on the side that helped me tap in back into performance mode.
What's been the protocol has been so far?
Tendayi Kuumba: Everyone's vaccinated, and we get tested twice a week. And if we're doing award shows, or events, we get tested again, I think about twice the day before and the day of. So it's very consistent testing on a regular basis. If there's ever any results or things like that, we're always notified and taking precautions and all of that. So they're all on it.
Is the show playing for a limited engagement?
Tendayi Kuumba: It's a limited engagement. But right now, I believe towards the closing being either in March or June, which is a big gap. But I know June for sure. But as you know, things are up in the air. And fingers crossed that everything just keeps growing with Broadway opening up and ticket sales going up.
How long had you been dancing? Was this show the first time you did both dancing and singing?
Tendayi Kuumba: I've been dancing since I was three and singing since I was seven. My background in dance is a combination of modern ballet, tap, hip hop, West African, you name it, and vocally growing up singing jazz and musical theater. A lot of the people that I've been able to work with growing up even just doing musical theater, throughout growing up and high school and as well as other dance companies has always been a combo package for me. Before coming into David Byrne's tour, I was consistently with a company called Urban Bush Women, which connects movement and sound and storytelling and all of that. So it's second nature to me to have music, dance, movement, all in the same chord all the time. And even within my own work that I create with myself and with my partner. It's always music and sound and movement all connected.
Is there a favorite song of David's that you like performing?
Tendayi Kuumba: One of my favorite songs to sing is "Glass, Concrete and Stone" just because I really just love the harmonizing of it, on a personal selfish note. So yeah, that's definitely one of my favorite songs to sing.
When you're not on stage, what do you do during your downtime?
Tendayi Kuumba: Well, I do a lot of yoga, and meditation. And then my partner and I, my boyfriend Greg, we have our own creative world. Under the name UFly Mothership, we just create music and have fun in that in our own arena. I describe it as Neo soul, Afro futuristic, a little bit of hip hop, and a little bit of jazz inspired. We make music that makes us feel good. That's inspiring. It's storytelling. We put out a visual album and mixtape throughout during the quarantine. We just continue to build and it's great. So that that's our therapy, and then just staying active and getting rest, getting sleep, and eating good food. Tendayi KuumbaDavid Byrne's American Utopia