A DECADE OF ART WYNWOOD: MIAMI'S PREMIER WINTER CONTEMPORARY ART FAIR RETURNS
ON PRESIDENTS DAY WEEKEND WITH MORE THAN 50 WORLD CLASS GALLERIES

MIAMI – Art Wynwood, Miami's foremost winter art fair, produced by Art Miami, is returning for its 10th
edition. Taking place over Presidents Day Weekend, the fair will launch with an exclusive VIP Preview on
Thursday, February 16 before opening to the public Friday, February 17 through Sunday, February 19 at
One Herald Plaza.
Art Wynwood provides a unique opportunity for collectors to discover and explore the world's most
prestigious contemporary, emerging and modern art galleries in the vibrant cultural hub of South
Florida. Since Art Wynwood's ninth edition in 2020, the city's real estate boom has been one of the
country's largest transfers of wealth, making Art Wynwood 2023 the best opportunity to collect some of
the most important art works of the 20th and 21st centuries.
More than 50 leading international galleries from countries spanning England, Italy, the Dominican
Republic, Canada, Switzerland, France, Belgium, Germany, Spain, United Kingdom, Venezuela, Austria,
and throughout the U.S. will showcase an elevated array of murals, pop surrealism, street art and other
modern and contemporary genres by innovative emerging artists as well as top names.
"Year over year, Art Wynwood attracts key collectors, curators, art advisors, designers, and art aficionados from around the world," shares Art Wynwood Director Julian Navarro. "Art Wynwood's highly anticipated 2023 edition will feature a mix of new and established contemporary galleries, as well as special projects and solo exhibitions."
For the first time in the fair's history, Thursday's VIP Preview will benefit The Bass, Miami Beach's
preeminent contemporary art museum, supporting its mission to expand the interpretation of
contemporary art, and use art as a catalyst for creativity and positive growth.
"We are delighted to partner with Art Wynwood," says Silvia Karman Cubiñá, Executive Director/Chief
Curator for The Bass. "The fair offers a vibrant platform for international art enthusiasts and collectors to discover emerging contemporary artists and exciting new works, further positioning Miami as a hub for visual arts."
Art Wynwood 2023 is expected to draw prominent attendees and for the third year, the world-renowned
Miami International Boat Show will be adjacent to Art Wynwood, an in-water display showcasing the most extraordinary and uniquely designed yachts and superyachts from the world's foremost custom boat builders.
During this year's fair, Art Wynwood will present Kelly "RISK" Graval with the Art Wynwood Lifetime
Artistic Achievement Award. Regarded as a founder of the West Coast Graffiti movement, LA-based RISK was the first to paint full-color pieces and productions on the city's freeway, creating the Los Angeles freeway movement, and continues to innovate and shape contemporary art through his work. Presented in partnership with Wynwood Walls, the award recognizes individuals in art whose careers have changed the industry. Previous award recipients include Mel Ramos, Martha Cooper, Shepard Fairey, Logan Hicks, and Ron English.
Presented by Chase Contemporary, RISK's art will be featured on an outdoor mural flanking the Fair
entrance. He will also debut four new Virtual Reality graffiti prints, which when activated via a phone
camera come to life through the screen. Other Art Wynwood 2023 highlights include:
● Heitsch Gallery will present four new thought provoking works from artist Eike König.
● Laurent Marthaler will showcase new works from Swiss artists Crystel Ceresa and Daniel
Cherbuin.
● Liquid Art System will present hyperrealist works, including paintings by Attilio Cianni and
sculptures by Peter Demetz.
● Fabien Castanier Gallery will showcase works from RERO, Jan Kalàb and Austyn Taylor.
● Art Angels will present works from Michael Callas and Flore.
● Cernuda Arte will showcase paintings from Wifredo Lam and Carlos Alfonzo.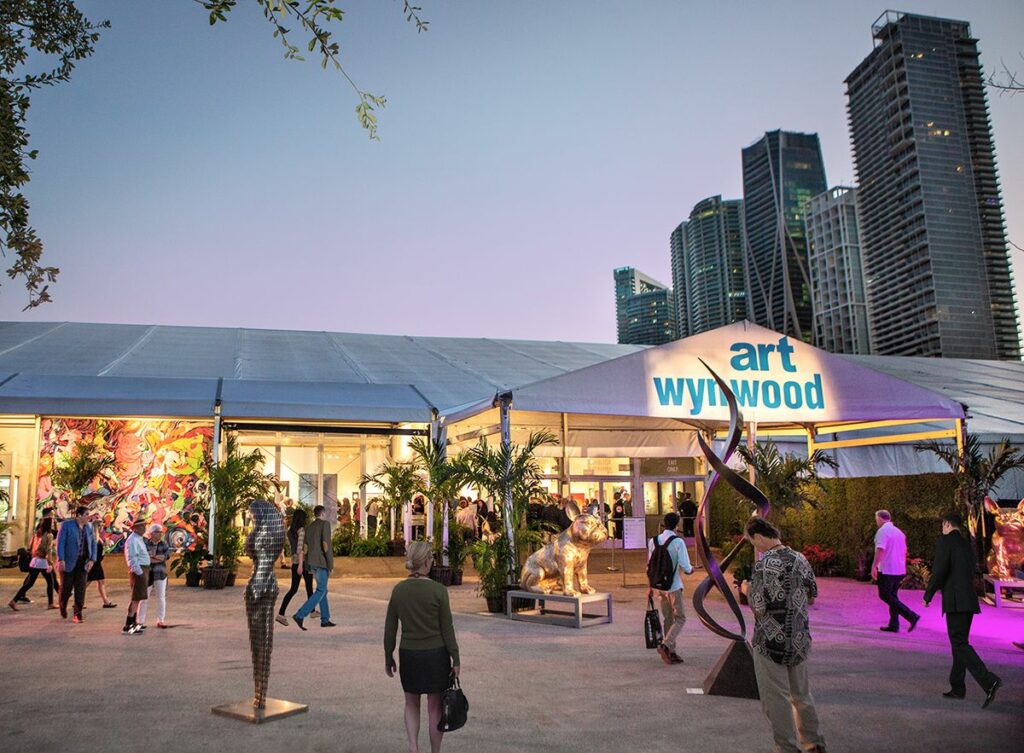 ALL PARTICIPATING GALLERIES
33 Contemporary Gallery Chicago | Adamar Fine Arts Miami | Aldo Castillo Gallery Naples | AOA;87
Bamberg, Germany | Art Angels Los Angeles | Avant Gallery Miami | Bel Air Fine Art Miami – Paris –
Geneva | Blink Group Fine Art Miami | Boulderton Contemporary Art Miami | Cernuda Arte Coral
Gables | Chase Contemporary New York City | Colour Senses Project Miami | Connect Contemporary
Atlanta | Contemporary Art Projects USA Miami | Contessa Gallery Palm Beach – Cleveland | Dane
Fine Art Philadelphia | De Haro Projects Miami – Granada | District & Co. / Arthodox Cap Cana –
Sanxenxo | Eternity Gallery Miami | Fabien Castanier Gallery Miami | Frederic Got Paris | Galeria
Casa Cuadrada Bogotá – Miami | Galleria Ca' D'Oro/ModArt Gallery Fort Lauderdale – Miami Beach |
Gallery Mavruk Boca Raton | Hanono Gallery New York | Heitsch Gallery Munich | HOFA Gallery
London | In The Gallery Copenhagen – Palma | Indiana Bond Gallery Bogota | Kedria Arts Kyiv –
Birmingham | Kush Fine Art Miami Beach – Las Vegas -Laguna Beach | Lassiter Fine Art West Palm
Beach – Indonesia | Latin Art Core Miami | Laurent Marthaler Montreux -Zurich | Lawley Art Group
Dallas | Liquid Art System Capri – Positano – Ravello | Liz Clement Contemporary New York – Miami –
Boston | Masterworks Fine Art Gallery Palo Alto | Matthew Swift Gallery Gloucester | Nuu Muse
Contemporary Art Dallas | Octavia Art Gallery New Orleans | Oliver Cole Gallery Miami | Phillip
Michaels Art New York City | Projects Gallery Miami | Quidley & Company Naples – Nantucket –
Westport | Rebecca Hossack Art Gallery London | Roche São Paulo | Miami | New York | Shchukin
Gallery New York | Sist'Art Gallery Venice | Steidel contemporary West Palm Beach |The Plaza
Galleries Whistler | VK Gallery Amsterdam | Zukunft Galerie Miam.
HOURS AND LOCATION
Fair Hours:
Opening Night VIP Preview: Thursday, February 16: 6 – 10 p.m.
General Admission:
Friday, February 17 and Saturday, February 18: 11 a.m. – 7 p.m.
Sunday, February 19: 11 a.m. – 5 pm.
Location: The Art Wynwood Pavilion, One Herald Plaza @ NE 14th Street, on Biscayne Bay between the
Venetian Causeway & MacArthur Causeway, Downtown Miami
TICKET INFORMATION
Tickets are available for purchase at http://www.artwynwood.com/tickets. For further information or
tickets, please call 1.305.517.7977, email info@artwynwood.com
VIP RELATIONS, MARKETING, SPONSORS + PARTNERS
Pamela Cohen
Vice President of Marketing, Sponsorships + VIP Relations
pamela@artmiami.com
786-510-7035
PR / MEDIA CONTACT
Carma Connected
artmiami@carmaconnected.com
305-438-9200

About Art Wynwood:
Art Wynwood is Miami's premier winter contemporary and modern art fair, presented by Art Miami. In
its 10th edition, Art Wynwood has brought together world class galleries, collectors, private and
corporate art advisors, museum professionals, curators, interior designers, art enthusiasts and
tastemakers in America's favorite destination for the arts, Miami. http://www.artwynwood.com.
About Art Miami:
Art Miami, owned by Informa Markets, is the leading international contemporary and modern art fair that
takes place each December during Art Week. It is one of the most important annual contemporary art
events in the United States, attracting motivated collectors, curators, museum professionals and art
enthusiasts from around the globe. Now in its 32nd year, Art Miami remains committed to showcasing the most important artworks of the 20th and 21st centuries in collaboration with a selection of the world's most respected galleries. Art Miami maintains a preeminent position in America's contemporary art fair market. With a rich history, it is the original and longest-running contemporary art fair in Miami and continues to receive praise for the variety of unparalleled art that it offers. It is the "can't miss" event for all serious collectors, curators, museum directors and interior designers providing an intimate look at some of the most important work at the forefront of the international contemporary art movement.
https://www.artmiami.com/
Art Wynwood, Miami's premier winter art fair, produced by Art Miami, is returning for its 10th edition Presidents Day Weekend. The fair will kick-off the holiday weekend with an exclusive VIP Preview on Thursday, February 16 benefiting The Bass museum before opening to the public Friday, February 17 through Sunday, February 19 at One Herald Plaza.

Art Wynwood provides a unique opportunity for collectors to discover and explore the world's most prestigious contemporary, emerging and modern art galleries in the vibrant cultural hub of South Florida. More than 50 leading international galleries from countries spanning England, Italy, the Dominican Republic, Canada, Switzerland, France, Belgium, Germany, Spain, United Kingdom, Venezuela, Austria, and throughout the U.S. will showcase, pop surrealism, street art and other modern and contemporary genres by more than 550 innovative emerging and top name artists.
Art Wynwood 2023 will coincide with the Discover Boating Miami International Boat Show, taking place on Biscayne Bay between the Venetian and MacArthur Causeways, adjacent to Art Wynwood.
ARTIST LIST.
B
C
D
E
F
G
H
I
J
K
L
M
N
O
P
Q
R
S
T
U
V
W
X
Z
Art Wynwood 2023 Edition
DandelionChandelier.com |
Luxury Culture Events: Top 25 on the Calendar in February 2023
2/2/2023
Luxury Guide USA |
A Decade of Art Wynwood: Miami's Premier Winter Contemporary Art Fair Returns Presidents' Day Weekend
2/2/2023
Miami Guide |
Best Miami Events in February 2023
2/2/2023
Avenue Magazine.com |
10 Years of Art Wynwood
2/8/2023
News Break |
10 Years of Art Wynwood
2/8/2023
ArtNet.com |
'An Addiction I Could Never Shake': Graffiti Pioneer Risk on How He Brought the Art Form From the Street to the Gallery
2/9/2023
ArtNet.com |
Here's our up-to-the-minute guide to all the art fairs taking place around the world in 2023
2/1/2023
TheMiamiArtScene.Blogspot.com |
10th edition of Art Wynwood Returns to Miami President's Day Weekend February 16 – 19, 2023
2/1/2023
Infonegocios.miami |
En Febrero Miami marca la agenda cultural de Angolatina los eventos que no te podes perder
2/1/2023
Infobae |
Febrero en Miami un calendario de eventos para todas las edades
2/2/2023
Lado.mx |
Febrero en Miami un calendario de eventos para todas las edades
2/2/2023
ViveArgentina.click |
Febrero en Miami un calendario de eventos para todas las edades
2/2/2023
NoticiasdeBariloche.com |
Febrero en Miami un calendario de eventos para todas las edades
2/2/2023