YO Space Gallery & Studios
Yo Space has been located in the culturally rich community of Little Haiti since 2011. A tight-knit environment where artists can come to flourish and interact with people who will help them take their craft to the next level, creatively and professionally.
Yo Miami
Comprehensive Creative Solutions
Over the past decade, Yo Miami has organically grown a reliable network of creatives including designers, muralists, musicians, comedians, breweries, chefs, and more.
We connect you with our extensive creative network, simplifying the process of developing and communicating your vision and bringing your ideas to life.
Facilitating seamless synergy by:
-Curating murals, visual arts displays, and interactive installations
-Producing recurring and one-time events (Art, Comedy, Music and more)
-Food and Beverage solutions, including local and national craft breweries, chefs, and caterers
-A wide range of other creative solutions for all your commercial, residential, or other needs.
How it happened…
Founded in April 2011, what began as a passion for art, music and our 305 culture has evolved into a comprehensive network of artists, musicians, DJs, comedians, craft breweries, chefs and more.
Bringing together creatives from all walks of life, we shine a light on the elements of Miami culture that deserve to be recognized and celebrated.
Our goal is to serve as an ecosystem where creative people interact and grow together, leading to a sum community greater than its individual parts.
Yo Philosophy
I get asked all the time, "What is it that Yo Miami does exactly?" and it took a long time to have a satisfactory answer. What made it all the more frustrating was that I knew a company needs an identity in order to grow. Eventually a phrase from a magazine article jumped out and things almost audibly clicked into place: Ecosystem.
"Everything in the natural world is connected. An ecosystem is a community of living and non-living things that work together. Ecosystems have no particular size."
The more I read, with every line I was more certain that I'd found the word that best summed up the entirety of what I was trying to create with Yo Miami.
"An ecosystem can be as large as a desert or a lake or as small as a tree or a puddle. If you have a terrarium, that is an artificial ecosystem. The water, water temperature, plants, animals, air, light and soil all work together. If there isn't enough light or water or if the soil doesn't have the right nutrients, the plants will die. If the plants die, animals that depend on them will die. If the animals that depend on the plants die, any animals that depends on those animals will die. Ecosystems in nature work the same way. All the parts work together to make a balanced system."
AMMENITIES
Central location in the heart of Little Haiti, part of the Little River Business district
Minutes from the Design District, Wynwood, and I-95
24/7 access to your studio
Wifi, electricity, trash pickup, water, A/C and other utilities included in rent.
Kitchen area with microwave, fridge, and industrial sink
Vinyl library + turntable
Custom painted Ping Pong table, N64, and other distractions for downtime
Outdoor hangout/work area in front
Free Parking (shared lot and street)
Benefit from Yo Miami events/PR/media network
Opportunities to synergize with other local working artists
If interested in a studio please submit the following to info@yo-miami.com with the subject "Studio Inquiry": Brief Bio, Link to portfolio or attach 5-7 images of your work, Past exhibitions/CV, References (if applicable)
info@yo-miami.com
www.yospacemiami.com
294 NE 62nd Street
Miami, FL 33138
Accessibility: ADA Compliant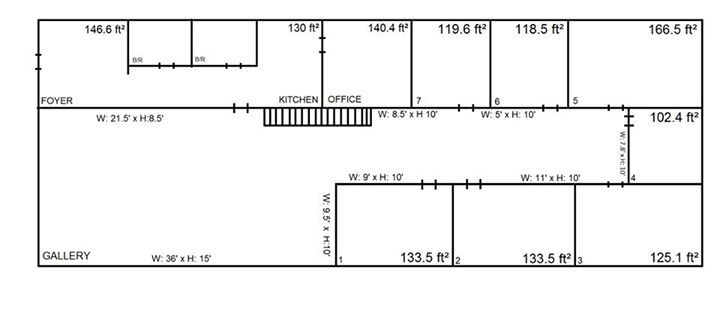 Lila Lopez
Hannah Banicella
Nara Almeida
Paul Ellenberger
Yuval Ofir