Tomás Esson
The GOAT
Multiple Galleries
Bringing together works spanning three decades, a site-specific mural, and reinterpreted works commissioned by ICA Miami, "The GOAT" is the first solo museum presentation for Cuban painter Tomás Esson.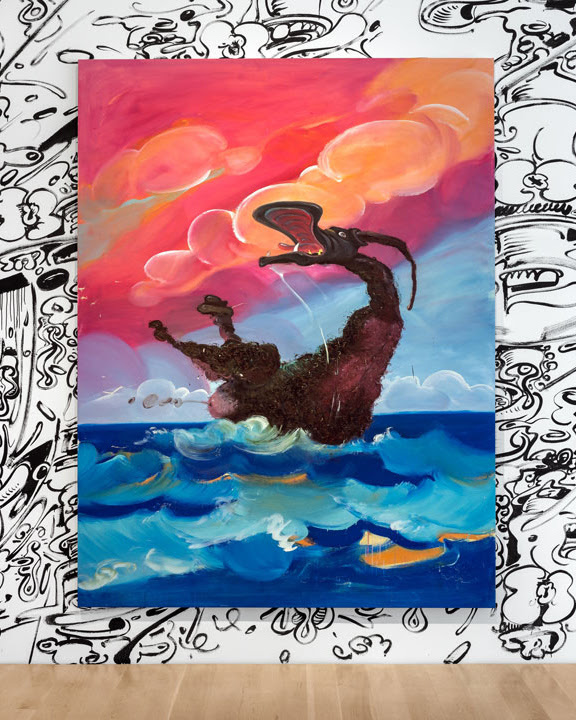 Jul 8, 2020 – May 2, 2021Tomás Esson: The GOATGround Floor / Barbara Z. and Sam Herzberg Family Gallery
Ground Floor / Janice and Alan Lipton Gallery
"Tomás Esson: The GOAT" is the first solo museum presentation for Cuban painter Tomás Esson. On this occasion, ICA Miami brings together works spanning his thirty-year studio practice alongside a site-specific mural and a commissioned reinterpretation of his early painting installations.
From his very first exhibition in Havana in 1988, which was censored and closed by Cuban authorities, Esson has created lively and grotesque paintings loaded with dynamic energy, mythological references, and political commentary. The presentation will include early works, as well as painting from Esson's "Retrato" (Portraits) series and his "Wet Paintings" series. Each of these three bodies of works began in one of the different cities where Esson has lived and worked—the early paintings in Havana, the "Retratos" in Miami, and the "Wet Paintings" in New York City.
Esson was born in Havana, Cuba, in 1963. He graduated from the Instituto Superior de Arte in Havana, in 1987. His work was showcased in a number of controversial exhibitions in the late 1980s, as he became a central figure in the decade's renaissance in Cuban art and began to exhibit internationally. In 1990, he left Cuba and has since then lived in Miami and New York City. His work is in the collections of the Museo Nacional de Bellas Artes, Havana; The Whitney Museum of American Art, New York; Museum of Contemporary Art, San Diego; Ludwig Forum für Internationale Kunst, Aachen, Germany; and Museo de Arte Contemporaneo, Monterrey, Mexico.
This exhibition is organized by ICA Miami and curated by Gean Moreno, Director, Knight Foundation Art + Research Center.