'Don't Say Gay' / Queens of the Revolution / Miami Film Festival
"Rebecca Heidenberg's insightful new documentary Queens of the Revolution introduces a community of queer people who have remained in Cuba during its dynamic and sometimes dangerous history to form Mejunje, a safe space in Santa Clara, that they can call their own. The documentary is a testament to their resilience and a gentle treatise on what it means to lead a queer revolutionary life." B.L. Panther, The Spool
"In Queens of the Revolution, we witness world builders, carving out a safer, more beautiful, and entirely new place to call home." Sara Hutchinson, The Austin Chronicle
Aspect Ratio: 1.85
Audio Format: Stereo
TRT: 80 minutes
Language: Spanish with English Subtitles
view trailer @ www.queensoftherevolution.com/trailer
Director: Rebecca Heidenberg
rebecca@koanfilms.com | 646-703-4473
www.queensoftherevolution.com
SHOWINGS
Queens of the Revolution
Sun, Mar 13th 1:15PM at Silverspot Cinema 16
Q&A with Director following screening
*Streaming March 14-16
Tickets: https://miamifilmfestival2022.eventive.org/films/61f189536239a200d2d658f6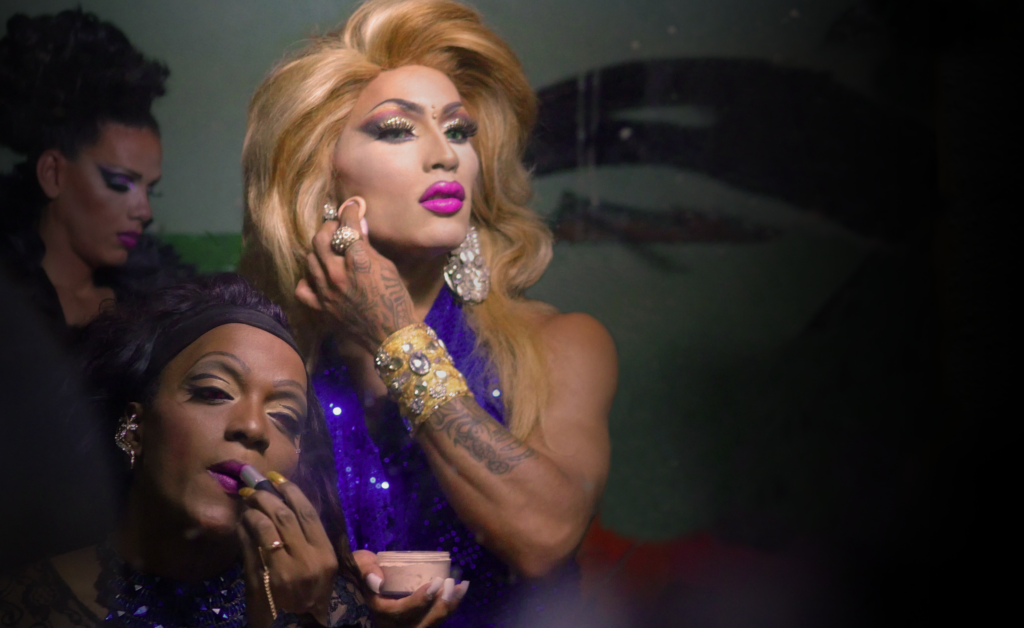 SYNOPSIS
Queens Of The Revolution is a portrait of El Mejunje, a cultural center in Santa Clara that paved
the road for LGBTQ+ rights in Cuba. Since 1985, El Mejunje has offered refuge for people
marginalized under Castro and a stage for their drag shows, punk rock and spoken word
performances. From the beginning, El Mejunje's performers risked persecution and violence
from both the Cuban state and society at large. The subjects of Queens of Revolution offer oral
histories of violent oppression alongside riveting, jubilant performances.
The film highlights the bravery of people who have fought for their lives and identities for
decades. Meandering through the streets of Santa Clara, into the homes of drag performers and
on to the stage, the film tells the story of Mejunje through a chorus of voices. This community was
violently persecuted but instead of fleeing, they chose to stay and fight for change in the country
they love. We follow them as they look towards the future, bringing the ethos of inclusion and
diversity fostered by Mejunje to the country at large with touring performances in Cuba's rural
hinterlands. This is a story about resilience, resistance, and survival.
Granted exclusive access through years-long relationships with El Mejunje's community, Queens
of The Revolution also offers a template for activism through grassroots organizing and
performance. In a time of increasing government legitimized hostility towards LGBTQ+ citizens in
the United States and in many places around the world, the film proposes a remarkably successful
model for the preservation of diversity in the face of intolerance, brutality, and hate.
CREW BIOS
REBECCA HEIDENBERG
Producer/Director/Editor/Director of Photography
Rebecca is an independent filmmaker and a partner at Dreamsong, an art gallery, residency and
cinema in Minneapolis. Her production company is Koan Films and "Queens of the Revolution"
is Rebecca's debut feature-length film. After studying Communications and Photography at the
University of Pennsylvania, Rebecca worked as a curator and gallerist in New York City for over 10
years and was the Co-Founder and Director of RH Gallery, a multidisciplinary art space in TriBeCa.
In 2018, she completed a Master's Degree in Media Studies at The New School and was awarded
the distinguished thesis award for her short film "The Water Children," a personal essay film about
pregnancy loss and a late-term abortion, which premiered at Anthology Film Archives. Rebecca
is currently in post-production on "Janus", a short film about migration, which weaves together
stories about refugees crossing borders and is anchored around Walter Benjamin.

XIMENA HOLUIGUE
Associate Producer / Field Producer
Ximena is a facilitator, project manager and curator of interdisciplinary projects in Cuba. She
was the Assistant Curator of the 2105 Havana Biennia and since 2016, she has been the project
manager of the Montreal-Havana art exchange, funded by the Montreal Arts Council and led by
the RCAAQ institution in Montreal. Ximena has acted as a facilitator for the TV Series Infiltration
by Urbania Productions, Interrupt this Program with CBC Productions and as an Associate
Producer for the Cuba! exhibition at the American Museum of Natural History.

KRISTEN BROWN
Director of Photography
Kristen is an independent documentary filmmaker based in Montreal. Her work in film grew out
of a decade of work as a community organizer on projects in Canada and internationally in a
range of areas including LGBTQ+ rights, housing rights, community agriculture, music, arts, and
advocacy for marginalized communities. Kristen received a Bachelor's degree in Communication
Studies from Concordia University, Montreal. She is currently in the development phase of her
next feature documentary, which is being produced by Cinema Politica Productions.

LANI RODRIGUEZ
Sound Recordist/Production Assistant
Lani is a designer and illustrator from the San Francisco Bay Area. She received her Master's
Degree in Media Studies from the New School. Lani is the co-founder of Backtalk Videográfica, a
visual resistance art studio that creates media which informs, provokes, and meets today's urgent
need for complex storytelling.
RAÚL E. GUTIERREZ GARCIA
Sound Recordist/Production Assistant
Raúl (El Yuca) is a freelance photographer and videographer based in Santa Clara, Cuba and a
proud member of Mejunje's community.