Pinta comes to The Grove! 48 art institutions – 28 cities – 17 countries
Pinta Miami 2022 will be celebrated from November 30th to December 4th. This year, in its 16th anniversary and after highly transformative events, Pinta ventures into a new concept. New exhibition formats and other exciting ingredients will make up Pinta 2022.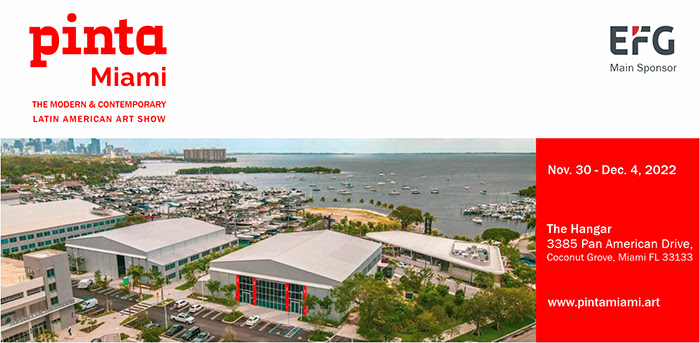 In search of new territories, Pinta Miami inaugurates The Hangar in Coconut Grove. Located in a privileged place and with a strong historical character, The Hangar used to be the base of Pan American. Today, the space retains its functionality and combines elements of nature. The layout is completely flexible, with an open floor plan and abundant natural lighting. Including meeting, lounge and enjoyment spaces, the experience at The Hangar is complete. The wide and state-of-the-art accesses connect water and land, the natural and the built, thus generating a unique environment for art.
In line with Pinta's commitment as an international platform to energize and disseminate Ibero American modern and contemporary art, and with a stronger-than-ever bond to its Latin American roots, this edition brings forth an artistic program which includes diverse and interdisciplinary expositions and carefully articulated sections.
Pinta Miami 2022 has invited curators Omar-Pascual Castillo, Mario Gioia and José Antonio Navarrete for the Main Section; Oscar Roldán Alzate in the Solo-Duo Projects and Main Section; Félix Suazo for Special Projects; Florencia Portocarrero in NEXT; Gean Moreno for Intersections; Pascal Taraby in Design; and the curator architect Daniel Fischer for the design and spatial distribution of the fair. With vision and creativity, these renowned curators will work to highlight the voices of individual artists and celebrate the American imagination.
As a new feature, Pinta Design will present a collector's design section themed Tropicalizando: a testimony of interactive traditional and contemporary design processes, materials and design languages. In parallel, Pinta will exhibit "historical jewels" of Latin American abstract art in the CUBE section.
In addition, Pinta Miami 2022 will hold a tribute for Argentine artist Ides Kihlen. Her works, exhibited both internationally and in the main Argentine museums, have sparked attention only recently but very heartily. In collaboration with the Aina Nowack / AAC gallery from Madrid, Pinta seeks to honor this 105 year old artist whose rhythms and gestures express a playful intuition.
Moreover, as a step forward in contemporaneity, Pinta participates with Decentraland in Metaverse's Museum District and eDigital.ART in a digital exhibition of works belonging to the Ella Fontanals-Cisneros collection, including those of Glenda León, Gustavo Pérez Monzón and Sandú Darié.
Pinta Miami is honored to be holding, for many consecutive years now, the announcement of the EFG Latin American Art Award winner. As a closing ceremony for this award that seeks to increase global recognition of regional art fairs, the selected artwork will be acquired by EFG Capital to be exhibited at its Miami offices and incorporated into its collection. Not only this, during Pinta Miami 2022 the NEXT Award will be given to one of the participating galleries in the section. Thus promoting the work of young, emerging careers boosting alternative and dynamic dialogues in mutual aid and collaboration. Finally, eight of the exhibited artworks in the fair will be awarded and acquired by international public and private collections Jorge M. Pérez (Miami), Ella Fontanals-Cisneros (Miami), Alberto y Ginette Rebaza (Lima), Juan Carlos Maldonado Art (Miami), Ama Amoedo (Buenos Aires), Aldebaran (Madrid) and DC Family Foundation (Miami). In this way, Pinta Miami functions as a platform where both private and public, emerging and acclaimed, engage in the recognition and value of art collecting and encouragement.
As part of Pinta's online affair, and transcending borders, Pinta hosts Media Point, a digital section curated by Verónica Santalla with unique audiovisual content: talks with experts (LiveTalks), insights on the artists' work (OpenFile) and a Masterclass by María Sancho-Arroyo.
"In a new location, with new sections and exciting awards, Pinta 2022 will provide an experience unlike no other." shares Pinta Director Diego Costa Peuser. "Artists, curators, gallery owners, collectors and art lovers will reunite for the best of what Latin American and Spanish creators have been working on; passionately and relentlessly across different regions and generations."
Pinta comes to The Grove as an exceptional showcase which not only highlights the outstanding quality of Latin American art, but also combines exclusivity and long-standing acclaim to enhance the voice of artists and their social, cultural and ecological concerns.
Tickets here

For more information: pintamiami.art
The Hangar in Coconut Grove
3385 Pan Americana Drive,Coconut Grove, Miami Florida 33133
More information
Pinta Miami, Opening Inauguration (by invitation only)
Wednesday, November 30th (5pm – 9pm)
Public Days
> Thursday, December 1st (11am – 8pm)
> Friday, December 2nd (11m – 8pm)
> Saturday, December 3rd (11m – 8pm)
> Sunday, December 4th (11m – 6pm)
EXHIBITORS:
Main Section
+GALLERyLABS – New Haven / Buenos Aires
Aina Nowack /AAC Galería de Arte – Madrid
Alex Slato – Miami
Art Media – Miami
Espacio Líquido + La Gran – Gijón
Fundación Pablo Atchugarry – Manantiales
Galeria Artística – Asuncion
Galería Artizar – Islas Canarias
Galería El Museo – Bogotá
Galeria Janaina Torres – São Paulo
Galería Llamazares – Gijón
GBG Arte – Caracas
Imaginario – Buenos Aires
Julia Baitalá – Arte Contemporáneo – Buenos Aires
LnS Gallery – Miami
Lyle O.Reitzel Arte Contemporáneo – Santo Domingo
Montenegro Art Project – MAP – Bogotá
OdA Oficina de Arte – Buenos Aires
Oñate Contemporary – Miami
Pabellón 4 Arte Contemporáneo – Buenos Aires
Plataforma Art Base – Quebec / México
Prima – Santiago
Salar – La Paz
Sammer Gallery – Miami
SASHA D espacio de arte – Córdoba
Viedma – Asunción
Solo-Duo
Galería de Arte A Ciegas – Madrid
Galeria Petrus – San Juan
Taller Maldonado – Guayaquil
Trinta – Santiago de Compostela
Younique – Paris / Lima
NEXT
Galería Abra – Caracas
Galería NAC – Santiago
KBB – Buenos Aires
La Pecera – Punta del Este
+ Arte – Quito
Remota – Salta
Selva Negra – Buenos Aires
Subsuelo – Rosario
Taller Maldonado – Guayaquil
VIGIL GONZALES – Cusco
CUBE
Galería del Paseo – José Ignacio / Lima
Sammer Gallery – Miami
Institutions
AMIA – Buenos Aires
Instituto Cultural de México en Miami
CIFO – Miami
Publications
Art Nexus – Miami / Bogota
HARTvest Project – Miami
Intersections
Pan American Art Projects – Miami