Miami Performance International Festival 2019 JUNE 21- 22, 2019
The first Miami Performance International Festival will be a Two-day series of events taking place in EDGE ZONES ART GALLERY  – 3317 NW 7th Ave. Circle, Miami, FL 33127 (Allapattah) | LUMMUS PARK MIAMI BEACH   – Ocean and 3rd. The event is organized by Edge Zones Projects and curated by Curators: Charo Oquet , Eddie & Gregorio Alvarez.
SITES:

EDGE ZONES ART GALLERY – 3317 NW 7th Ave. Circle, Miami, FL 33127 (Allapattah) | LUMMUS PARK MIAMI BEACH – Ocean and 3rd.
Participating Artists: Performance: Eliu Almonte (Dom. Rep.) | Greg Alvarez | | Simon Bolivar De Los Santos (Dom. Rep.) | Calnepuelco |Janet | Jessica Fairfax | Jose Hernandez Sanchez | Human Fluid Rot | Fsik Huvnx | Jose Garza | Bobb Hatt | Jan & Dave | Janet (St. Louis, Mo) | Joko Oso | Kunstwaffen | Leche de Virgen | Male Model | Rafael Montilla | Sergio Mora | Charo Oquet | Sandra Portal-Andreu | Psyche Electro-Acoustic Opera (Liza Seigido) |Punto – Experimental Music Ensemble – Gustavo Matamoros, Julio Roloff & Armando Rodriguez | Julio Roloff | David Rohn | John Rousseau | Robert Rudas | Street Rat | Gerardo Segarra | Three Brained Robot (New Orleans) | T'Re Tabu |Two Coin | Richard Vergez | Womanmay |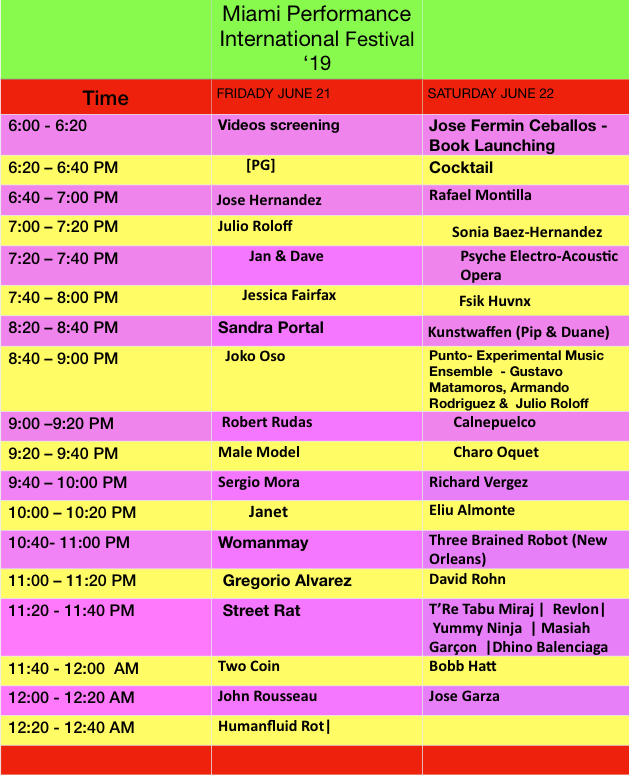 Sites:, EDGE ZONES ART GALLERY, LUMMUS PARK – OCEAN DRIVE – MIAMI BEACH

The 8th Edition of "Miami Performance Festival International '19" (M/P '19) will take place from June 21-22, 2019. M/P '19 will be staged at Edge Zones space in Allapattah Miami and at Lummus Park, South Beach with different countries represented and a host of local talent . The festival will show a variety of works and will encourage viewers to investigate performance art, spoken word poetry and Noise artistic influence and contributions to our visual and sound culture and will provide the viewer with a unique performance and sound experience beyond the realm of traditional art. A 2-days long interdisciplinary complex multileveled platform which will include videos of performances, live performances, noise, experimental sound art audience participation, publications, artist talks and visual art exhibitions, demonstrates the commitment by Edge Zones to the professional development of South Florida artists in national and international forum.

M/P '19 is a stage for both young and emerging artists, curators, critics, and scholars to present their latest work. This world-class performing arts festival will provide the opportunity for our live audience of approximately 2,000 to engage deeply with the ideas emerging from these provocative works.

Miami Performance International Festival (M/P'19) seeks to continue to expand and provide a platform for South Florida-based performance and sound artists to create new work in Miami. This "challenge", also bringing professionals together for the sake of a common goal: pushing the boundaries of their practice and making that same work accessible to a wider audience.

About Edge Zones

Edge Zones has a 22-year history of supporting artistic practices in the public domain. EZ produces events located specifically and contextually in Miami and the Caribbean region through participatory processes. With Miami Performance International Festival, EZ will seek to establish a new network of public engagement in Miami and Miami Beach.

EZ is a platform for cultural production, artists and volunteer-run contemporary arts non-profit dedicated to the research, conceptualization and execution of events that strengthen the contemporary art environment in Miami. EZ seeks to make contemporary art accessible, to engage audiences and to create a focal point for international research and awareness.

Support by:

The principal sponsors for the Miami Performance International Festival '19are: Edge Zones Project, Florida, USA, Miami Dade County-Cultural Affairs Council, Florida State Cultural Affairs Council and Peroni Beer.