Miami Art Week: Women Art Dealers in Miami Story Idea
Miami Art Week is approaching, and it is time to celebrate the city's vibrant art scene. As the art world gears up for the event, it is important to recognize women who have significantly contributed to the art business.
Four female entrepreneurs who run their art galleries in Miami are Alicia Restrepo, the owner of Etra Fine Art located in Little River; Payal Tak, the owner of Lucid Design District, which is situated across from ICA; Daisy Diaz, the owner of Frascione Arte in Florence; and Sylvie San Juan, the owner of Saladrigas Art Gallery at Belen Jesuit in Miami.
According to a recent report by Artsy, women dealers are 28% more likely to exhibit female artists, while male-run galleries tend to showcase more male artists. The report also found that younger galleries are likelier to have female leadership. This data suggests that women play an increasingly important role in art as artists and business leaders.
Alicia Restrepo, Owner of Etra Fine Art (Little River Art District)
Alicia Restrepo (born in Medellín, Colombia) graduated first in Economics and then later in art history. She has been in the art business since 1983, first as co-owner of one of the most important galleries in Soho in the 80's and 90's. In 2003, she relocated to Miami following Art Basel Miami Beach's debut in 2002 when Miami quickly became recognized as a global cultural destination.
Ms. Restrepo is an expert in Latin and South American art and has an impressive collection of contemporary art by mid-career to established artists from those regions, as well as Europe. Etra Fine Art has survived Miami's gentrified neighborhood shifts. The gallery's first location was in the Design District (before it became a luxury retail hub); followed by Wynwood (in the days when the area had Art Walks); and currently, in Little Haiti/Little River Art District (the new home of Oolite Arts).
In addition to promoting and exhibiting artists, Ms. Restrepo works with private collectors, corporations, and interior designers to build collections by researching, locating, acquiring, and installing an array of artwork.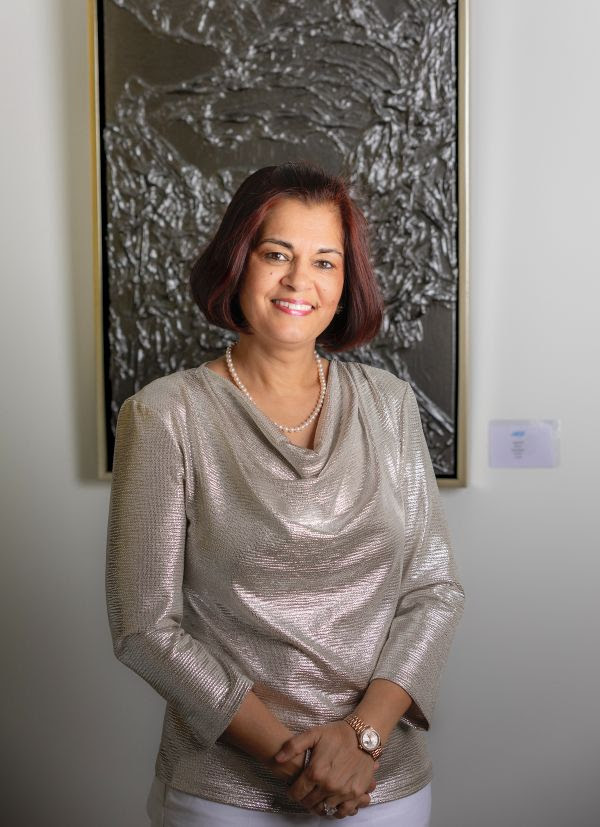 Payal Tak , Owner of Lucid Design District
Payal Tak (born in India) is the former President and CEO of her self-made, Virginia-based IT services company. She opened Lucid Design District during Art Basel Miami Beach / Miami Art Week 2022. For over three decades, while focusing on executing a business in Information Technology, Ms. Tak relied heavily on creating art as her go-to activity to re-energize at the end of her day. She would often paint late into the night while listening to Sufi music.
The 3,700-sf gallery is located on Miami's "art corner" (10-12 NE 41 St. at Miami Ave) next to Museum Garage and across the street from the de la Cruz Collection and ICA Miami. The idea of Lucid Design District was born from Ms. Tak's desire to connect with the community through collaborative art exchanges. She hosts regular exhibitions, educational art talks, and artist networking events.
CHROMA 2023 – Art Week Exhibition Opens Tuesday, December 5th at 5 p.m. EPK link for images, artist bios, and exhibition description.
Payal Tak, Owner of Lucid Design District (Miami Design District) ©. Armando CollsDaisy Beatriz Diaz, Cultural Director of Frascione Arte (Italy/South Florida)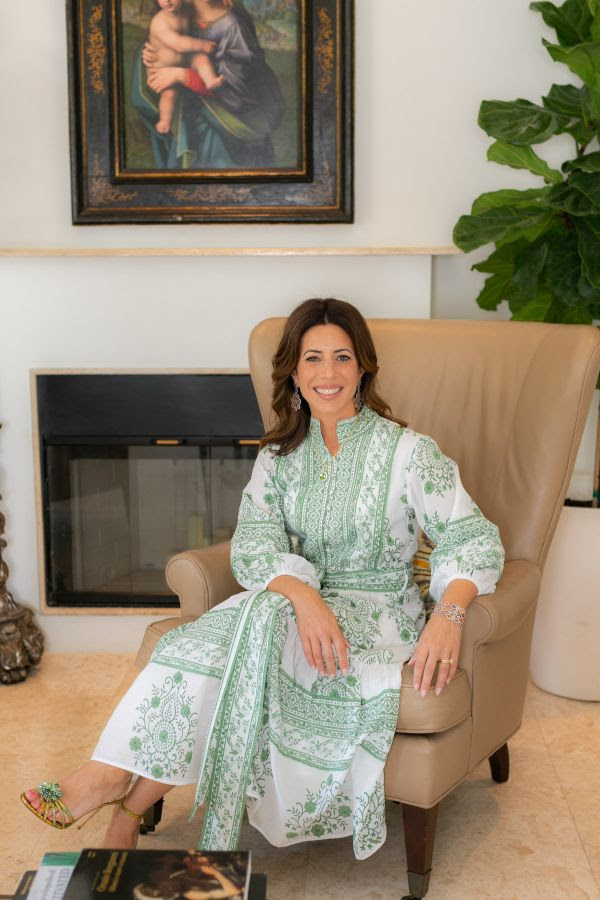 Daisy Beatriz Diaz, Cultural Director of Frascione Arte (Italy/South Florida)
Daisy Diaz was born in Miami to Cuban American parents. Her father's passion for antiquities ignited Daisy's lifelong commitment to the arts. After graduating from Boston College, she set out to complete a master's degree in industrial design in Florence, which led to a career at Lungarno Alberghi (the Salvatore Ferragamo family's hospitality and interior design group). Soon after, she formed her own distribution company. Ms. Diaz's unwavering appreciation of the arts would lead her to meet Federico Gandolfi Vannini (4th generation art dealer and owner of Frascione Arte), and, for more than a decade, the couple has expanded their private collection.
Since 2020, Federico and Daisy have lived in Miami while continuing to run Frascione Arte. They hope to make a lasting impact on South Florida's arts and culture scene.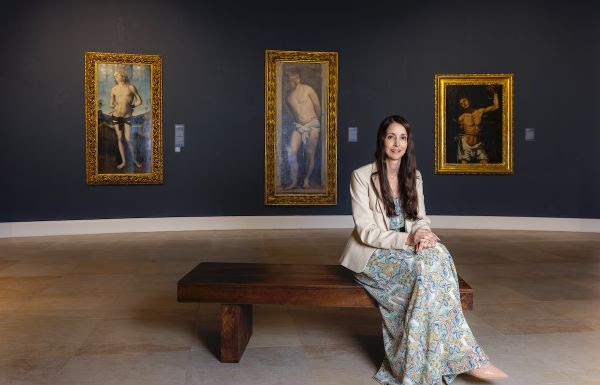 Sylvie Daubar-San Juan, Humanities Department Chairperson and Director of the Olga M. & Carlos A. Saladrigas Art Gallery at Belen Jesuit Preparatory School
Ms. San Juan alongside Daisy Diaz and Federico Gandolfi Vannini curated the "Faith, Beauty, and Devotion: Medieval, Renaissance, and Baroque Paintings" exhibition that opened on September 14th. There will be special programs and Art Week hours, plus a significant Art Week announcement. The exhibition features thirty paintings by Italian and Flemish Masters, from the 13th – 17th centuries.
Faith, Beauty, and Devotion: Medieval, Renaissance, and Baroque Paintings
The Miami Art Week Hours are:
Saturday, December 2nd, "Italian Wine Event" from 7:30 p.m. – 9:30 p.m. (A ticketed event.)
Thursday, December 7th from 7:30 – 9:30 p.m. (Public hours. Free admission.)
Saturday, December 9th from 10:00 a.m. – 2:00 p.m. (Public hours. Free admission.