KEITH HARING + CITYKIDS
"SPEAK ON LIBERTY"
Monumental 1986 People's Masterpiece
Nov'22 – Jan '23 / 1111 Lincoln Road 
Because Liberty Is Broken – Interactive Experience.
Location: 640 Lincoln Road
Promoters: Mel Schlesser, CityKids, and IMMUSE
Artist: HVY (Creative Director of IMMUNE)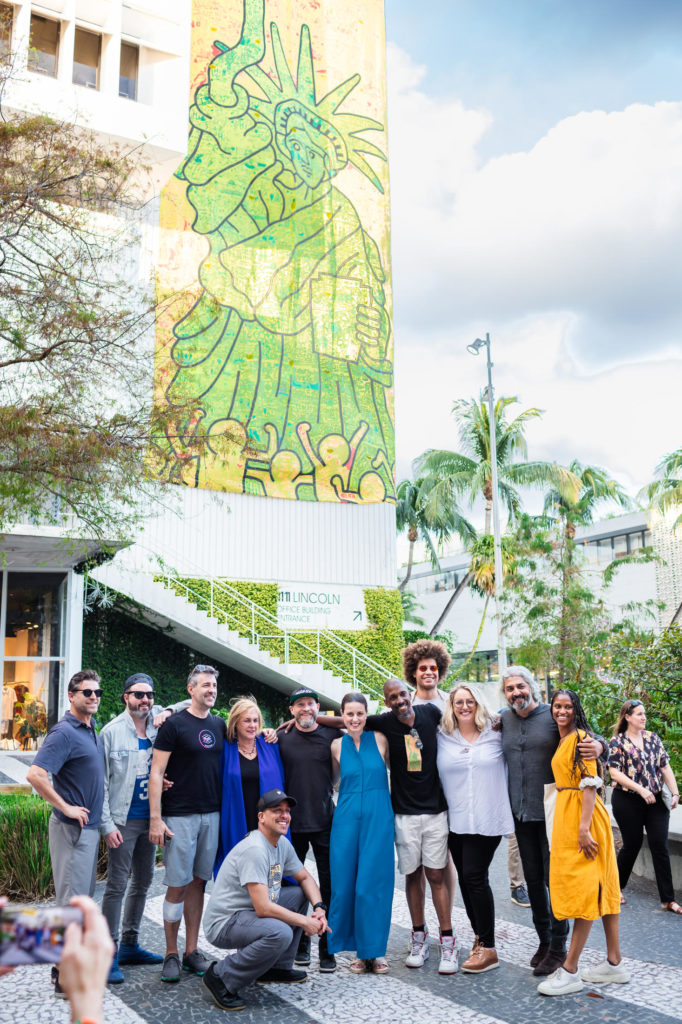 The Lincoln Road Business Improvement District (BID) has partnered with The CityKids Foundation to exhibit artist Keith Haring + CityKids' "Speak on Liberty" artwork, a monumental 90' x 30' banner that became the largest freestanding and most important piece ever created by Haring. The iconic "Peoples Masterpiece" will be unveiled on November 28 and showcased at 1111 Lincoln Road, an uber-modernist building designed by Herzog & de Meuron at the southeast corner of Lincoln Road and Lenox Avenue. Timed with Art Week, the piece will be visible to art enthusiasts and locals from mid-November 2022 through mid-January 2023. 
In 1986, Keith Haring worked with the CityKids organization and 1000 kids in NYC to create an 90′ tall mural titled "CityKids Speak On Liberty" comprised of Keith's dark outlines of his iconic dancing figures and the Statue of Liberty. When asked why the statue's arm was made from oddly curved lines, Haring's off-the-cuff response was "because liberty is wobbly." 36 years later… in 2022, liberty is not only still wobbly, but seemingly broken into many pieces as the US struggles with maintaining a sense of social cohesion and its cultural and political divisions appear to grow worse each year.
Influenced by the DIY skateboard graphics of the 80's and the physics-bending capabilities of 3D engines, HVY's digital work often synthesizes analog, hand-drawn designs with hyperreal renders. HVY's "Because Liberty is Broken" is not only a play on Haring's "wobbly" comment but also an homage to the original hand-drawn aesthetic and to the collaborative process. As a part of the original mural creation, Haring and CityKids curated the kids' thoughts on liberty and freedom and had them paint those thoughts onto the massive canvas. For this mural, HVY re-drew many of the hand-drawn pictures and words from the original work and he wrote the prompts for the interactive collaboration such as: "I commit to help…" "I commit to love…" "I commit to open my mind…" "I will rebuild liberty…"
Over the course of Miami Art Week, "Because Liberty is Broken" will be displayed in the 640 Lincoln Road space and participants are invited to collaborate with HVY and CityKids to write directly onto the broken pieces of 3D version of the Haring's torch from the original "City Kids Speak on Liberty" mural. Selected participants will complete one of the prompts and sign their names to the broken torch handle. It is only through collaboration that the mural can be completed as a participative reflection that it's only through the larger social, cultural, and political collaboration can liberty be restored for all and the flame handed safely to future generations.