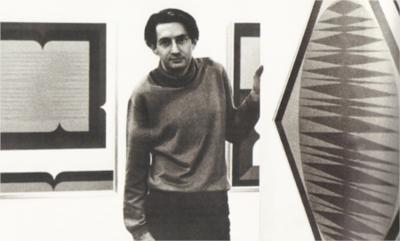 Ivan Serpa Brazilian painter
Ivan Ferreira Serpa was a Brazilian painter, draftsman, printmaker, designer, and educator active in the concrete art movement. Much of his work was in geometric abstractionism.
Born: April 6, 1923, Rio de Janeiro, State of Rio de Janeiro, Brazil
Died: April 6, 1973, Rio de Janeiro, State of Rio de Janeiro, Brazil
Ivan Serpa was a Brazilian artist, member of Grupo Frente and professor at Museu de Arte Moderna. He was one of the most important contributors to Brazilian Concretism and Neo-Concretism. In addition to geometric constructions, he has also done several neo-expressionist paintings in the '60s (the "Black Period" and the "bichos" paintings).
Art Movement: Concrete Art (Concretism), Neo-Concretism
Painting school: Frente
Genre: abstract
Field: painting, engraving, drawing
Early life and education
Serpa was born in the Tijuca neighborhood of Rio de Janeiro, Brazil.
From 1946 to 1948, Serpa studied printmaking with printmaker Axl Leskoschek in Rio de Janeiro. Serpa was also mentored by the art critic, Mário Pedrosa. But in general terms, Serpa did not have much formal training in art.
Career
From 1949 and 1952, Serpa taught painting, sculpture, and art theory at the Museum of Modern Art, Rio de Janeiro, where he often held an open studio which incorporated critical review of student work with a new pedagogy of allowing instinctual exploration of innate creativity. The teaching style also reflected new ideas about national identity, and had a focus on the modern, incorporating ideas of democracy that were taking place in the country as a whole – all in direct contrast to the more traditional, European based art school model.
This weekly event became a salon for many up and coming artists that would later be major contributors to the neo-concrete and concrete art movement in Brazil.
Serpa had also previously taught art therapy to psychiatric patients at the Occupational Therapy center of the National Psychiatric Hospital in Brazil.
Serpa's first works were created in 1951. The paintings were serialized, and often incorporated architectural elements.
In 1954, Serpa co-founded Grupo Frente, which included artists Aluísio Carvão, Lygia Clark, Helio Oiticica, among others.
In 1954, Serpa published a book he wrote with Mario Pedrosa called, Crescimento e criação, which incorporated his work as a teaching children. He often gave free art classes to children.
From 1957 to 1959, Serpa won the foreign travel prize at the 6th Salão Nacional de Arte Moderna in Rio de Janeiro. This prize allowed him to travel to Europe, focusing on Italy and Spain, but also including France, Germany, Holland, Portugal, and Switzerland. During this time Serpa lived in Paris in 1957, where his work was displayed at concrete and neo-concrete art shows.
In the 1960s, Serpa worked as a paper conservator at the National Library. This work led to experimentation with paper collage, where he incorporated methodologies from the conservation, restoration, and preservation techniques he used in this position.
He often worked with Lygia Pape on art projects.
Serpa's 1962 series, Fase negra (Black Phase), reflected the political environment in Brazil at that time.
In mid-1960s, Serpa reconnected with geometric art, which moved his work toward kinetic and op art.
Personal life
In 1949, Serpa married Lygia Serpa. They had a son, Yves Serpa, who was born in 1951; a daughter, Leila Serpa, born in 1955; and son, Heraldo Serpa, born in 1958.
In 1973, Serpa died at the age of 50 from a heart attack and stroke.
Source: wikipedia.org
LiteratureH. Nathan, ed., Ivan Serpa: Pioneering Abstraction in Brazil, exh. cat., New York: Dickinson Roundell Inc., 2012, p. 65 (illustrated)
Catalogue Essay"The key problem of Concrete art does not just involve color, but rather its infinite modulations." Ivan Serpa

The art critic Frederico Morais considered Ivan Serpa's Amazônica and Mangueira series of paintings to be undoubtedly Brazilian in their organic sensuality and palette. The Amazônica works were named after their exuberant green and brown hues, while the Mangueira series is largely greens and pinks, the colors of the Mangueira Samba School in Rio de Janeiro. The formal proximity between these two series is significant—it was with the carnival parades organized by Mangueira that artists such as Hélio Oiticica had become associated with throughout the 1960s, bringing these series of works into the context of the contemporaneous enthusiasm for all forms of popular culture. Morais further emphasized how these series marked a return to the constructivist vein within which Serpa had been such a prominent figure from the early 1950s onwards. For Morais, this phase in the artist's trajectory that began around 1967 would find "original solutions of an optic or geometric character that resulted from a subtle game of poetic spatiality." This analysis, which dates from the mid-1980s, finds a heightened significance today in our expanding understanding of Pop Art in a global context. Serpa proposes in these series of paintings not only a return to his former constructivist interests, now with a new "Brazilian" palette, but a reinterpretation of the significance of the Neo-Constructivist movements in light of the international rise of mass consumerist culture and the local popular traditions. If art concret proposed precise methods through which art and design could inform society at large, Serpa by the late 1960s was engaging not with the prospect of avant-garde art affecting the masses, but with the very fact.

Ivan Serpa's interest in geometric abstraction has been traced back to 1947 when together with fellow artists Almir Mavignier, Abraham Palatnik and the art critic Mario Pedrosa, he participated in the art therapy workshops at the Psychiatric Hospital Engenho de Dentro in Rio de Janeiro. It has been increasingly acknowledged by prominent curators and art critics, such as Paulo Herkenhoff, that the mid-twentieth century rise of geometric abstraction in Brazil had its origins in the experience that these artists had with the work of the patients. A fact that corroborates this argument was Serpa's early abstract canvases attracting attention during the first edition of the São Paulo Biennial in 1951 when he was awarded the young painter prize therefore contradicting the argument that abstract geometrical painting arrived in Brazil through the sole influence of Max Bill.

Given the prestige of the Biennial prize, it is perhaps not surprising that a significant group of artists in Rio de Janeiro gathered around Ivan Serpa to form the Grupo Frente around 1953. This was a loosely abstract geometric group whose members would later form the core of the Neoconcrete movement. These included Aluísio Carvão, Lygia Clark, Hélio Oiticica, Lygia Pape, Franz Weissmann amongst others.

Throughout the 1950s Serpa worked as an artist while also holding a critical role as an art educator. Serpa's open classes took place at the Museum of Modern Art in Rio de Janeiro, transforming it into a progressive alternative to the then conservative art schools such as the National School of Fine Art (ENBA). Hélio Oiticica's early work, for example, was very much influenced by Serpa's teaching— this is particularly evident in Oiticica's Grupo Frente work and in his subsequent Metaesquemas series where strong compositional associations between the two artists can be found. Very much informed by the increasing interest in art concret in Brazil, particularly following Max Bill's retrospective at the Museum of Modern Art in São Paulo and his international sculpture award at the 1951 São Paulo Biennial, Serpa's own work in the 1950s was marked by an exploration of rhythmic arrangement of lines within geometrical compositions.

In 1957 Serpa was awarded the foreign travel prize at the VI National Salon of Modern Art in Rio de Janeiro and he spent two years travelling between Italy and Spain, which perhaps explains why he did not become associated with Neoconcretism in 1959.

Upon his return to Brazil, Serpa resumed his courses at the Museum of Modern Art in Rio and later participated in exhibitions that are now considered pivotal in the transition between constructivist-oriented trends and the return of figurative tendencies in Brazil such as Opinião 65, which placed artists from France and Brazil side by side, working loosely with tendencies such as New Figuration and Pop Art. During the 1960s Serpa began exploring parallel lines of aesthetic enquiry, including a strongly expressive and figurative mode. The Amazônica series shows the artist reaching a synthesis of these diverse modes of creative production. The constructivist influence returns, yet it is now "softened" by curved lines that recall a Pop and Op aesthetic combined with "tropical" colors, a sign that Serpa was in tune with the radical Tropicalist ideals that began to cause shockwaves in the Brazilian cultural milieu from the late 1960s onwards. The Brazilian themes are in this sense significant as they emphasize a proximity with the emerging idea of Tropicália: a Brazilian answer to international popular culture which had profound effect on the art, theatre, literature and, above all, music.

In this way, having held a fundamental role in the formation of many significant artists over the period, including Cesar and Hélio Oiticica, from the 1960, these very artists would have an effect on Serpa. The respect Serpa earned from his colleagues and students alike is perhaps best exemplified by artist Antonio Manuel, who acknowledged Serpa's significance both in statements and art works produced in homage, such as his Clandestina newspaper which held the headline Painter Teaches God to Paint, after a priest's comment at Serpa's funeral service in 1973. Perhaps because of his early death, Serpa remains less known outside Brazil, yet in his home country his significance as both artist and educator remains unquestioned.
Source: https://www.phillips.com/detail/ivan-serpa/NY010513/26
Selected Solo Exhibitions
2015
Ivan Serpa ,Galerie 1900-2000 ,6e, Paris, France
Selected Group Exhibitions
2017
Grupo Frente ,Galerie Lelong & Co, New York ,Chelsea, New York, USA
2015
Serpa + Zalszupin ,Bergamin & Gomide ,Sao Paulo, Brazil
2011
Cut Construction: Brazilian Geometric Abstraction ,Galeria Raquel Arnaud ,Sao Paulo, Brazil
2008
Arte Brasileira no Acervo MAC USP ,Museu de Arte Contemporânea da Universidade de Sao Paulo ,Sao Paulo, Brazil
Ivan Serpa was a Brazilian artist who was born in 1923. Their work was featured in several exhibitions at key galleries and museums, including the Galerie Lelong & Co, New York and the Bergamin & Gomide. Ivan Serpa's work has been offered at auction multiple times, with realized prices ranging from $715 USD to $230,500 USD, depending on the size and medium of the artwork. Since 2011 the record price for this artist at auction is $230,500 USD for Série Amazonica, N°27, sold at Phillips New York in 2011. Ivan Serpa has been featured in articles for the Art Nexus, the ArtDaily and the ArtDaily. The most recent article is Another Lygia Makes it to MET written by Alberto Barral for the Art Nexus in April 2017. The artist died in 1973.
Artist's alternative names: Ivan Ferreira Serpa
Source: https://www.mutualart.com/Artist/Ivan-Serpa/E21280768FF02DD5/Biography