INTERVIEW WITH FRANCISCO CERON/THE SOUL OF THE CITY
By Dr. Milagros Bello/art critic/curator*.
Francisco Cerón proposes a contemporary figurative work of urban references. His work intertextually recomposes the icons of the cities he visits in a mixture of American pop culture, pre-Columbian art, and Colombian figurative art. In a compendium between the classical and the contemporary, his work projects neo-cubist decompositions, in his way of fracturing and recomposing the symbolic figures of the city, but also draws on snapshot images, creating new figurative patterns that emblematize the urban and today's society dominated by consumerism and commercial icons.
Cerón was born in the city of Pasto, Colombia in 1968. He studied at the Escuela de Bellas Artes Antonio María Valencia in the city of Santiago de Cali, Colombia and in 1993, he obtained a degree in Graphic Design. That same year he founded in Cali his graphic design company, "Objetivo Grafico". In 2000 he moved to the United States and settled in Miami, Florida, where he began to experiment with art media. In 2007 he studied Marketing and Business at the University of Miami. In 2008, she decided to launch herself as a professional visual artist and found in Pop Art an ideal space for her creations thanks to the graphic nature of her work. This same year he exhibits in galleries and events and presents his first solo exhibition at Unilatina International College in Davie County. At the same time Francisco Cerón continues with his design and marketing company. He obtained a specialization in Neuro Marketing at the University of Barcelona, Spain and received his PhD from the University of California in subconscious studies and clinical hypnosis. He has participated in important international art fairs and museums such as Palm Beach Art Fair, Art Wynwood, AQUA Art Fair, in Florida; Beijing Art Expo and Shanghai Art Fair in China; Art Monaco in Monaco; World Tour Exhibition in London, UK; International Art Fair, Dubai; Museo de Arte de Monterrey, Casa Grau, Colombia. Francisco Cerón's work captures the "soul of cities" through the antithetical use of visual media. He currently lives in Cali, Colombia.
---
Milagros Bello: In your beginnings, how were your first artistic experiences? How did it reveal to you that you are an artist?
Francisco Cerón: From a very early age I stood out for my drawings compared to my preschool classmates and later in school they were already more complex and elaborate drawings, I think that since that time I had already decided what I wanted to be. While preschool children made simple drawings of trees and houses, mine were panoramic views of cities with helicopters in the foreground, spaceships, balloons, airplanes, and other details.
My story goes back to my childhood, I was born with a shorter Achilles tendon in my left foot and for that reason I underwent several surgeries as a child. Of course, this prevented me from walking for a long period of time, but during this time I could only sit and the best thing my family could do for me was to give me pencils, crayons and paper and that changed everything. I know I was sitting there all the time, but my thoughts and my creativity were never there, they transcended with each drawing, traveling outside those four walls, visiting unimaginable worlds, creating at my own pace, and perfecting day by day my strokes and my skills as an artist.
I am curious by nature and that led me from painting to explore the third dimension of sculptures and from there to the fascinating assembly of installations. I believe that the artist should not stay on a single plane.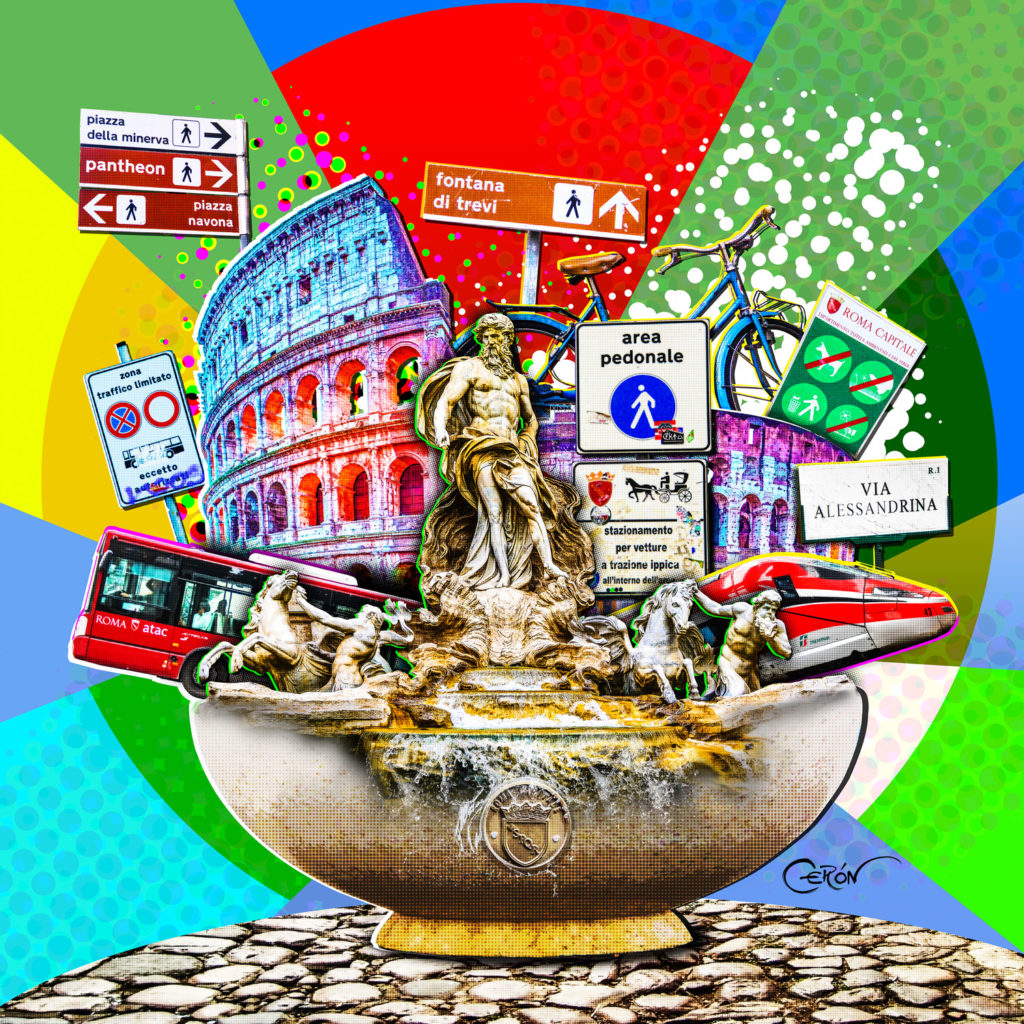 MB: How were the beginnings of your artistic career?
FC: When I was trying to find the career that best suited my tastes, I stumbled upon graphic design at the Conservatory of Fine Arts in Cali. This place was a total cultural center, we had ballet, performing arts, plastic arts, music, and graphic design, but the best thing is that all careers had to do with each other and in that environment of art, culture and bohemia I connected with visual art. Those who know me tell me that I never grew up and that I am still that child drawing at ease, lost in his own world and in his own time, creating and inventing without stopping. I am passionate about art and creativity. My spirit needs to be creating and inventing, sharing my vision to others. It's what I came into this world to do. My values, my thoughts and my attitude are in each of my works, always positive, vibrant and full of life and color. I believe that the artist puts his energy into his work and this work comes to life and that is the reason why each work has its own feeling.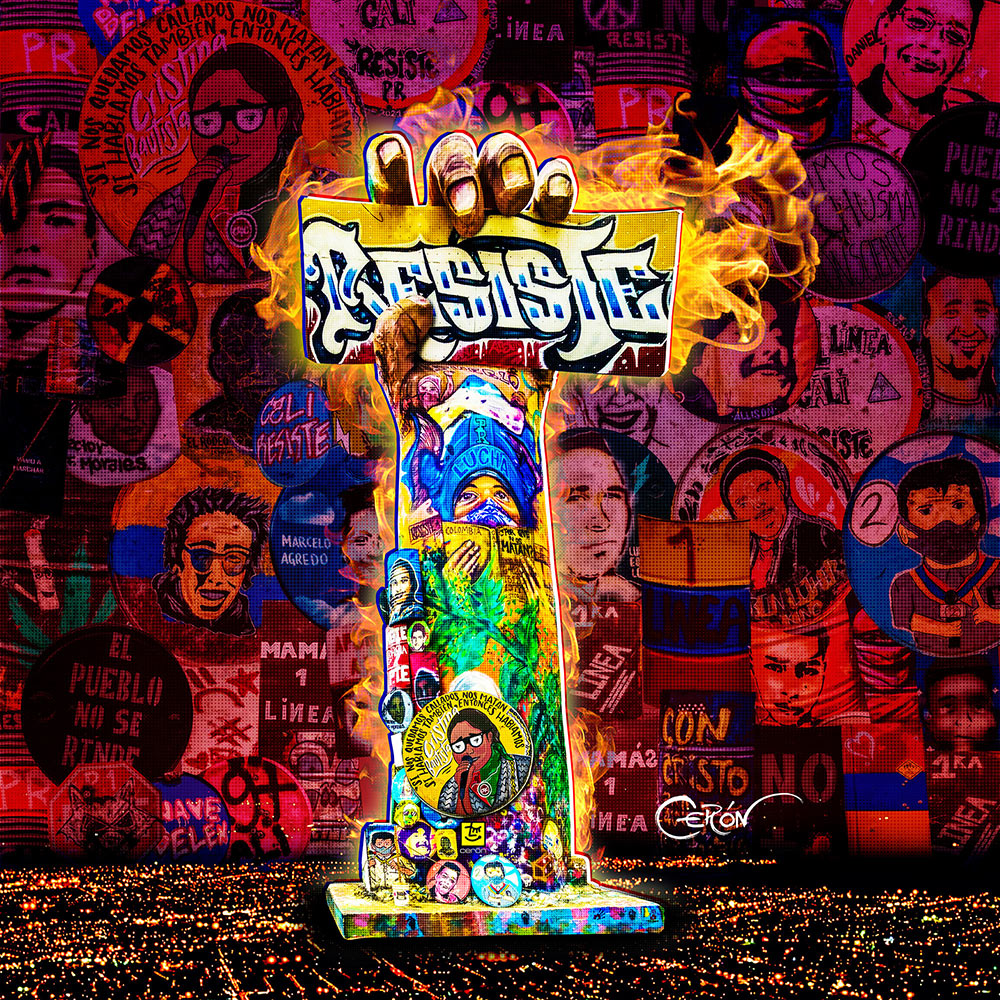 MB: Who are the main artists you identify with in art? Why? Explain
FC: My impact references go back to the avant-garde of the 20th century, the century where I was formed. Although previously, Van Gogh visually resonated with me in his raw and frontal use of colors and impasto. But Picasso was one of the great references for me. I connected with him because of his visual acuity and his ability to create stages, always innovating without limitations or measures. For me he was an artist who broke the rules, an artist unafraid to create and determined to believe in himself without caring about anyone or anything. Cubism broke with the notion of composition, and that is a radical reference in my work. The freedom with which Picasso recomposes a face or a still life fascinates me. His radical geometrism was an artistic guideline for me. Then other models of rupture of the sixties also had an impact on me. Andy Warhol with his graphic handling of figures, his viral printing techniques and his use of contrasting flat colors. I was impressed by his daring to create anti-themes, such as the Campbell can, or the chromatic Marilyn that stopped being real, to become a referential illusion of an old photograph found by Warhol in a newspaper; Roy Lichtenstein amazed me with his use of comics and showed me new ways of expression; Keith Haring with his graphic simplicity, made me reflect on how repetitive and interactive lines can evoke powerful visual worlds. With Takashi Murakami I understood how the legacy of American Pop took shape in the new avant- garde expressions of Japan. These creators opened new doors allowing me to make profound reflections on the methods of art.
MB: You have gone through different stages in your artistic career, from illustration, painting, sculpture, photography, installation, creating different creative optics. Now you are creating a stage that is more in the field of digital art. Tell us about this digital work.
FC: I think this stage came at the right time to make the most of it. After having traveled to different places I could not pass up the opportunity to show the world my vision of each city I visited. So, one day I decided to do something with the thousands of photographs I had saved, willing to compress them all and form a single image that would reflect the spirit of each city.
The "soul of the city" as you call it.
At first it seemed an impossible task without going through the classic collage, but little by little the structure was revealed that would allow me to reconstruct each city in the manner of a visual puzzle in which I inserted fragments of different photos taken in the city I was visiting. It was a process in time. I would decide where I was going to go, and when I arrived in the city I would start to walk through it without a specific plan, discovering corners, streets, people, events, shop windows, banners, water, bridges; everything that appeared selectively before my eyes. It was a visual journey of free discovery; I visited the typical tourist sites, I retraced them, but I also went into unexpected places, I saw new angles. The process in each city was an artistic experience but it was also an existential experience. It meant connecting not only with the material appearances but also with the essence of the places visited. If you will, it was the photographer's eye, cropping, framing, capturing, but it was also the intuitive search to find unseen angles, which guided me to concentrate on the overall vision that defined that city.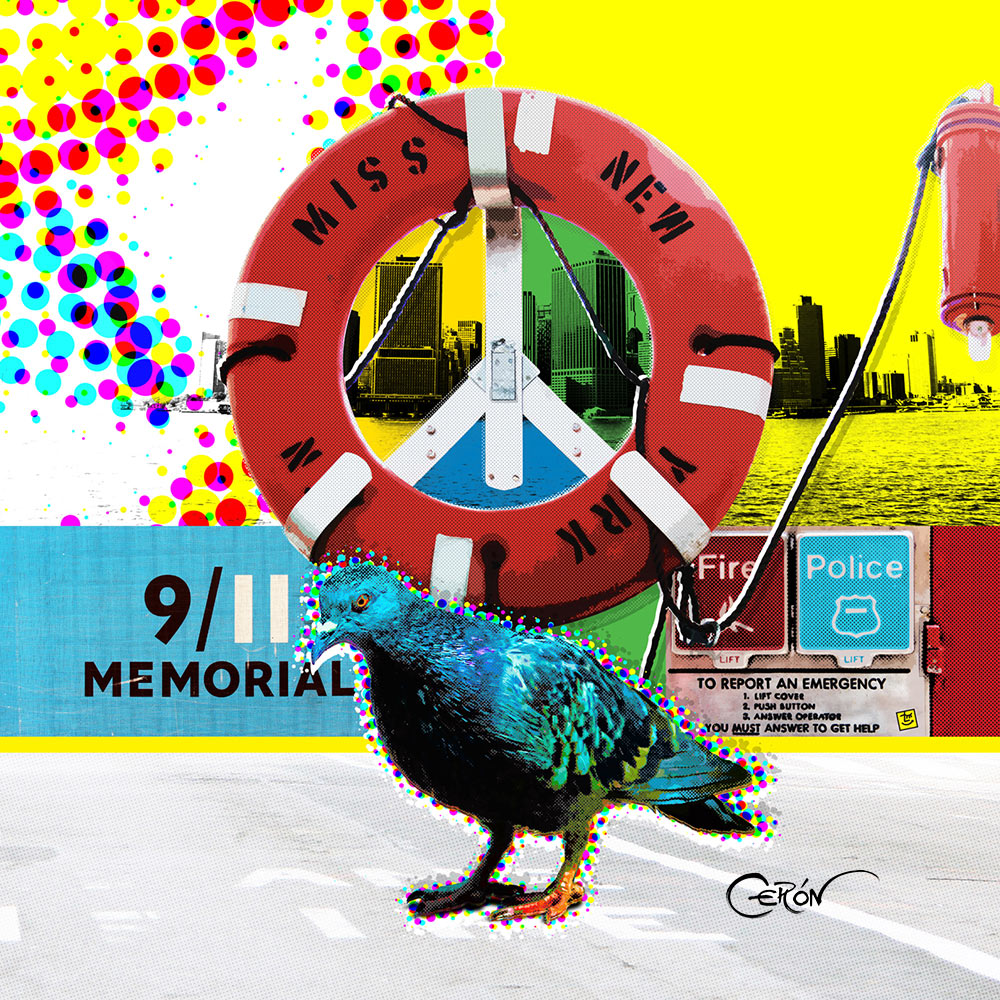 MB: This digital series about the soul of cities, which you call "City Icons", you work with intertextual images, combining the iconic of the city with unexpected discoveries. Tell us more about your method that goes beyond the simple collage.
FC: In my "City Icons" work, I visit each city and extract from it its essence in photographs, its color, its flavor, its music, its people, its means of transportation, its architecture, fauna, nature and details that go unnoticed by its inhabitants such as manhole covers, traffic signs, graphics, advertising signs, phrases written on walls, among many other things that make up the graphic life of that city and of course the most touristy and visited places. I then review all the photographs and begin to create an unpublished image of that city. Hundreds of digital photographs are compressed between silhouettes, shapes, details, backgrounds, colors and textures to achieve the construction of a visible and recognizable city in its essence, full of details that the viewer recognizes and reconnects with, a city that tells its story graphically, in colors and shapes but at the same time is neither unitary nor homogeneous. The process was to select from the thousands of shots, those that could fit into the visual "puzzle" wanted to achieve. Using different digital techniques, I was recomposing, assembling, structuring, fragments creating a new visual whole. This is an ongoing process, which will generate new directions. I still feel that I am rediscovering this technique, and I know that there is still a lot to create and to share.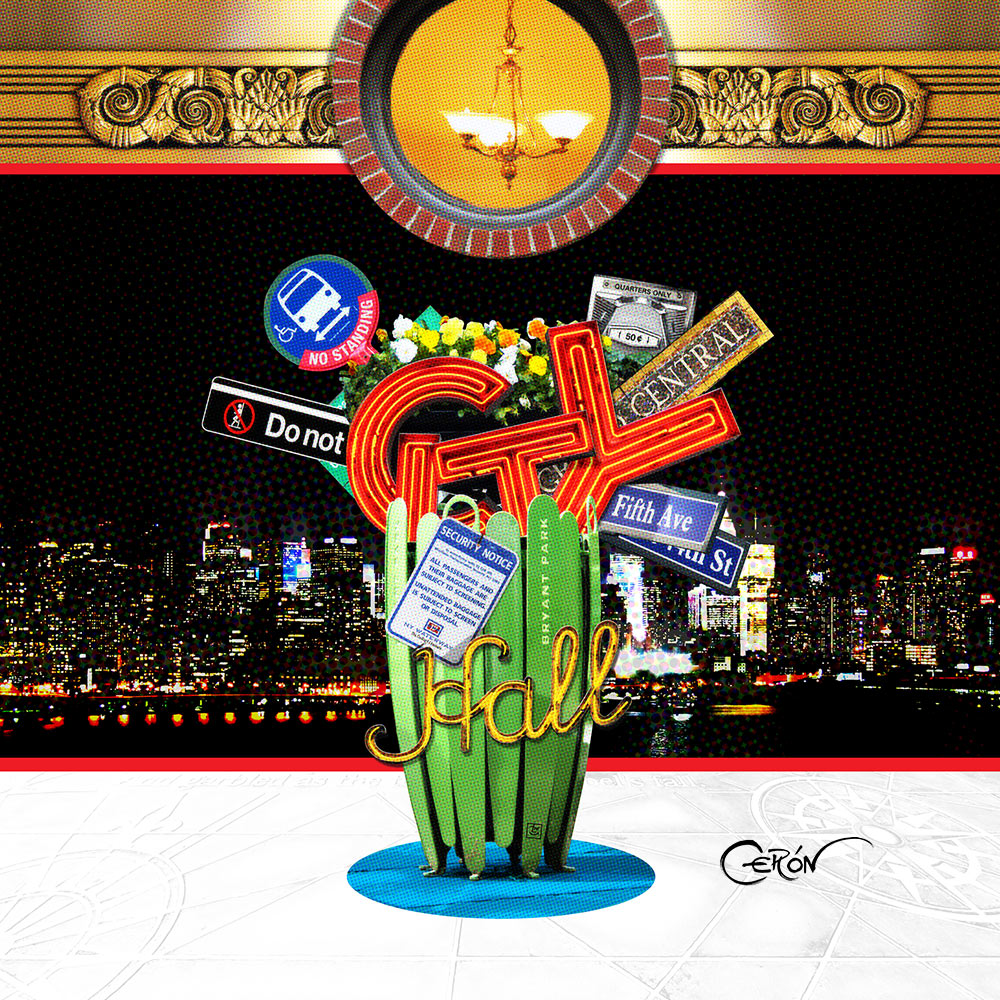 MB: Which are the cities that have moved you the most. Tell us about a striking experience related to your creation.
FC: Undoubtedly it was one of the last creations, "Puerto Resistencia"made in Cali, Colombia. Cali is my beloved city, Cali is rooted in my heart, and this work, which represents many mixed feelings, was transcendental because of its social and historical importance in the city. "Puerto Resistencia"artistically transcribes an event that should never be repeated. Between April and July 2021 there was a social and political outbreak in Colombia which I was able to experience firsthand in the city of Cali. I saw all the atmosphere of war, the confrontations, the unrest that was generated. The city was burned. At the site of Puerto Rellena, now called Puerto Resistencia, a sculpture of between 13- and 15-meters high was erected, a sculpture in the form of a forearm and hand, based on the Holocaust memorial in Miami and representing the hand of Kay Kimi Krachi, Mayan god of battle. In the hand a banner bearing the word "Resist ' as the symbol of resistance of many people, and in homage to all the blood that flowed in Cali. Puerto Resistencia was one of the sites of greatest concentration of demonstrators. For some it is the representation of the horror of death, war, disillusionment, lies, loss, hypocrisy, poverty, abuse, power and all the low human feelings that can be carried in critical historical and social moments such as this one; for others, it is the representation of struggle, hope, change and resistance. Two currents of strong emotions that accompanied that moment. Between the pain of loss of life and despair, and at the same time the feeling of hope and achievement. In my work, I based myself on the photograph of the monument, and added in the background, human faces and scenes that symbolize the spirit of man in the face of his vicissitudes. In this work I capture the moment of the event, the social and human essence of what was experienced. As an artist, this work represents another type of visual inquiry, capture the essence of a city in combustion and crisis.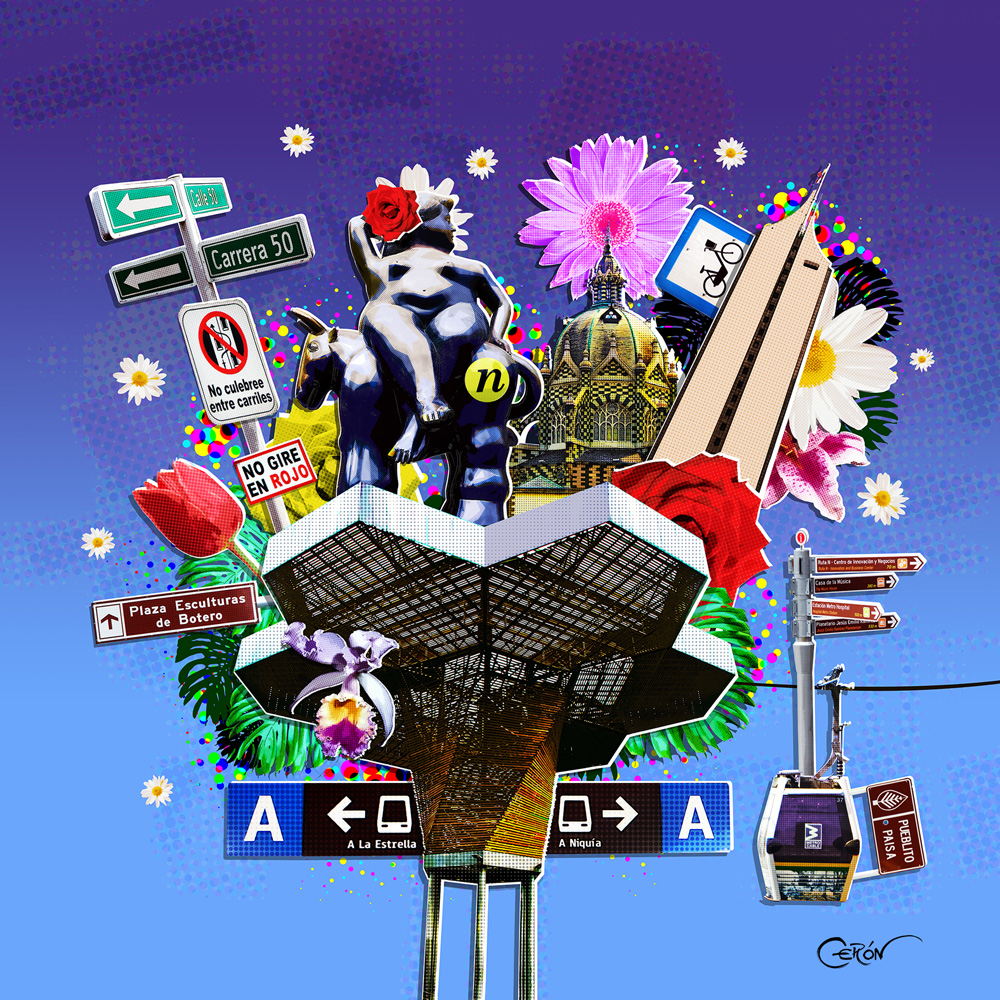 MB: You have developed utilitarian objects in which you have included images of your works. Tell us about it.
FC: I call this art object project "Canvas in Motion" because, following the guidelines of Andy Warhol, Keith Haring, and Takashi Murakami, I have created an imprint of my work on travel objects such as bags and suitcases. These are imprinted with the image of my cities, and "travel" along with the travelers to their various destinations. These suitcases were bought by normal people, to travel, to move around. These suitcases appear spontaneously in airports, streets, hotels, houses and cities, as moving canvases projected in the different environments, transforming the landscape, and surprising passers-by who discover the signs of the cities, projected in unexpected ways. "Canvas in Motion" aims to expand art to places outside of galleries and museums.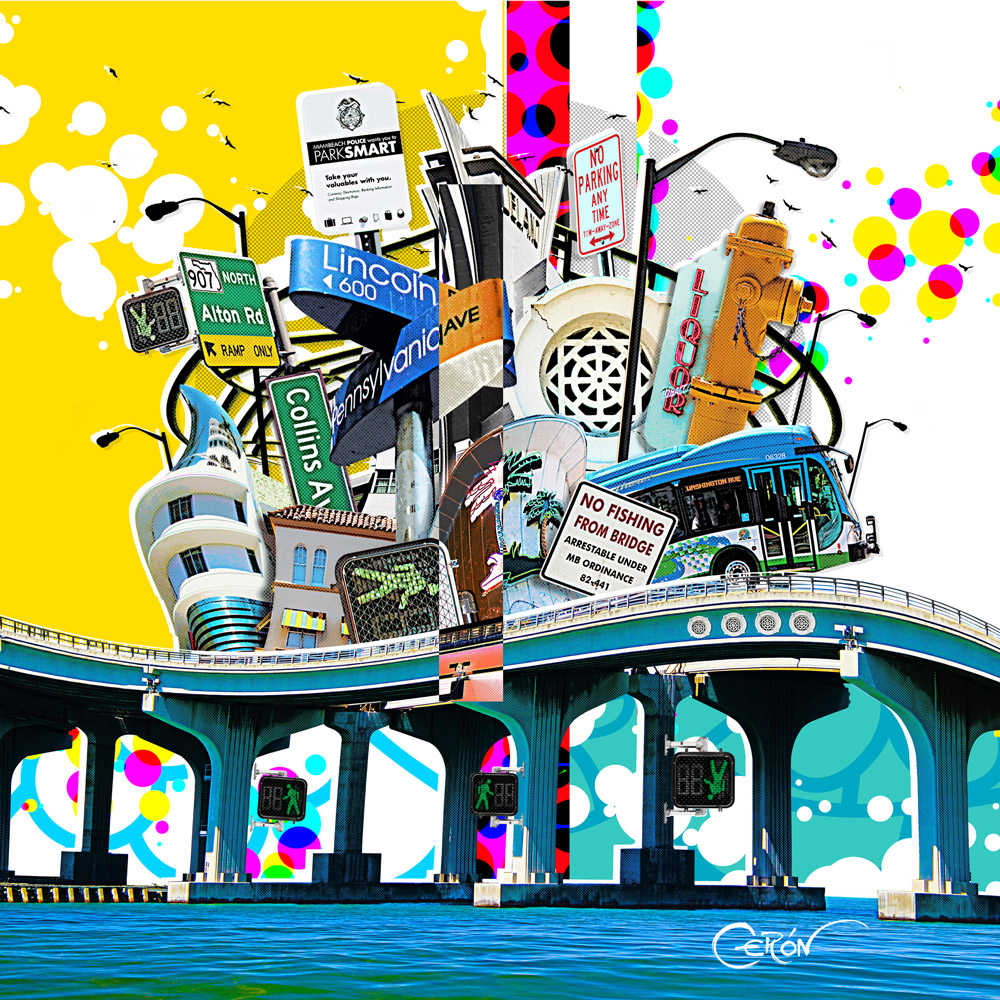 MB: What are your plans for the future?
FC: At the moment, I continue to create new proposals for the "City Icons" series. I'm still in the process of re-inventing images. I'm also continuing to delve into new technological media. For the near future I am continuing my travels to iconic cities around the world and also expanding to the Middle East and Asian countries. But I'm taking another approach, creating a focus on ecology. I am interested in emphasizing the environment and climate change, now undeniable. My work should become a voice of awareness of our current situation.
www.ceronart.com https://ceronart.com/exhibiciones/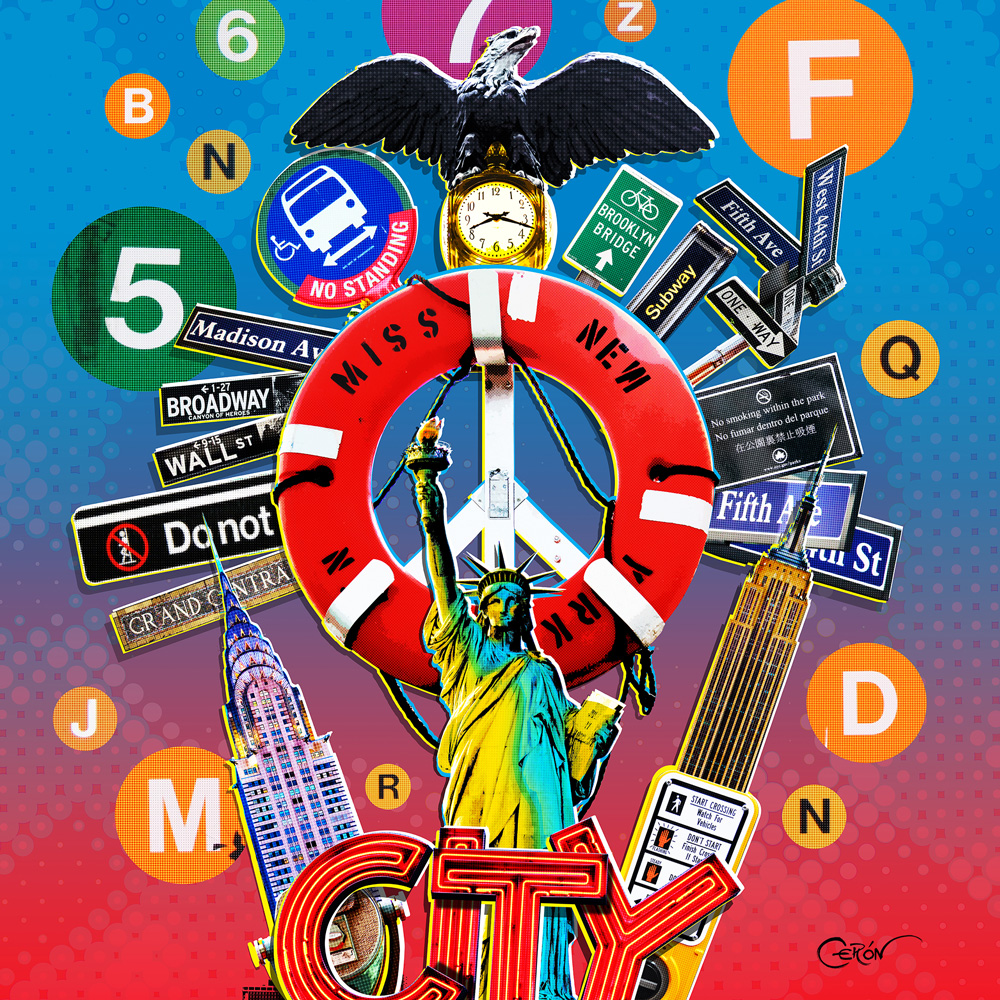 *** Curator Dr. Milagros Bello holds a PhD in Sociology with a doctoral thesis in Sociology of Art from the Sorbonne University (Paris VII-Jussieu), and a master's in art history, from the Sorbonne University (Universite de Paris I) both in Paris, France. She obtained a B.A. in Psychology, specializing in Clinical Psychology, from the Universidad Central de Venezuela, and followed master's courses in Family and Individual Counseling in her home country, Venezuela. Dr. Bello is an art critic member of the International Association of Art Critics (AICA), and a member of the National Federation of Psychologists of Venezuela. She is an independent curator and currently directs MIA Curatorial Projects (former
Curator's Voice Art Projects founded in 2010 in Wynwood Art District, Miami). From 2010 to the present, Dr. Bello has curated numerous exhibitions of contemporary art nationally and internationally. Notably, in April-November 2022, as part of the 59th Venice Biennale, she curated the exhibition "Americanos. Current Imaginaries", which was on display until November 2022 at the European Cultural Center in Venice, Italy. On June 30, 2022 she gave a lecture on the same topic at Personal Structures/Reflection, at the European Cultural Center, in Venice, Italy. She is a lecturer at museums and art institutes; art writer for local and international art magazines, and former editor-in-chief of the art magazine Arte Al Dia International. For fourteen years, from 2000 to 2014, she has taught as a professor of art in various theoretical areas of specialization, such as Critical Theories, Art History, History of Modern and Contemporary Photography, Sociology, graduate and undergraduate levels at US universities, Florida International University (FIU), Florida Atlantic University (FAU), Miami International University (The Art Institute/Miami), and Istituto Marangoni/Miami. She is currently the director and chief curator of MIA Curatorial Projects in Miami. Dr. Bello is a mentor and motivational coach for artists. @milagrosbellobcurator @curatorsvoice E: milabello@aol.com