Hanan Arts Offers Social Justice Dialogue Through an Arts Lens
Second Season of Shimmy Shift Pivot Begins September 1
Miami, Florida: Hanan Arts and Live Arts Miami announce the second season of Shimmy Shift Pivot, the thought-provoking webinar and workshop series that engages leaders in the arts and academia to tackle divisive issues such as race, colonization, identity, and gender violence as they are experienced through the lens of dance.
Turbulent times have widened the chasms between people, creating misunderstandings and resulting in collective reactions such as cancel culture. This fall, Hanan Arts aims to remind us of our commonalities and the importance of keeping the dialogue open.

On the series, Tiffany Madera, founder of Hanan Arts says, "These challenging conversations are the antidote to cancel-culture by reminding us of our commonalities and the importance of keeping the dialogue open. It is an interactive, safe space for uncensored honest dialogue that builds community through deeper understanding".
Each Wednesday in September, from 1:00-2:00 PM EST, audiences can participate via Livestream hosted byLive Arts Miami and Hanan Arts.  Participation in the talks is free with registration at liveartsmiami.org.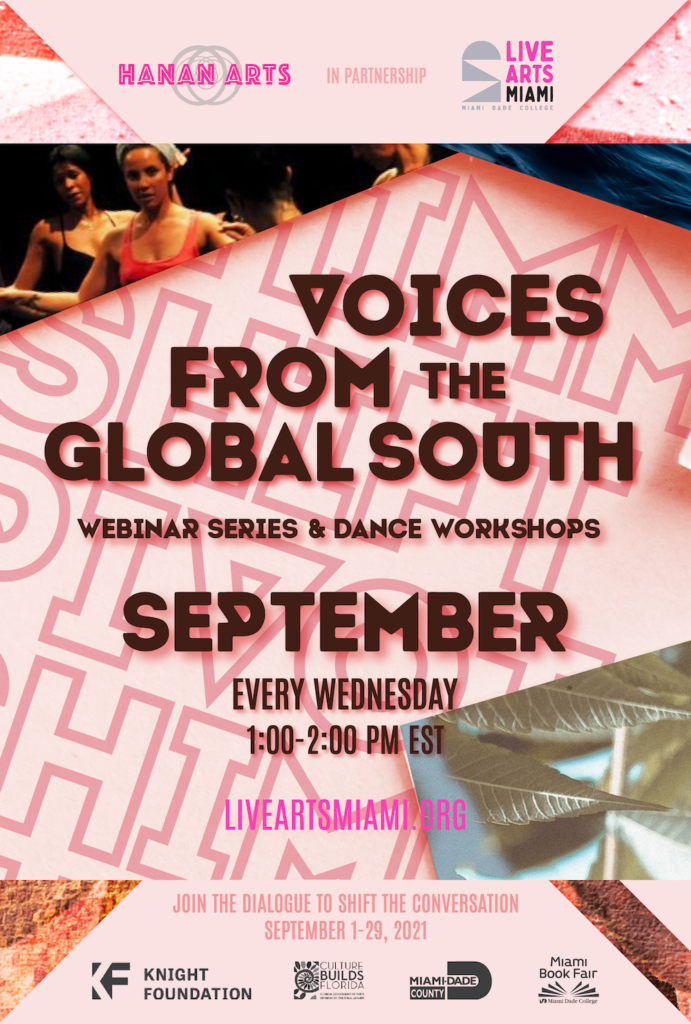 The schedule is as follows:
Wednesday, September 1, 2021
Moving Borders: Transforming Cultural Violence
As traditional dances are practiced and performed globally across cultures, we explore the line between identity, artistic exploration, and cultural appropriation.
Speakers: Helene Eriksen, Dancer, Ethnologist; Roxxanne Shelaby, dancer; Tiffany Madera, moderator
Wednesday, September 8, 2021
Traveling Steps: Folklore and Technology
Looking at the legacy of colonization, we'll discuss who gets to tell stories and the impact of technology in framing and disseminating stories.
Speakers: Rachelle Salnave, filmmaker; Kaeshi Chai, dancer; Tiffany Madera, moderator
Wednesday, September 15, 2021
Dance on and Off the Political Stage
This potent discussion looks at the works of these two artists and how their hybrid identity influences their creative and cultural output.
Speakers: Rosie Herrera, dancer and choreographer; Tiffany Madera, dancer, producer, filmmaker; Gina Margillo, Moderator.
Wednesday, September 22, 2021
Legacy of Maya Deren Representation and Innovation
In celebration of the dance for camera pioneer Maya Deren, we will discuss her contribution as an innovator and her example as a European woman representing Global South themes.
Speakers: Dinorah de Jesus Rodriguez, filmmaker; Nejla Yatkin, dancer, filmmaker; Tiffany Madera, dancer; Gina Margillo, Moderator
Wednesday, September 29, 2021
The Gaze: Authenticity, Resistance, and Performance
Join us in a discussion about the power of presence of our bodies in public spaces, telling our story through symbols, and how race and ethnicity are negotiated in the dance world.
Speakers: Jillian Hernandez, author The Aesthetics of Excess; Michelle Murray, dancer, choreographer, Professor Miami Dade College.; Tiffany Madera, moderator
A community Baladi dance workshop will be held to engage participants' minds and bodies to support healing and to create community.
Miami Dade College
Koubek Center 2705 SW 3rd Street
Date September 18, 11:00 a.m. to 3:00 p.m.
For more information, interviews, or photos, please contact:
Jean Blackwell Font 305-890-9627 / info@hananarts.org
About Hanan Arts
Hanan Arts is a Miami based non-profit organization that innovates the dance genre of Raks Baladi as an instrument for social justice and connection through workshops, film, interdisciplinary performance and academic investigation.
About Live Arts Miami
Live Arts Miami is one of the city's oldest and boldest performing arts series: an action-driven, people-centered platform for powerful performances, impactful community programs, and learning experiences that spark dialogue, raise awareness around pressing issues, and open minds and hearts in all who take part. For more information, please visit liveartsmiami.org and follow @liveartsmiami on Facebook, Instagram, and Twitter for the latest updates.