Famed Street Artists Bring One-of-a-Kind, Local Art to Hatch
Hatch is a new, trendy brunch restaurant that offers scrumptious and delicious takes on breakfast classics. Hatch's knack for fun and creativity extends beyond the food and staff, with a unique and vibrant restaurant design. Lawrence Lessing, creator of Hatch and vice president of Lessing's Hospitality Group, found it important to integrate unique, local artistry into the design when developing his new restaurant. The interior design includes custom and creative murals painted by nationally praised street artist Jeremy Fish. To enhance the restaurant's sunny and bright décor, Florida local Eduardo Mendieta collaborated with Hatch to complete their "greetings" paintings along the hallways.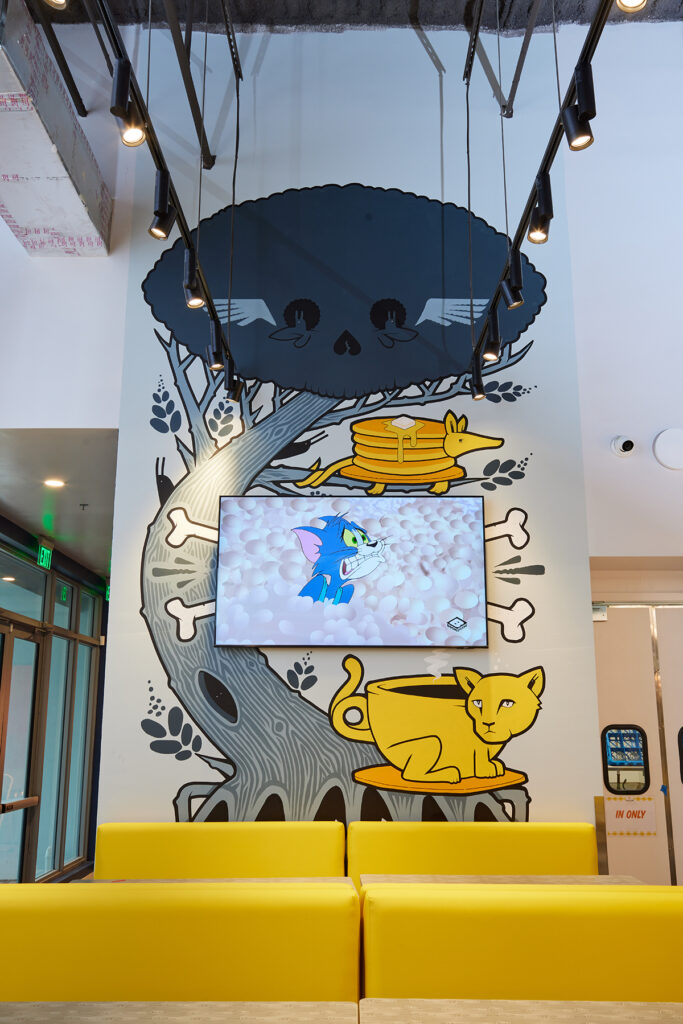 Jeremy Fish received recognition after completing one of the largest mural paintings in Miami's Wynwood neighborhood. He was ecstatic at the opportunity to create his mural project for Hatch's new Fort Lauderdale location. Fish's artwork utilizes his library of characters and symbolism to tell a story using a bold, distinctive style. His vision for Hatch's mural was to blend South Florida's regional animals and plants with some of the restaurant's signature selections. In the mural, Hatch's locally sourced coffee and flight of pancakes can be found between the native mangrove trees and Florida panthers.
In recent years, Mendieta has gained recognition creating large-scale murals and curating public art throughout South Florida. His artwork has been displayed in numerous galleries throughout the state, most recently as part of the group show at the Cultural Council of Palm Beach County.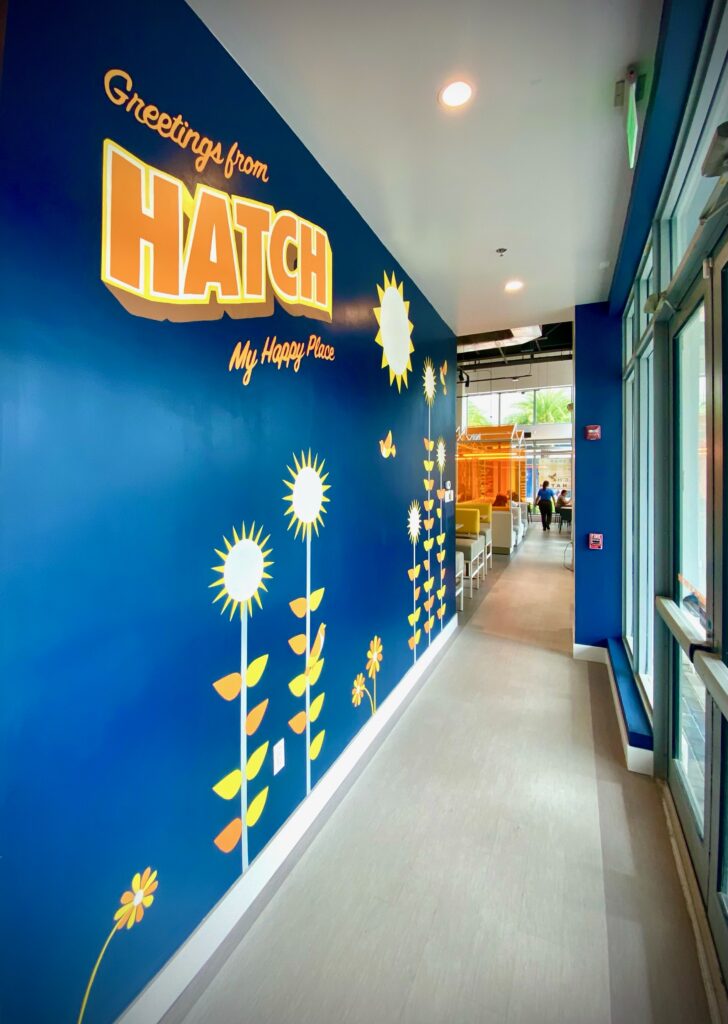 About Jeremy Fish: Jeremy Fish was born in Albany, N.Y., and relocated to San Francisco in 1994. His education and work experience led to a career as a fine artist and commercial illustrator. Fish has produced commercial illustration projects for a wide range of corporate and independent clients all around the world. His artwork has been exhibited across the U.S., and internationally in galleries and museums. Fish was the first-ever San Francisco Arts Commission artist in residency at San Francisco City Hall in 2015 to celebrate the 100th birthday of the building. In 2015, Mayor Ed Lee officially declared November 19 "Jeremy Fish Day" in the city of San Francisco. Fish created the Haight Street Bronze Bunny statue in 2016, which is the largest crowd-funded public bronze statue in California.
About Eduardo Mendieta: Eduardo Mendieta is originally from Union City, N.J., but has been a Florida resident for the last 26 years. His passion for the arts started at a young age when he began painting graffiti on abandoned buildings and walls. His graffiti art opened his mind to playing with the idea of scale, design, and the concept of public art.
Hatch
Hatch is a modern American brunch restaurant with a unique take on breakfast classics. Owned and operated by Lessing's Hospitality Group, Executive Vice President Lawrence Lessing launched Hatch in 2018 in Huntington, N.Y., after conceptualizing a restaurant that changes the perception of a typical brunch. Hatch's knack for fun and creativity expands beyond the food and staff, with a hip, vibrant restaurant design. Hatch is located at 715 N. Federal Highway in Fort Lauderdale. For more information, visit hatchbrunch.com or call (754) 200-8747.
Lessing's Hospitality Group   
Lessing's Hospitality Group is comprised of over 115 locations throughout the Northeast and
Florida. Lessing's operates 20 wedding and catering venues, 19 full-service restaurants, more than 75 corporate and academic dining centers, a historic inn, and a presidential yacht. Steeped in over 130 years of tradition, Lessing's Hospitality Group's focus is on providing each guest and client with unique, personalized experiences and remarkable hospitality.