Artists in Residence in the Everglades (AIRIE) Announces 2023 AIRIE Fellows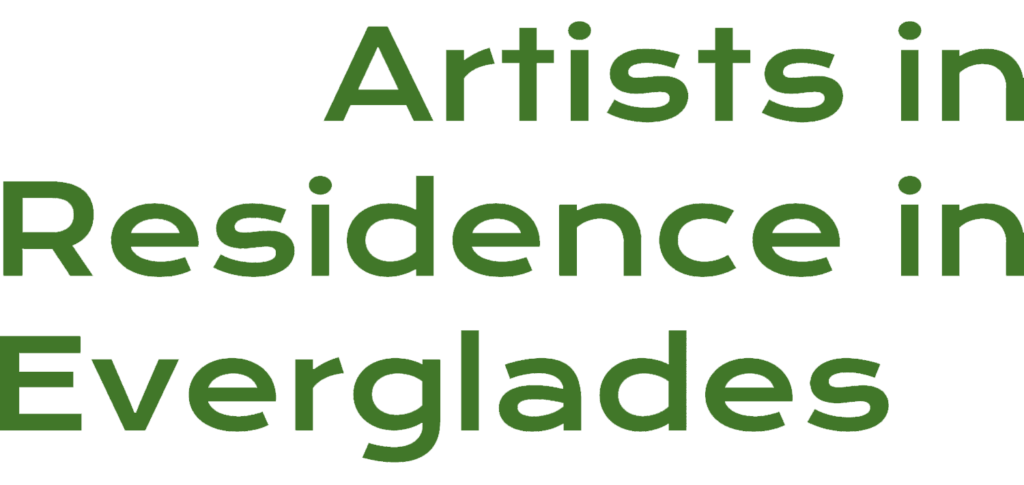 Artists in Residence in the Everglades (AIRIE), the South Florida-based non-profit organization that empowers artists to think critically about their relationship to the environment, announces its 2023 AIRIE Fellows.
The 2023 AIRIE Fellows are Atéha Bailly, Germane Barnes, Pierce Eldridge & Ashleigh Musk, Diana Eusebio, T. Eliott Mansa, Sydney Maubert, Gal Nissim, Alejandro Rodriguez, Monica Sorelle, and Khari Turner.
AIRIE believes artists have a unique ability to deepen the connection between communities and the natural world. Over the course of the 2022 and 2023 seasons, AIRIE artists are responding to the prompt "How can we make the outdoors a space of belonging?" during their one-month stay in Everglades National Park.
"AIRIE fellows are engaging audiences traditionally left out of environmental and climate change conversations, yet disproportionately impacted by these same forces. We are excited to welcome our 2023 cohort of multidisciplinary artists who will continue this important work," said Evette Alexander, AIRIE's Executive Director.
AIRIE received more than 220 applications for its 2023 residency program, and finalists were selected by a National Advisory Committee of established artists, scholars, and community leaders. AIRIE works together with artists to curate an immersive residency experience through excursions and engagements with scientists, park rangers, indigenous groups, historians, and community leaders to provide an in-depth look at this biologically and culturally significant ecosystem, as well as the myriad challenges it faces.
The 2023 fellow bios and headshots are available in the press kit here. Artists' bios are also available below.
About AIRIE
Artists in Residence in Everglades (AIRIE) is a 501(c)(3) not-for-profit that empowers artists to think creatively and critically about our relationship to the environment with a mission of revealing new paths forward. AIRIE's immersive residency program provides artists the opportunity to live, research and create inside Everglades National Park, a UNESCO world heritage site currently listed as in danger of disappearing forever.
Through our programs, AIRIE brings art, environment, and racial justice together for a more sustainable and inclusive future. Since 2001, AIRIE has supported the careers of over 190 artists, writers, musicians, curators, and other creatives through full immersion in the park.
To stay updated on events and exhibitions, or to sign up for our newsletter, visit airie.org. We invite you to connect with AIRIE on Instagram at @airieverglades.
About the 2023 AIRIE Fellows
Atéha Bailly
Atéha "Jojo Sounds" Bailly is a singer-songwriter, multi-instrumentalist, and producer based in Somerville, MA. He is a Master of Divinity candidate at Harvard Divinity School where he studies music's role in religious and racial identity formation and the ethics of artistic persona. Inspired by his multiethnic and multi-religious family background, his music blends musical traditions from across the black diaspora to explore life in the interstices of cultures, places, and identities. He is currently working on a collection of songs that consider the relationship between waterways and ideas of migration, home, and homeland. He has also released several projects under the name Jo Atto and was awarded the Kaspar T. Locher Creative Scholarship for his 2016 release Things I See. He is an alumnus of the Boston Children's Chorus, a member of the Boston-based vocal ensemble Voices 21C, and the bassist for Realized Nation, a music collective that collaborates with Boston nonprofits.
Germane Barnes
Barnes' award-winning research and design practice investigates the connection between architecture and identity, examining architecture's social and political agency through historical research and design speculation. Mining architecture's social and political agency, he examines how the built environment influences black domesticity. Born in Chicago, IL Germane Barnes received a Bachelor of Science in Architecture from the University of Illinois at Urbana-Champaign and a Master of Architecture from Woodbury University where he was awarded the Thesis Prize for his project Symbiotic Territories: Architectural Investigations of Race, Identity, and Community. Currently, he is an Assistant Professor and the Director of The Community Housing & Identity Lab (CHIL) at the University of Miami School of Architecture, a testing ground for the physical and theoretical investigations of architecture's social and political resiliency. His work has been featured in international institutions most notably, The Museum of Modern Art NY, San Francisco MoMA, LACMA, Chicago Architecture Biennial, MAS Context, The Graham Foundation, The New York Times, Architect Magazine, DesignMIAMI/ Art Basel, Metropolis Magazine, Domus, Wallpaper* Magazine and The National Museum of African American History where he was identified as one of the future designers on the rise.
Pierce Eldridge
Pierce Eldridge is a curator, dramaturg, and writer based in London, originally from Meanjin. They have been involved in projects for Camden Art Centre, El Warcha, Studio Scilicet, Studio Wayne McGregor, Victoria & Albert Museum, Darwin Festival, Supercell Festival, Bleach Festival, NextDoor ARI, Modern Times, Worms Magazine, MAP Magazine, Fortified Journal, Gillian Jason Gallery, Antiuniversity Now, Pop Up North Queensland Festival. They are a Distinction graduate of MA Curating Contemporary Art from the Royal College of Art London.
Diana Eusebio
Diana Eusebio is a Peruvian-Dominican multidisciplinary artist based in Miami, Florida. In a practice that spans wearable garments, textiles, and photography, Eusebio researches Black and Latinx diasporic stories and Pre-Columbian textile traditions. Her pieces employ color as a means to honor indigenous natural dyeing techniques and recontextualize our reciprocal connection to the natural world. By combining ancestral and modern processes such as natural dyeing and digital textile printing, her work catalogs a powerful record of contemporary Afro-Latinx and Indigenous history. Eusebio was the recipient of the 2022 Green Family Foundation Award. Institutional exhibitions include the Museum of Modern Art in New York, The Hall of Nations in Washington D.C., and the Rubell Museum in Miami. Studio residencies include Anderson Ranch Art Center in Aspen, CO; Oolite Arts' in Miami, FL; Deering Estate in Miami, FL; and Red Hook Labs in New York, NY. Eusebio holds a BFA in Fiber from the Maryland Institute College of Art.
T. Eliott Mansa
T Eliott Mansa b. 1977 lives and works in Miami, Fl. Mansa received a BFA from the University of Florida (2000) and an MFA from CUNY-Hunter College (2018). Recent exhibition venues include African American Museum of the Arts in Deland, FL, Miami Museum of Contemporary Art of the African Diaspora. Mansa has received the 2019 Creator Award from Oolite Arts, a Green Space Initiative Grant, a Young Arts Emergency Microgrant, and a Miami Independent
Artist Stipend Grant. He has attended residencies at Oolite Arts in Miami Beach, and Artpace in San Antonio. His work is in the permanent collection of the African American Museum of the Arts in Deland, FL.
Sydney Maubert
Sydney Rose Maubert is a Miami architect, artist, and professor. She holds post-professional and professional degrees in architecture from Yale (2022) and the University of Miami (2020), with double minors in writing and art. She has received several awards including the Yale Moulton Andros Award (2022), the University of Miami Alpha Rho Chi Award (2020). She is the founder of Sydney R. Maubert LLC., her art and mural practice. Her scholarly research interests are architecture, geography, and cultural production in the Caribbean and American South. The work is largely shaped by black studies, gender studies, decolonial studies, history, and cultural geography. Currently, Sydney Rose is the predoctoral fellow at Cornell's Strauch Fellowship, where she will be teaching and producing research (Fall 2022- ongoing). Her research explores racial-sexual perception in the built environment.
Ashleigh Musk
Ashleigh Musk (she/her) is a dancer, choreographer, dramaturg, and community arts facilitator based on unceded Arrernte Country (Mparntwe/Alice Springs) in the Northern Territory (Australia). Her work explores alternate futures to spark conversations around our co-existence with the more-than-human world and our responsibilities in the ecological crisis we have created. Often using industrial materials which are activated in experimental ways, complex relationships are revealed through the handling of these junk-like objects with radical care and tenderness.
Gal Nissim
Gal Nissim is an Israel-born, New York-based, interdisciplinary artist and researcher who investigates human-animal interactions. Nissim's work has been exhibited at the New Museum, Tel Aviv Museum of Art, Time Square, Pioneer Works, Central Park, New York Hall of Science, Artport Tel Aviv in Public Space, Science Gallery Detroit, GStreamer Conference (Berlin), among others. Nissim has participated in residencies and fellowships with, Artport, New Museum, Science Sandbox, LMCC Creative Engagement, Culture & Animals Foundation, NYFA, Google's Experimental Storytelling, and the Weizmann Institute of Science for outstanding young researchers. She received her Master's from NYU's ITP. Nissim studied at Bezalel Academy of Art while earning her BSc, summa cum laude, in biology and cognitive science from the Hebrew University, Jerusalem. Nissim teaches at Columbia University at GSAAP, and NYU's Environmental Studies, Animal Studies, and ITP, Tisch. Currently, she is an Innovator in Residence at Rutgers University.
Alejandro Rodriguez
Alejandro Rodriguez is a Miami-based writer, director, and founding Artistic Director of The Peace Studio's Artist as Catalyst Program. His writing has been featured in collaborations with musicians, choreographers, and filmmakers all over the globe. His first full-length show, Sorry, enjoyed two sold-out runs at the LaGuardia Performing Arts Center (LPAC) in New York, and his earlier work, Now is the Time, was produced three times in NYC including at the Joyce in Chelsea. He has been the recipient of residencies through the Miami Light Project, SPACE at Ryder Farm, Makehouse, and the Center for Innovation in the Arts at Juilliard, as well as grants from the Queens Council of the Arts, CUNY Dance Initiative, and the Miami-Dade County Department of Cultural Affairs. He's lectured at multiple colleges, is on faculty at The Performing Arts Project, and has carried an adjunct professorship in the CUNY school system. His newest creation, In My Body, a collaboration with the Canadian street dance company, Bboyizm, is currently on tour across Canada and was the recipient of four Dora Awards in 2022 including Outstanding Production. Directing credits include Letters from Cuba and Anna in the Tropics for The Acting Company, Wilder & Wilder for PlayMakers Repertory Company, and many more. He began his career as an actor and performed in theaters across the US such as the Kennedy Center, Lincoln Center, the Guthrie Theater, and the Humana Festival, as well as on television. Formerly, he served as the Associate Artistic Director for PlayMakers, and as Deputy Executive Director for Arts Ignite (formerly ASTEP,) a global nonprofit that delivers art education to over 3000 children annually on four continents. A graduate of Juilliard where he was awarded the Michel St. Denis Prize for outstanding achievement.
Monica Sorelle
Monica Sorelle is a Haitian-American filmmaker and artist born & based in Miami. Her work explores alienation and displacement and preserves cultural traditions within Miami & the Caribbean with a focus on the African & Latin diasporas that reside there. Her photo and video work has been shown in group exhibitions at Oolite Arts and the University of Maryland and supported by Pérez Art Museum Miami's Caribbean Cultural Institute Artist Fellowship. She has produced and worked as a department head on films for Film Independent, A24, HBO & PBS. Her work has won awards at Berlinale, BlackStar, and Miami Film Festival and has been exhibited at Sundance, New Orleans Film Festival, and Criterion Channel. Monica is a member of Third Horizon, a creative collective dedicated to developing, producing, exhibiting, and distributing work that gives voice to stories of the Caribbean, its diaspora, and other marginalized & underrepresented spaces in the Global South. Currently, Monica is completing post-production on her feature film directorial debut Mountains as an Oolite Arts' Cinematic Arts resident.
Khari Turner
Khari Turner (born in 1991) is an emerging artist from Milwaukee, Wisconsin. Khari is currently living in Brooklyn, NY after finishing his residency in Stockholm, Sweden with CFHILL gallery. His early inspiration was his grandfather that worked as a draftsman drawing small images that Khari would recreate at an early age. Growing up in Milwaukee, his landscape consisted of vast nature and dense cityscapes fighting amongst a city well known for its continued segregation. This created a relationship with Black people, water, and his environment that plays a major role in his work now. He currently takes water directly from different bodies of water including the Pacific and Atlantic oceans, his hometown's Lake Michigan, and Milwaukee River water. He incorporates them in the work either mixing the water with paint or pouring directly on the surface of the work. His aims are to eventually start work directly related to water health, environmental conservation, and bringing art to low-income neighborhoods.