CONTEXT Art Miami Announces 2021 Exhibitor List
International Contemporary Art Show Presents More than 61 International Galleries
CONTEXT Art Miami, the international contemporary fair dedicated to the development and reinforcement of emerging and mid-career artists, has announced the 2021 exhibitor list for its ninth edition. Taking place November 30 – December 5, 2021, the fair will feature more than 61 galleries from 17 countries including Australia, Canada, Chile, Colombia, France, Germany, Israel, Italy, Luxembourg, The Netherlands, Turkey, South Korea, Spain, United Kingdom and United States. CONTEXT Art Miami's sister fair Art Miami will return for its 31st edition with 140 international galleries.
The 2021 Fair will kick off with a Platinum VIP Preview for top collectors, curators, and members of the press on Tuesday, November 30, 2021, from 4:30p.m. – 6:30p.m. to benefit the Pérez Art Museum Miami (PAMM). The VIP Preview will open for all VIP ticketholders at 6:30p.m. and run until 10p.m. This is the 11th consecutive year that
PAMM has been the fair's exclusive VIP Preview benefactor and Art Miami has cumulatively donated more than $275,000 to further the museum's collection and mission.
The partnership remains an integral part of Art Miami's larger commitment to the city of Miami.
CONTEXT Art Miami returns in-person with a high caliber, quality lineup pushing boundaries on the current dialogues in contemporary art. The Fair offers an exceptionally strong platform for collectors to discover and acquire fresh and significant works in today's primary art market from emerging and established galleries.
The Fair will be held alongside Art Miami at the prestigious waterfront location of One Miami Herald Plaza on Biscayne Bay, nestled between the Venetian and MacArthur Causeways in the heart of Downtown Miami. This year, to further sustainability initiatives as well as touchless entry, all tickets will be available exclusively online with no box office onsite.

International galleries that will exhibit at CONTEXT Art Miami for the first time include:
International galleries that will exhibit at CONTEXT Art Miami for the first time include: AM House, Coral Gables | AOA;87, Bamberg | Art Bond NY, New York | Art.M, Luxemborg | ArtConvex, Hong Kong | Artemiro Gallery, New York | BG Gallery, Santa Monica | Boulderton Contemporary, Miami | Carousel Art Group, Miami | Coagula Curatorial, Huntington Park | Fortom Gallery, Miami | Galerie l'Atelier, New York, | Gallery Grimson, Seoul | GR gallery, New York | Hilton Asmus Contemporary, Chicago | Imaginart Gallery, Coral Gables | MonShare Art, Milan | Normal Royal Arts, Fort Collins | Offshoot Arts, London | Quidley & Company, Nantucket | Winn Slavin, Beverly Hills.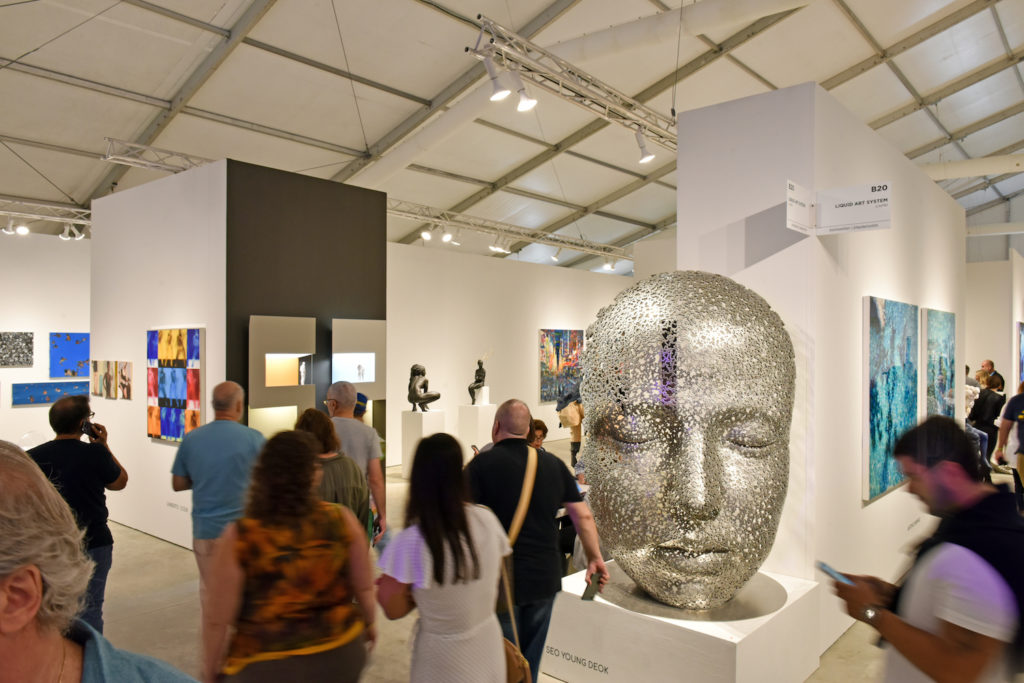 2021 CONTEXT ART MIAMI EXHIBITOR LIST
532 Gallery Thomas Jaeckel New York | AM House Miami | Analog ContemporaryPhiladelphia | Art Angels Los Angeles | Art Bond NY Manhattan | Art.M Capellen| ArtConvex Hong Kong | Artemiro Gallery New York | AOA;87 Bamberg | Axiom Contemporary Scottsdale | Bel Air Fine Art Miami | BG Gallery Santa Monica | Blank Space New York | BlinkGroup Fine Art Gallery Miami | Boulderton Contemporary Art Miami Shores | Bronner Gallery Guethary | Bruce Lurie Gallery Miami | Bruno Art Group Tel Aviv | Carousel Fine Art Miami | CHIEFS & SPIRITS The Hague | Coagula Curatorial Huntington Park | Connect Contemporary Atlanta | Contemporary Art Projects USA Miami | DECORAZON Gallery New York | Fabrik Projects Gallery Beverly Hills | Fortom Gallery Miami | Galería Casa Cuadrada Bogotá | Galeria La Sala Santiago | galerie Barrou Planquart Paris | Galerie l'Atelier New York | Galerie. LeRoyer Montreal | Galeries Bartoux Miami | Gallery BK Seoul | Gallery Grimson Seoul | Gama Gallery Istanbul | GR Gallery New York | Hashimoto Contemporary New York | Hilton Asmus Contemporary Chicago | HOFA Gallery London | Imaginart Gallery Coral Gables | Janus Gallery Doraville | John William Gallery Boca Raton | K+Y Gallery Paris | Khankhalaev Gallery Moscow | Lassiter Fine Art Mobile | Liquid art system Capri | Lustre Contemporary Caledon | McCaig-Welles Gallery Brooklyn | MonShare Art Milan | New Apostle Gallery Mount Vernon | Normal Royal Fort Collins | Offshoot Arts Great Missenden | Olivia Park Gallery New York | Onessimo Fine Art Palm Beach | Quantum Contemporary Art London | Quidley & Company Nantucket | Rebecca Hossack Art Gallery London | Retrospect Galleries Coorabell S16 Gallery Montreal | Simons Gallery The Hague | Steidel contemporary Lake Worth Beach | VK Gallery Amsterdam | Winn Slavin Fine Art Beverly Hills (List information as of October 11, 2021)
CONTEXT ART MIAMI +ONLINE is a curated digital exhibition offering dedicated stateof-the-art acquisition rooms, powered by Hook, which will run concurrent with the inperson fairs from Tuesday, November 30 through Sunday, December 5, 2021. CONTEXTART MIAMI +ONLINE provides additional exposure and sales opportunities for galleries participating in the in-person events. Additionally, it offers international galleries and attendees who are unable to travel and participate in this year's in-person fairs a comprehensive digital fair solution for viewing, buying and learning about art. Informa All Secure is CONTEXT Art Miami's approach to enhanced health and safety standards Safety is the top priority, and CONTEXT Art Miami will adhere to strict measures to protect visitors, exhibitors, and staff. The Fair will be run according to U.S. Centers for Disease Control and Prevention guidelines and local authority guidance as well as any venue or location-specific regulations. Informa AllSecure is how these standards are being adopted in the business. It means that when exhibitors, sponsors, and attendees come to Art Miami events, they can connect, learn, know more, and conduct more business, effectively, safely and with confidence.
As a part of the AllSecure program, all attendees of CONTEXT Art Miami are required to show proof of a rapid antigen test (or equivalent) with a negative result within 24 hours prior to attending the Fair. Attendees may choose, in their discretion, to opt out of this testing requirement by showing proof of having received full vaccination more than 2 weeks prior to attendance. All Fair attendees will be required to wear a mask. Please be advised that these protocols are subject to change. More details are available at www.artmiami.com and www.informa.com/about-us/allsecure/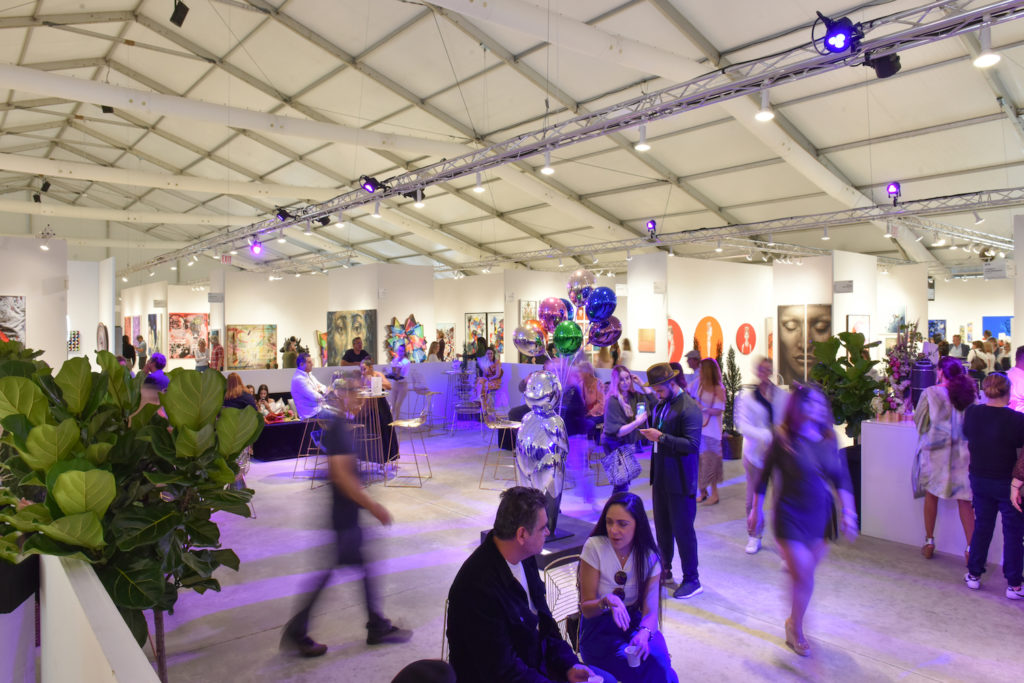 HOURS AND LOCATION:
Fair Hours:
Opening Night Platinum VIP Preview: Tuesday, November 30: 4:30p.m.-6:30p.m.
Opening Night VIP Preview: Tuesday, November 30: 6:30p.m. – 10:00p.m.
General Admission: Wednesday, December 1 – Saturday, December 4: 11a.m. – 7p.m.;
Sunday, December 5: 11a.m. – 6p.m.
Location:

The CONTEXT Art Miami Pavilion, One Herald Plaza @ NE 14th Street, DowntownMiami. On Biscayne Bay between the Venetian & MacArthur Causeways Tickets will go on sale 45 days prior to the opening of CONTEXT Art Miami.
Please note that tickets are exclusively available online and cannot be purchased onsite.
#
MEDIA RELATIONS:
Carma Connected
404 Washington Ave., Suite 620
Miami Beach, FL 33139
305.438.9200
Artmiami@carmaconnected.com
www.carmaconnected.com
MARKETING, SPONSORSHIPS + VIP RELATIONS:
Pamela Cohen, VP, Director of Marketing, VIP Relations & Sponsorships
Pamela@artmiami.com
About CONTEXT Art Miami:
CONTEXT Art Miami, owned by Informa Markets is the sister fair to Art Miami dedicated to the development and reinforcement of emerging and mid-career artists. Launched in 2012, CONTEXT Art Miami's open atmosphere creates a meaningful dialogue between artists, galleries and collectors while providing the ultimate platform for the presentation of mid-career, emergent and cutting-edge talent by emerging and established galleries. Ninety-five international galleries, vetted by the CONTEXT Art Miami Selection Committee, exhibit highlights from their gallery programs, solo artist exhibitions and curated projects. The combined efforts of CONTEXT Art Miami and Art Miami provide a unique and alternative opportunity for leading primary dealers and their artists to be marketed and promoted internationally during the most important week for contemporary art in America.
About Informa Markets:
Informa Markets creates platforms for international markets to trade, innovate and grow. Through over 500 leading brands, their exhibitions, specialist digital content and data solutions allow customers operating in specialist markets to meet and trade, and for their

businesses and markets to thrive. Informa Markets has over 4,000 colleagues worldwide, with a large presence in markets including the US, Brazil, Dubai, India and China. https://informa.com/divisions/informa-markets