CLARK MEDLEY: ABSTRACT ALPHABETS UNLEASHED.
BY MILAGROS BELLO, Ph.D.**
In the immersive world of Clark Medley's artistry, the boundaries of language and culture dissolve, giving rise to dynamic, convoluted abstract forms that seem to invade the pictorial space with invisible, pulsating energy. This curated exhibition invites you to explore the profound fusion of influences and inspirations that shape Medley's work, from Civilization writings to the spiritual essence of Judaism, Japanese and Chinese calligraphy, and elements of Islamism, all woven together with his connection to the vibrant world of Street and Graffiti art. The paintings feature cryptic emblems and signages in fragmented wordings transcending conventional communication, inviting you to contemplate his introspective spirit and deeply personal approach to conversations and interrelations with his environment.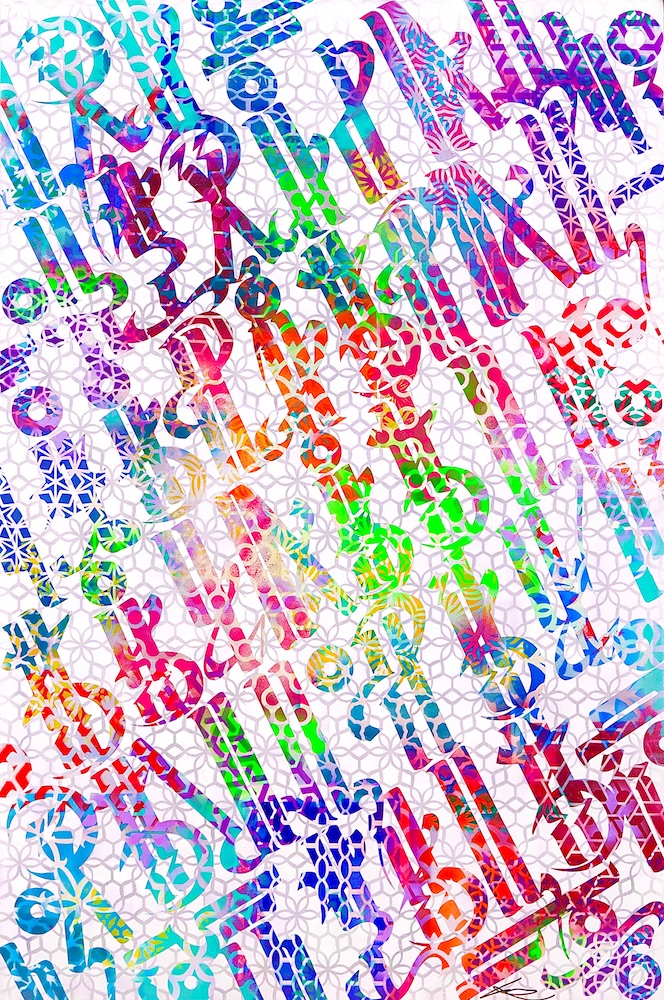 Imaginary Alphabets as Dynamic Abstract Forms
At the heart of Medley's artistic vision lies the creation of imaginary ontological alphabets and fictional morphological letterings. His visual configurations challenge traditional concepts of written language by defying rigid structures and conventional symbols. Instead, they burst forth with kinetic drive, revealing intangible forces emanating from within the artist's psyche. Medley has constructed a world where new idioms transcend the semantic and the linguistic realms.
Cultural References and Influences
The paintings delve into a rich tapestry of cultural references, drawing from Civilization writings, revealing a vast spectrum of human expression that surpasses time, and geography. Medley's art becomes a bridge between different epochs and traditions, embodying the essence of civilizations' legacy. The pieces display intricate letterforms, with stems, strokes, serifs, terminal and bowls in great variations, evoking Judaism inscriptions Japanese and Chinese calligraphy, and the geometric patterns of Islamism. They creatively converge and diverge, in a discourse that outdoes barriers and surpass limits of communication.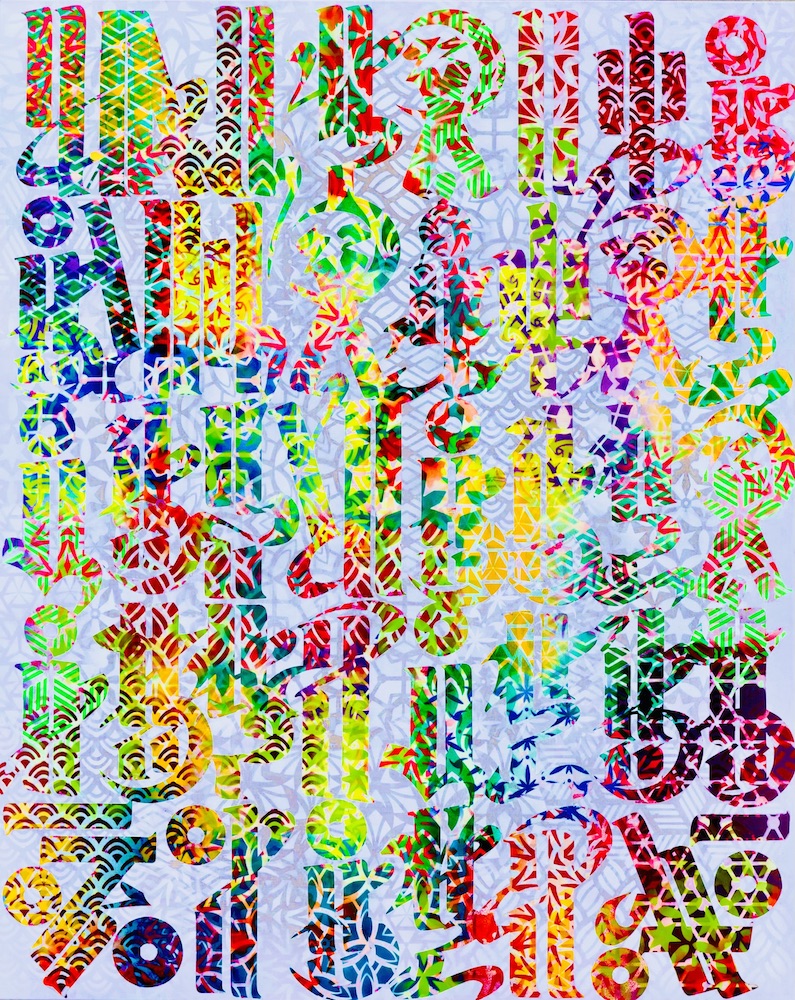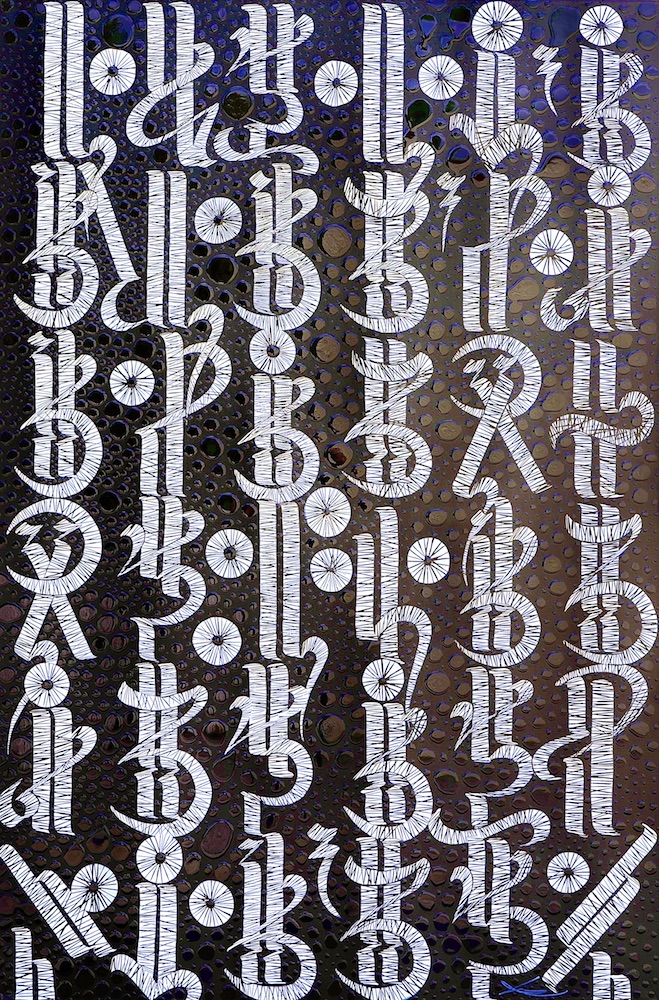 Street/Graffiti Art, and Art Deco: Personal Phrases and Life Experiences
As we explore the artist's connection to Street and Graffiti art, we enter the urban realm where "writing" takes on a subjective dimension. Medley's nonrepresentational scripts come to life from personal phrases drawn from his life experiences and the acoustic backdrop of daily conversations. They transform into living visual texts in the pictorial space. These phrases, – infused with raw genuineness, and set as his conscious connection to the world around him-, become the heartbeat of his work and his defining artistic statement. Art Deco patterns appear in the works as quotations of the historical style, cited as changing creative ornaments of sleek contours and geometric shapes, on the backgrounds. There is a profuse mixture of evocations of epochs, styles and techniques that intertwine in the creative and personal artist's approach to art.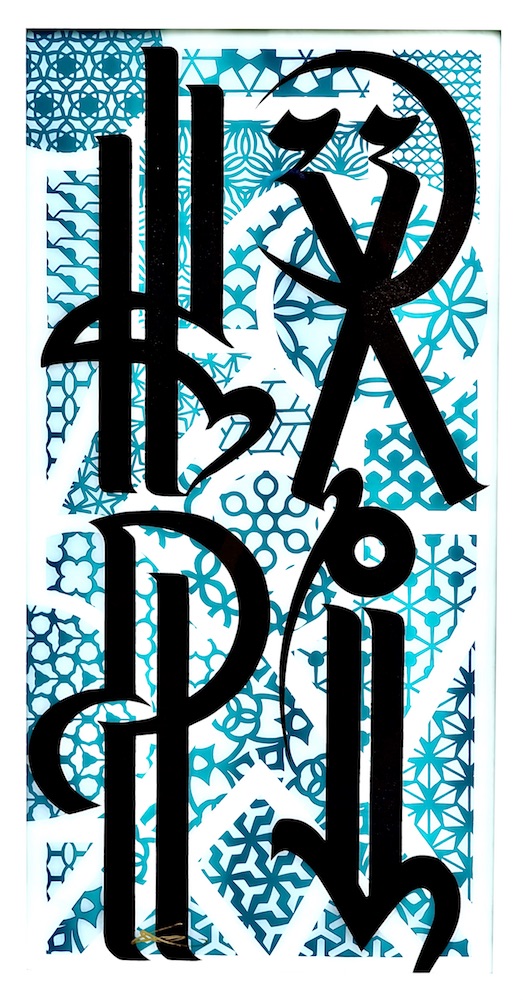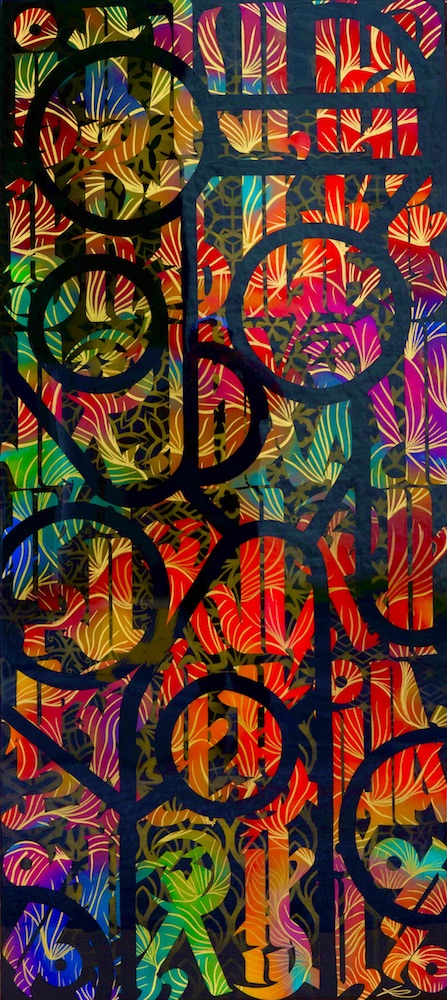 Artworks and Life.
Medley's alphabets invite viewers to embark on a journey of self-reflection, where the boundaries between artist and observer blur. The work's visual complex configurations encourage us to evoke our own interpretations, emotions, and inner experiences, fostering a meaningful dialogue between us and the artwork.
Take, for instance, his thought-provoking piece with a satirical statement: "Envy Is the Knife You Hold into Your Own Throat" that connects us to our human deeds; "Will These Dreams Still Follow Me?" in its self-questioning title, and its cryptic letterings over a dark somber background that takes us into our own life sense and legacy; the works "I Write a Language Nobody Understands" or "You Showed Me Sunshine When I only Saw the Rain" that play as metaphorical allusions to segmented poetries. Their pictorial marks interweave, offering reflections and thoughts of human interaction. Each title and visual rendering are selectively chosen for its significance to every human being.

The visual language in Medley's art is a universe of surprises, where polished structures of gleaming gold or silver glitter contrast with dark, blue, or black backgrounds. Shiny and silky surfaces harmonize with satiny and velvety textures, creating a visually captivating experience for the viewer. Every stroke and layer add depth and complexity to the narrative woven within each piece. His mixed media technique mixing oil enamel, crushed glass, gold and copper leaf, metal flakes, and resin, layered on different planes as successive visual windows of compositional ornaments and geometries exemplifies his artistic freedom. His choice for the support is either on canvas, glass or wood panels rendering a huge versatility to his creations.

A highlight of Medley's portfolio is his "Love Series," where he delves into the core of humanity: Love as the epicenter of all human motivation. The Love Series questions the intricacies of connectedness through the lens of love liaisons. It's within these works that Medley profoundly connects with the substance of existence and to the core of the individual.
Clark Medley's art is deeply rooted in social culture and spirituality, transcending the ordinary and celebrating the extraordinary.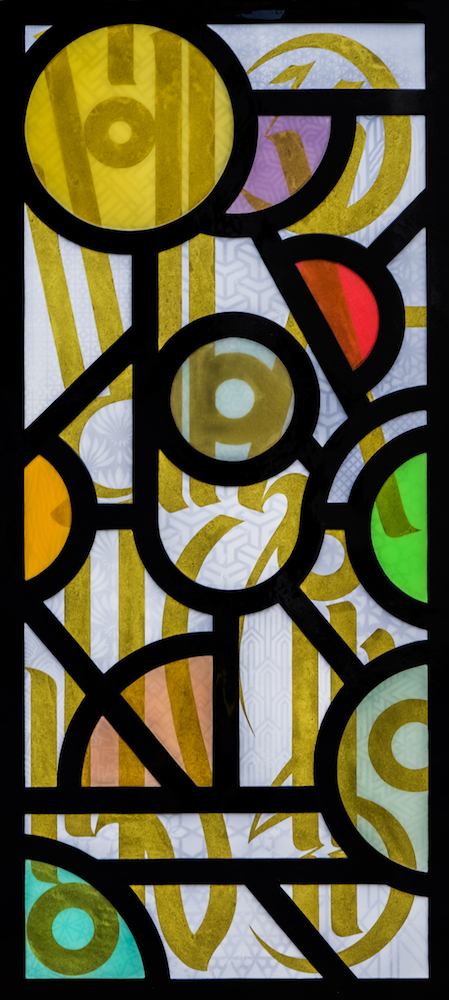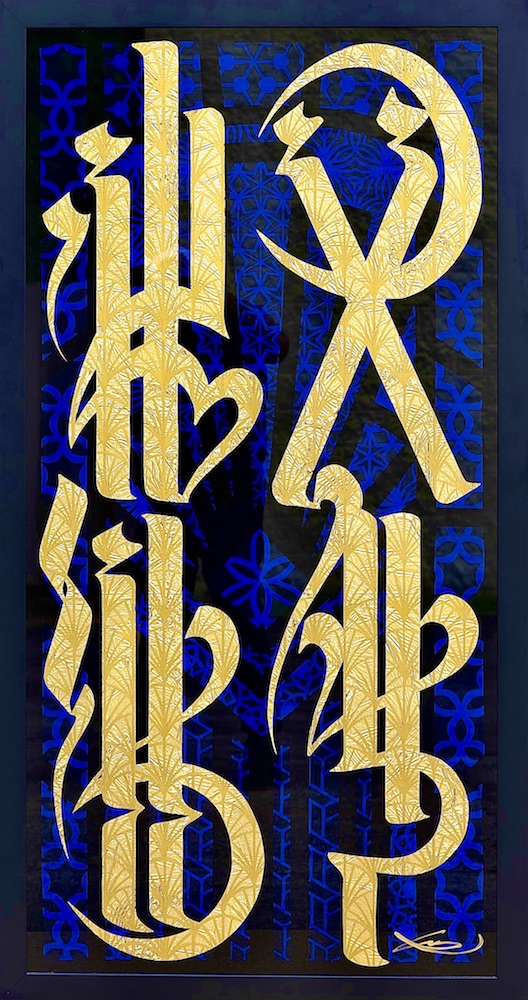 BIO CLARK MEDLEY
Born in 1971, Clark Medley is a renowned international artist whose creative journey has taken him across various mediums and landscapes. Currently, he divides his time between the serene town of Fairview Heights, Illinois, just outside of St. Louis, Missouri, and the vibrant lower 7th ward of New Orleans. With a career spanning 34 years, Clark has demonstrated his remarkable versatility, evolving from a professional tattoo artist to a multifaceted artist with a distinctive style that transcends various art forms.
In the early 2000s, Clark's pursuit of artistic growth led him to Southern Illinois University Edwardsville, where he focused on sculpture, expanding his knowledge and skills to propel his career to new heights. By 2010, he embarked on a journey to explore the world of painting, using diverse mixed media techniques and references to different sources such as ancient writings and calligraphies, as well as evocations of Street art and Graffiti. His rich mixtures of metal flakes, oil enamel, and resin on canvas, wood, or glass reflect his complex attitude toward discovery and experimentation.
From 2015 until now, his works have been exhibited in numerous curated shows, art fairs, and international venues. Notably are his three-time selection and international participation in the European Cultural Center (ECC) in Venice, in the context of the Venice Biennale.
****Curator Milagros Bello holds a Ph.D. in Sociology with a doctoral thesis in Sociology of Art from the University of Sorbonne (Paris VII-Jussieu) and a master's degree in art history from the University of Sorbonne (University of Paris I), both located in Paris, France. She earned a bachelor's degree in psychology, specializing in Clinical Psychology, from the Central University of Venezuela and pursued postgraduate courses in Family and Individual Counseling in her home country, Venezuela. Dr. Bello is an art critic, a member of the International Association of Art Critics (AICA), and a member of the National Federation of Psychologists of Venezuela. She is an independent curator and directs MIA Curatorial Projects (formerly known as Curator's Voice Art Projects, founded in 2010 in the Wynwood Art District of Miami). From 2010 to the present, Dr. Bello has curated numerous contemporary art exhibitions at both the national and international levels. During April-November 2022, as part of the 59th Venice Biennale, she curated the exhibition "Americans: Current Imaginaries," which was on display until November 2022 at the European Cultural Center in Venice, Italy. She is a lecturer at museums and art institutes, a writer for local and international art magazines, and a former editor-in-chief of the art magazine Arte Al Dia International. For fourteen years, from 2000 to 2014, she taught as an art professor in various theoretical areas of specialization, including Critical Theories, Art History, Modern and Contemporary Photography History, and Sociology, at the postgraduate and undergraduate levels at American universities such as Florida International University (FIU), Florida Atlantic University (FAU), Miami International University (The Art Institute/Miami), and Istituto Marangoni/Miami. She is the director and chief curator of MIA Curatorial Projects in Miami (formerly Curator's Voice Art Projects, founded in the Wynwood Art District in 2010). Dr. Bello is also a mentor and motivational coach for artists. You can find her on Instagram at @milagrosbellocurator and @miacuratorial, and you can contact her at milabello@aol.com.