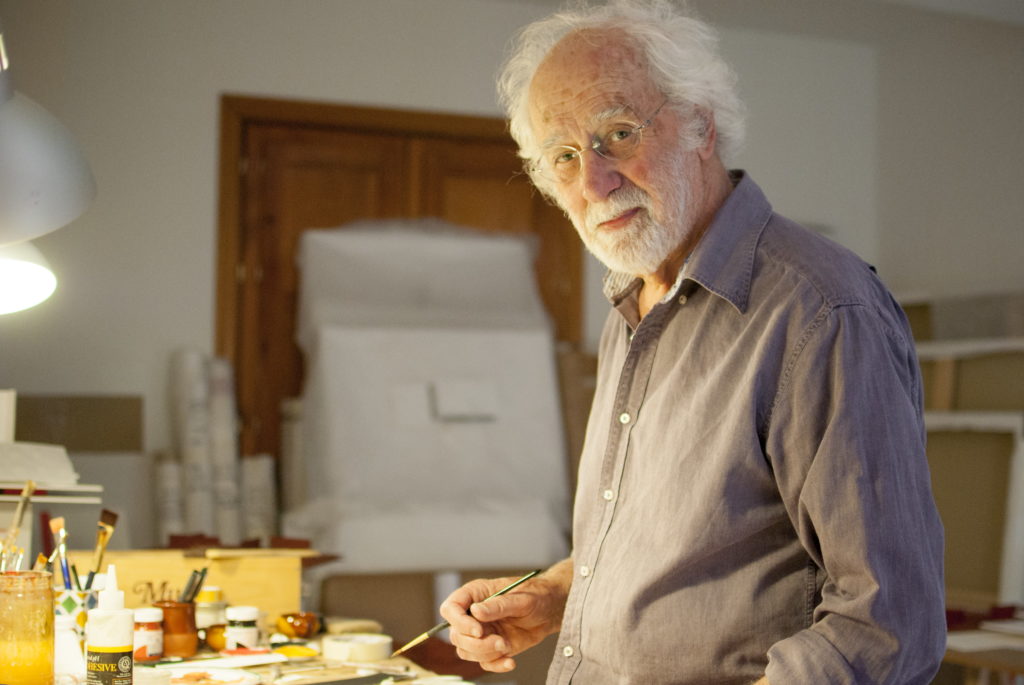 Paternosto, César
1931 – Argentina
Nacido en La Plata, provincia de Buenos Aires, Argentina, César Paternosto estudió dibujo y pintura desde su infancia, si bien se recibió de abogado, profesión que ejerció por un breve período. Su eje artístico inicial fue el expresionismo abstracto, pero a partir de 1961 se interesó en las culturas precolombinas y comenzó a hacer bocetos con formas geométricas rudimentarias que aludían al arte amerindio, que desembocaron en sus primeras abstracciones geométricas, con elementos cargados de significado simbólico. En la década de 1960 también estudió la obra y las teorías de Josef Albers, y en 1965 empezó a experimentar con bandas circulares concéntricas. En 1969, dos años después de instalarse en Nueva York, Paternosto desarrolló su método de pintar en los bordes y el canto de la tela, dejando libre la zona frontal de esta.
En 1977, durante un largo viaje por el norte de la Argentina, Bolivia y Perú, visitó algunos de los lugares más emblemáticos de la cultura precolombina, como Tiahuanaco, Cuzco, Ollantaytambo y Machu Picchu. Esta experiencia lo impulsó a publicar, en 1989, el libro "Piedra abstracta", en el que compiló su investigación sobre el arte simbólico y abstracto de las antiguas civilizaciones americanas.
Paternosto expuso sus obras en la galería Lirolay (Buenos Aires, 1964); "Latin American Art Since Independence", Yale University (Connecticut, 1965); "The 1960s: Painting and Sculpture from the Museum Collection", Museum of Modern Art (Nueva York, 1967); "Beyond Geometry", Center for Inter-American Relations (Nueva York, 1968); "Paintings: 1969-1980", Center for Inter-American Relations (Nueva York, 1981); "Retrospectiva", Fundación San Telmo (Buenos Aires, 1987); "Abstraction as Meaning", Exit Art, The First World Gallery (Nueva York, 1993); 1ª y 3ª Bienal de La Habana (Cuba, 1981 y 1989), "La Escuela del Sur: el Taller Torres-García y su legado", Museo Nacional Centro de Arte Reina Sofía (Madrid, 1991), y Jorge Mara – La Ruche (Buenos Aires, 2004). Vive y trabaja en Buenos Aires.