CARLOS J SOTO (b. 1980) is a director and designer based in New York City, where he studied Art History and Literature at the Pratt Institute. His GIRLMACHINE premiered at Performa 09 and was subsequently presented in Paris by the American University of Paris. Pig Pig Pig (2010) was developed in residency at Le Point Éphémère, Paris, and performed at the Moscow Museum of Modern Art. In 2011, he was featured in an evening of works curated by Robert Wilson for Works & Process at the Guggenheim Museum. In September 2013, Pace Gallery, NY, exhibited video work created in residency at Willem de Kooning's studio in Springs, NY. Soto has presented work at the Triennale di Milano, Kunstverein in Hamburg, the Istanbul Biennial, among others. He has been artist-in-residence at The Watermill Center (2009 & 2015), Kampnagel Hamburg, Schauspielhaus Wien, Lower Manhattan Cultural Council, New York Live Arts, among others.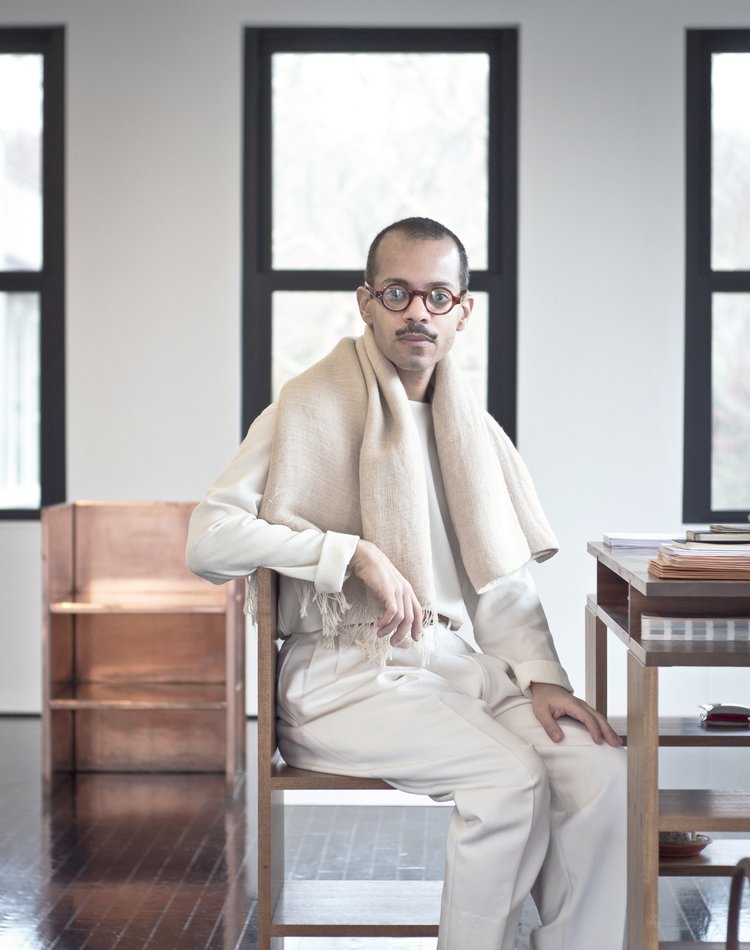 Soto has collaborated with recording and performance artist Solange as associate director and costume designer on multiple projects, most recently on the film and festival tour accompanying her album When I Get Home. In 2017 he collaborated with Solange on her Cosmic Journey / Orion's Rise tour culminating her performances in support of her Grammy-winning A Seat at the Table. They further collaborated on Scales at the Chinati Foundation, Marfa, TX, and Metatronia (Metatron's Cube), 2018, a performance film choreographed by Gerard and Kelly and premiered at the Hammer Museum in collaboration with Uniqlo. In 2018, Soto designed sets and costumes for Davóne Tines' and Michael Schachter's The Black Clown, directed by Zack Winokur at the American Repertory Theater in Cambridge. In the same year he designed costumes for Sulayman al Bassam's The Petrol Station at the Kennedy Center; they again collaborated on UR at the Residenztheater in Munich. In 2016 Soto designed costumes for a touring evening-length retrospective of Lucinda Childs' works spanning dances from 1967 to today, culminating in a new work in collaboration with composers/instrumentalists Colin Stetson and Sarah Neufeld. Soto performed in Shara Nova (My Brightest Diamond) and Andrew Ondrejcak's opera You Us We All, at Kampnagel, De Singel, Holland Festival and, most recently, at BAM Next Wave Festival 2015. Soto starred in Matthew Shattuck's short film 50 Shades of Greige, commissioned by Nowness. In 2014, Soto collaborated with artist Davide Balula on a site-specific performance at the Palais de Tokyo, Paris, exploring connections between architecture, camouflage and dress.
Soto has worked with American artist and director Robert Wilson since 1997 as a performer, designer, and assistant on numerous productions in the U.S. and Europe, most recently performing in The Life and Death of Marina Abramovic, alongside Abramovic, Willem Dafoe and Anohni. He re-designed the costumes for the revival of Wilson's and Philip Glass's Einstein on the Beach. In May 2015, Soto designed costumes for Adam's Passion, a collaboration with Wilson and Estonian composer Arvo Pärt, in Tallinn, Estonia. Most recently he designed costumes for Wilson's staging of Sophocles' Oedipus with German actress Angela Winkler and composer and saxophonist Richard Landry, staged among the ruins of Pompeii in the Teatro Grande (built ca. 200 B.C.E.), with subsequent tours to Palladio's Teatro Olimpico, Vicenza (completed 1585), scheduled for performances at Naples' Teatro Mercadante and the Epidaurus Festival in 2019.
Soto has also collaborated with and performed in works by Kristin Worrall, Andrew Ondrejcak, Kembra Pfahler and The Voluptuous Horror of Karen Black, Terence Koh, John Jahnke and The Hotel Savant, Dan Graham and Tony Oursler (Don't Trust Anyone Over Thirty, 2005), among others.