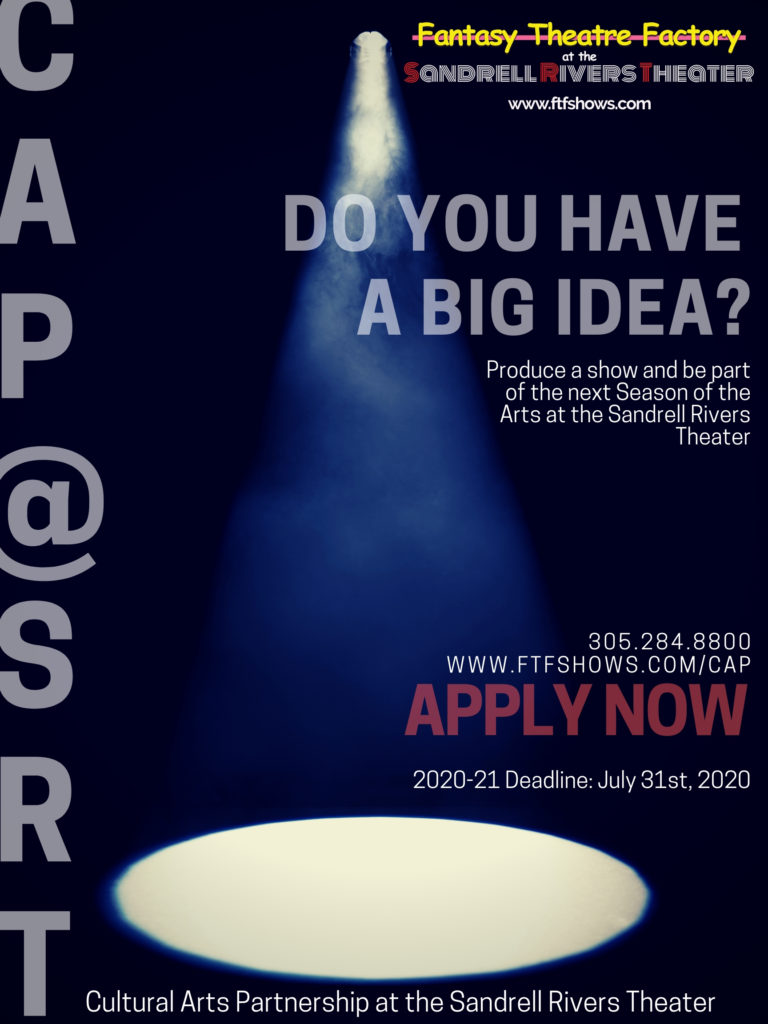 Cultural Arts Partnership Program at the Sandrell Rivers Theater (CAP@SRT). Through a competitive process, this program allows new and upcoming artists and arts organizations to present their work at the Sandrell Rivers Theater. We are starting this season with 4 relevant projects:
MUSIC: "10,000 Strong Black Leadership Summit" by The Circle of Brotherhood; March 28, 2020, at 6 p.m. One evening of dynamic black leaders and Entrepreneurs from different industries. Together under one roof, one mind, one vision. To empower our community economically. Followed by a comedy show, music concert, and networking mix & mingle.
THEATER: "Unfold: The Pride Plays" (The Silver Tongues Stages) by Ricky J. Martinez; Apr 2 and 3, 2020, at 8 p.m. A collection of three Latino-centric, LGBTQ2 case studies realizing the complexities of our "identity decade."
DANCE: "Boys Will Be Boys" by Randolph Tyrone Ward, Jr.; May 1, 2020, at 6:30 p.m., and May 3, 2020, at 1:30 p.m. Dance work that dissects and investigates the effects of toxic masculinity on American boyhood.
THEATER: "The Short and Short of It" by Bruce Karp; Sept. 11 and 12, 2020, at 8 p.m., and Sept. 13, 2020, at 3 p.m. Several short comedies and dramatic plays that will touch on many facets of human interaction, family dysfunction embracing LGBTQ, social, family, HIV, homelessness, kindness, and friendship themes, and even some Hip Hop.
Attached find our press release with additional details. I can also provide more info, photos and arrange interviews with any of the 2019-2020 awardees, if you'd like.
Do you think Art Miami Lifestyle may be interested in attending and covering any of these performances? There will be some great inspiring stories, as well as photo opportunities, that I know would be meaningful to our community.
I will follow up in a few days to see if you might want to attend. Thank you very much!
Rommel Arellan-Marinas │ Associate Artistic Director
Fantasy Theatre Factory at the Sandrell Rivers Theater
6103 NW 7th Ave, Miami, FL – 33127
Web: ftfshows.com
Phone: 305-284-8800 EXT 467
Cellphone: 786-715-1581