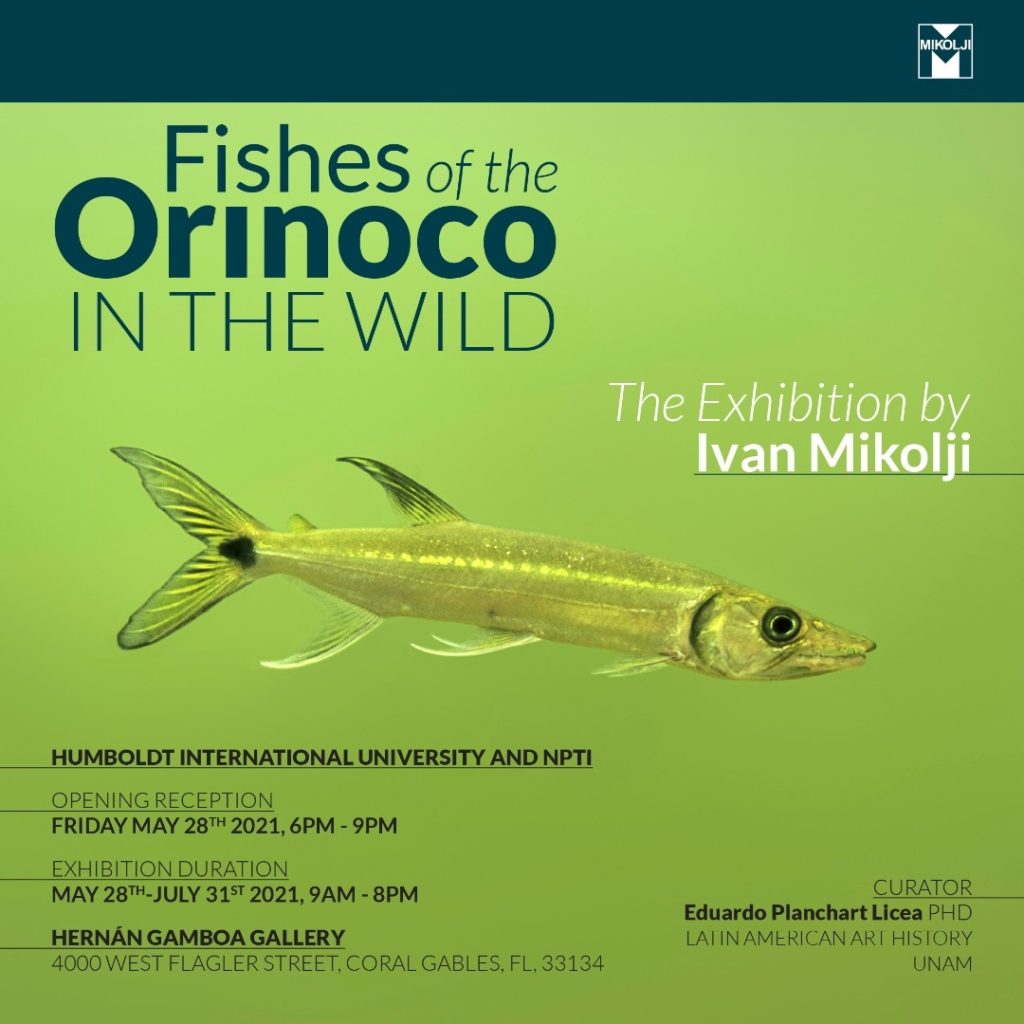 Fotografías del explorador y artista venezolano Ivan Mikolji se exponen en galería de Miami
Hernán Gamboa Gallery
Una selección de fotografías y pinturas en torno al mundo subacuático conforman la exposición "Fishes of the Orinoco in the Wild" (Peces del Orinoco en la Naturaleza), del explorador y artista visual venezolano Ivan Mikolji, que será inaugurada en Miami el viernes 28 de mayo de 2021 a las 6 pm, en los espacios de Hernán Gamboa Gallery, bajo la curaduría del historiador y crítico de arte Eduardo Planchart Licea.
Fotografías que documentan la afición del artista por el mundo acuático, son el punto de partida de esta muestra en la que Mikolji nuevamente hace gala de un lenguaje fotográfico "que está en deuda con la refracción de la luz en el agua, su transparencia, opacidad, y cualidades físico-químicas", según afirma el curador.
Con más de cien expediciones e innumerables publicaciones internacionales, el artista "ha demostrado la autenticidad y originalidad de su pasión por la vida acuática, el mundo selvático y el mar. Consciente de la urgencia de mantener estos sistemas ecológicos del planeta, donde brotó la vida y de los cuales depende la sobrevivencia de la civilización contemporánea".
En palabras de Planchart Licea, la acción estética de Mikolji se ha convertido en arte para la vida, a través de sus videos, acciones fotográficas materializadas en sus muestras expositivas y en su acuarismo salvaje (Wild Aquariums), que se ha convertido en una tendencia mundial.
"La filosofía que mueve su voluntad creativa, es la urgencia por preservar los ecosistemas acuáticos del planeta, y como primer paso para ello considera necesario dar a conocer la riqueza, y la belleza de estos biomas (…) Para a dar conocer esta abundante biodiversidad, ha pasado innumerables horas inmerso en ríos, lagos, caños…, para fotografiar y filmar la belleza de estos biomas", concluye el curador.
Considerado como uno de los mejores fotógrafos subacuáticos del mundo, Ivan Mikolji (Caracas, 1972) ha realizado más de cien expediciones en la Cuenca del Amazonas colombo-venezolano develando una Venezuela desconocida, y ha recorrido casi 800.000 km de carretera desplazándose por lugares inhóspitos del país, documentando e identificando nuevas especies de peces y flora silvestre. Ha exhibido su trabajo en exposiciones individuales y colectivas en diversas salas y galerías de Venezuela, además sus fotografías han sido publicadas en revistas, libros y catálogos de Venezuela y de otros países como el Reino Unido, Italia, Suecia, Chile, México, Colombia, Estados Unidos y Alemania, entre otros.
La exposición "Fishes of the Orinoco in the Wild" (Peces del Orinoco en la Naturaleza), de Ivan Mikolji, podrá ser apreciada del 28 de mayo al 31 de julio de 2021, en los espacios de Hernán Gamboa Gallery, ubicada en 4000 West Flagler Street, Coral Gables, Florida 33134, Estados Unidos.
Twitter: @Mikolji
Instagram: @mikolji