Rafael Montilla or "The obsession of the kube"
By Rolando Peña
Without any doubt, Miami is a very particular city full of surprises, good and bad, but it always maintaining that feeling of its distances, its beaches and a very curious fauna. Being a person who has never driven cars, I walk and that in Miami is an odyssey.
People see you as a weirdo, which in my case is normal. Walking through the city as usual, I observe its streets, its buildings, its people. In Wynwood, I go to the galleries, to the museums, to the cafes, etc. and realize the amount of Graffiti that covers the walls of this area. I must confess, in general they seem very bad to me.
New York was my city from the 60's until the mid 80's, where I made a very interesting career as a multifaceted artist. Among them, I worked with Andy Warhol in the Factory and gave art workshops in different areas of the city, one of them at the East Village with Jean Michel Basquiat, Keith Haring and other graffiti artists of the moment. I lived the good graffiti period of the 80's in New York.
I say this because among so many graffitis and such visual chaos happening in certain parts of this city, I was particularly struck by certain urban interventions, some white cubes, to be more specific. In a silent but forceful way, these white cubes hung from the walls, from the fences of some unexpected place such as at the exit of a motorway, next to a traffic light or usually in some place of convergence, always subject to the bipolarity of the sun and the rains of Miami.
One day, a group of artist friends and I we had to intervene a truck with slogans about the very sad situation in Venezuela today. In the middle of the action, someone with eyes of illuminated character was watching me. My big surprise was to learn that this character was the one who made the cubes that had caught my attention, so I told him about it and I told him that they were different and had a particular aesthetic sense.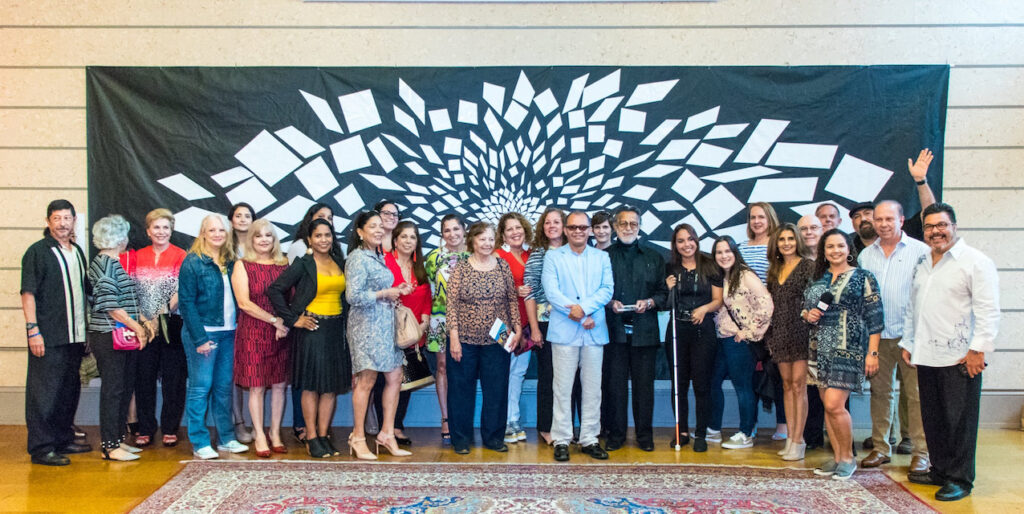 That's how I met Rafael Montilla, the author of the cubes he calls "Kubes in action." We met on several occasions and we talked about art.
When last year I opened my exhibition "Big Bang" in the Arts Connection Foundation Gallery, Rafael came several times and told me that he was putting together some works inspired by my exhibition. I told him that I would like to see what he was doing and he took me to a space where he had mounted his version of the Big Bang. The truth is that I was surprised by his audacity and I told him that it seemed very good to me how he had solved the aesthetics of the work. But that is not all. Now Rafael have called me to explain that the piece that he showed me will be exhibited at the Coral Gables Museum, inspired by my version of the Big Bang. He has also proposed me that I write a text for a publication that he will be doing. Faced with such boldness, faith and courage, I had no choice but to say yes and I wrote this brief introduction to his work.
I consider Rafael to be an excellent artist with a very particular work. I see in him a lot of talent, a lot of energy accompanied by an impeccable organization. I congratulate him and wish him many successes, which I am sure he will have.

Rolando Peña
Miami
June 28, 2018