Acrylic Paint
Buying acrylic paint when you're a beginner can seem daunting because there are so many different brands, colors, and variations to choose from… but fear not! This page will help you navigate that maze and find acrylic paints that match your needs and your budget.
For more information on how to actually use them, check out my painting with acrylics page.
Before we begin: Selecting paint is a very personal experience because it hinges on the style of art you prefer and specific painting techniques you employ. I'm going help you make an informed choice, but you really need to just get some paint and start making art! As you gain experience you'll come to know what brands and varieties you like best.
So let's get started! When shopping for acrylics you need to consider the following factors: quality, color, permanence, viscosity, tube or jar, drying time, and brands. 
Quality
You can buy acrylics in two grades: artists' quality and students' quality. Artists' quality paints (sometimes referred to as "professional") come in a wide range of colors, have a high concentration of finely ground pigment, and boast high permanence ratings. Students' colors are cheaper but the trade off is a smaller selection, lower pigment levels and the possible inclusion of fillers which may weaken the color strength. The difference between the two isn't just how they're made – often it's noticeable that artists' colors are more vibrant and have a smoother consistency that makes them easier to blend and layer.
If you're a beginner and on a budget, it's fine to start off with students' quality paint, but I'd recommend graduating to artists' colors once you start producing artwork that you care about preserving (especially if you aim to sell your work). Another option is to take the middle road by getting students' paints for the earth colors (which are almost just as good) but forking out more for the pure intense colors. Some artists also save money by using students' colors for underpainting and using professional quality paint on top.
Color
There are a dizzying number of colors available for acrylics. If you're a beginner, start off with the 10 colors below. You can mix them to create other colors as needed.
Another option for beginners is to start off with an acrylic paint set. This will save you some money per tube and give you a good place to start. Often it's helpful for beginners to not think too much about materials and just start painting.
If you're looking to buy artists' quality paints, you'll notice that some colors are much more expensive than others (although still cheaper than oil paints). This is because some pigments are very hard to obtain. Some manufactuers will group their paints according to "series" with "1" being the cheapest and "7" the most expensive. Typically the earth colors are the cheapest, while the colors derived from cadmium can cost up to four times as much! Some brands offer cheaper options by substituting with synthetic pigments, but they will likely have a lower permanence rating and less color intensity. You can spot this on the product by looking for the word "hue" after the pigment name. With that said, I use some of the "hue" colors in my art and I'm satisfied with the quality.
These days it's also possible to buy "speciality colors" like fluorescent or irridescent paints which contain pigments that, on their own or mixed with regular paint, create interesting luminous effects. Some of these pigments aren't permanent, so keep that in mind if you decide to experiment. Speaking of which…
Permanence
Permanence, often called lightfastness, refers to the ability of the pigment in the paint to resist gradual fading when exposed to light. Pigments that fade over time are often called fugitive colors. Most acrylic colors have much higher permanence ratings than oils or watercolors, which is another reason why I love them!
There are certain lightfastness standards that you should look for when selecting paint. ASTM International (formerly known as the American Society for Testing and Materials) classifies artists' colors based on a test that simulates 20 years of gallery exposure:
ASTM Permanence Standard
ATSM I = Excellent Lightfastness
ATSM II = Very Good Lightfastness
ATSM III = Not Sufficiently Lightfast
Typical Manufacturer Standard
**** or AA = Extremely permanent colors
*** or A = Durable colors.
** or B = Moderately durable colors.
* or C = Fugitive Colors
Unless you're practicing or experimenting, I recommend using only paints with excellent or very good lightfastness ratings. You can find the ATSM rating on the tube or jar.
Viscosity
Viscosity refers to the consistency or thickness of the paint. Heavy body acrylics have a thick, buttery consistency (similar to oil paints) that retains brushstrokes and facilitates color mixing and blending. Alternatively, fluid acrylics are thinner (but contain the same pigment concentration) and are suited to detail work, staining, watercolor techniques, and dry-brush work. If you're looking for something in between, there are also many different acrylic mediums that you can mix into the paint to get the exact consistency you want.
Whichever type you buy depends the style of your paintings and personal preference. Some artists might use several types in the same painting, but if you're just starting out, begin with the more common heavy body acrylics because they can still be thinned with water or an acrylic medium if needed.
Tube or Jar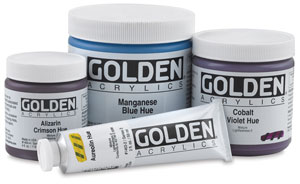 Heavy body acrylics are available in either tubes or jars. Here's how they differ: Tubes are small and portable but you can save money with jars by buying more paint at once. They also have slightly different consistencies: paint from tubes is paste-like, while paint from jars is still thick but will flatten out when on the palette.
If you're not sure which to get, start off with the tubes and buy a few jars once you've found particular brands and colors you use a lot. If you're buying your first acrylic paints, start off with the smaller 2 fl.oz. tubes because a little goes a long way and you want to keep your options open so you can still experiment with other brands.
Fluid acrylics typically come in bottles with screw tops or drippers that make it easy to apply the paint to the palette.
Drying Time
A lot of artists prefer acrylics because they dry so quickly, but this can be a hassle if the paint dries out on the brush or palette before you're done with it. Plus, if you want to mix paint on the canvas and create blending effects, it's easier to use a paint that stays wet for longer amounts of time. Luckily, you have some options if you'd like to extend the drying time of your acrylics. Artists who like the slow drying time of oil paints, but still prefer the versatility and permanence of acrylics, can either use a retarding medium or buy interactive/open acrylics, which is a relatively new form of acrylic paint that is manufactured to include a retardant that can slow drying time down to as long as a few weeks. Open acrylics are a convenient solution for people looking to replicate oil paints with acrylics.
Brands
Some brands are better than others, but when it comes to the top tier manufacturers it's really a matter of personal preference. The brands I've listed below are reputable and reliable. In the beginning you may have to work around your budget (some are quite expensive) but in the end you might have to experiment with a few different brands to find one you like. After years of painting, my favorite brands are Golden and Liquitex 
Tip: If you're going to use acrylic paints from different brands on the same painting, make sure they're of the same quality and made with the same binder. Combining paints made with different chemical formulas can cause curdling, poor adhesion and other irregularities.
Acrylic Painting Mediums and Methods
A Contemporary Guide to Materials, Techniques, and Applications
Rhéni Tauchid; foreword by Alice Teichert
THIS NEW, SOPHISTICATED, COMPREHENSIVE REFERENCE BOOK WILL INSPIRE AND INSTRUCT PAINTERS ON HOW TO HANDLE TODAY'S ACRYLICS IN INNOVATIVE AND INDIVIDUALISTIC WAYS.
Acrylics have grown into the most adaptable art material for the modern age. Developments in the pigment industry have given acrylics a remarkably permanent, rich, and abundant palette, making it the favorite medium of many contemporary artists. As colors are being developed, their chemical components are also enhanced for better texture and handling.
Art-supplies vendors now offer acrylic mediums for thinning, thickening, glazing, molding, pouring, texturing, and dozens of other uses. Even experienced acrylic painters can be confused—even intimidated—by this staggering diversity of products. Painter and art materials expert Rhéni Tauchid simplifies this daunting subject, clearly explaining each type of medium and suggesting ways it can enhance your painting practice. Over twenty step-by-step demonstrations teach you how to apply mediums to create vibrant colors, sensuous surfaces, and striking visual effects. Hundreds of beautiful photos illustrate mediums' almost limitless potential and show you how other artists—both abstract and realist—are employing mediums to push their art in new creative directions. The first book of its kind, this essential reference belongs on every acrylic painter's shelf.
Includes the Work of Contemporary Masters:
Nick Bantock, Diane Black, Bruno Capolongo, Pauline Conley, Marc Courtemanche, Marie-Claude Delcourt, Claire Desjardins, Marion Fischer, Heather Haynes, Lorena Kloosterboer, Suzy Lamont, Marie Lannoo, Connie Morris, Barry Oretsky, Lori Richards, Hester Simpson, Ksenia Sizaya, Rhéni Tauchid, Alice Teichert, Beth ten Hove, Sharlena Wood, and Heather Midori Yamada.
Praise for Acrylic Painting Mediums and Methods
"Rheni Tauchid is an expert in the history and development of acrylic paint. Here she describes everything you need to know about acrylic mediums and methods—from thinning and glazing to texturing and thickening. More than 20 step-by-step demonstrations are included, showing how other artists use the medium to striking effect."
—LEISURE PAINTER MAGAZINE


PRAISE FOR THE NEW ACRYLICSArtist and paints developer Tauchid explains the properties and applications of acrylics, a medium touted as "the most adaptable art material of the modern age." Tauchid begins by characterizing this do-it-all, fast-drying paint with its unparalleled clarity of dried pigment and bondable, virtually glass-clear polymers that do not degrade, discolor, or become brittle with time. These nontoxic chemical inventions, on the market for some 50 years, comprise more than 60 percent of all artists' paints sold in North America today. Technical in its approach, half the book describes the chemical components, attributes, production methods, and grades, moving on to a basic primer that lists materials and equipment. Tauchid then progresses to basic applications, which include glazing, underpainting, and staining, and goes on to discuss barrier-breaking alternative approaches (stained glass, acrylic transfer, even soft sculpture), complete with demonstrations. A variety of artists' work in eye-popping color and a wide range of styles amply illustrate this well-indexed resource.

Whitney Scott
Copyright © American Library Association. All rights reserved
5 Reasons Why You Should Try Painting with Acrylics Instead of Oils
1. You only need a few simple tools
Excerpt from Acrylic Painting: Mediums & Methods by Rhéni Tauchid, 2018. Photo by Jonathan Sugarman and Connie Morris. Courtesy of The Monacelli Press.Acrylics are not a high-maintenance medium. While you'll need many (at times expensive) supplies to begin oil painting (paint, solvents, mediums, brushes, rags, gesso, canvas or board, and a ventilated space), you need just four simple tools to get started with acrylics: the paint itself, a brush, a cup of water, and a surface (commonly known to artists as a support).Out of those tools, Tauchid recommends investing the most money into your paints—the higher grade your acrylics are, the more pigment they'll contain. A good support is also a vital element to your artwork. "When you're building a house, you have to build a really good foundation, and then everything follows from there," Tauchid explained. As for brushes, she advises that you don't need too many, and recommends those with synthetic bristles, instead of raw animal hairs. The choice has little do with morality—synthetic bristles simply take better to acrylic paints.For artists who are used to oil paints—which often requires solvents like turpentine, a safe disposal tool for toxic materials, and the time-consuming task of removing paint from brushes––cleaning up with acrylics will feel like a breeze. If you're using a palette, you can easily scrape off any excess paint, then run a wet rag over its surface to finish removing the residue. Or, you can let the palette dry and peel the paint off.

2. You can control its consistency and texture
Excerpt from Acrylic Painting: Mediums & Methods by Rhéni Tauchid, 2018. Photo by Jonathan Sugarman and Connie Morris. Courtesy of The Monacelli Press.
AdvertisementOne of the most significant aspects of acrylics is how malleable they are. If you incorporate a medium––an additive that thins or thickens your material––acrylics can take on the qualities of other paints. For example, if you add an acrylic retarder with your paint, it will decelerate the drying time so that it acts more like an oil-based paint. You can also add mediums to make your acrylics crackle, shimmer, or dry even faster.To better understand how mediums will change your paint, Tauchid advises familiarizing oneself with five key terms––viscosity, rheology, luster, relative coverage, and texture. Each of these elements makes up a fundamental part of how paint acts: viscosity is the consistency; rheology is the flow; luster is the sheen; relative coverage is the transparency; and texture is the tactile quality.If you're a painter who is new to acrylics but familiar with another medium, like watercolors, using mediums can be a good way to adapt to acrylic paint's behaviors. By manipulating the paint with mediums, you can transform the way it looks and acts to comply with your preferences.

3. Acrylics allow you to paint anywhere
Excerpt from Acrylic Painting: Mediums & Methods by Rhéni Tauchid, 2018. Photo by Jonathan Sugarman and Connie Morris. Courtesy of The Monacelli Press.You've probably heard stories about artists who are so committed to painting that they used their bedroom as their studio. But one of the most costly aspects—for both your finances and your health—is that oil paints require a ventilated area. Oil-based paints carry many hazardous health concerns, and if there's no ventilation, solvents like mineral spirits and turpentine fill the air with fumes.So, if your budget is too tight for a ventilated studio space, or if you simply want to paint in your kitchen or living room, acrylics are a great option. Since they're water-based, "there's not as much in there that gives off gases, and you don't have to use solvents with them," explained Tauchid. While you might rush to scrub oil paints off of your hands in fear of irritation, acrylics are easier on the skin. Along with cost, their safeness is another reason acrylic paints are so commonly used in schools.

4. Acrylics dry fast, so you can layer colors quickly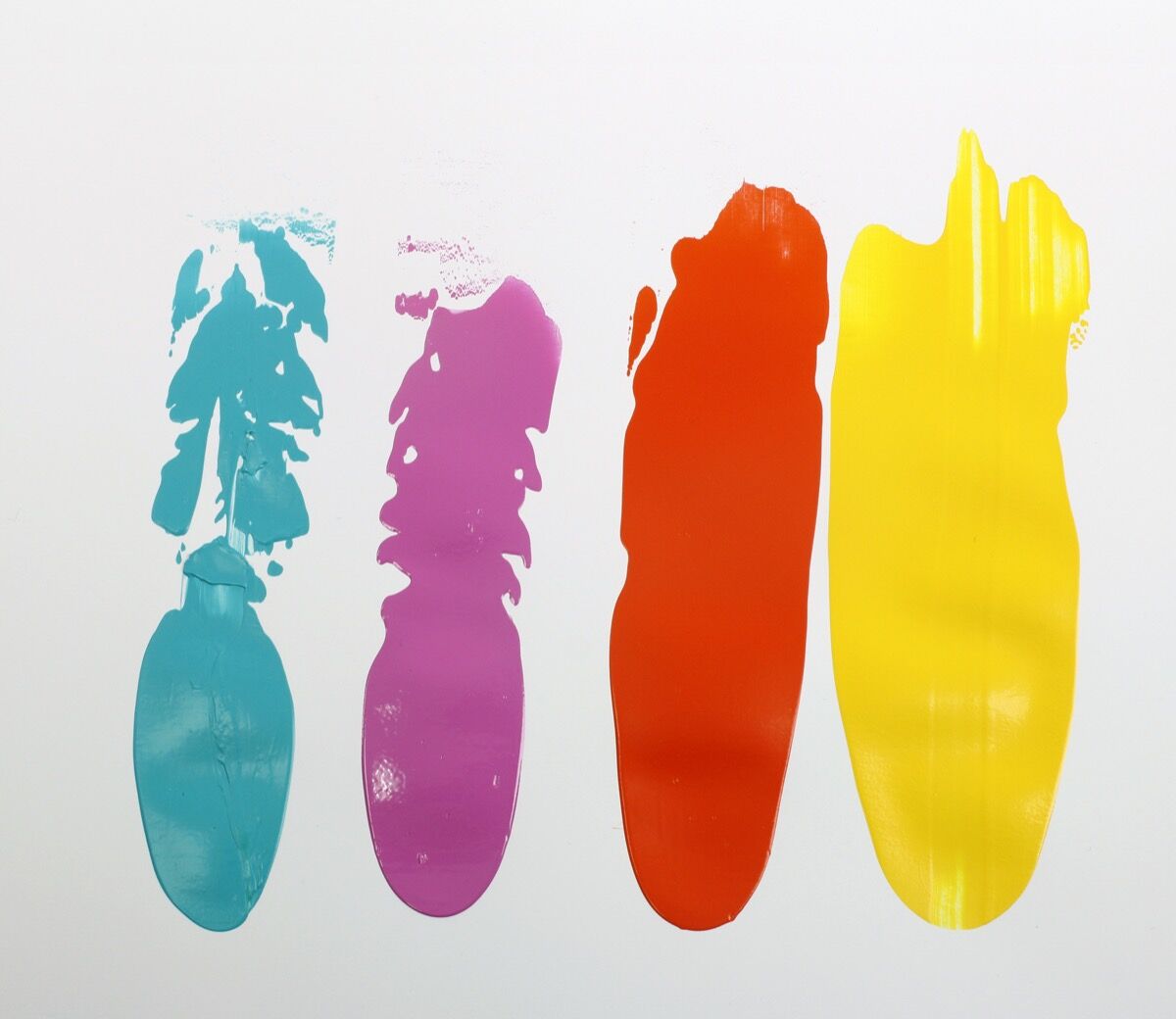 Excerpt from Acrylic Painting: Mediums & Methods by Rhéni Tauchid, 2018. Photo by Jonathan Sugarman and Connie Morris. Courtesy of The Monacelli Press.One of the reasons Hockney was so attracted to acrylic paints was because of how quickly they dry—you can put down a layer of acrylic paint, and in a few hours, it's dry enough to put down another layer. For his flat depictions of arid landscapes, Hockney exclusively used acrylics, because their matte quality and fast drying time allowed him to rapidly layer bright hues, without muddying his colors.Since you can pile colors on top of one another so quickly, you can even complete a technique called glazing with great speed. "You can create beautiful glazed surfaces where the color and the texture is built up over subsequent layers; you can get the effect of something like an Old Master painting in the fraction of the time that it would take to do that with oil paints," said Tauchid. If you'd like to try this technique, thin out your acrylics with a glazing medium (which is made with liquid polymer resins) to give your paint more transparency and fluidity.

5. Your paintings can become sculptural
Excerpt from Acrylic Painting: Mediums & Methods by Rhéni Tauchid, 2018. Photo by Jonathan Sugarman and Connie Morris. Courtesy of The Monacelli Press.Another malleable aspect of acrylics is their ability to take on three-dimensional form. "An oil paint, watercolor, or wax-based paint's purpose is to be stuck to a surface and remain on that surface," explained Tauchid, "whereas an acrylic can be peeled off of a non-stick surface and used as a soft sculpture material, so it surpasses the realm of paint and goes into the realm of sculpture and collage."Although the idea of paint becoming a sculpture may seem far-fetched, there are many artists who specifically use acrylics to build large amounts of sculptural texture on their surfaces. The late Jack Whitten even collaged bits of acrylics onto his canvases, taking into consideration their reflectiveness, transparency, and color. Whitten, like many other artists, saw in the medium a tried and true benefit: "They're more versatile than any other paint medium, and not just oils," Tauchid explained. Eli Hill