HUMBERTO POIDOMANI. I MISS YOU SONY
By Milagros Bello, PhD.

Poidomani's I miss you Sony is a wall work showing an imaginary woman covered in DVD's and mixed media repurposed materials. Framed in gold rococo style, the artist repurposed an ensemble of recycled old Dvd's that once formed his daily references for films, photos, and music, now outdated and useless. Once his delight and pleasure, they formed the allure of his days and the fascination and magic of digital images in their first steps. The work points out to the nostalgy of changing life instances, and the saying goodbye to old practices. In the consciousness of the passing of time, the work exorcises the philosophical stages of lifespan.
The work is profusely treated with strong outlines, gestural marks, and flat parches of pure color, finished the surface with gleaming resin.
At a second reading, the female personage stands as an imponent reference to women and love.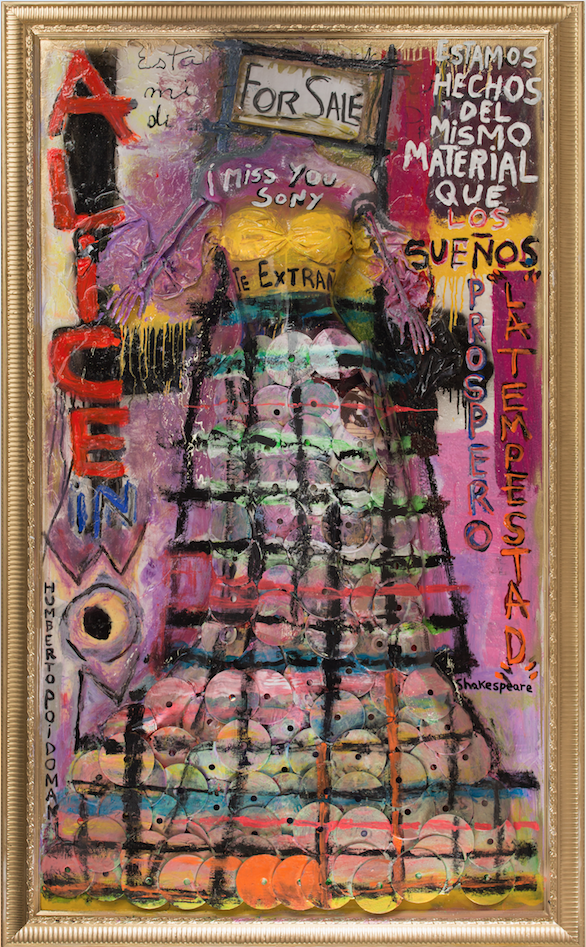 Located at the center of the composition, the feminine character imposes her presence and femininity. In her fashion dress it read the phrases" I miss you Sony." "Te extraño" as the artist's subjective approach to the fondness and affective connection to the women character, perhaps alluding to his personal biography. The phrase ""We are made of the same material that we dream of". The Tempest, William Shakespeare", and "Propero", are the significant references for the artist, as this masterpiece is about letting go and accepting your fate.
About the artist Humberto Poidomani was born in Argentina. For over twenty years, Poidomani has developed an artistic career centered on ideological notions of societal crisis, ecology, life/death, poverty, which he develops through complex assemblages, sculptures, paintings, boxes and objects, and videos. He has indistinctively developed painting, sculpture, assemblages, installations, with a free-spirited mind that disrupts the notions of traditional art academics. In his painting Poidomani works from small format to monumental, large panoramic canvasses in which he paints a vast reflection of the world. Deep meta-narratives interloop with written phrases, as personal thoughts or as meaningful excerpts from Philosophy, Literature and Theater. In his sculptures, assemblages, installations, art boxes, he creates a dense compound of repurposed industrial and found materials mixed with thick gestural highly textured and colored lines, intercrossed with personal and literary word references. Echoing the provocative stanza of the "arte povera" and in a spirit of subversion, Poidomani creates absurd and comical overlapping combinations of wires, objects, rocks, fabrics with an individual high subjectivity. He points out to the diffraction of our culture and the lack of Utopias in contemporary times. As USA based curator and art critic Milagros Bello points out: "Premonitory art as anticipatory art in which artists prescient the development of an epoch, an event, an upcoming era, and as such display it in their works, is a profound artistic faculty. In his artworks, Poidomani has prefigured and has anticipated incisive current events. From his subconscious self, from this elusive realm, the artist has pulled out the signs of our current society and civilization."
Poidomani has presented his works in museums, galleries, and art fairs. His solo shows include among others, a retrospective in the Contemporary Art museum of Salta, Salta Province, Argentina; E.C.A. Contemporary Spaces of Art, Mendoza, Argentina, SCOPE NEW YORK MARCH 2019, SCOPE NEW MARCH 2020, SCOPE INMERSIVE SEPTEMBER 2020 with Casa Poidomani and Curator's Voice Art Project, in New York. He has participated in numerous curated shows and art fairs. He lives and works in Miami, Florida.
Humberto Poidomani is represented by Curators Voice/MIA Curatorial, Miami, Florida, USA