CONCURRENCES. OBLIQUE VIEWS/ART BASEL SEASON SHOW REVIEW TO WWW.ARTMAGAZINE.COM
Milagros Bello, PhD.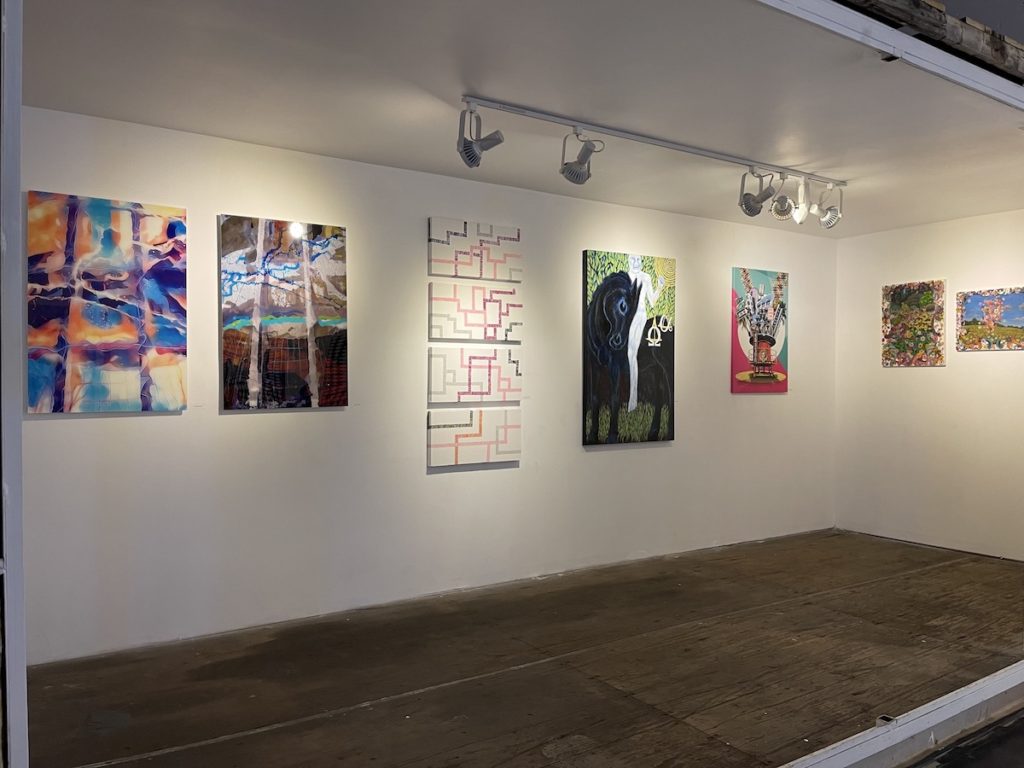 The exhibition proposes a coalescence of mediums, topics, and approaches that reflect our rich contemporary times. The artworks are concurrent and make dialogues in contraposing and aesthetic collisions, sharing the same visual space. They also confirm the freedom of innovation in the artists, away from restrictive canons and academic sets. They manifest an expansive spirit in the context of these changing times—not only due to the ongoing pandemic and its sociological and cultural mutations, but also on the emerging new art perspectives where the NFTs (Non-Fungible Tokens) are flowing into the markets and new buyers from the techno world are coming on board in an uncertain flow of money and investment. In addition to the sudden outburst of market/collectors and museum/curatorial recognition for marginalized voices, racial and/or gender minorities, underrepresented creators, all have created an unprecedented revision of the fixed 20th-21st century art canons until now being carefully gatekept by the central powers of the arts. The art world is put into a mutation mode. From all corners of the arts, its curatorial inteligentzia and the art gatekeepers are setting different strategies to cope with the deals and scopes of the current transformations and to sort out the new economics and social unexpected situations. The pandemic has dislocated and disrupted the world as we conceived it; this is a fact with a critical matrix of changes still in progress, still to be seen. It is with this spirit of "transformative aesthetics" that, as a curator, I have selected this group of artists of CONCURRENCES. OBLIQUE VIEWS presented during the Art Basel Miami/Miami Art Week December 2021 until December 28, 2021. The works span from notions of high and low, good and bad, figurative and non-objective, decorative and obnoxious, appropriative—with a bold focus in the creative, nifty, and daring attitude of the artist. Sami Akl uses an appropriation method in his artistic strategy. His painting appropriates the Flemish Baroque Peter Paul Rubens's 1623 painting, Self-portrait of the Royal Collection, UK. Maintaining the rule of the baroque chiaroscuro technique of high-contrast lighting in tension, the artist radically changes the pictoriality of the painting. The character's smooth skin carnation of the original Ruben's work transforms into a rough and coarse impasto material, and the face and neck are altered into a pasty and thick white surface, into a new kind of masked and mysterious personage of intense daring visage. Akl puts it into a visual revision the Baroque legacy, connecting the aesthetics of the past and present.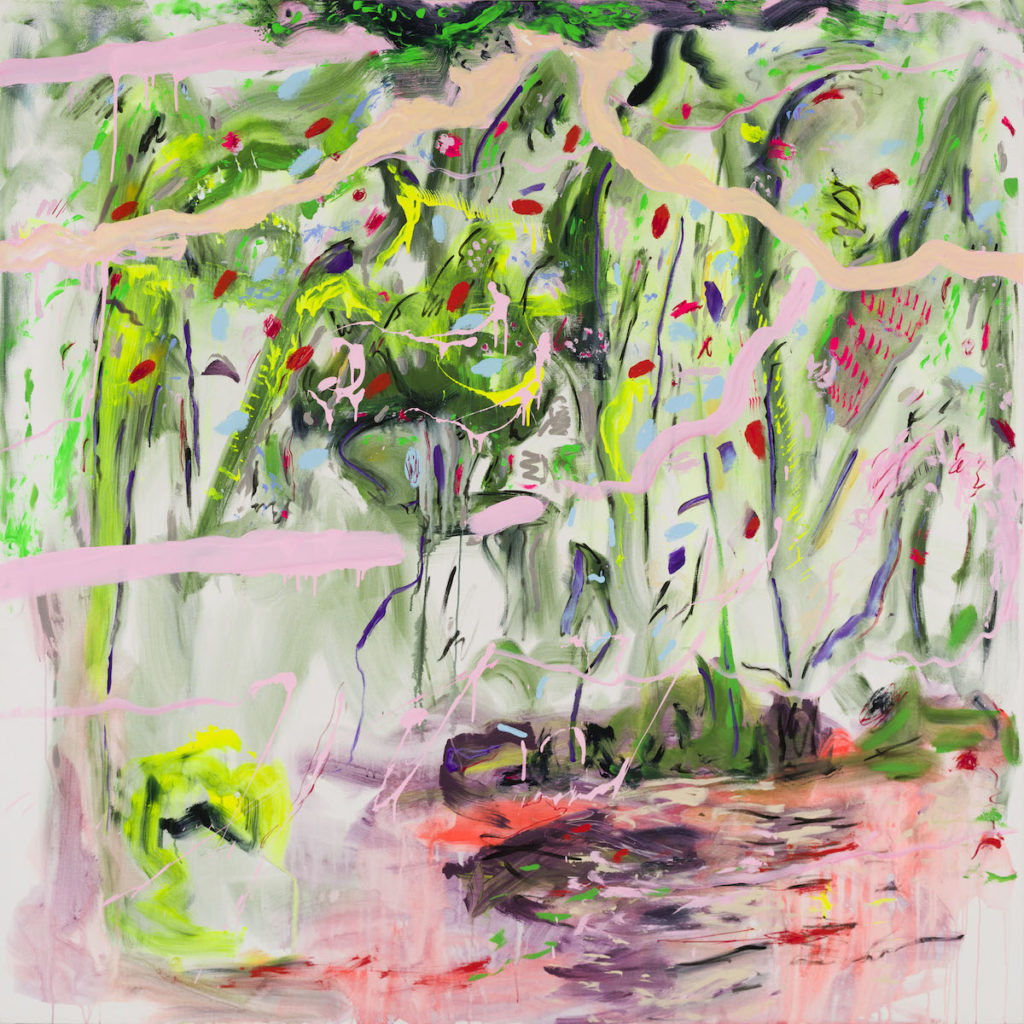 Rosario Bond's gigantic paintings of illusory proportions overview in large scopes the evolvements of nature and its curling and twists. Leaks, drops, drips, open escapes, in contrasting vivid colors, reveal immense panoramic views of mentally navigating wildlife and nature. The canvas is an active milieu of pure dancistic automatic gestures. They form a rich choreography of automatisms of instantaneous and intuitive marks that exhales the power of expressionistic approaches to the contemporary art. Noteworthy is the incorporation of surgical masks and cardboard containers to the work in a strong allusion to the pandemic crisis.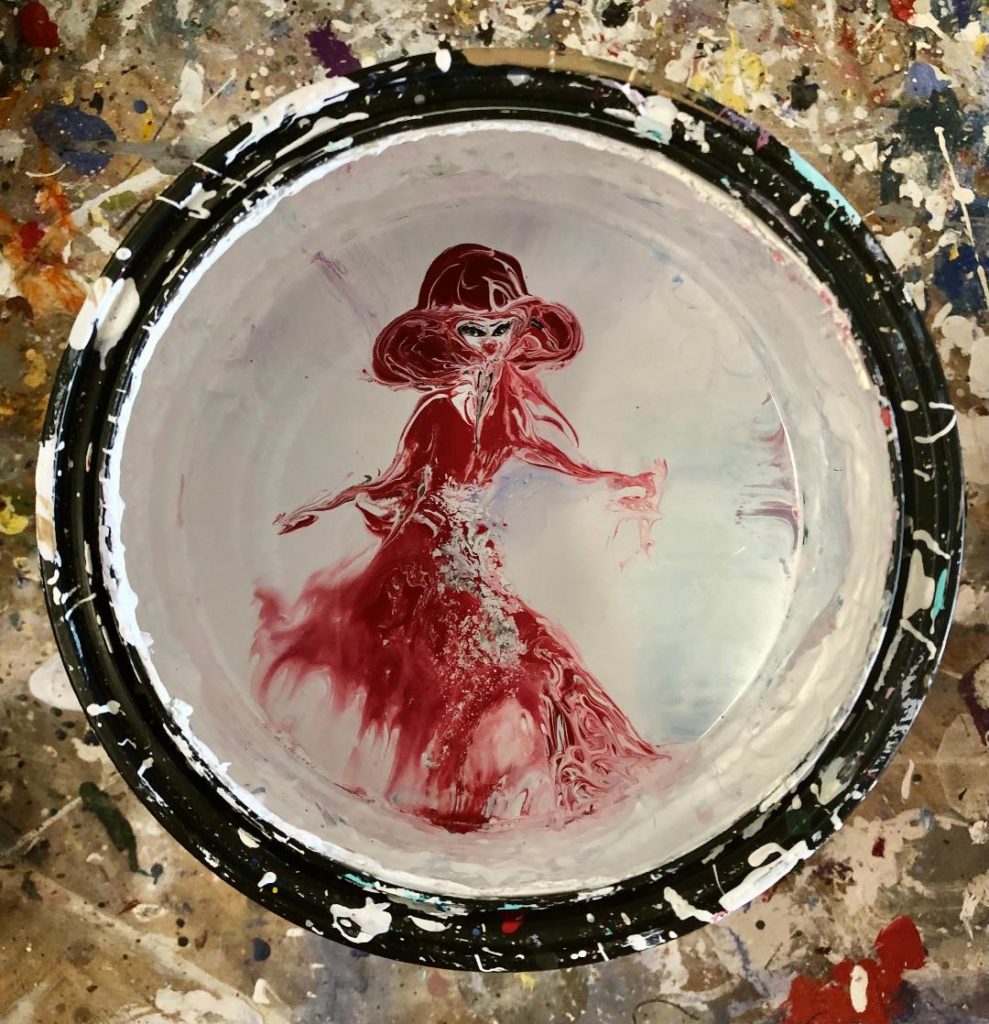 Eliana Barbosa inaugurates a new hybrid method that combines painting and photography in a mixed translational process. She starts from creating ephemeral silhouettes outlined and drawn over the surface of a large can. The random and unpredictable figures created with leaks and drops of color paint remain just seconds on the surface before they melt onto the white paint. This momentary and transient image created in the immediacy of time is the first artistic act. Then, the artist photographs the evanescent images before they disappear, as a second creative act. The photograph capture becomes the outcome of this transposed hybrid method of creation that combines automatic action painting and contemporary photography conveying the rich artist imagery.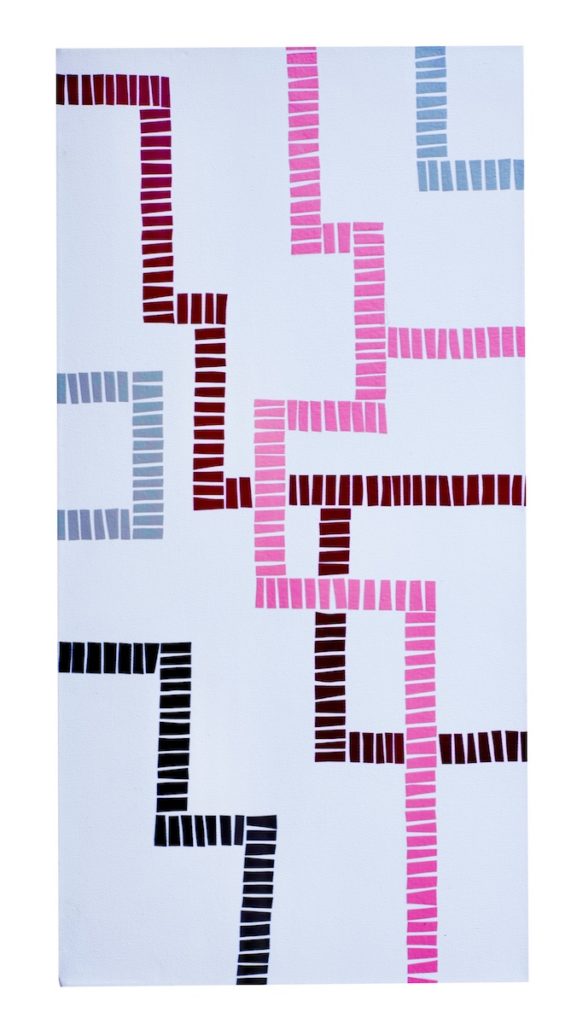 Ricardo Carbonell, who is a master collage-maker of obsessive quality, instates an original technique of cut-outs electric tapes strips, diligently pasted, and ordered in mathematical sequences and geometrical shapes over a canvass, creating a new approach to non-objective art. They assemble as visual trajectories of rhythmic tensions and dynamic collisions in the pure simplicity of geometry. Repetitive patterns, juxtaposed lines, gradient of monochromatic colors, or overlapped contrasting colors form rich matrixes of his tactics to minimal configurations that at a metaphorical level evoke inner life trails.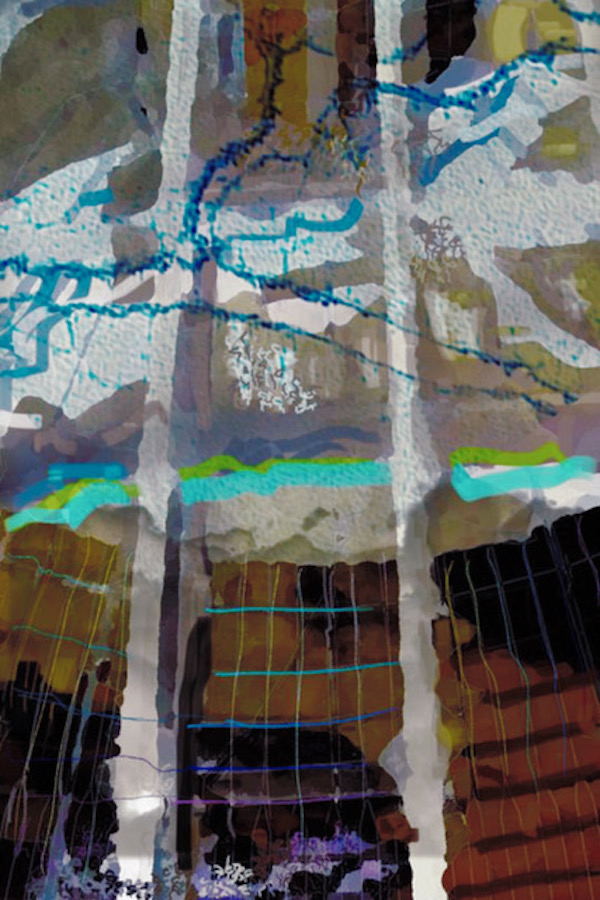 Sergio Cesario's digitally post produced photographs are based on real architectural structures that he photographs, and over which he re-purposes his creative imaginary. Using software, the artist infuses the original scene with pictorial elements. Diluted colors, serpentine lines, space dissolutions, and scribbling lines serve to de-compose the vista into a fictional and dream-like scenario. Cesario transposes reality into invisible dimensions of intimate life experiences, visual reflections on existential states, and projections of inner introspections.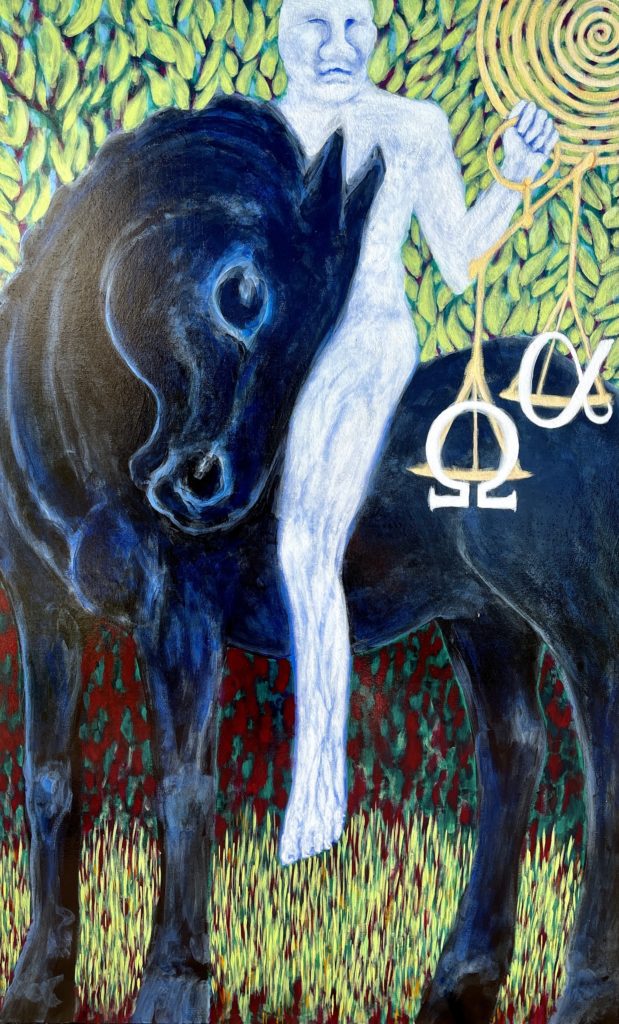 Meg Cogburn proposes in her figurative painting on canvas a strong biblical reference to Famine of the Horses of the Apocalypse. Cogburn peculiarly interprets its symbolism through a hopeful vision on humankind. Regeneration and spiritual enlightenment oozes in the scene: the Famine's horse rider is portrayed as a stone-like personage, and his horse is rigidly crashing on the ground, but they are blissfully surrounded by buoyant green growth and upbeat symbols of renaissance in the alpha and omega emblems.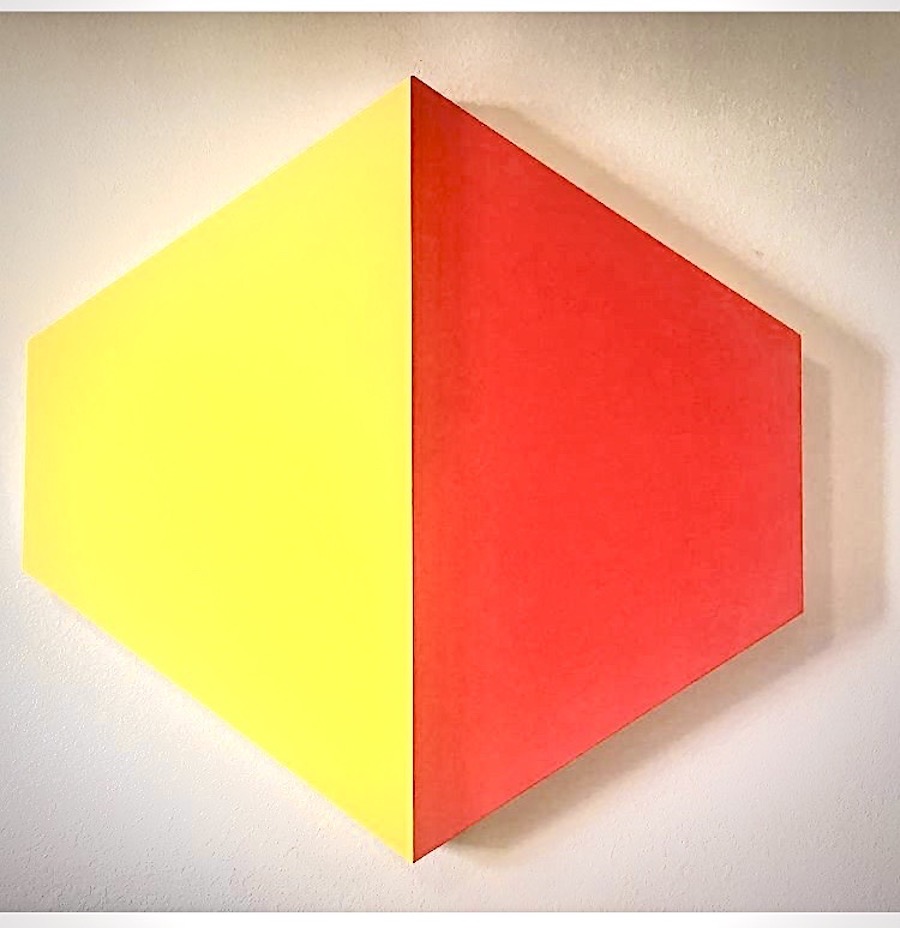 Rafael Montilla creates post-constructive paintings in which he recharts geometric patterns and plan-spaces into new permutations of asymmetrical colored diagrams and linear schemes. When using double thickness canvases, Montilla's constructive forms speed off to the outer space in a sculptural optical effect. Montilla visual interplays linear rhythms of flat colors in unexpected pulses and configurations towards Spartan visual partitions and modules that recall the aesthetics of Constructivism.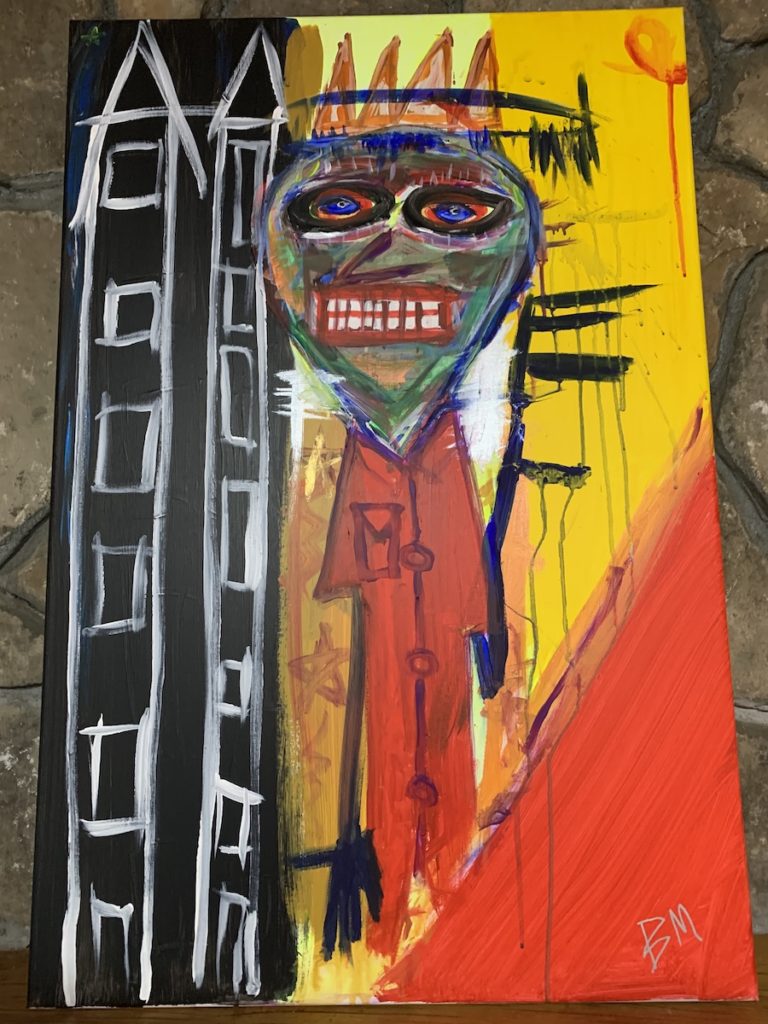 Francisco Ceron recreates the spirit of the cities in his digital photographs, gathering iconic societal and cultural references for the metropolis he has visited and personally explored; with an intertextual technique, he composes peculiar amalgams of complex signifiers of cryptic associations for the viewer. The cultural effect is enhanced throughout a pop art approach of neat silhouettes projected over monochromatic pop-color backgrounds.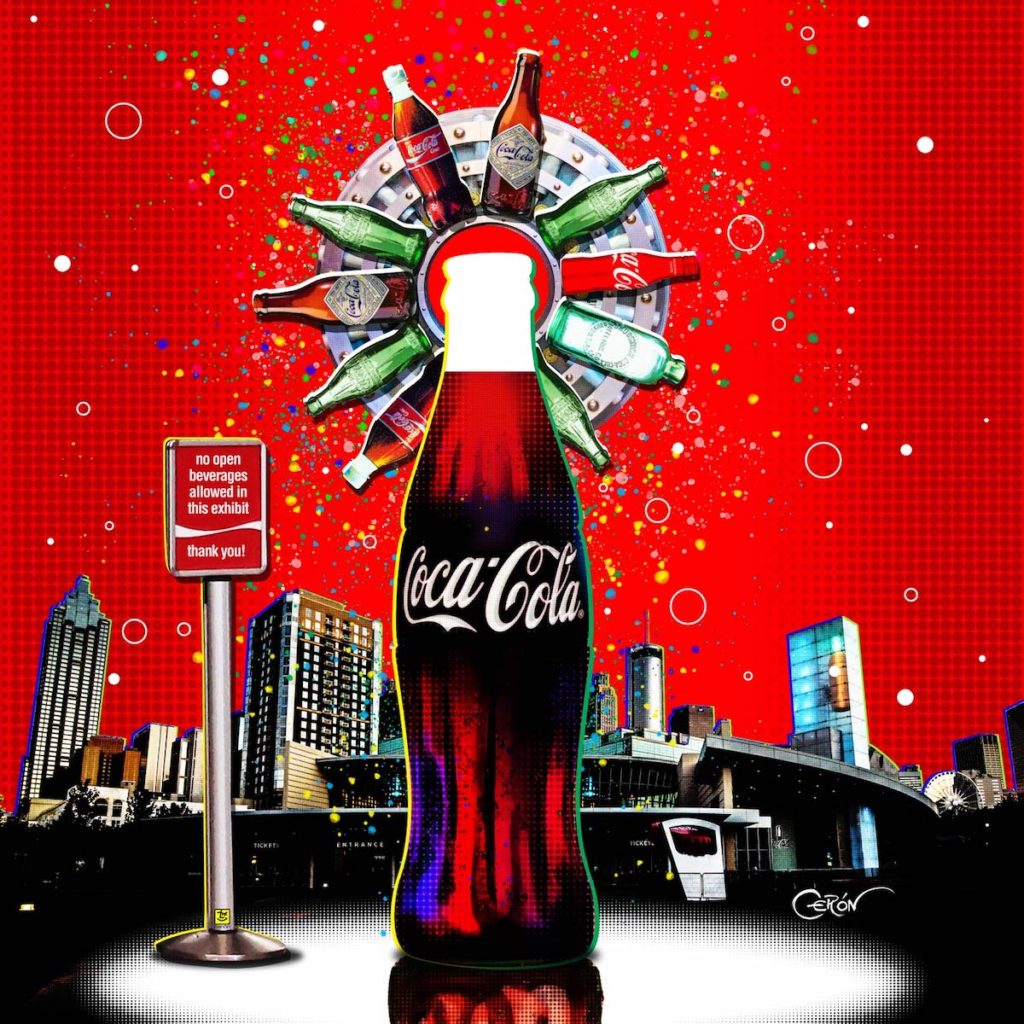 Dalia Ferreira depicts in her digital photograph a strong visual impact of the hecticness of our current overpopulated cities and their critical consequences over the humans, mostly during quarantine. A yellow overcrowded building portrays neighbors jumping out of the windows, others gazing in desperation to the outside void, and others just witnessing the hopelessness of humanity. The work exposes a sharp reflection of the effects of our urban life pandemic times and the critical out-bursting of our communities.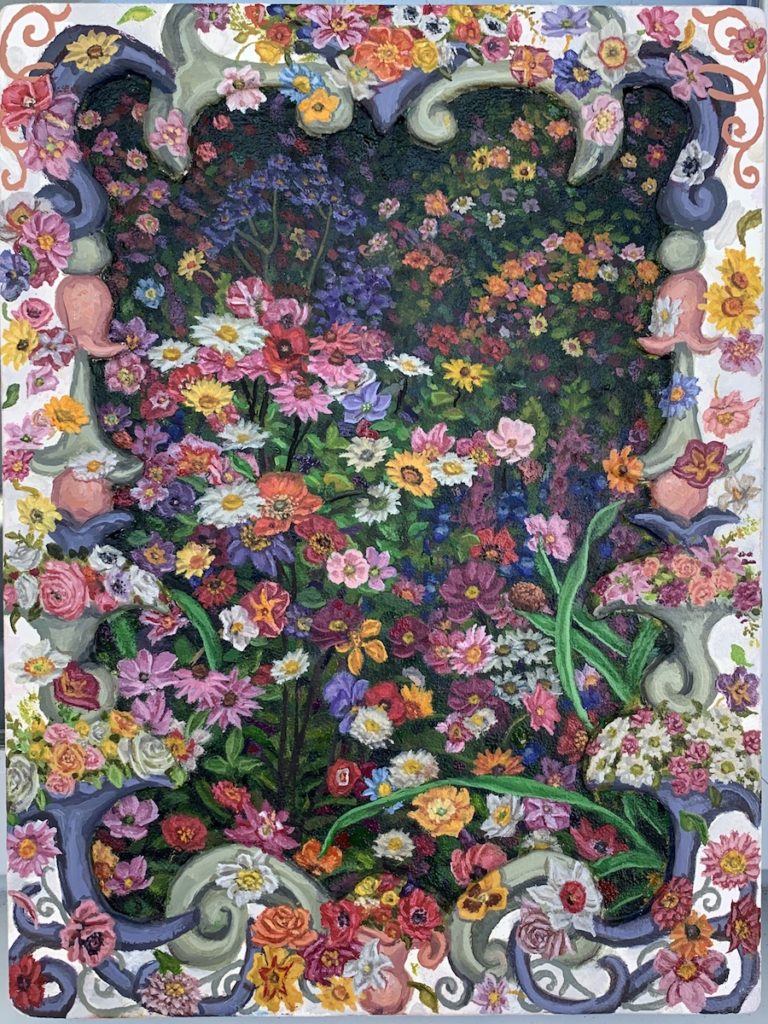 Matt Jacobs shows sumptuous, lush-nature small paintings reshaping the concept of the horror vacui of the Baroque period. His works are rhapsodic visions of nature of high profuse foliage arranged in pastoral settings. There are idyllic and lavish views of plain flower bouquets, twirling clouds over blue skies, and abundant greenery. An explosion of colorful arabesque forms and exuberant ornamentation define with prolific creativity, the spirit of spectacle at the core of the commanding 1600s century style.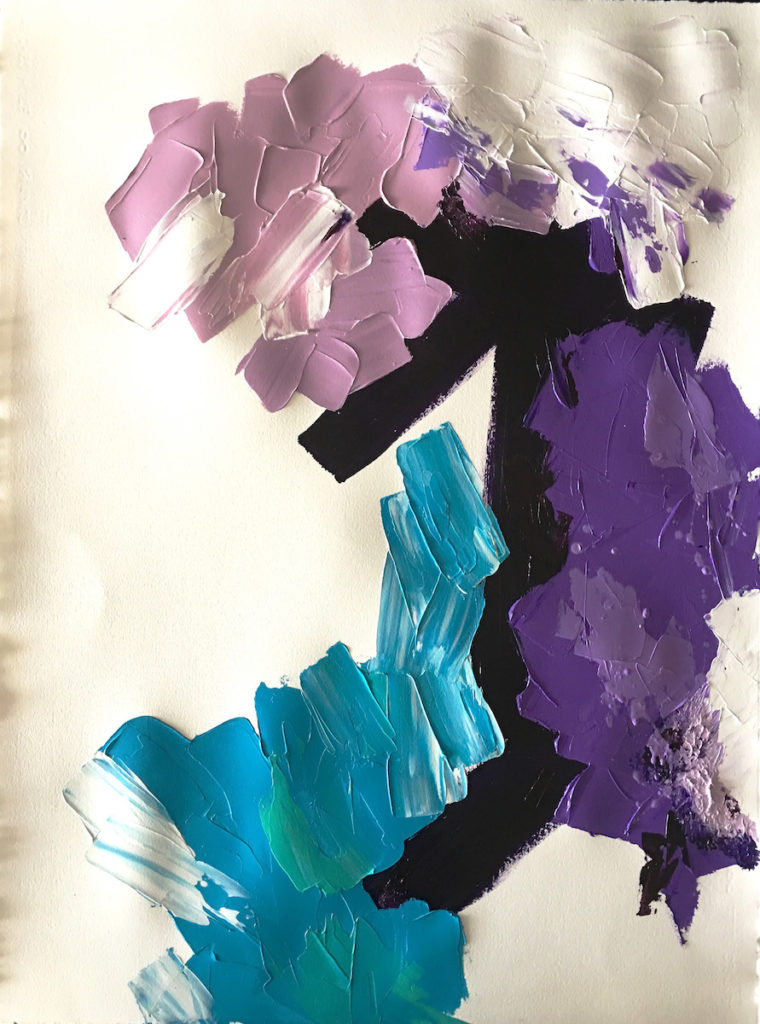 Karina Matheus proposes abstract colorful brunt and tangential brushstrokes on paper. It is a nonrepresentational approach to art that evokes musical tonalities and emotional feels. There are in the works imaginary sounds and timbres in different tempos and cadences that project as expressive dimensions of the spirit.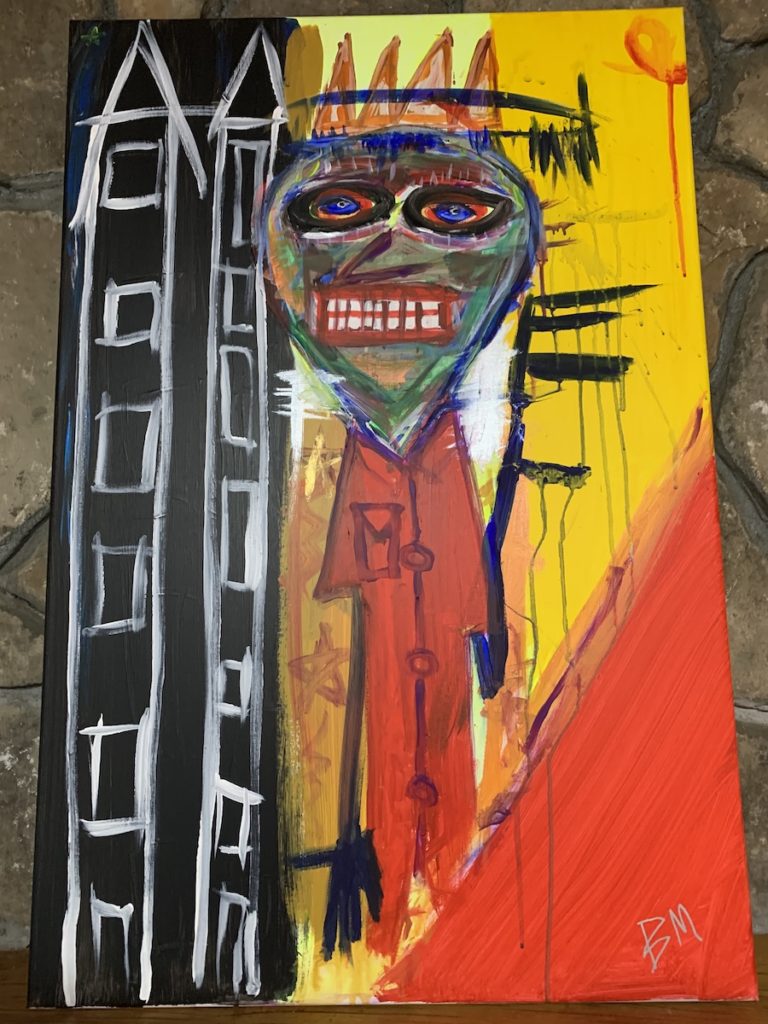 Brandon Mitchell's paintings as a young emergent artist expose the collective mythologies of the present moment. De-figured and expressionistic characters in frontal visual projections are delineated through scribbled and graffiti-like lines and strong raw colors. Mitchell's instinctive work uncovers paroxysmic individuals in primal circumstances. Personages of daring gaze and compulsive denture depict ultimate life instances, recalling the practices of Street Art, Brut Art, Cobra, Jean Dubuffet, and Jean-Mitchell Basquiat.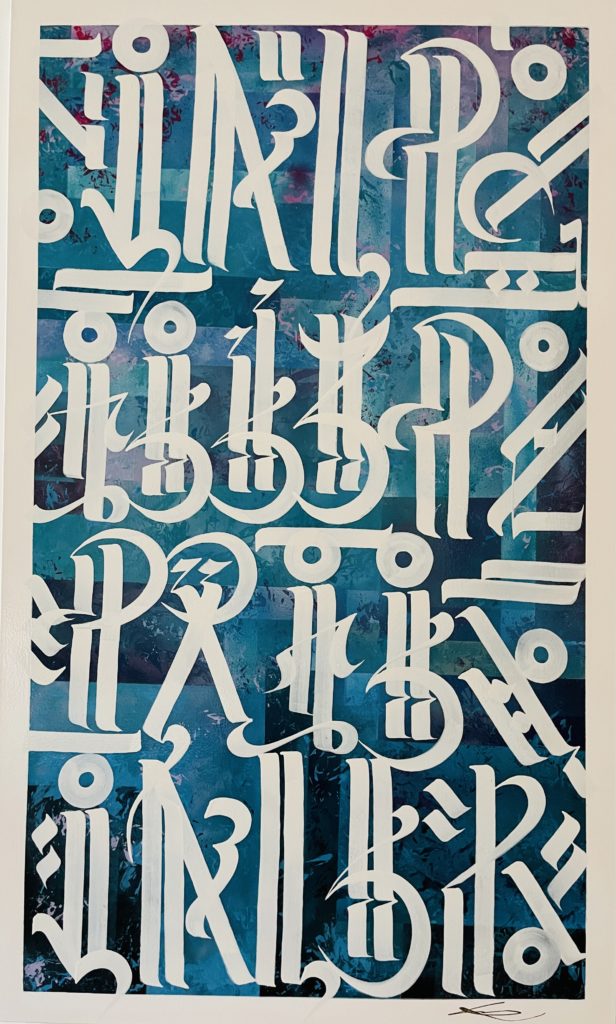 Clark Medley presents calligraphic-thought-thinking paintings. He creates a visual arabesque-like alphabet that conjures Chinese, Arabic, Japanese, Judaic, Hindi calligraphies. The inscriptions develop in dynamic turns and twists, deriving in a visual script of cursives and imaginary fonts. They transcribe the artist's perceptual and aural experiences, such as sounds and phrases he draws from his close surroundings. The works present literary meanings of personal abstraction. Medley's works excel in their opticality based on their high glare artifice that results from the artist's use of gold leaf in the backgrounds, and colored glass powder and acrylic paint in delineating the lettering.
Wuilfredo Soto's neo-kinetic paintings propose geometric reiterative forms of dazing anamorphic squares sets in monochromatic compositions. Soto's works create strong optical visual shocks onto the observer's eyes in a stimulating perceptual struggle.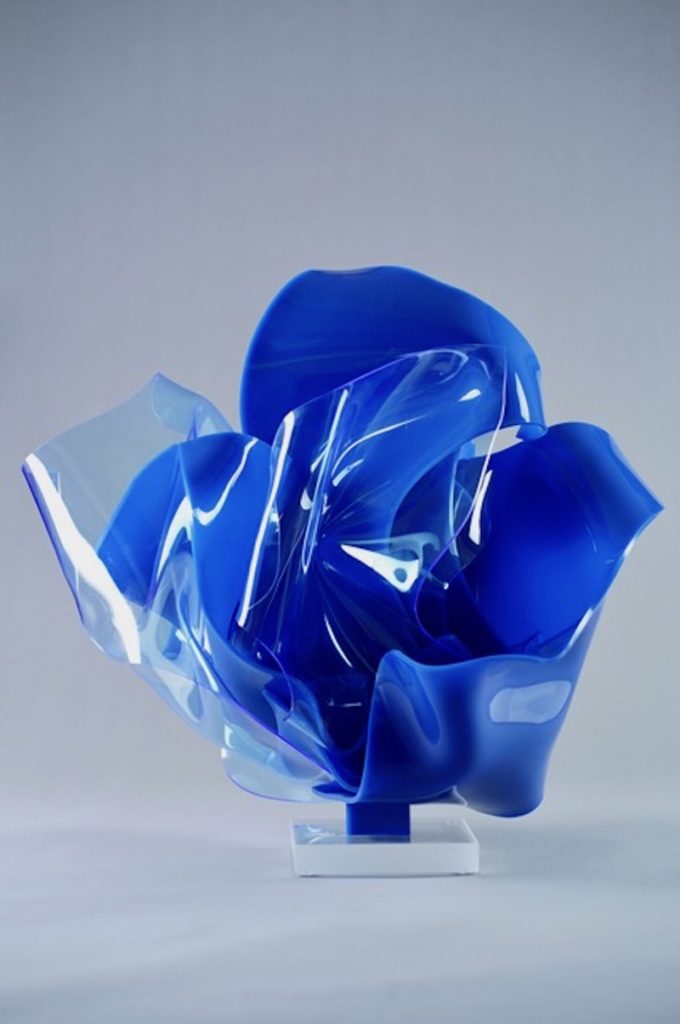 Carola Orieta-Sperman's aerial acrylic sculptures pose gracefully over the space swirling vertiginously into their negative space. Twirls and turns, reminiscent of thriving blooms in stylish movements, flourish as organic forms in incessant spirals. The sculptures set their conception on perpetual motion and pure fluid energy as philosophic concepts.
Ada Rivera's digital photographs display bucolic landscapes of subjective tones of calmness and serenity. Capturing a sublime essence, the views orient to the power of Mother Nature and its magnificent splendor. They excel on their penetrating wonder and majesty. Over this wishful sight, Rivera sets a connoted compound of colored neon tubes in geometric shapes traversing over the scene. The neon glare transforms the site into a critical spot in which the illusory quietude is broken and bustled. Through these intercrossed visuals effects, Rivera's alludes to the ongoing ecological crisis and the blunt disappearance of our natural environment.
Alexis Rivero (Performance In-Appropriation. Le Marteau sans Maitre/Hommage to Pierre Boulez) created a theatrical approach to performance. Appropriating the sonic Pierre Boulez's piece, he reinterpreted it with his own sounds, and improvised noises from the audience that projected primal vocal articulations and played tambourine and drums percussions. He located his "performative persona" over a colorful pictorial textile platform with whimsical fabric strips over which he improvised gestures and elusive movements uttering on the distressed human condition.
Milagros Bello, PhD.
Curator of the show
January 2022