Hosted by Niama Safia Sandy, Curator. Anthropologist. Culture & Communications Specialist.
The show will be on view at Spanierman Modern Miami
151 NE 41 Street p 133, Miami, Florida 33137
An Experience of Color: Landscape & Legacies

Written by Niama Safia Sandy

An Experience of Color: Landscapes and Legacies, is a mixed media exhibition simultaneously exploring color and materials while crystallizing the connection between 20th century abstract expressionism and the moment it is born with the modes and concerns of 21st century contemporary artmaking.

Featuring the work of Kwesi Abbensetts, Frank Bowling, Morel Doucet, Herbert Gentry, Norman Lewis, Sam Middleton, and Bob Thompson, An Experience of Color represents the artists' engagement with form, and materials to invoke specific cultural, and spatial references.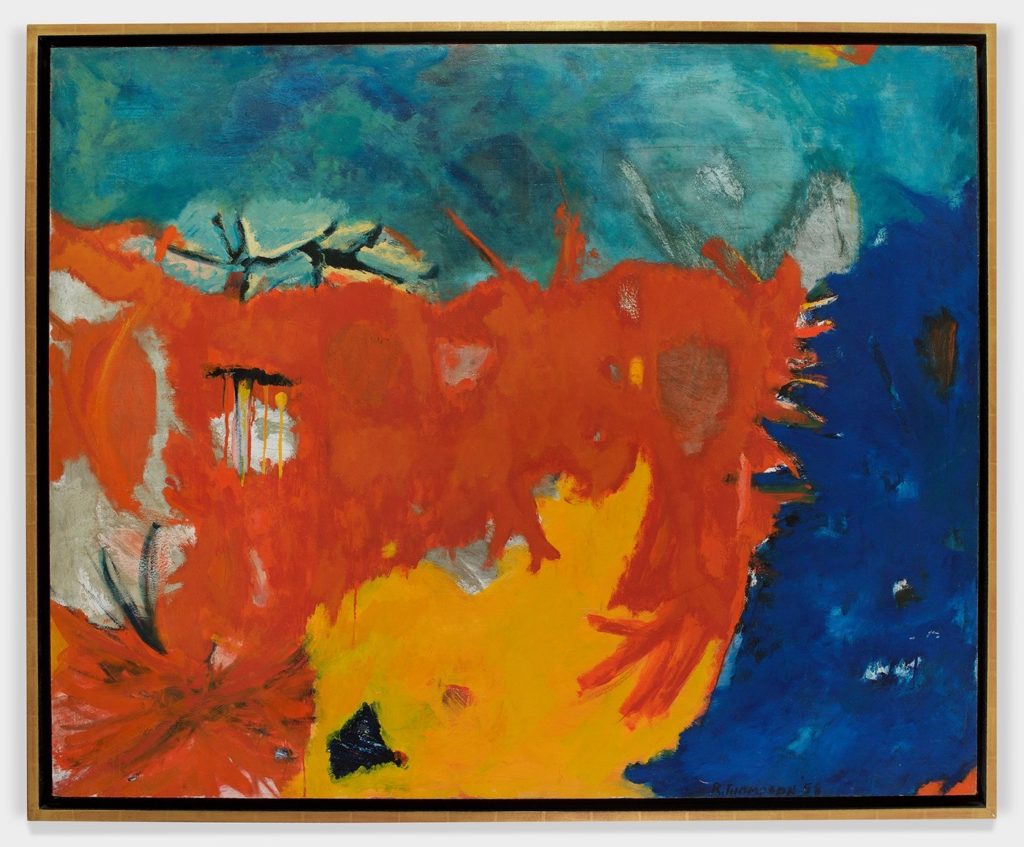 Many of the artworks in An Experience of Color straddle the line between abstraction and figuration and the myriad histories and geographies each artist has loved, and sought to understand in their lifetime: Kwesi Abbensetts's vivid mixed media compositions foreground Black experience and resilience in America through the eyes of a Caribbean expatriate; Frank Bowling practice integrates autobiography and postcolonial geopolitics into abstract compositions; Morel Doucet's ceramics vision the aesthetic and environmental life in the Caribbean and other spaces inhabited and transformed by Black cultural influences; Herbert Gentry's expressionist work draws from his life on two continents; Norman Lewis's dark, rich abstractions explore kinetic movement in themes ranging from the mid-century music scene in Harlem to civil rights; Sam Middleton's mixed media collage take inspiration from the topographies of Holland and the cacophonies of Harlem; Bob Thompson's early bold, large-scale, gestural abstraction recalls the New England landscape.

In selected works from his series The Past Is Present Sense, Guyana-born Kwesi Abbensetts cites his own experience and archival material chronicling life in Harlem from 1900 through 1968 to explore the formulation of the Black self in America. Abbensetts's works traverse time and couple the archive with the buoyancy of deep hues to reveal and bolster the rootedness and resilience of the Black character challenged both in the present and in the past by social and economic forces aimed at its death.

Frank Bowling's sixty-year career hinges upon the fusing of autobiographical and postcolonial geopolitics into abstract compositions. Bowling's works teeter between the sensibilities of British figurative painters like his teacher and mentor Francis Bacon and American Abstract Expressionism. Bowling's works come alive through saturated colors, and unexpected depth, textures and creating sinews on the canvas through his paint-pouring techniqiue

Born in pre-independence Guyana and

Haitian-born ceramicist Morel Doucet's series Follicles | Cells | Biota manipulates clay and color to examine relationships between descendants of the African diaspora and the physical environment, specifically drawing a parallel between the world's dying coral reef systems and Global Black environmental vulnerability. Doucet argues that the current political climate has caused issues like racial discrimination and disenfranchisement, which pose the most apparent danger, to overshadow pressing problems posed by urban decay, pollution, Climate Change and other conditions that contribute to the ecological instability and inviability.
Although raised in Harlem during the height of its Renaissance, Herbert Gentry's life and manner of working was influenced by the world-at-large. Born to a Jamaican mother who shared stages with Josephine Baker, Gentry grew up surrounded by Harlem's arts and culture glitterati. "Tree of Life," like many of Gentry's works, is based on spontaneity with influences ranging from jazz, African visual forms, Tachism and myriad of other modes he learned along his studies and travels in New York, Paris, Stockholm and beyond. In his own words, his works synthesize not only his own experience and memories but that of "the people who lived before" him and those with whom he connected throughout his life.

Norman Lewis, born and bred in Harlem to parents from St. Kitts, fixed his sight and artmaking practice on countering the degradation of Black life and culture in the United States. Lewis's body of work spans decades and is characterized by his use of both abstracted and representational modes to illustrate moments of cultural and social relevance and reverence. Musicians showcases Lewis's adoration for jazz, as well as his early mastery of the balance between shadow, geometric form and color in abstraction.

Harlem-born Sam Middleton's work hinges on the balance of collage, drawing, and paint textured with the musicality of jazz and BeBop. The works here are composed of Middleton's signature manner of combining elements from the sounds of New York and the verdant and idyllic Dutch landscapes and memory – as fellow artist Romare Bearden noted in the catalogue for the artist's 1972 show: "It is interesting that Mr. Middleton, who came to Europe a decade ago and who has lived, for the most part, in a city whose people and locales were depicted so well by Rembrandt, still retains at the core of his art a way common to his origins."

Fusing African American cultural innovations and, Abstract and Figurative Expressionism with the rich color palettes of German Expressionism, Bob Thompson's explosive and prolific talent made him one of most celebrated artists of the 1960s. In his 1959 painting Provincetown, Thompson's nascent painterly voice is strong and firm, recalling the landscape of Provincetown, MA where many new instincts were activated during his studies under Hans Hofmann's tutelage.
What binds these works together is their concern with the malleability of color itself to parse through personal experiences, time and the representation of physical space. With materials ranging from paint and sand, to fired clay, and remnants from magazines and historical texts, the artists also use color as a device to depict space and to evoke both lived and imagined pasts and hopeful visions for the future.